If you are a fleet owner, you know the struggle of managing a large number of vehicles, ensuring timely deliveries, and complying with industry regulations. These challenges can be even more daunting when you consider the complexities of the modern trucking industry. However, with the right technology, fleet management can be made more efficient and effective.
Fleet monitoring, in particular, is a powerful tool that provides real-time visibility into your vehicles' location and performance, enabling you to make informed decisions and maintain control over operations. In this article, we'll explore the benefits of fleet tracking services in Canada and guide you in selecting the right fleet management system for your trucking business.
Ways a GPS Fleet Monitoring System Can Help Your Business
By utilizing real-time visibility into the location and performance of each vehicle, carriers can optimize their operations in ways that were previously impossible. From reducing accidents and improving driving habits to preventing unauthorized use of vehicles and locating lost assets, vehicle tracking systems offer a wide range of advantages that can boost productivity, reduce costs, and enhance customer satisfaction. Let's explore some of the key ways that a fleet monitoring system can help your business thrive:
Improved productivity and better control over operations. A GPS system provides real-time visibility into the location and performance of each vehicle, allowing truckers to easily monitor their drivers and ensure they comply with company policies. The information provided by a fleet monitoring system also helps facilitate communication between drivers and dispatchers.
Fuel savings. Using GPS monitoring, truckers can save on fuel costs by monitoring each vehicle's performance, identifying inefficiencies, and making adjustments to reduce wastage.
Prevented delays in deliveries. GPS tracking enables carriers to keep their deliveries on schedule with real-time visibility, minimizing delays and reducing the risk of lost revenue and dissatisfied customers. With the ability to quickly identify and address any potential problems, truckers can ensure that their operations run smoothly and efficiently. In case of actual delays, the customer can be notified immediately and given a new ETA.
Improved driver behavior. Fleet managers can use tracking systems to monitor driver behavior and identify dangerous habits such as speeding or aggressive maneuvers. By providing feedback and coaching, supervisors can encourage safer and more efficient driving practices.
Lessened maintenance costs. Fleet monitoring systems can help prevent minor problems from becoming major ones and help avoid costly breakdowns. With the ability to track maintenance schedules and set reminders for routine maintenance, fleet managers can ensure that their vehicles are always in top condition, minimizing downtime and maximizing productivity. 
Enhanced safety of the fleet and assets. A tracking system prevents unauthorized vehicle use and helps recover lost assets. If a vehicle is stolen, the system's real-time location data can help truckers locate and recover it quickly, reducing the risk of financial loss.
Now that we've discussed the benefits of fleet monitoring with GPS, it's time to take a closer look at the inner workings of this technology and explore the hardware options offered by HOS247 to help you select the most suitable trackers that align with your specific business needs.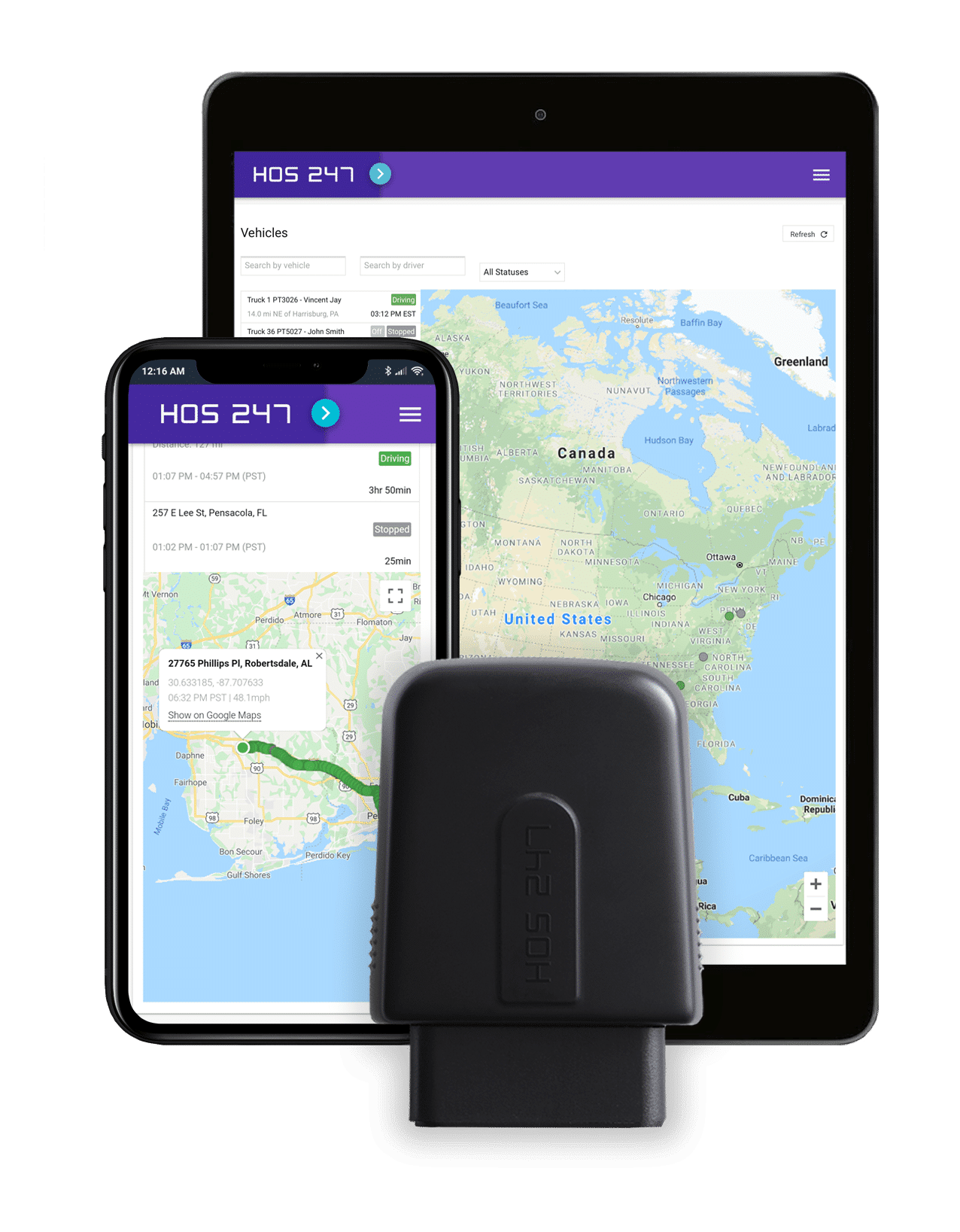 HOS247 Fleet Tracking Devices
GPS tracking devices use Global Positioning Systems satellites to provide real-time location data and other vehicle-related information, such as speed, idle time, and diagnostics. This data is wirelessly transmitted to HOS247 servers via 4G/LTE cellular networks, where it is analyzed by the tracking system. Fleet managers can access these metrics through a portal on a computer, tablet, or smartphone. 
HOS247 offers two main types of trackers:  an ELD-integrated tracker and the 24/7 monitoring tracker. While they both offer the benefits discussed above, the difference lies in the hardware option they utilize. The ELD-integrated tracker works with the same hardware as the electronic logging device (engine-connected) to help improve compliance with Transport Canada regulations, while offering real-time tracking and added features to improve productivity.
On the other hand, the 24/7 monitoring tracker is a separate piece of hardware equipped with an extra battery that collects and transfers GPS real-time data even when the vehicle is turned off. This option provides extra security for business owners as it can be concealed inside the vehicle to track and help recover assets in case of theft. The installation process is straightforward and can be set up by the carrier's staff without the need for a specialist.
Both the ELD-integrated and 24/7 monitoring trackers collect GPS coordinates every 30 seconds to 2 minutes, enabling fleet managers to monitor the vehicle's location in real-time and track its past locations on the route. To facilitate access to information, the vehicle data is tracked separately from the driver data, so fleet managers can access the GPS vehicle data regardless of who is driving or whether they are on duty. 
From hardware compatibility to technical support and user-friendliness, there are many aspects to consider when looking for a reliable GPS solution. In the next section, we will go through the main ones to help you find the right GPS fleet driver tracking for your fleet.
Choosing a Reliable GPS Fleet Tracking System
As GPS tracking technology advances, businesses are presented with more choices than ever before, making it essential to choose the right system that meets their specific needs. However, with so many options on the market, it can be challenging to determine which one is the right fit. When considering your options, make sure to look at:u
Hardware compatibility. Not all devices work with certain vehicle models or types, and choosing an incompatible device can be both inconvenient and expensive, as managing multiple GPS tracking systems from different providers requires additional investment in hardware and ongoing subscriptions. With a single provider and compatible hardware for all vehicles in your fleet, the process is streamlined, and managing your fleet's data is easier and less prone to errors.
Ease of installation. The process of installing the trackers should be as simple and straightforward as possible to minimize disruptions to your operations and save time and resources. By choosing a system with easy installation, you can ensure that your vehicles are up and running with minimal downtime, allowing you to get back to managing your business.
Real-time tracking. With the level of visibility provided by real-time tracking, managers can monitor their vehicles' location, speed, and other vital information at any given moment, make informed decisions quickly and proactively address any potential issues that may arise. Otherwise, fleet managers may only be able to view location data at set intervals, leading to delays in response times and the possibility of missed opportunities to address issues.

Efficient customer support. The system you select will be a critical component of your business operations, and any downtime can have a significant impact on your productivity. Therefore, it is essential to choose a provider that offers efficient technical support and assistance whenever needed. When evaluating potential providers, look for those with a reputation for excellent customer service and support, including phone and email support, as well as online resources such as user manuals and FAQs.
Intuitive interface. Confusing or complex fleet tracking programs can lead to errors by users, which can negatively impact productivity and mean missed opportunities for improving fleet operations. Therefore, it is essential to choose a GPS tracking system that offers an intuitive and easy-to-navigate interface with clear and concise information.
4G technology. 4G provides reliable data transfer, ensuring that the information is transmitted quickly and accurately to monitor your fleet more efficiently. 
Trial period. A demo allows carriers to test the software and hardware, evaluate its features, and determine if it meets their business requirements. A trial period also gives truckers the opportunity to test the level of customer support and technical assistance provided by the vendor. By taking advantage of a demo or trial period, carriers can avoid the risk of purchasing an unreliable system.
Customer-Focused GPS Fleet Tracking with HOS247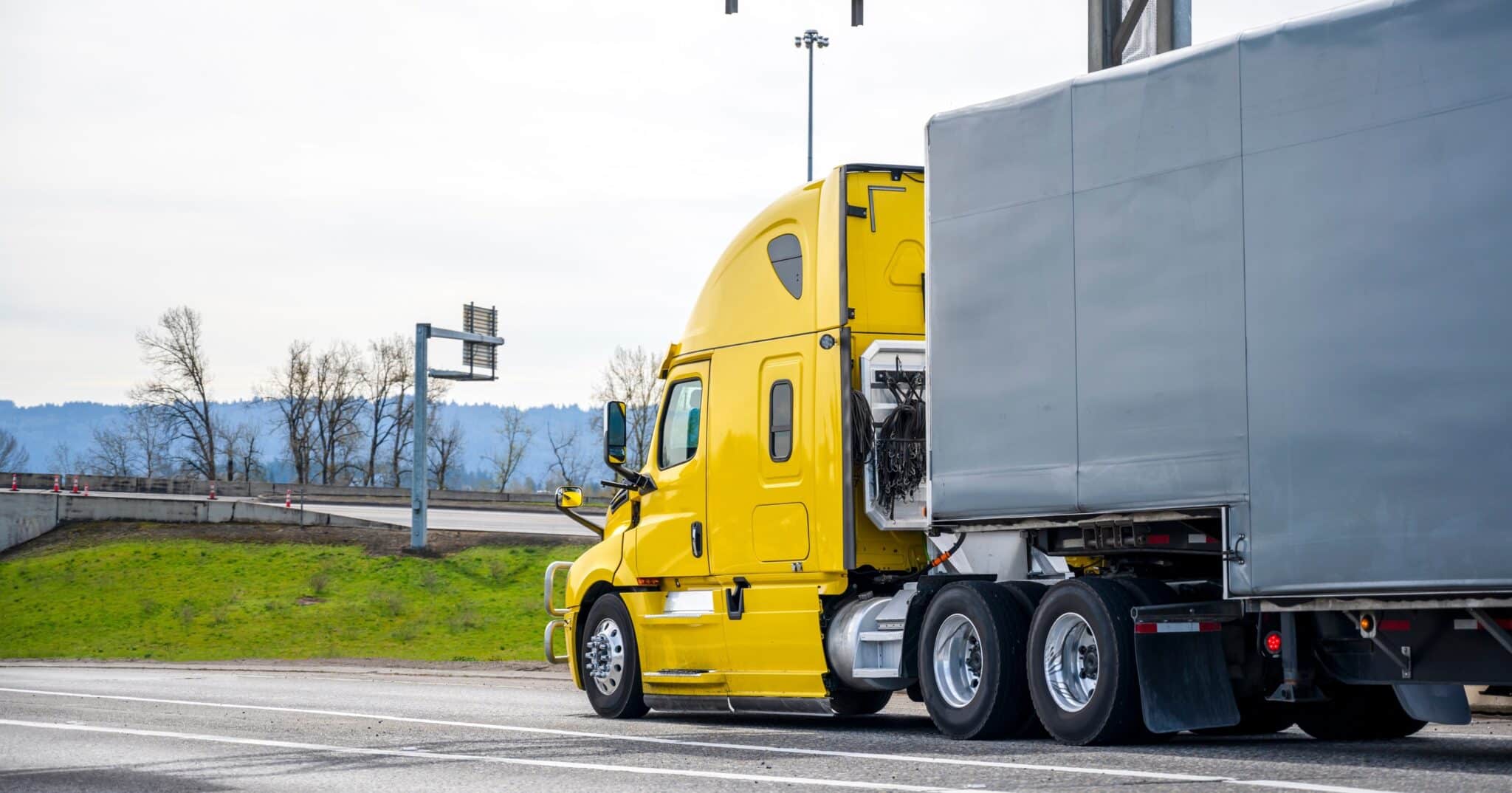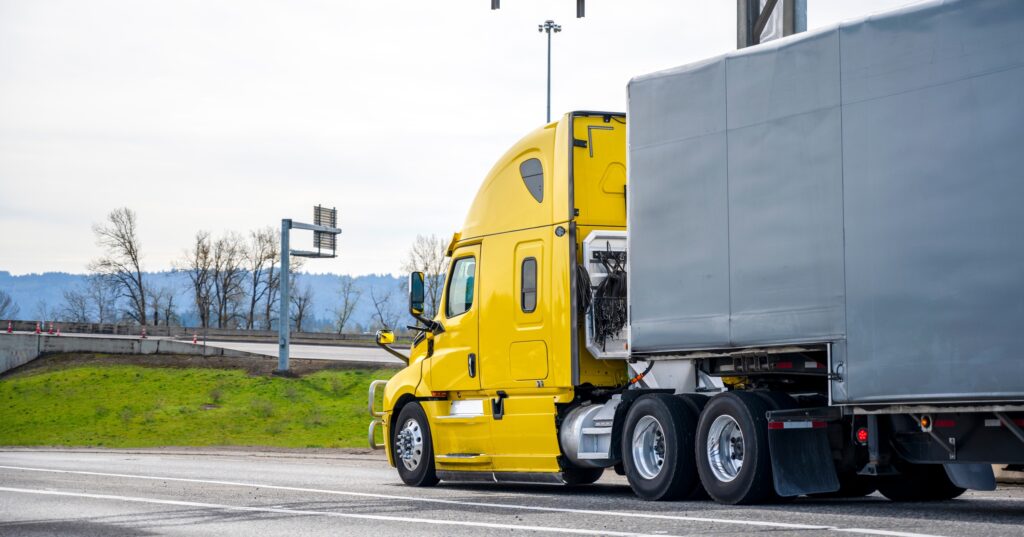 HOS247 is a leading GPS tracking system provider with a steadfast commitment to customer satisfaction. By leveraging cutting-edge technology, we have designed our trackers to be intuitive and effortless to use, enabling truckers to seamlessly harness the system's advantages without any complications. Our customers particularly value the following key policies offered by HOS247:
Excellent customer support with callback policy. We take pride in our team's efficiency and friendliness, and we've received positive feedback from our clients on their experience with our expert team. HOS247's experienced tech support managers are available from Monday to Sunday, providing timely and effective assistance to customers in multiple languages including English, Spanish, and Russian. To ensure our customers receive the best service, we have implemented a callback policy that guarantees that if a call is dropped for any reason, our managers will immediately reach out to the customer to ensure their needs are met.
User-friendly software. Our fleet manager portal provides a comprehensive and organized overview of your entire fleet, allowing supervisors to effortlessly monitor and manage their vehicles and drivers. The interface is thoughtfully designed, making it easy to navigate and access the system's functionalities without any steep learning curves.
No-contract policy. At HOS247, we recognize that fleet management needs can evolve over time, and circumstances can change. That's why we provide flexible monthly or yearly subscription plans tailored to accommodate the requirements of our clients. You have the freedom to scale up, down, or cancel your subscription as needed. Our aim is to empower you with the flexibility to adapt and make decisions that align with your business.
2-week demo. We highly encourage customers to take advantage of this 14-day trial, which provides an opportunity to thoroughly test our system and determine if it aligns with your specific requirements. We are confident in the quality of our service, but if for any reason you are not satisfied, we offer a hassle-free refund. Your satisfaction is our priority, and we want you to make an informed decision.
Complementary features. HOS247 offers additional features designed to address specific customer needs.

Our integrated electronic logging device helps achieve compliance with Transport Canada regulations, simplifying electronic logging and driver vehicle inspection reports.
Vehicle maintenance scheduling automatically tracks distance driven, usage hours, and servicing history to optimize maintenance events, extending vehicle lifespan and reducing repair costs.
Fault code detection alerts fleet managers and maintenance departments to potential vehicle malfunctions, enabling proactive decision-making.
Idle reporting helps supervisors monitor driver behavior and reduce fuel waste, lowering costs and carbon emissions.
IFTA calculations facilitate tax reporting, minimizing the risk of penalties or fines. 
Try our fleet track services to unlock new opportunities for your business expansion.
"Awesome. Easy to install and use. Top notch customer service! I recommend it to everyone."


"Great company to deal with. The support team is very responsive and competent. They provided a great deal of education for our company."

"Customer service is great. They helped me to set up everything and showed how to edit my logs. Thank you."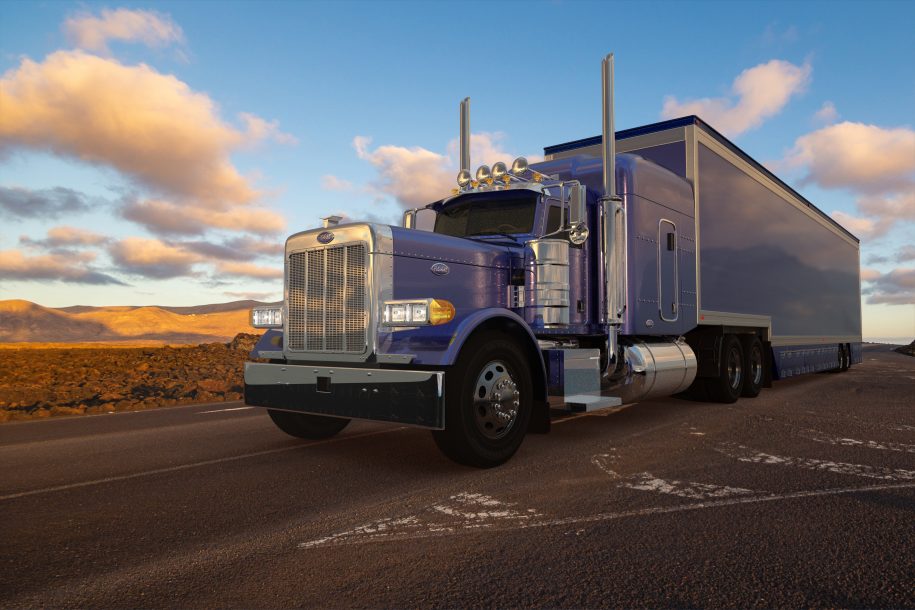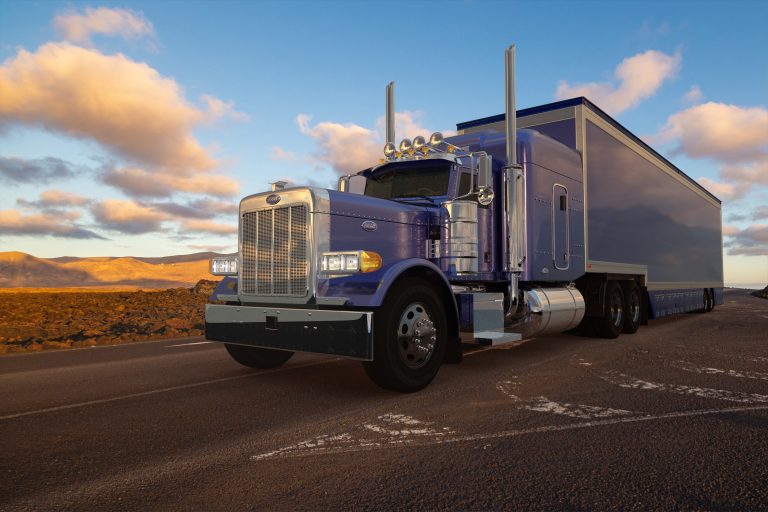 ELD Services & Devices
Switching to a reliable ELD provider can help lower your costs and save time, money, and other resources. Electronic logs allow you to review real-time data and keep track of every single vehicle in your fleet. If you're a truck
Read More »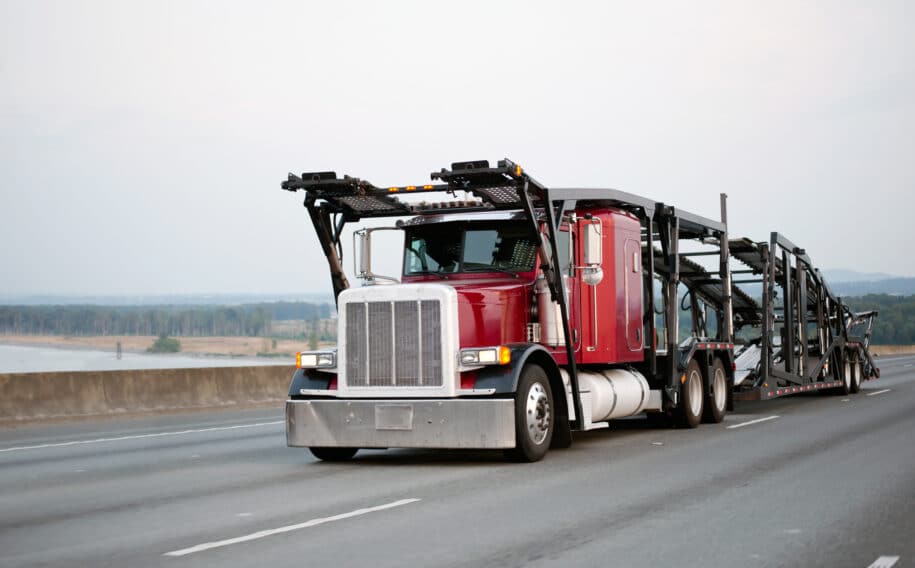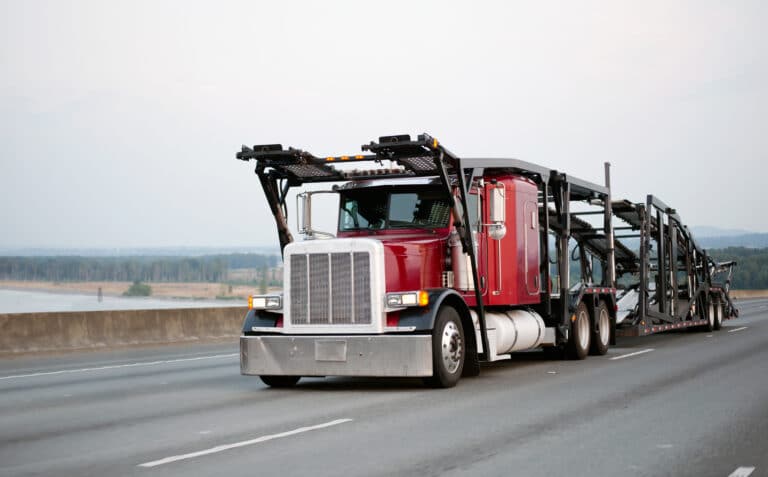 GPS Fleet Tracking Tips in Canada
For truck owners and carrier companies in Canada, logistics is always a priority. This is where real-time tracking of commercial vehicles can offer multiple benefits, including increased productivity and enhanced security. Before going into the advantage of live truck tracking
Read More »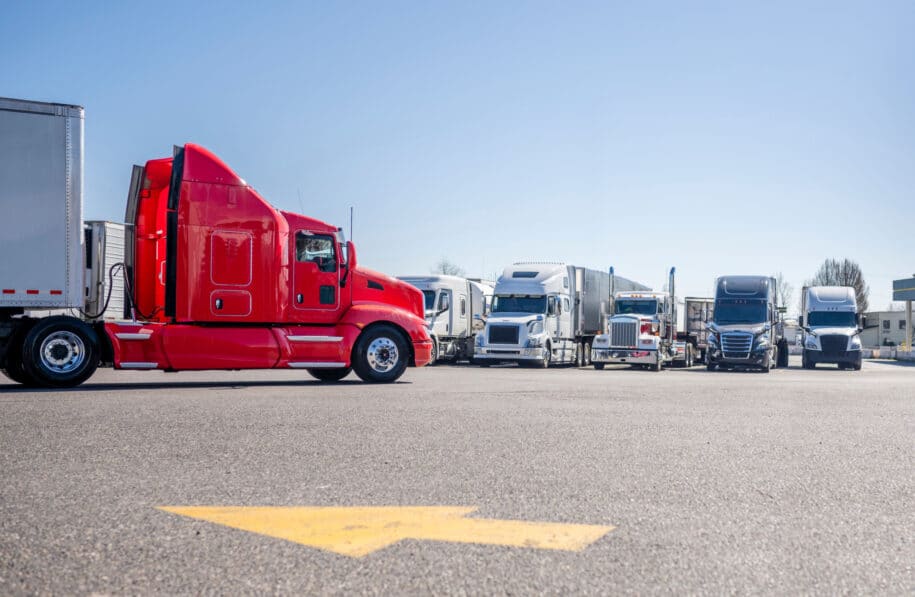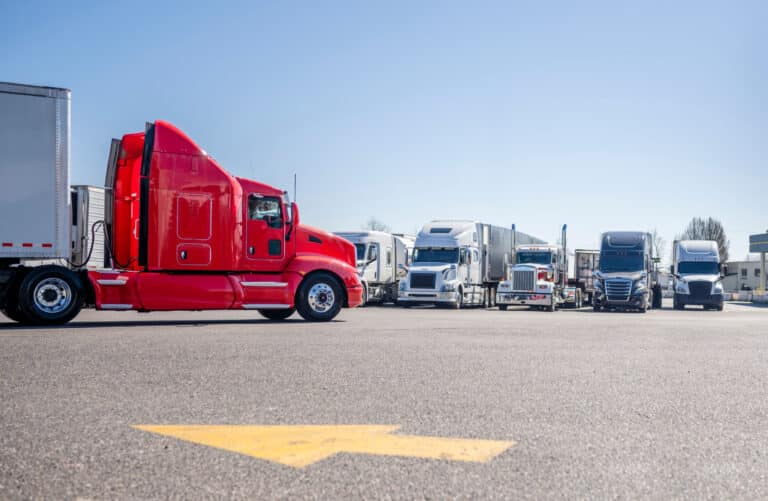 ELD Reviews
Electronic logbooks have significantly changed the way commercial drivers keep their hours of service records to achieve compliance with federal regulations. Since the implementation of the ELD law in Canada, the market for electronic logbooks has grown rapidly, and with
Read More »