Fleet managers and carriers come across multiple day to day operational tasks, such as vehicle maintenance, tracking assets, supervising, etc. These activities are all vital to the business, so they shouldn't be a challenge. Real-time GPS tracking can make those tasks more manageable while improving security, dispatch and fleet conditions considerably.
Also, in recent years, there has been a driver shortage along with high turnover rates, increasing the importance of well informed and trained staff. A user-friendly GPS system can contribute to retaining talented drivers and save carriers massive sums of money. In this article, we will look at how GPS tracking for trucking companies in Canada can help optimize fleet performance, how to choose a tracker that will boost your business productivity and what to look for in a provider.
Choosing a GPS Tracking System
If chosen correctly, a GPS tracker for company trucks can be a valuable asset. It offers drivers increased security, fleet managers can optimize operations, carriers can save costs and increase profits, and clients will ultimately receive a better service. However, it might be challenging to find GPS tracking for trucking companies with your specific needs, be it because of size, vehicle type, or any other factors. The decision maker must consider multiple things before selecting a GPS for company trucks.
First off, if your fleet is involved in interprovincial commerce, it would be best to look for a tracker that pairs up with an electronic logging system to comply with the upcoming mandate. Doing so can allow you to work with one provider, and your staff won't need to learn how to use multiple systems. That said, here are some characteristics to look for:
Compatible hardware. If the fleet is made up of different kinds of vehicles, it would be ideal to go with a provider whose devices are compatible with all of them.
4G technology. Data is transferred faster and more efficiently through the 4G network compared to 3G. 
Straightforward installation. Special or complicated installation procedures often require downtime and might come with extra fees. Consider looking for a tracker that is easy to install and can be used right away.
User-friendliness. Make sure the software is user-friendly and easy to manage. The last thing anybody wants is GPS software with a complex UI, which the staff may find difficult to get used to.
Responsive technical support. A company that offers GPS tracking for trucking companies should always have an effective support team available to help. Their reps should address queries, help solve issues, and offer tips to implement the tracker the right way, ensuring truckers get the most out of it.
Tracking in real time. Some trackers send location data periodically. Consider choosing a GPS tracker that updates vehicles' location in real-time. This can make dispatch more efficient and help provide better service to your customers.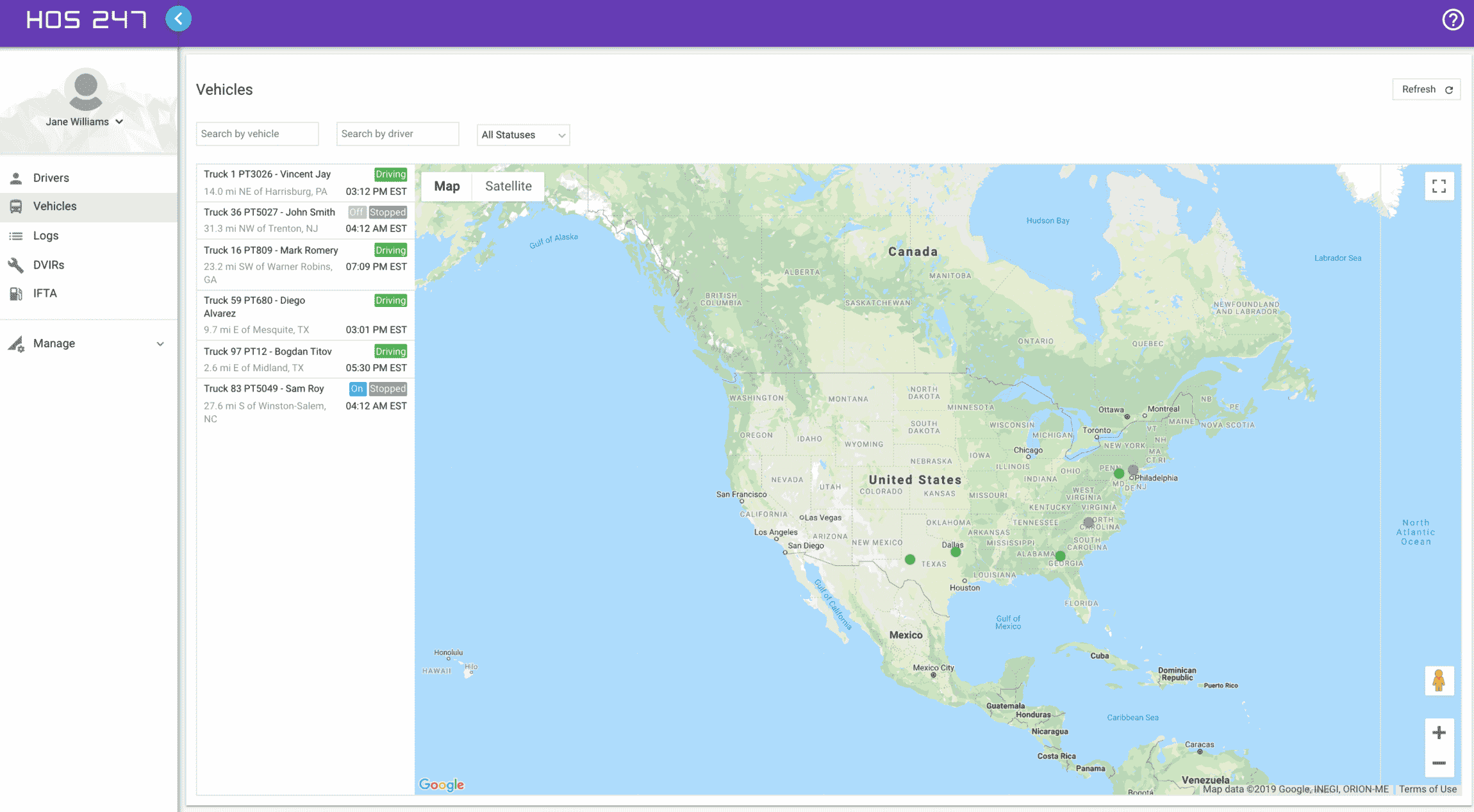 How Does GPS Tracking Work?
While the quality of service provided by different companies might vary, the basics of GPS technology are quite similar. First, the hardware piece must be installed into the vehicle. The device will send a signal to satellites which, through triangulation, return a signal to the device, allowing it to send its precise location to the GPS trucking company server.
This is called Global Positioning Systems technology. All data related to your vehicle including position, diagnostics, idle time, etc. is sent to servers through a 4G network (ideally). After that, the tracking system analyzes the data and displays it on the fleet manager portal. The process sounds fairly simple, but the technology that makes it work actually requires a lot of power and processes a lot of data, which is why it pays to have a reliable system backed up by a knowledgeable provider.
Benefits of the HOS247 4G GPS Tracking System
At HOS247, we make it a point to provide reliable GPS tracking for truck companies that are looking to consolidate and grow their business. We pride ourselves on offering top-rated customer service, since we value our clients' time, business and opinions. With our expertise, fleets can enjoy the following benefits of the HOS247 GPS tracker:
Cost Savings. The GPS tracking solutions we offer can help cut down on operation costs significantly. 

Idling. Trucking companies can optimize driver behavior and help prevent idling, which elevates fuel wastage and operation costs. 
Maintenance. The preventative maintenance and fault code features allow fleet managers to identify mechanical issues promptly and address them before they become time-consuming and costly, extending vehicles' useful lives. 
Dispatch. Dispatchers can assign loads more efficiently thanks to full fleet visibility including drivers' locations and available driving hours. 

Increased safety. The GPS devices that HOS247 uses to track fleets can help keep them secure and even recover them in case of theft. What's more, these devices notify fleet managers if any vehicle in the fleet is driven to unauthorized locations.
User-friendly system. HOS247 has designed a GPS tracking device for trucking companies to start using right away. The hardware can be connected to the vehicles by the driver or anyone else on the staff and our software system has an intuitive interface that eases its implementation.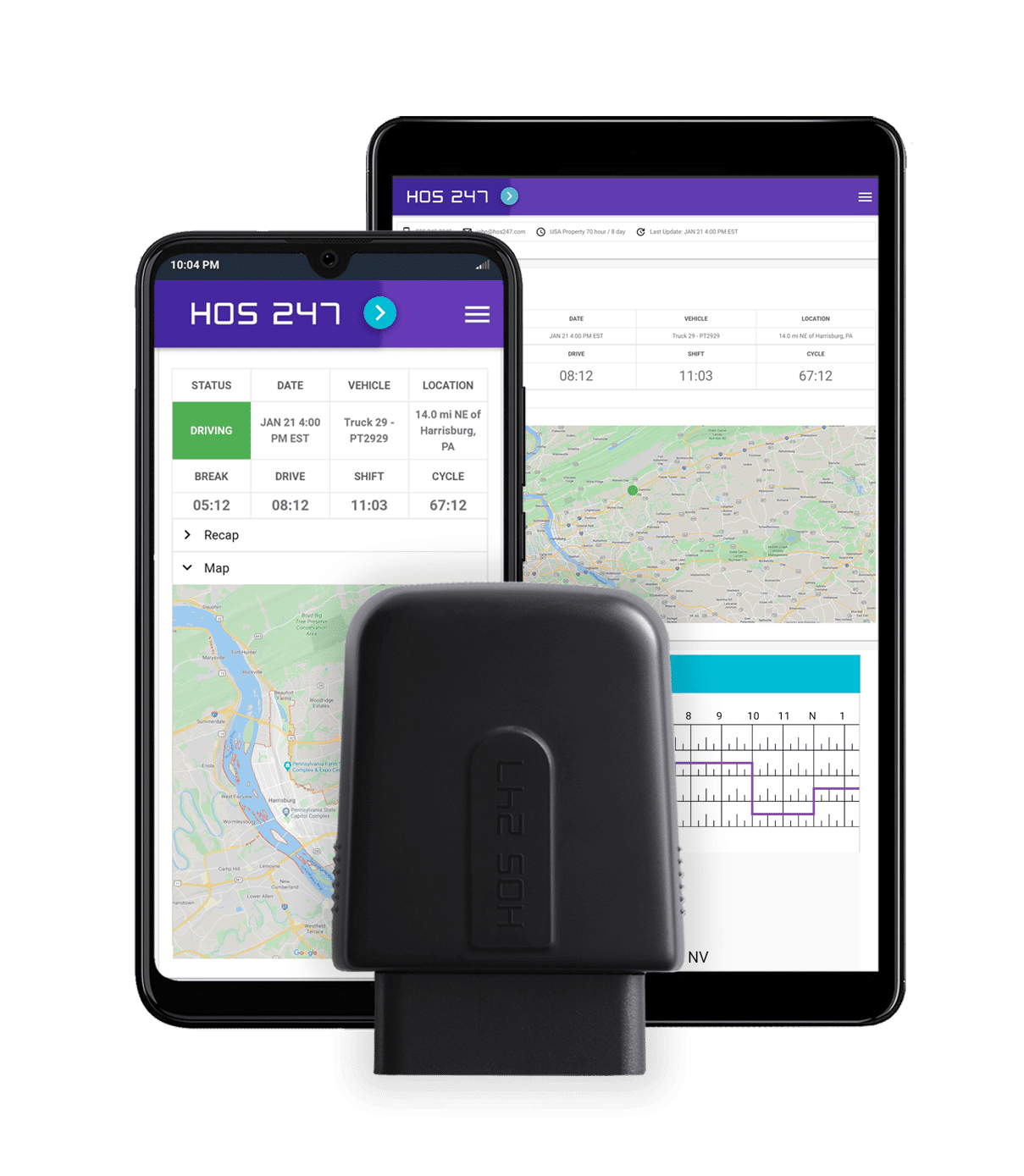 HOS247 Is a Top-Rated Provider of GPS tracking for trucking companies 
HOS247 is top rated on app distribution platforms because of our dedication to our customers. On top of providing an efficient tracking system, we look to offer truckers all the flexibility and support they need to manage successful operations. Our customer care policies include:
Effective customer service. Our multilingual support team is available to help drivers or managers with any issues Monday through Sunday. We have a callback policy in place to make the process more efficient and make sure the problem is solved. 
No contracts. HOS247 does not require its customers to sign lengthy contracts. This means that companies are free to discontinue our services without penalties if they choose to do so.
14-day trial. We have a hassle-free return policy that applies during our trial period. If you are dissatisfied with our services, you can ask for your money back within fourteen days; no questions asked.
Hardware replacement warranty. We provide durable hardware that does not break down mid drive. If anything were to happen, we will replace it for free during the one-year warranty period. 
HOS247's All-in-One Fleet Management System
HOS247 has provided GPS tracking for trucking companies for several years as an individual service or as part of our all-in-one fleet management system. Along with our GPS tracking service, truckers can also benefit from:
ELD. Our electronic logging devices are top-rated by fleet managers, owner operators and drivers. The hardware can be installed within minutes and connected to your tablet or phone via Bluetooth. The ELD we offer has an incredibly user-friendly interface and does not need much time to get used to, aside from facilitating compliance with the upcoming mandate.
IFTA calculations. With our IFTA calculation service, truckers don't have to worry about spending time on paperwork. Instead, everything is automated, giving trucking companies the freedom to focus on pertinent tasks and provide timely and quality services. Our IFTA software is ideal for tax reporting. Trucking companies can also get access to detailed trip reports and filter different summaries according to type of vehicle and date.
Vehicle maintenance. Keeping track of vehicle maintenance activities can be quite challenging for trucking companies with large fleets and several types of vehicles. HOS247 can help by notifying vehicle maintenance dates in advance. Our software also keeps a record of fleet maintenance history, which can come in handy for managers.
Fault code detection. Whenever the diagnostic system of a vehicle spots a malfunction or error, it generates a diagnostic trouble code, followed by alerting drivers through the indicator or a warning light on the instrument panel. Fault codes, also known as diagnostic trouble codes, help you determine which area of your vehicle requires fixing. Our fleet management system can send this information in real time to technicians or fleet managers, making sure they can get their vehicles fixed for smoother operations.
Automated idle tracking. The proper use of fuel is vital for trucking companies to ensure they are not wasting money. However, keeping track of things like these manually can be quite a challenge. Our system can check if your drivers are speeding too much or driving idly and notify you about it.

Final Thoughts
If you are looking for efficient and reliable services that offer GPS tracking for trucking companies, HOS247 can help. If you are on the fence about using GPS tracking, you can always book a free demo to see if it is what you need. We provide transparent, reliable and trustworthy tracking solutions for the transportation industry.
"Awesome. Easy to install and use. Top notch customer service! I recommend it to everyone."


"Great company to deal with. The support team is very responsive and competent. They provided a great deal of education for our company."

"Customer service is great. They helped me to set up everything and showed how to edit my logs. Thank you."




Fleet Management Systems & Features
Fleet managers have a monumental responsibility in the trucking industry. Their job is multifaceted and complex, and a reliable fleet management vehicle tracking system is one of the best ways to streamline it. This article will look at the positive
Read More »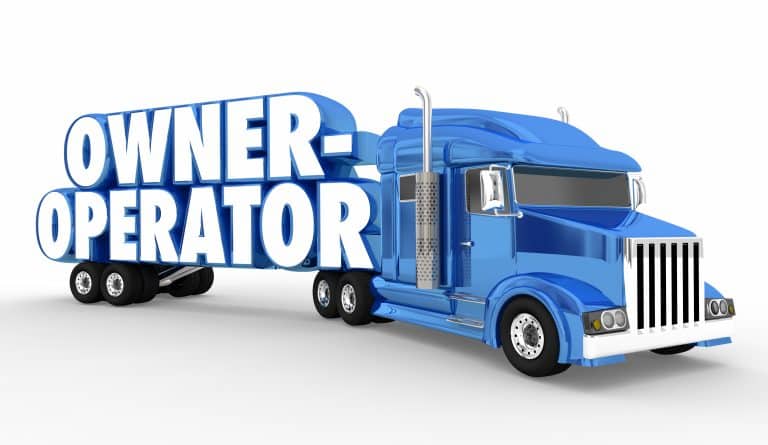 ELD Services & Devices
For owner-operators to comply with the Transport Canada electronic logbook rules, you will need to have a good electronic log to track your hours. This will also help you stay competitive and safe while working in the industry. The ELD
Read More »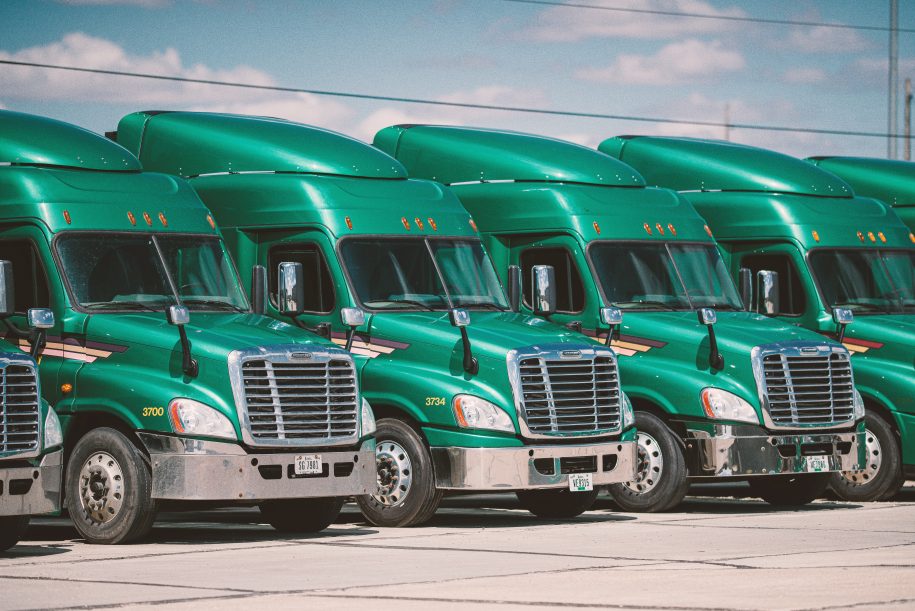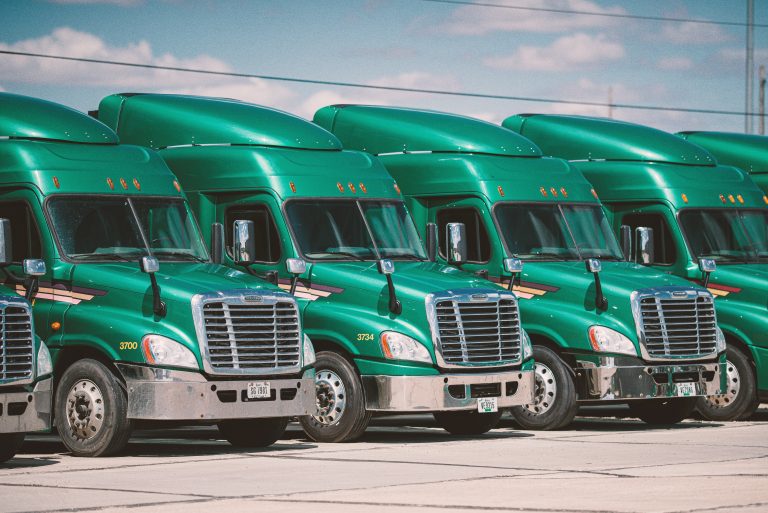 ELD Services & Devices
The law mandating the use of ELD logs issued by Transport Canada was first published in December of 2017 and came into effect on June 12, 2021. However, a progressive enforcement period has been implemented so that penalties will not
Read More »