Electronic Logging Device or ELD helps trucker drivers to reduce unnecessary expenses and increase profits. ELD is now mandatory by FMCSA electronic log rules and the Department of Transportation (DOT) for a number of reasons. In addition to keeping track of the vehicles, monitoring distances, and reducing human errors on paperwork, ELDs also effectively increases road safety. To leverage all these features, a carrier company needs to pick a reliable FMCSA-registered ELDs service provider.
HOS247 has a long-standing reputation as an industry leader for both large carriers and owner-operators with top-notch customer service. HOS247 offers ELDs that are FMCSA compliant with reliable hardware. These ELDs come with the Logbook App to enable instant on-road access to drivers and fleet managers.
Here some of the key features of HOS247 ELDs offers:
Automatic HOS: Hours of Service of the vehicle driver is automatically calculated. Carriers will also receive alerts in case of violation of HOS. This happens when drivers are on the road longer than allowed by law.
Easily Manage DVIRs/ Logs: The logging device enables on-road access to truck drivers for updating vehicle inspection reports via an App. The App is compatible with both Android and Apple IOS.
Instant On-Road Communication: Allows on-board input from drivers through instant communication over the phone. This helps companies to support drivers and resolve on-road issues faster.
FMCSA Certified: HOS247 Electronic Logging Devices has been certified by FMCSA to meet the requirements of the ELD mandate.
GPS Tracker: The device offers real-time GPS tracking via telematics. It sends real-time notification on engine start-up and stop. The carrier also receives an alert if the vehicle is driven in unauthorized areas. 
Easy to install: HOS247 ELDs come with user-friendly hardware. It can be installed in minutes and operated through a tablet or smartphone using Bluetooth or USB cable. 
Flexible no-contract plan: HOS247 offers FMCSA registered ELDs on hassle-free no-contract plans. The pricing structure is flexible to suit the requirements of both large carriers and owner-operators.   
Active customer support: HOS247 provides top-rated support to drivers and fleet managers. It has a multi-lingual team ready to help.
ELD rules mandated by FMCSA 
The FMCSA mandate have been issued and are now enforced by DOT for all commercial vehicle drivers. These FMCSA elog rules state that driver's HOS must be e-recoded via a FMCSA-registered device. Businesses relying on commercial vehicles like buses and trucks are the most affected ones by these new elog rules.
 The rules are applicable in the United States, Mexico, and Canada. The main parameters of the regulation are electronic logging of records of duty status (RODS) and Hours of service (HOS).
HOS247 brings an affordable solution to avoid expensive violation of DOT policies with FMCSA-approved ELDs. Maintaining records of duty status (RODS) is made simple with the advanced features of HOS247 ELD.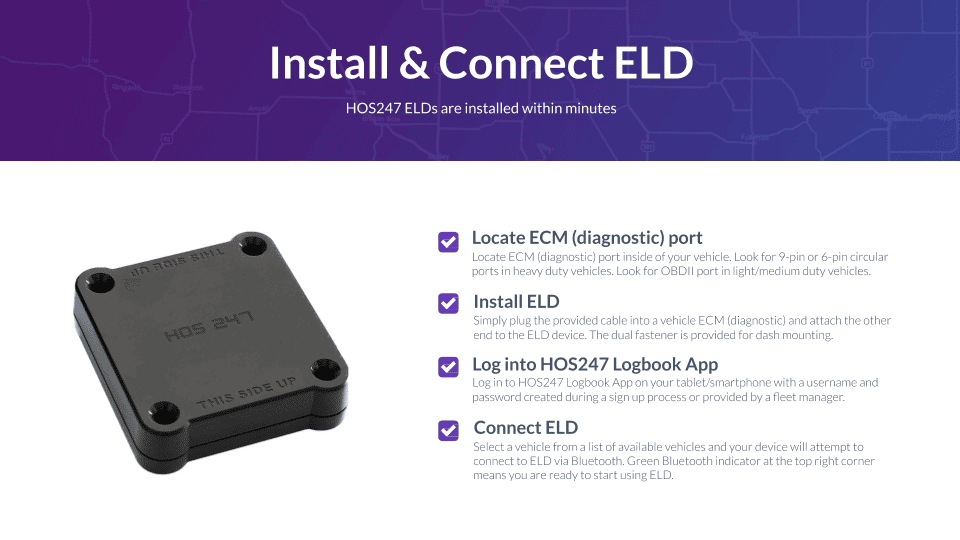 15 FMCSA elog rules to follow
Verify FMCSA registration: All the FMCSA approved ELDs are listed on FMCSA website under the registered devices section. The list should be used to verify any ELD.  
Portable ELD rules: Portable device can be fixed in a position on the truck that is visible and accessible to drivers while driving. Smartphone or wireless portable ELDs are considered FMCSA compliant if they meet all pre-set criteria.
User manual and instructions for ELD: All compliant ELDs come with a general user guide and instruction manual on operation and malfunctioning of the device. 
Unique ELD account: Every registered ELD must have a unique username provided by the carrier company. It should also have the driver's name and license number configured in it.
Driver status authorization: Each driver's status must be recorded on the ELD when the vehicle is in use. Status like yard move, personal use, none, default etc. are mandatory.
ELD functioning: The logging device must become fully functional within a minute of starting the engine and should continue functioning as long as the engine is active.
Automatic Date/ Time Record: The ELD should automatically record the date and time whenever required without any manual input.
Geo-location tracking: Geographical location of the vehicle can be tracked through a compliant ELD. It alerts when the vehicle is used after working hours and also when it is driven in non-permissible areas.
ELD data accuracy: Measurement of distance and locations should be accurate at the range of 0.5 to 1 mile.
Compulsory Information to be recorded: A FMCSA registered logging device is bound to record important vehicle information like driver's location, engine operation hours, distance covered, etc. 
Alert unidentified access: Every driver using the vehicle should be authenticated in the ELD by the carrier company. Any unidentified access to the vehicle will be recorded and reported.
Auto-update on VIN: FMCSA electronic log rules mandate that ELDs automatically record vehicle identification number (VIN) from the engine ECM without any human input.
Enable drivers to certify records: Authenticated drivers can certify or re-certify their work records. The carrier company will be notified in case of any discrepancy in the data and the driver's record.
Malfunction indicator: In case of any active malfunction, the ELD must visually indicate the driver and also dispatch audible signals to help the driver track it. Simultaneously, the ELD will also alert the company about the malfunction.
Print/ display options: Crucial information like daily HOS and ROD should be displayed to the company and the driver.  Printout options for the same should be available on a graph grid paper of at least 6 X 1.5 inches size.
What is the FMCSA Mandate and Who Must Comply?
With all the talk going around about the FMCSA mandate, it is important to know which businesses it applies to. Let's take a look at the criteria that have been pre-set by FMCSA to file RODS.
Vehicle weight: If the vehicle weighs 10,001 pounds and above then the ELD mandate will be applied. Additionally, if the gross vehicle weight or the combination weight rating is 10,001 pounds or above, the FMCSA rules are applicable.
Vehicle use: If the vehicle is used to transport 16 or more people including the driver and is not for compensation, then the FMCSA mandate applies. It also comes under the e-log rules if the vehicle carries hazardous supplies in quantities that require placards.
Size of business: Whether it is a company operating a large fleet of vehicles or an individual owner-operator, FMCSA log rules are applicable to all unless they meet the exemption specifications.
Past data: FMCSA will consider information from at least 4 years prior to the issue of rules for electronic logs. So, it's important to make sure the vehicle is safety compliant and has all paperwork done as soon as possible.
What are the Electronic Logbook Exemptions?
FMCSA has allowed certain exemptions to the electronic logbook requirements for owner-operators and carriers. Take a look at the criteria below to see if any of the FMCSA rules for electronic logs exemptions apply.
Oil-field carriers: Under the new elog rules are not enforceable if the vehicle is used for transporting oilfield equipment for the construction of pipelines and well-sites.
Short-Haul Driving: If a commercial driver operates within the radius of 100 air-mile in the authorized work area then the FMCSA mandate does not apply. For non-commercial drivers, the exempted area is within a 150 air-mile radius.
8-Day Record: DOT policy is not enforced if a driver has to maintain RODS for less than 8 days out of a 30 days period.
Vehicle shipment: If the vehicle is driven as part of a shipment that means when the vehicle itself is the product that is delivered then the e-log mandate is not required.
Pre-2000 registered vehicles: All drivers of vehicles with registered VIN before 2000 are exempted from the FMCSA enforcement.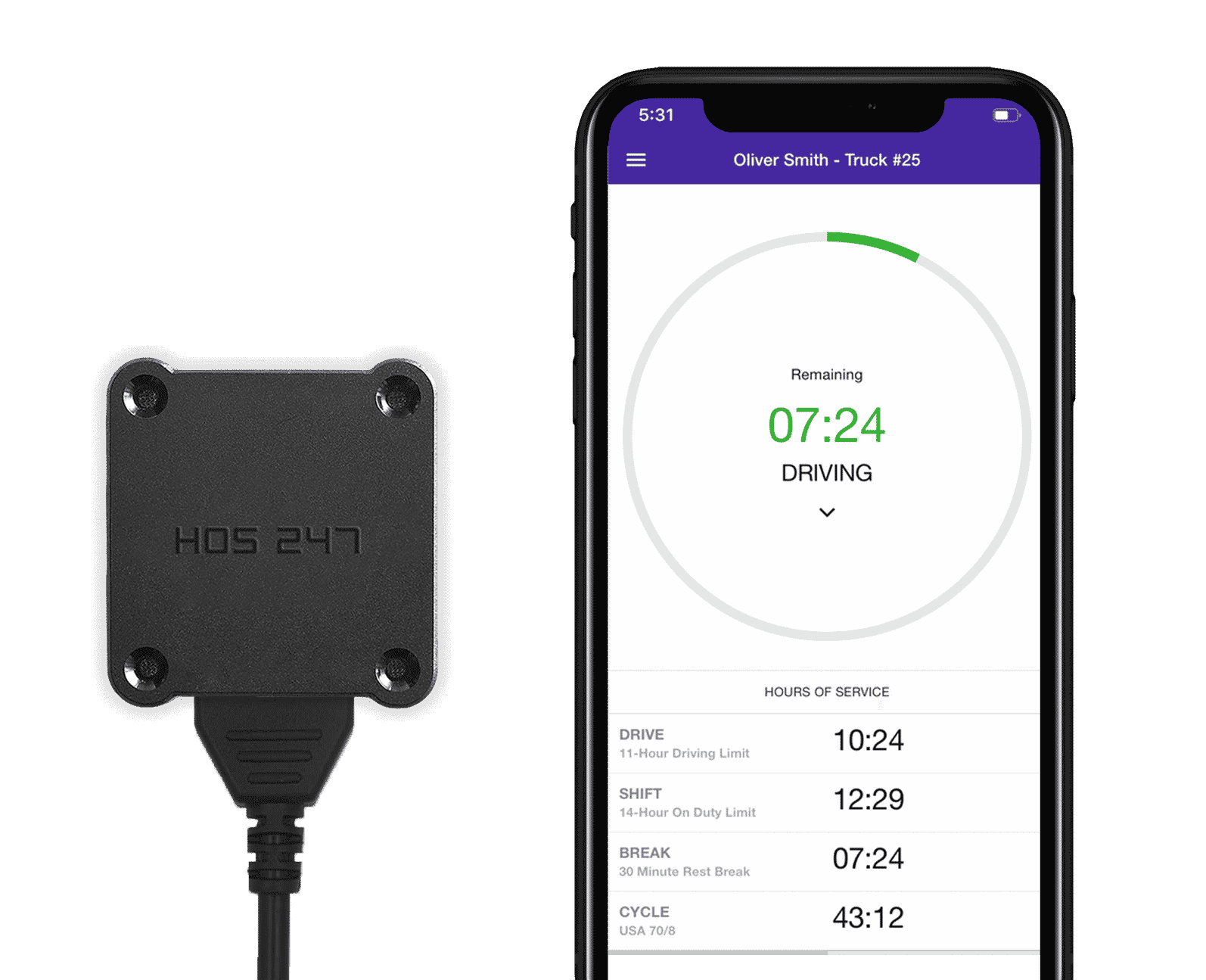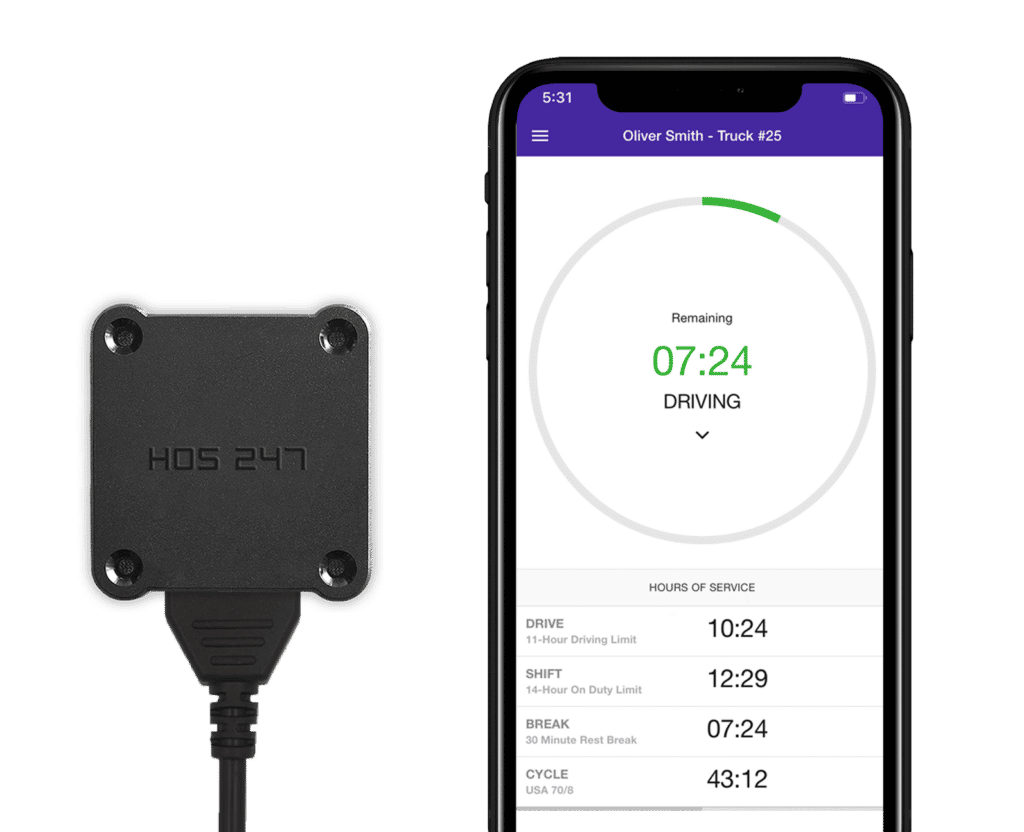 How HOS247 Helps Carriers
HOS247 offers ELDs in a complete package for fleet carriers or individual owners to stay compliant in the most convenient way possible.It has all the necessary features to meet the safety requirements of DOT policy. The logging device also supports service exemption rules set by FMCSA.
Here are the benefits of HOS247 ELDs to prevent FMCSA mandate violation:
Reliable electronic logbook rules app to meet FMCSA specifications: All data like HOS, RODS, mileage, etc. are automatically maintained and accessed over an App. The app allows edits and manages all information to avoid costly violations of DOT policy.
Vehicle inspection report to avoid audit risk: Driver logs and vehicle inspections records are prepared electronically without manual human errors. This ensures truckers quickly pass with flying colors on DOT audits.
GPS tracking to stop illegal vehicle usage: GPS telematics provides accurate geographical location of the vehicle even after working hours. This increases vehicle security and also improves employee productivity.
Vehicle Diagnostics for increased protection: Real-time notifications are sent in case of any vehicle malfunction or misconduct in driver's behavior.
Supports service exemption for Drivers: FMCSA has issued a rule to reduce driver fatigue and increase road safety with 4-hours of serve exemption. It allows a 30-minutes break to the driver after continuous driving for several hours. HOS247 ELDs are programmed accordingly to adhere to the FMCSA exemption rules.
Conclusion
Both larger carriers and small owner-operators must comply with the ELD mandate. When they decide on an ELD service provider they must ensure they meet the FMCSA requirements. Additionally, they must be aware of the electronic logbook rules exemptions. 
HOS247 offers a powerful ELD solution with all pre-set FMCSA parameters programmed in it. Carriers can be confident that these ELD solutions will help truck drivers avoid expensive mistakes and delays. The HOS247 ELD service does much of the required work automatically without much human input required. The e-logging device by HOS247 helps carriers and owner-operators avoid costly mistakes and increase profits.
"Awesome. Easy to install and use. Top notch customer service! I recommend it to everyone."


"Great company to deal with. The support team is very responsive and competent. They provided a great deal of education for our company."

"Customer service is great. They helped me to set up everything and showed how to edit my logs. Thank you."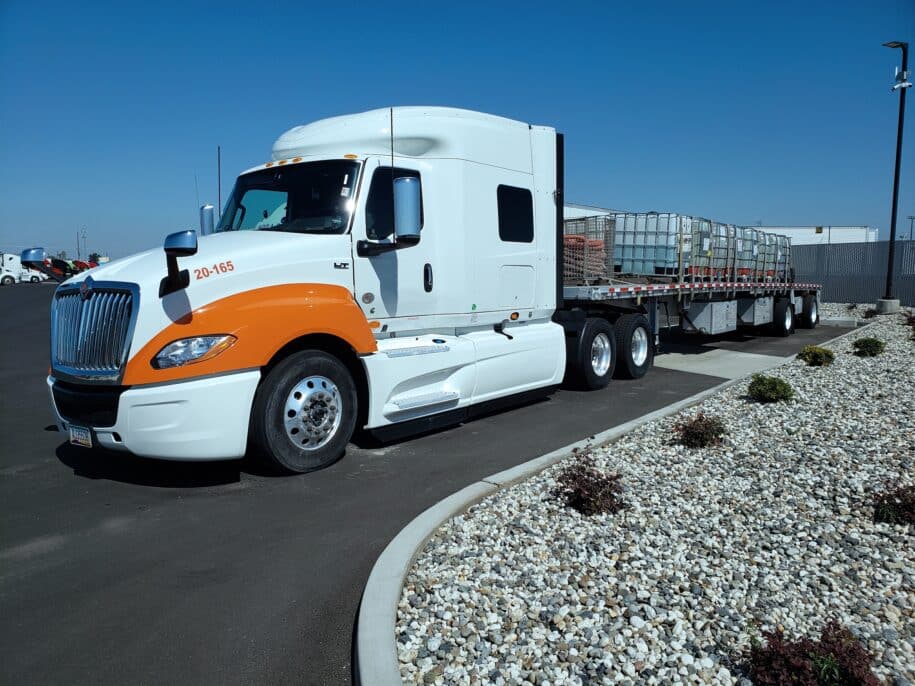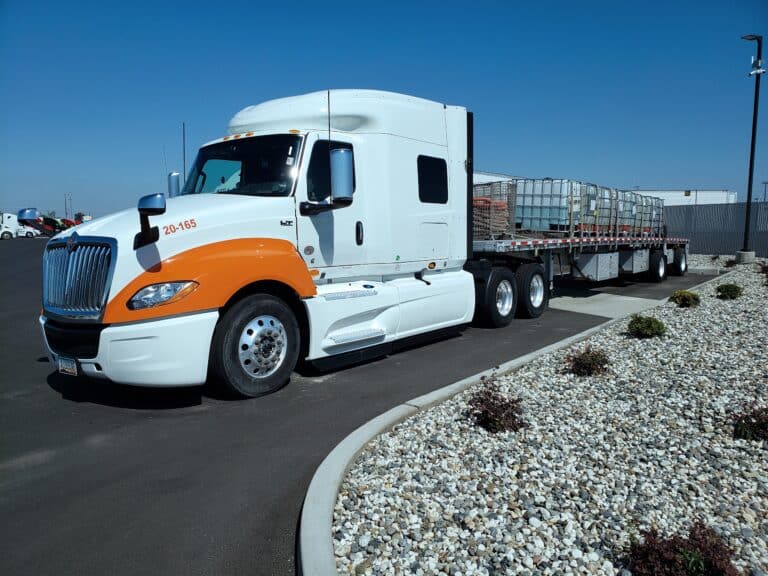 ELD Services & Devices
Hours of service records have been a part of truckers' jobs for many years. Since HOS rules became law and up until the ELD mandate was passed, paper logs were the way to keep records of duty status. Drivers would
Read More »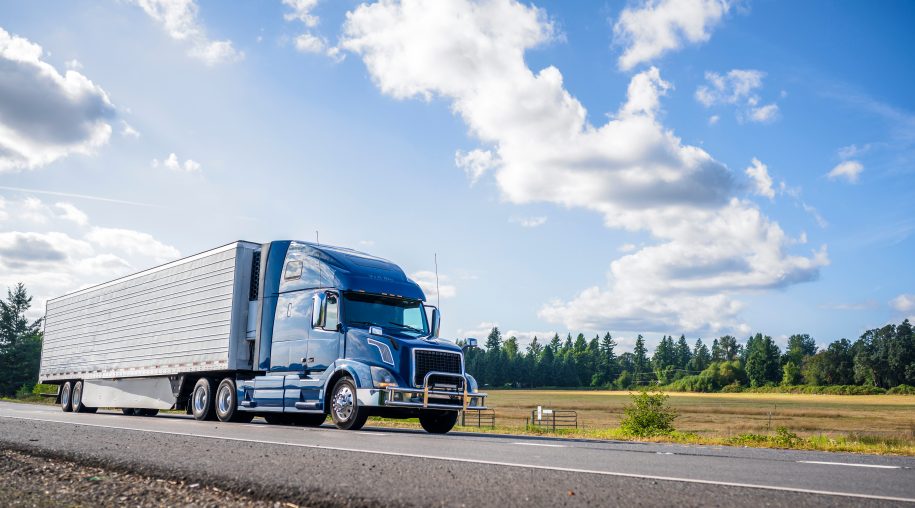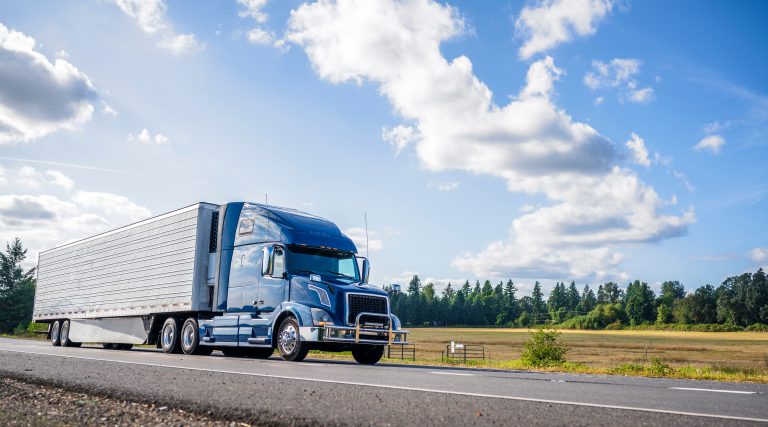 ELD Services & Devices
The federal government issued the Elog mandate (also known as the electronic log mandate or the ELD Final Rule) to require drivers of commercial motor vehicles to use electronic logging devices (ELDs) to record driver and vehicle data. Since commercial
Read More »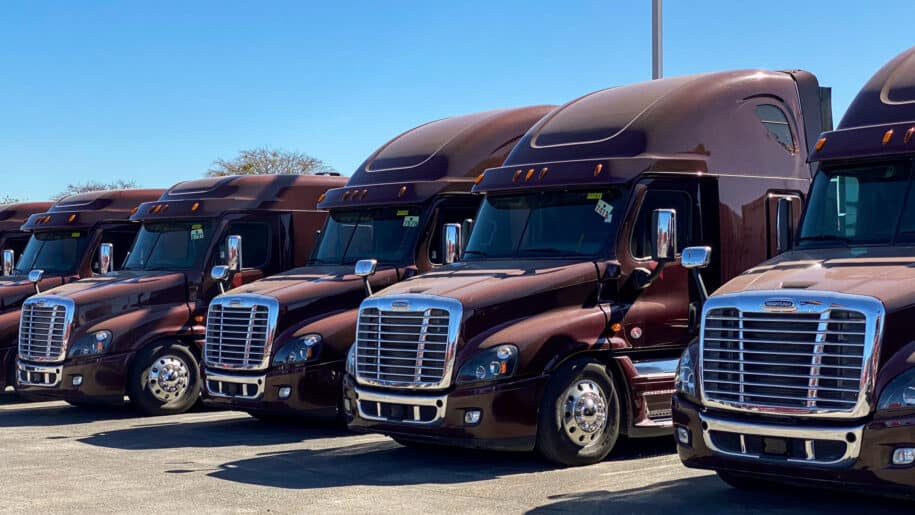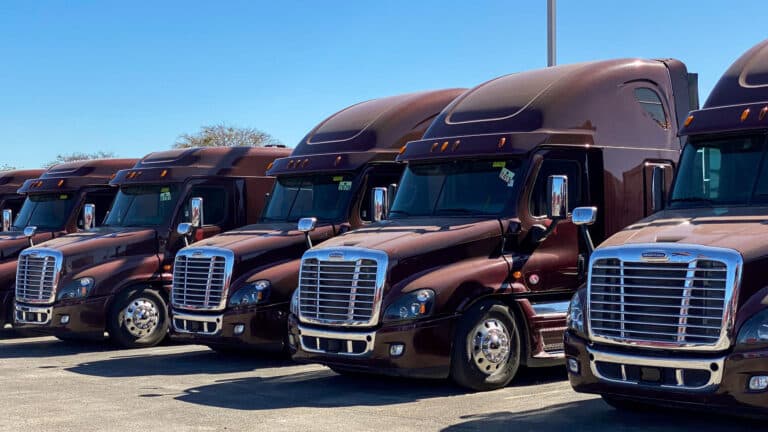 ELD Services & Devices
Electronic logging devices were designed to replace the traditional paper logbooks and automatic on-board recording devices previously used by commercial drivers to keep track of their hours of service. Since the implementation of the ELD mandate, elogs have become an
Read More »