Switching to a reliable ELDs HOS provider can help lower your costs, saving you both time, money, and other resources. You will be able to review real-time data that will allow you to keep track of every single vehicle in your fleet. If you're a truck driver, you won't risk getting stuck without any support for the road. Avoiding costly fines by staying compliant with current ELD HOS mandate & regulations is also possible thanks to the HOS logging capabilities, as well as by helping ensure the CMV or fleet is legally fit to run your routes. Electronic logging devices can also increase driver safety (and happiness) by managing their time and ensuring they have enough time to rest during a drive or between routes. They also help prevent fatal crashes and accidents by avoiding driver fatigue or vehicle malfunction. And most importantly, a reliable ELD service provider will be able to help you with any issue, problem or difficulty that arises during your drives.
So if you're on the lookout for a new ELD provider, HOS247 is the ideal solution for you. Our HOS ELD solution focuses on full dependability, comprehensive reliability, easy-to-install hardware and software that is set up within minutes, easy-to-use features that are friendly for all sorts of users, and amazing customer service that's available when you need it the most. All of this amounts to one meaning: we're passionate about bringing everything you need to the table when it comes to the ELDs HOS service you're looking for.
What are ELDs HOS?
HOS stands for Hours of Service, and it refers to the maximum number of hours a driver is allowed to be on duty – including driving time. All CMV (Commercial Motor Vehicle) drivers, including owner-operators, commercial truck drivers, and commercial bus drivers are required by law to comply with the most recent HOS regulations. 
ELD, on the other hand, stands for Electronic Logging Device. ELDs work to automatically capture the HOS (Hours Of Service) and driving time records for any CMV fleet. The data captured by an ELDs HOS includes relevant information such as:
Compliance reports regarding drivers HOS (Hours Of Service)
Real-time GPS tracking for fleet management and operations processes
State mileage monitoring (which can help with IFTA (International Fuel Tax Agreement) tax)
Visibility of the Commercial Motor Vehicle fleet with real-time data and notifications
Vehicle diagnostics for fault code detections and maintenance planning purposes
And more…
Electronic logging devices are mandatory for most businesses centered around commercial motor vehicle trucking operations. They are required by law in order to stay compliant with current ELD HOS rules. These regulations were set in place to provide accurate information regarding routes driven, as well as to increase driver safety and avoid fatal accidents and crashes. ELDs help ensure visibility of the vehicle's engine data, how many miles any given vehicle has traveled, the number of stops and the time for each break while driving, and even real-time GPS tracking.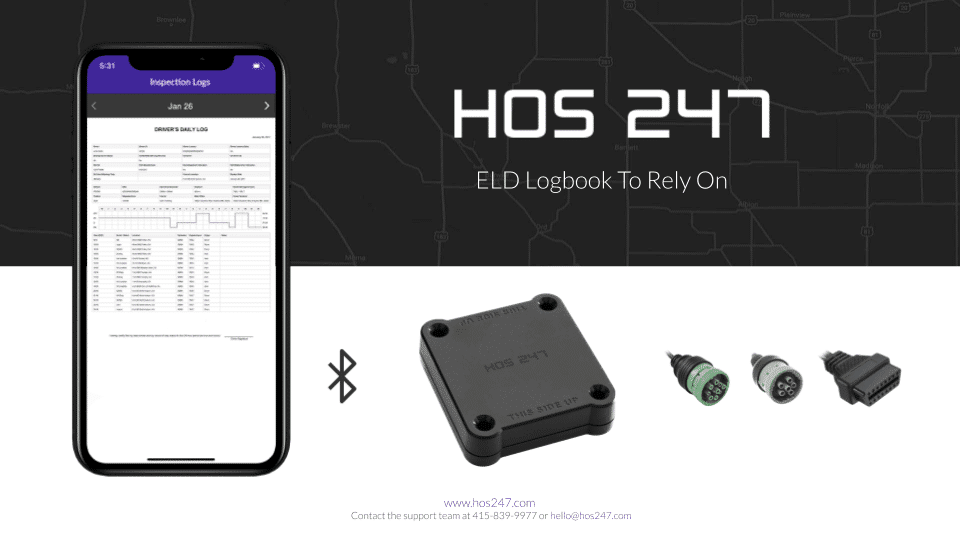 Why Is ELD Reliability Necessary?
As mentioned above, an ELD device is needed to provide all sorts of relevant data for the CMV company. It's an important piece of the puzzle for any fleet operations management team. This is why a reliable ELD solution is absolutely necessary for any company that needs a thorough record-keeping of their RODS (Records Of Duty Status). If a single piece of the hardware, software, or mobile app stops working, the company can face harsh penalties and hefty fines by not staying compliant. It can also cost them big amounts of money by keeping the vehicles locked in place and unable to move, which affects the business's delivery times and workflow. As you can see, a reliable ELDs provider is key for any business's operations and optimization. Being able to rely on your ELD solutions and being able to find actionable answers to any problem that may arise is absolutely essential in this day and age. That's why at HOS247 we focus on being a solution you can lean on: fully dependable, reliable, and with available support whenever the need arises.
How Can Finding Better ELDs Provider Can Help You Lower Your Costs?
Switching to a reliable ELDs provider can help boost your business operations while lowering your management costs. This is because reliable electronic logbook can:
Help you avoid fines by staying compliant
Help keep your business on track 
Help you avoid having vehicles stuck or unable to move due to the current ELD mandate
Help your CMVs never miss a load
Provide real-time GPS that improves your fleet visibility
Bring full vehicle diagnostics to improve fleet quality management
Provide real-time notifications that help improve operational efficiency
Help reduce DOT audit risk
Help improve your driving quality and performance
Help prevent vehicle breakdowns and avoid collisions
Provide hardware won't break down mid-drive
Aid you with any problem or issue that comes up
The biggest differential for identifying a reliable ELD provider is their support. Malfunctions shouldn't happen, but when they do, you need to have reliable support. You can't afford to have a vehicle stopped, unable to complete its route due to any given malfunction. Your ELD service provider should have a fully dependable support team ready to aid you whenever your business (or any of your drivers) needs it. HOS247 provides outstanding customer support for our electronic logging services, which makes it one of the best options in the ELD market. Simply put, you can always count on us. We'll be there for you.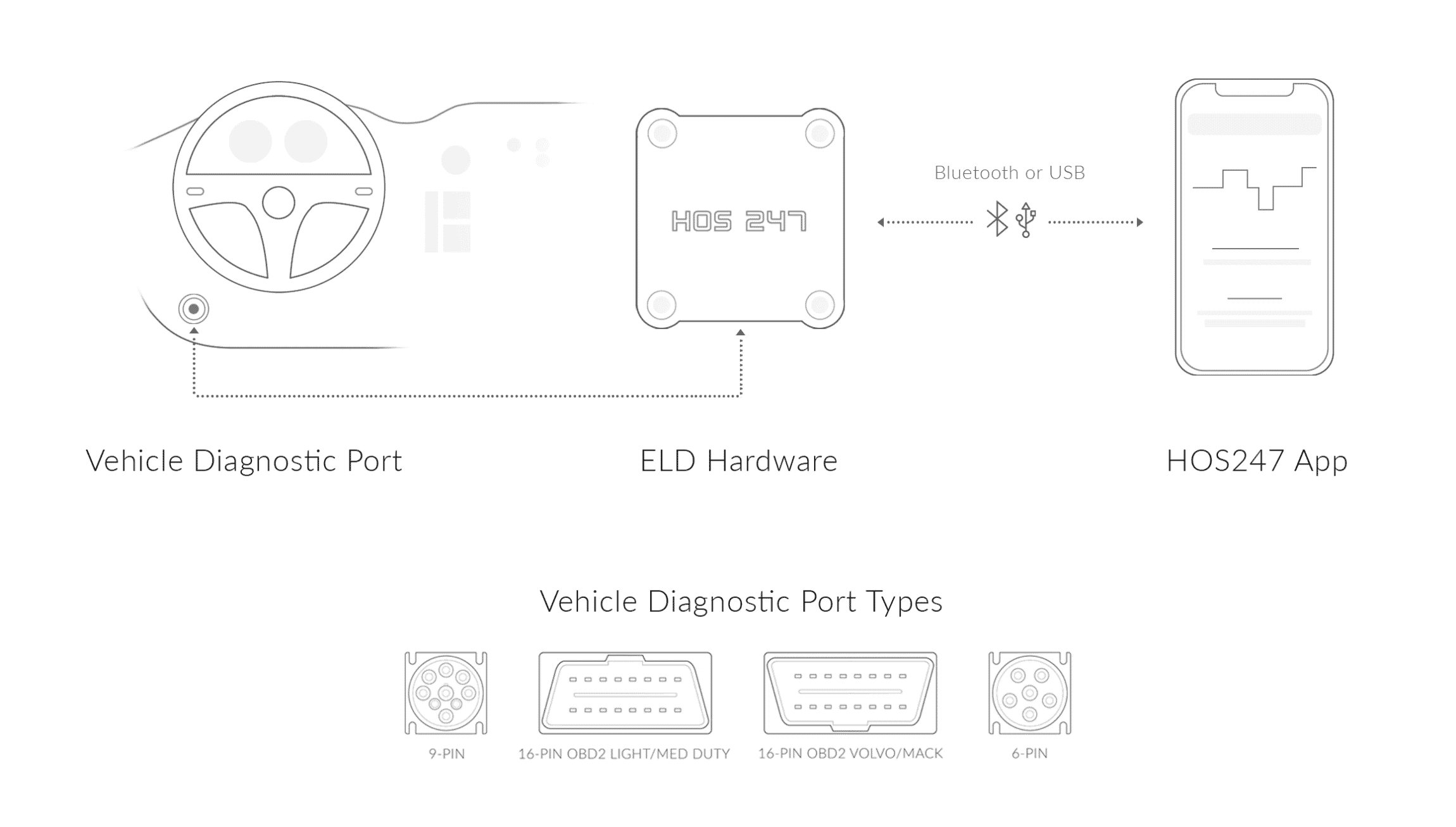 HOS247: Providing Clear ELD Benefits
HOS247 is an industry leader providing electronic logging devices for truckers in both the USA and Canada. We bring clear benefits to the ELD table, with many factors that make us a unique, reliable source for your business. For starters, we have a complete system that interfaces perfectly with your drivers' smartphones or fleet tablets. Our software is simple to set up and install, ready to run within minutes. And our user interface is user-friendly and easy to use. Our ELD solution is compatible with all sorts of different sized fleets, from small and medium fleets to large or owner-operated vehicles. 
We offer a hassle-free 2-week return option, where you can try out our product for two weeks to see if it fits your business needs. Our business model has no lock-in, long-term contracts that demand a full, costly commitment. We have no hidden costs or surprise upcharges – what you see regarding our pricing plans is exactly what you get. We have a top-rated ELDs HOS solution, ranked highly by drivers, owner-operators, and fleet managers. Our software is reliable and sturdy, designed to keep your vehicles running and compliant. And most important of all, we work our hardest to provide you with the biggest benefit: outstanding customer service.
Final Thoughts
Switching to a reliable ELD is a great way to lower your costs. From avoiding fines to helping keep your business on track and running smoothly, and from helping your CMVs never miss a load to even preventing vehicle breakdowns and avoiding collisions. But most importantly, a reliable ELD provider can help lower your costs in two main ways: by providing hardware that won't break down mid-drive and by aiding you with any problem or issue that comes up so your truck or fleet don't get stuck. If you have a problem and rain is pouring down, a hailstorm threatens the horizon, or thunder strikes, your HOS ELD provider needs to be there for you. But more often than not, that isn't the case. Most ELD service providers have poor customer service that can leave your stopped vehicles hanging out to dry until their next work shift comes in, costing you two of your most important resources: time and money. 
That will never happen with us. At HOS247, we work hard to provide you with an ELD solution that is effective, efficient, and reliable. One of our main focus points centers on providing superb customer service, helping you find a solution to any problem you may encounter. Your business can't afford to stop, so neither can we. All our ELD solutions have multilingual customer support available in English, Russian, Polish and Spanish, regardless of the pricing plan. We're there to provide the driver and fleet support for all the ELD features you use, while also helping you lower your operations costs. 
If you have any questions or if you would like to discuss how HOS247 can help your business, you can talk to an ELD Advisor at 650-405-3372 or contact us to request a callback.
"Awesome. Easy to install and use. Top notch customer service! I recommend it to everyone."


"Great company to deal with. The support team is very responsive and competent. They provided a great deal of education for our company."

"Customer service is great. They helped me to set up everything and showed how to edit my logs. Thank you."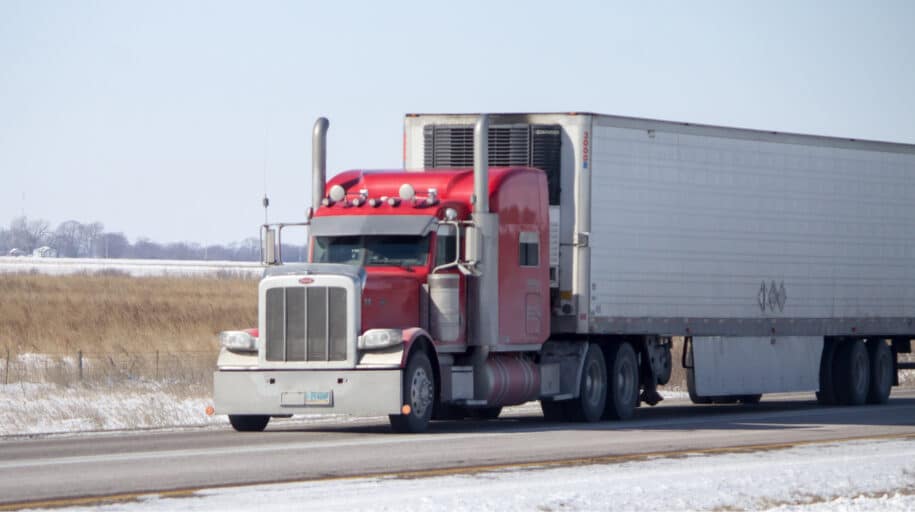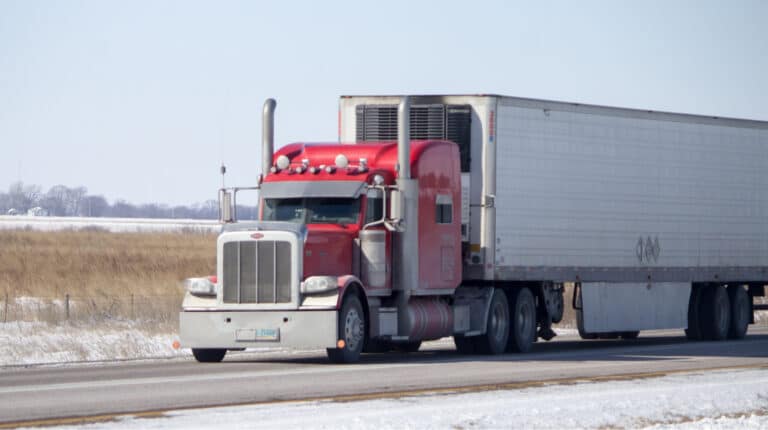 ELD Services & Devices
When choosing an ELD for your business, it's important to remember that user-friendly software is as crucial for compliance with the ELD law as dependable hardware. The truck driver log app on the driver's phone or tablet displays the HOS
Read More »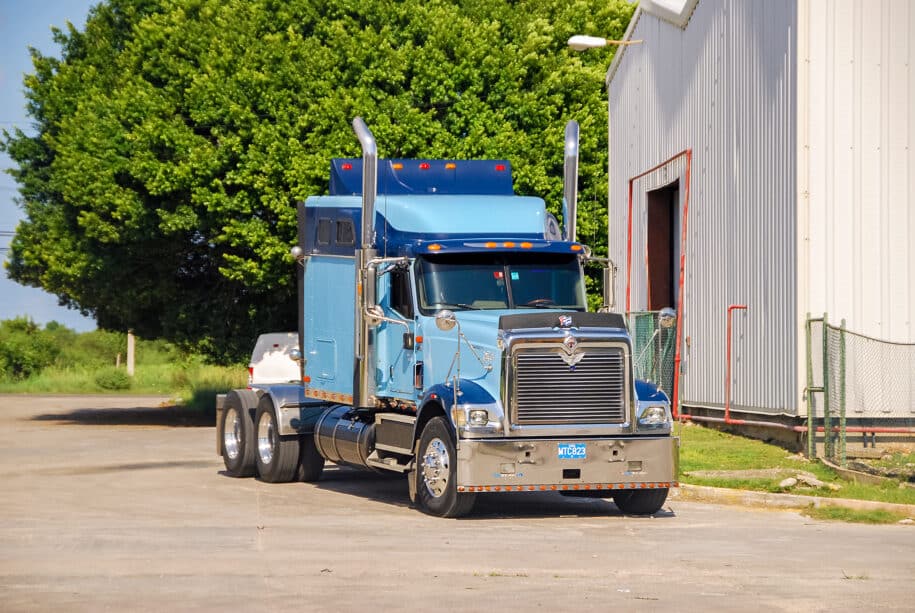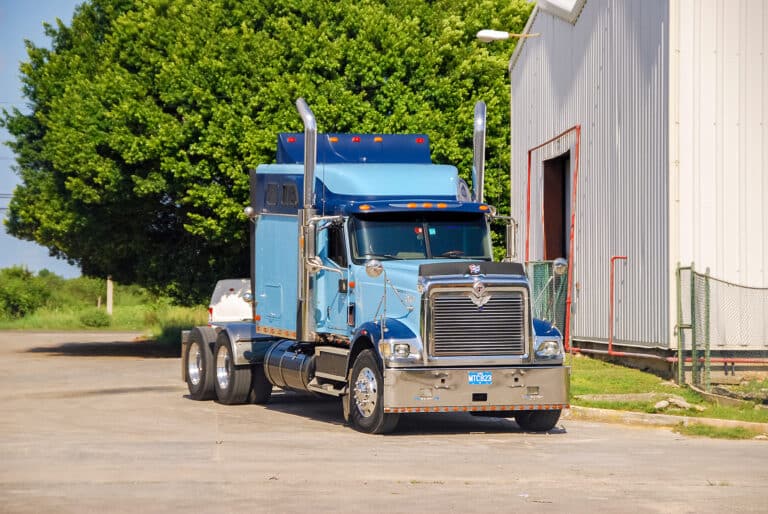 ELD Services & Devices
A truck daily log book is used to record duty statuses of commercial drivers to ensure compliance with hours of service rules and regulations. There are two types of logbooks: Paper logs. The driver must fill them out manually and
Read More »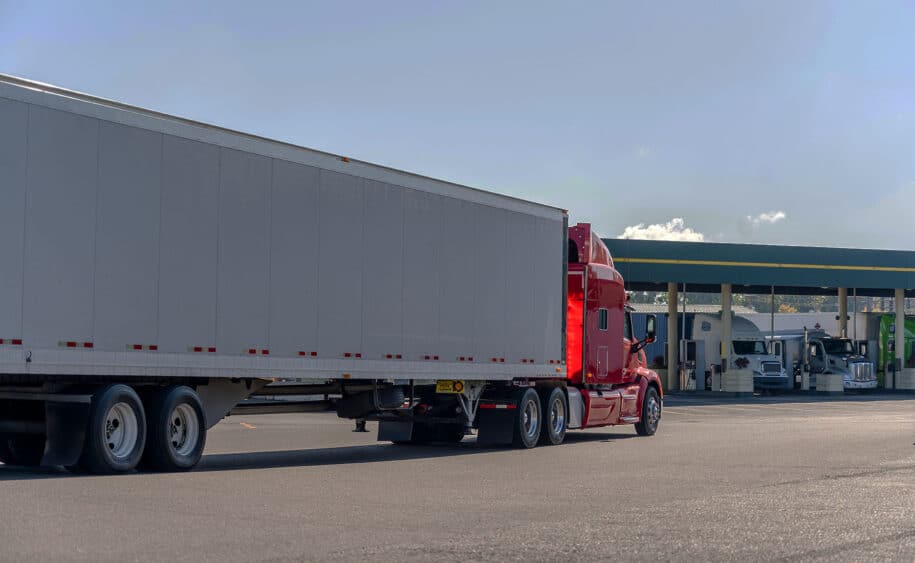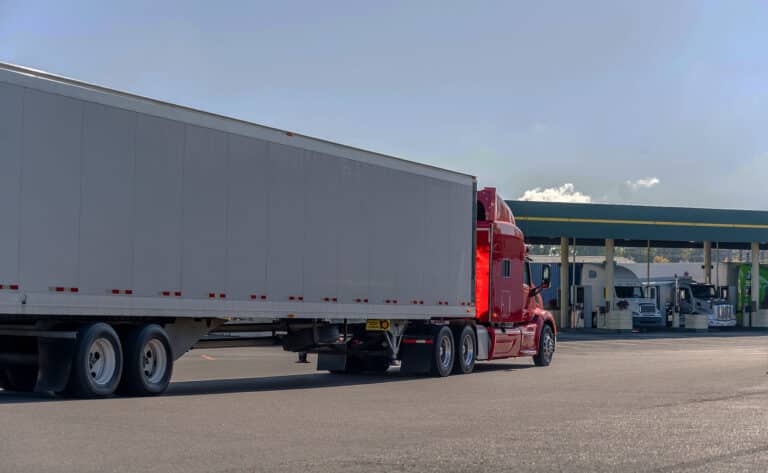 ELD Mandate Updates
The Federal Motor Carrier Safety Administration (FMCSA) published updated hours of service (HOS) rules for commercial motor vehicle (CMV) drivers. All Electronic Logging Devices must be updated to comply with the new FMCSA HOS rule by September 29, 2020. Download
Read More »