When it comes to electronic logging devices, selecting the right provider can significantly impact your business's efficiency and compliance. If your current provider falls short in areas such as customer support, user experience, or overall reliability, switching to a better option could be the solution. The challenge of accessing tech support when problems arise is among the most common issues reported by ELD users, who have had to spend hours on hold or navigating through automated phone systems before reaching a qualified support representative.
In other cases, tech managers may not have the necessary expertise to solve a problem, further complicating the resolution process. Another factor that can negatively affect the back-office efficiency of your business is an elog app that makes the process of managing driver logs and generating reports overly complicated and time-consuming, provoking driver frustration. If the system is difficult to navigate, operators may spend more time than necessary trying to complete tasks, or they may not be able to complete them at all.
This can lead to delays, missed deadlines, and lower overall productivity for your business. In this article, we will discuss in detail the characteristics that define a quality solution, compare the ratings of top ELD devices available on the market, and go through some tips on how to choose the best option for your trucking business.
HOS247 Is a Leading ELD Service Provider
HOS247 is a highly reputable ELD provider that owes its success to a combination of high-quality hardware, user-friendly software, a reliable Bluetooth connection, and efficient support, all of which contribute to enhance truckers' compliance and avoid serious infractions. Let's explore the characteristics that have made our product one of the top ELD devices in the market.
Intuitive interface. HOS247's electronic logbook comes with an intuitive and user-friendly software interface that simplifies HOS data management. The app is designed to be easily accessible from any smartphone or tablet. Fleet managers can access the information through the easy-to-use online portal, providing them with a centralized platform to manage operations and allowing them to view driver' RODS and other essential information in real-time.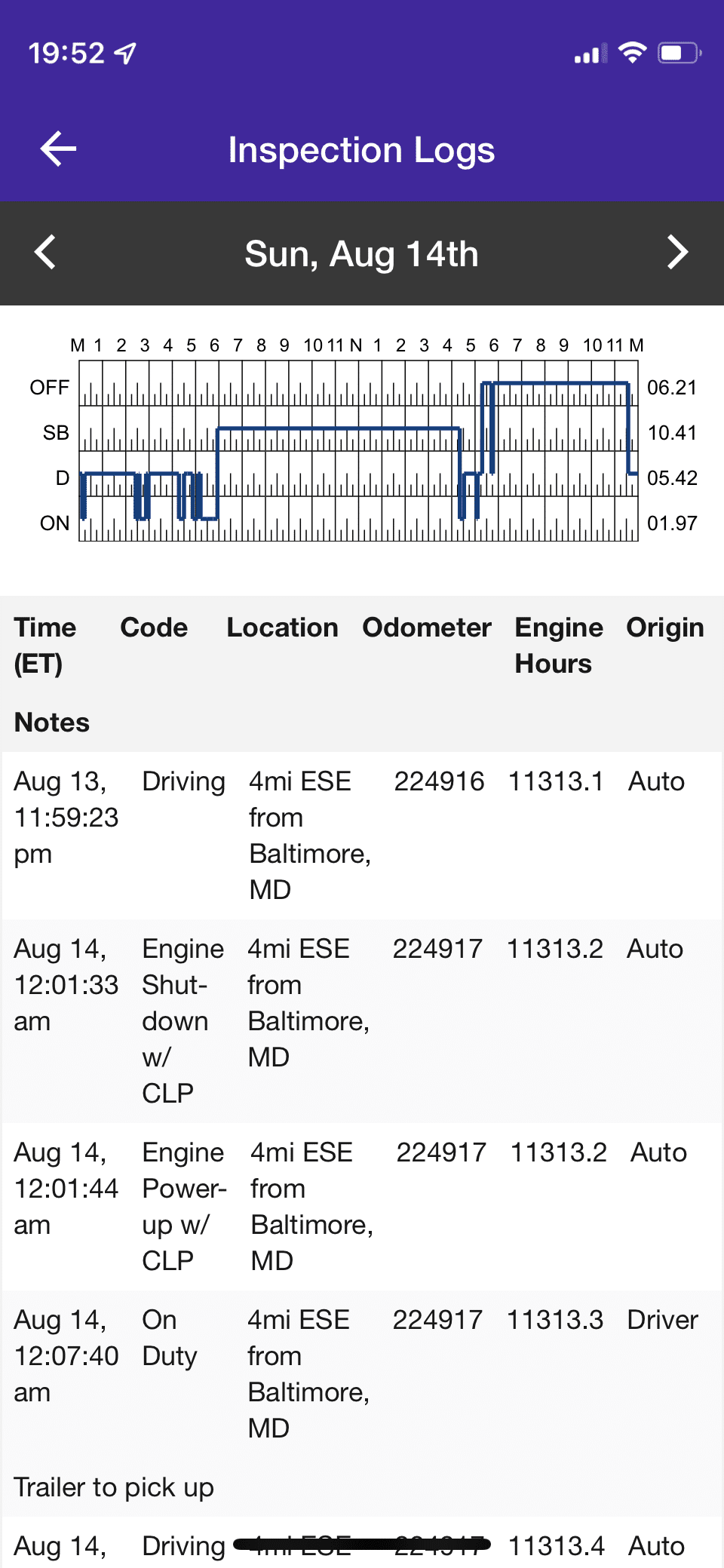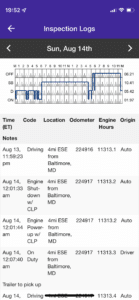 Software compatibility. Our app is available for both iOS and Android devices, which means that drivers can use the system they are most comfortable with. This makes the transition to HOS247's ELD system seamless and hassle-free. 
Hardware compatibility. Our system offers a versatile hardware device that can be used across multiple vehicle classes, providing a universal solution to simplify its implementation.
Smooth installation. HOS247 devices can be set up in just a few minutes without the need for a specialist. Our manual makes the entire process straightforward and easy to navigate. If you have any questions or issues during the installation process, our technical support team is readily available to provide assistance.
Efficient customer support. HOS247 is committed to providing top-notch customer support, and this dedication is reflected in the positive user reviews we have received from our clients. We take pride in offering multilingual support to our customers, with representatives who are fluent in several languages, including English, Spanish, and Polish. Available seven days a week, our competent and experienced technical experts will help you with any compliance or device-related concerns.
Callback policy. We understand that our customers' time is valuable, which is why we have implemented a callback policy. If a call drops for any reason, our tech managers will immediately contact the customer back, ensuring that they do not have to repeat themselves or waste any more time.
No-contract policy. HOS247's approach to subscriptions is customer-focused and flexible. We don't lock our clients down with long-term contracts, as we want them to choose our solution because they believe in its value. Our system of monthly and yearly subscriptions provides truckers with the freedom to choose the services they need and to change or cancel them as required. 
Two-week trial period. We understand that customers want to ensure that they are making the right investment in an ELD solution. HOS247 offers a 14-day trial period, during which you can test our solution and determine if it meets your needs and expectations. If you decide to return the device within that time, we provide a full refund. 
One-year replacement warranty. At HOS247, we demonstrate confidence in our product by providing a one-year hardware warranty. If a device malfunctions within the first year, we will provide a free replacement.
Additional features. HOS247's ELD goes beyond just electronic logging and offers various additional features to enhance fleet management. The system's real-time tracking capabilities provide increased fleet visibility and security, empowering motor carriers to make better dispatch and routing decisions. Additionally, the IFTA mileage calculations feature simplifies fuel tax reporting for commercial vehicles that operate in multiple jurisdictions. With the vehicle diagnostics feature, motor carriers can quickly detect vehicle malfunctions, preventing costly repairs and minimizing downtime. All these features help carriers increase operational productivity and cost-efficiency, unlocking the full potential of their fleets.
Ratings of Major Logbook Software Providers
Analyzing the ratings and reviews of top ELD devices can provide valuable insights into their strengths and weaknesses, helping businesses determine the best solution for their needs. To assist with this process, we have compiled a list of major logbook software providers to compare ELD devices' ratings and make an informed decision.
| RANK | ELD PROVIDER | iOS APPSTORE | ANDROID PLAYSTORE |
| --- | --- | --- | --- |
| 1 | | | |
| 2 | Samsara | | |
| 3 | KeepTruckin | | |
| 4 | JJ Keller | | |
| 5 | BigRoad | | |
| 6 | Garmin | | |
| 7 | Geotab | | |
| 8 | | | |
| 9 | PeopleNet | | |
| 10 | Verizon | | |
| 11 | Stoneridge | | |
| 12 | Teletrac | No iOS app | No Rating Yet |
Characteristics of Top ELD Devices
Now that you are familiar with the top-rated logbook software providers, it's crucial to understand the characteristics of a quality ELD. A reliable logbook can help your business comply with FMCSA regulations while improving operational efficiency and productivity. We have already mentioned the importance of an intuitive interface and good customer service earlier. In this section, we will discuss other essential features that define top ELD devices:
Compliance with the ELD law. A good ELD provider should be able to keep up with evolving regulations and help ensure that your fleet is violation-free, as HOS violations can be costly.
Smooth installation. Different providers may have varying requirements and processes for installation, with some offering plug-and-play solutions that can be set up quickly without the need for special tools or support. In other cases, more complicated solutions may require a specialist or mechanic to perform the installation, resulting in additional costs and downtime for your vehicle. Ask about the installation procedure, estimated installation time, and whether or not you can set up the device yourself to ensure that the process is smooth and effortless.
Additional features. In the realm of electronic logging devices, complementary features such as GPS tracking, vehicle diagnostics, and IFTA mileage calculations can make all the difference in ensuring a smoother day-to-day operation for your fleet. An ELD integrated with additional digital tools can provide valuable insights into areas of opportunity and facilitate better communication across your organization, helping streamline operations and stay ahead of the curve in an increasingly competitive industry.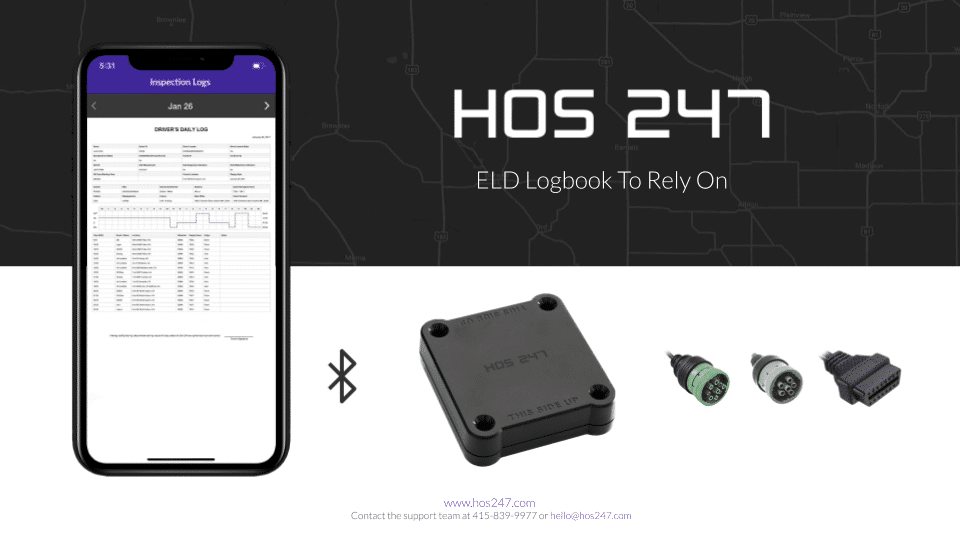 Electronic DVIRs. Electronic driver vehicle inspection reports provide drivers with a paperless and intuitive way to complete their inspections, helping keep vehicles in top shape and prolonging their useful life. In addition, electronic DVIRs reduce administrative work for other employees and can integrate with other maintenance features for even more streamlined workflows.
One device for multiple vehicle classes. Depending on your operations, your fleet may consist of vehicles designed for different purposes, and integrating all of these different vehicle classes into one system can be a challenge. A universal solution that works for all the vehicles in your fleet can significantly reduce the complexities of implementation, reduce costs and enable drivers and personnel to learn and use just one system, saving time, streamlining operations and improving overall efficiency. 
Clear pricing. The savings and efficiencies a reliable ELD can provide over time make it worthwhile to find a quality solution. It is important to be aware of any extra fees or additional costs that may arise post-sale. As you consider different ELD options, be sure to ask about the device cost, ongoing fees, contract length, and any potential automatic increases in fees over time.
Understanding Your Responsibility as a Motor Carrier
Motor carriers have a critical responsibility to buy electronic logging devices registered with the FMCSA to comply with the ELD mandate. This responsibility includes periodically checking the registration and revocation lists on the FMCSA website to confirm that your device is still registered. If an ELD is found to be non-compliant, a motor carrier has eight days from the notification to replace it with an approved device. This time frame is the same for ELDs that require repair, replacement, or service. In case of widespread non-compliance, the FMCSA will collaborate with affected motor carriers to establish a reasonable replacement timeframe. However, being on this list does not guarantee the quality of the device. To ensure that the ELD is dependable and compliant with FMCSA regulations, it's recommended to look for top eld devices that have proven to be reliable. To stay informed, motor carriers and drivers can sign up for ELD updates and notifications.
The HOS247 ELD has been rigorously tested to meet the FMCSA's requirements and comply with electronic logging device regulations 49 CFR § 385, 386, 390, and 395, providing carriers with an effective solution for their elog needs.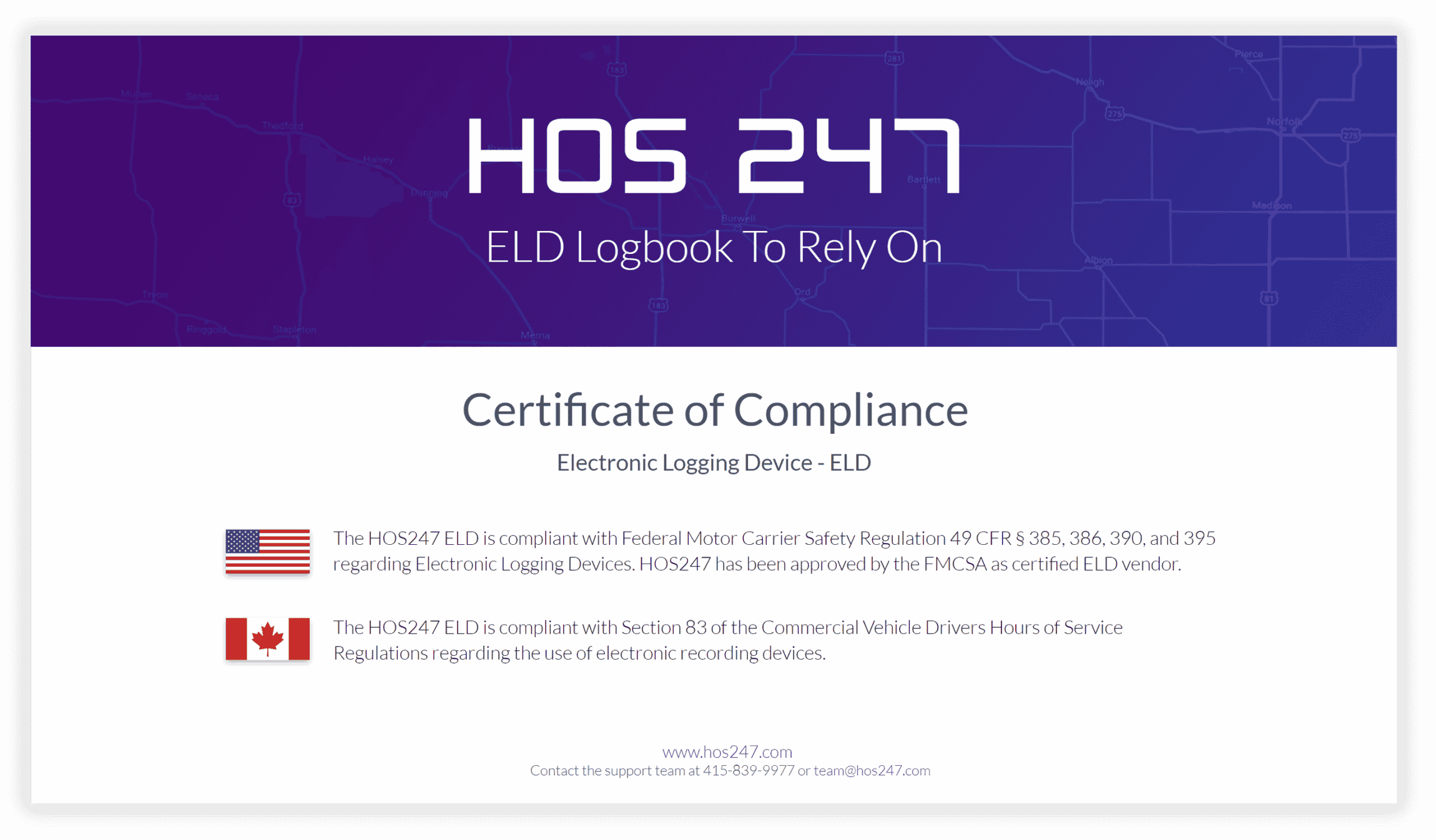 "Awesome. Easy to install and use. Top notch customer service! I recommend it to everyone."


"Great company to deal with. The support team is very responsive and competent. They provided a great deal of education for our company."

"Customer service is great. They helped me to set up everything and showed how to edit my logs. Thank you."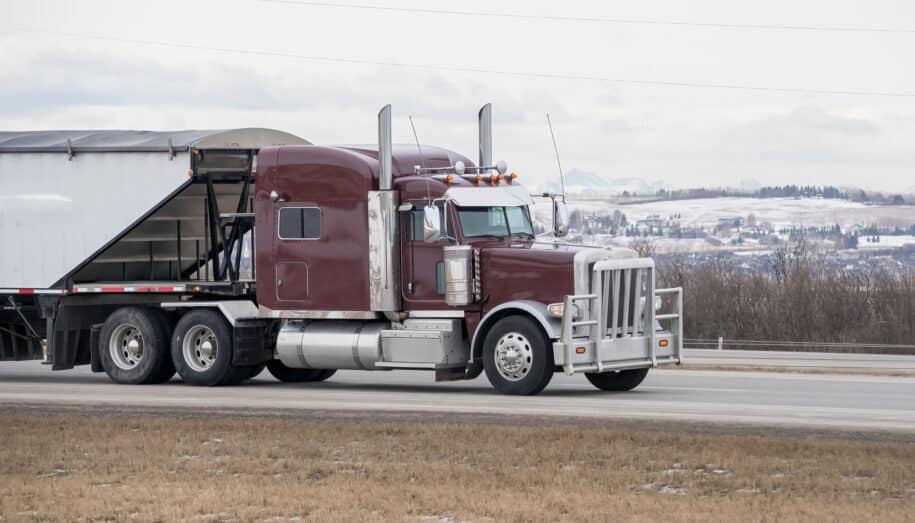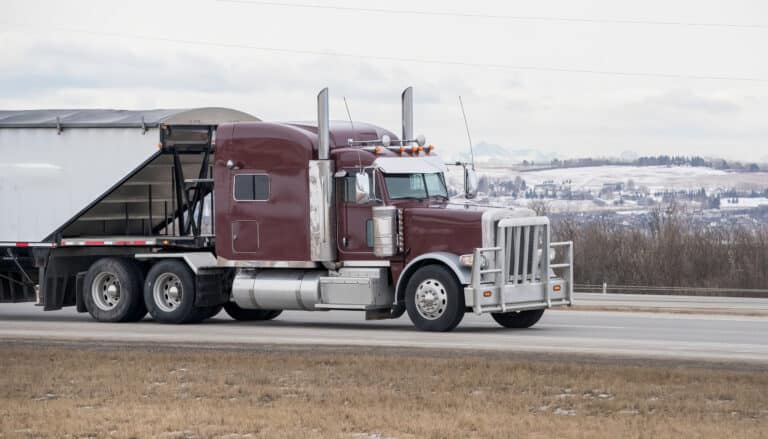 ELD Services & Devices
For decades, hours of service regulations have been enforced to ensure that commercial drivers maintain legal work hours. Now, due to the ELD mandate, commercial motor vehicle drivers are required to maintain accurate records of their driving time and breaks
Read More »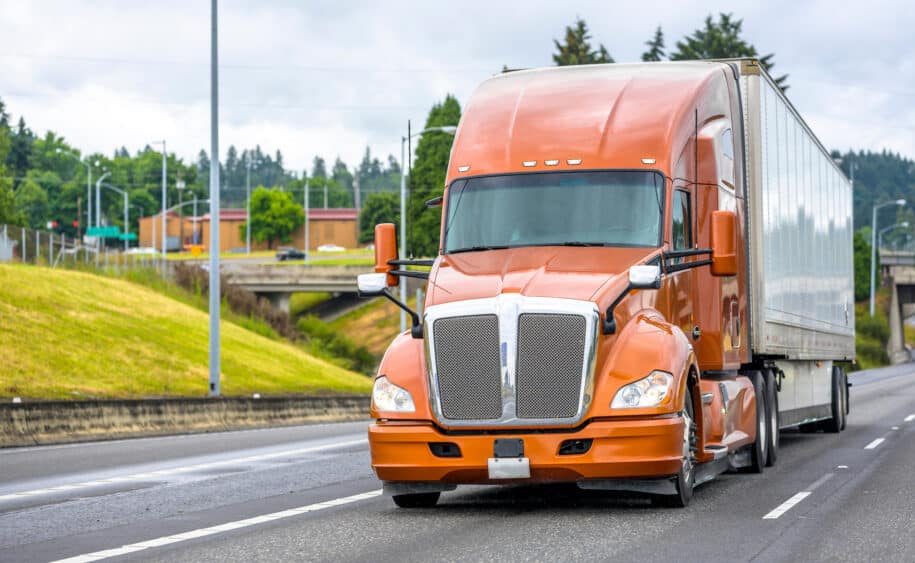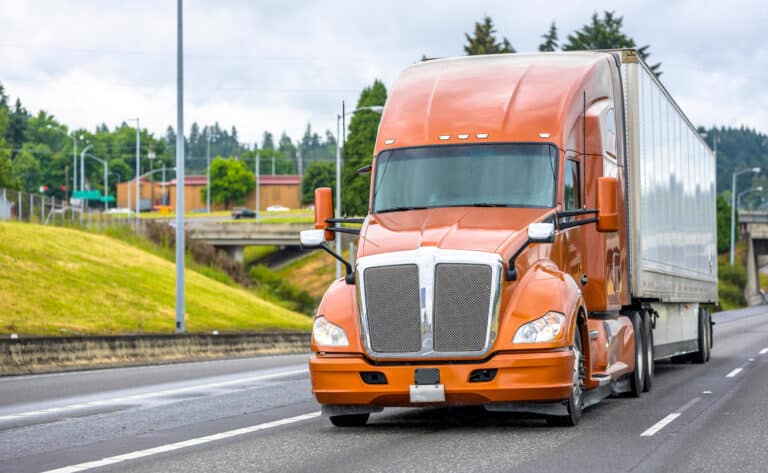 ELD Services & Devices
The FMCSA issued the ELD mandate in 2016 requiring commercial motor vehicle drivers to use electronic logs for their trucking operations. This legislation applies to millions of commercial bus and truck drivers who keep RODS. The selection of an elog
Read More »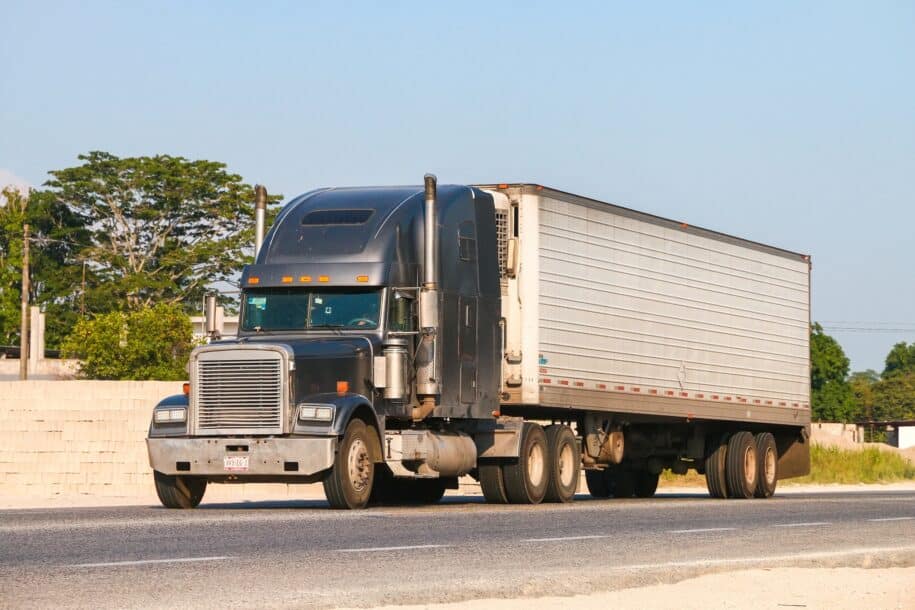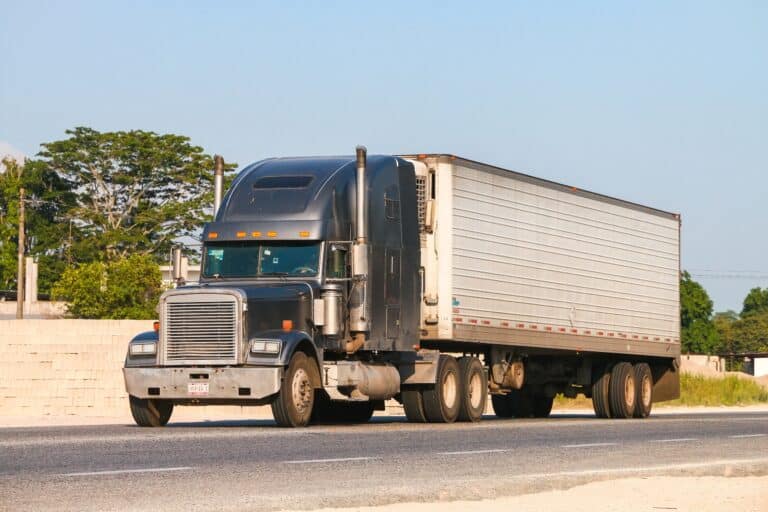 ELD Reviews
Staying compliant with the law is a critical task for any trucking business. The main concern in this respect is the federal ELD mandate, which states the way electronic logging devices USA truckers use must record HOS data. Aside from
Read More »