All applicable hotshot drivers and carriers must comply with the ELD mandate. Drivers should be aware of their responsibility to keep Records of Duty Status (RODS), electronic logs, and maintain their electronic logging devices (ELD).
For more information on DOT regulations for hotshot trucks, find the answers to key questions here.
Who Must Comply with the ELD Mandate?
Drivers who are required to prepare hours of service RODS (Records of Duty Status) must install and use electronic logging devices (ELD/Electronic Logbook). The main criteria for maintaining RODS is as follows:
The driver is involved in interstate commerce.
The vehicle weighs 10,001 pounds or more (gross vehicle weight rating (GVWR) or gross combination weight rating (GCWR), or gross vehicle weight or gross combination weight whichever is greater)
The vehicle is designed to transport nine or more passengers for a fee.
The vehicle is designed to transport 16 passengers or more for free.
The transportation load includes hazardous materials and required placards.
Some hotshot drivers may be exempt from the ELD mandate. For example, drivers who are using short-haul exceptions can use timecards. Drivers who keep paper Records of Duty status for eight days (or less) each calendar month may also forego the electronic logging device. Driveaway-towaway drivers who drive and deliver a vehicle as a commodity for sale, repair or lease are also exempt, as long as it is part of the shipment. Last but not least, drivers of vehicles that were made in the year 2000 or older are exempt from the ELD rule.
What is Hotshot Trucking and how is it regulated?
Hotshot trucking may conjure up all kinds of images. However, it is imperative to understand just what this term means and how it applies to the ELD mandate. A hotshot truck load is hauled with a midsize (class 3, 4, or 5) truck instead of the standard rig. Most drivers prefer three-quarter or one-and-a-half-ton models from a major manufacturer. They will need either a gooseneck or fifth-wheel type connection. In essence, hotshot trucking means that you are hauling a load with a souped-up pickup truck.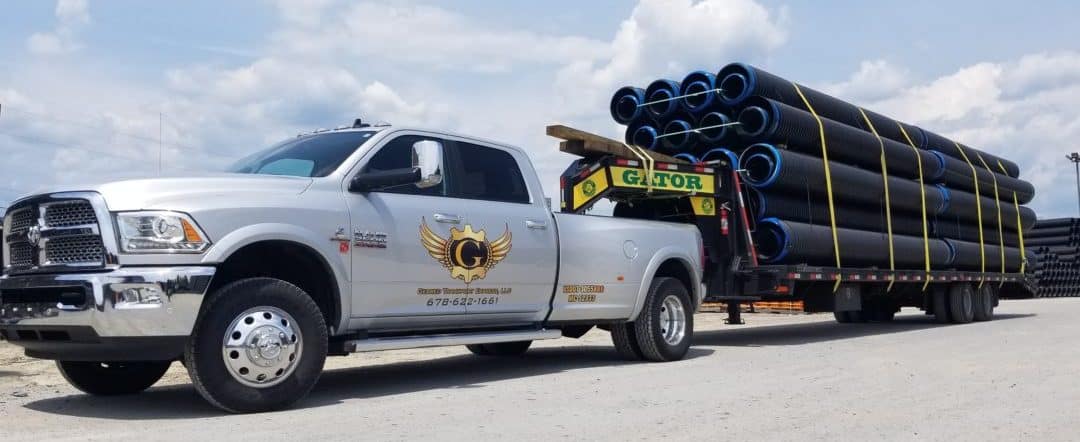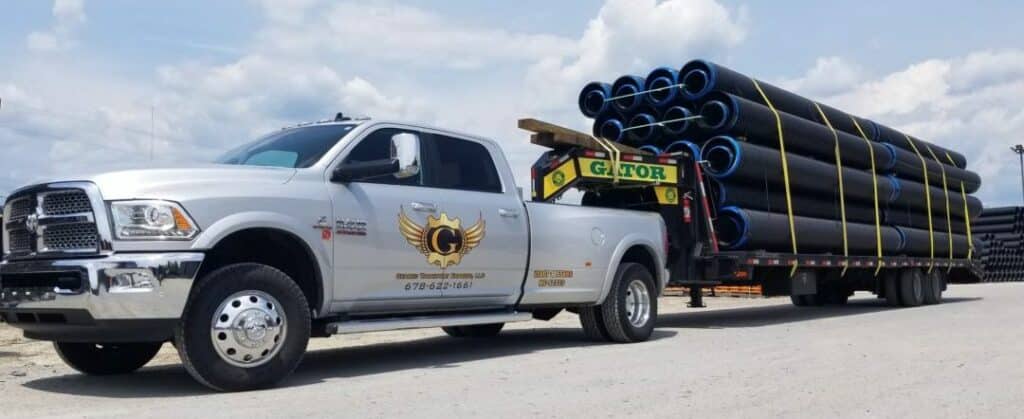 If you are interested in hotshot trucking, you need to look for the best model around. It should be capable of efficiently hauling more than 10,000 pounds. Because this is such a significant weight, it is almost always preferable to opt for a bigger truck that can haul with greater ease. Keep in mind that most trailers for hotshot trucking will range in size from twenty to forty feet.
The benefit of hotshot trucking is the expedited turnaround time for the customer. When time is of the essence, these smaller rigs can typically transport the necessary supplies within a shorter time frame. This type of trucking minimizes the overall cost of transportation for both the driver and the client.
For drivers who are interested in starting up their own hotshot trucking company, it can be tempting to bypass the time and financial investment required for a CDL. Gaining this certification can allow you to carry heavier loads, but it is not necessary for every transport. This is a major advantage for a driver who is looking to start their own business rather immediately.
Any truck and even a pickup truck becomes a CMV (Commercial Motor Vehicle) if the gross vehicle weight rating or gross combination weight rating, or gross vehicle weight or gross combination weight of the vehicle, load, and trailer is 10,001 pounds or more. It means a hotshot driver must comply with DOT and FMCSA regulations including the requirement for the electronic logs (ELD).

How do ELDs work?
ELDs are designed to track and to prepare HOS (hours-of-service) reports automatically. Federal Motor Carrier Safety Administration (FMCSA) requires that an electronic logging device is integrally synchronized with an engine through ECM (engine control module). The ECM connection allows electronic logs to capture the required data such as engine status, motion status, miles driven, and engine hours and to generate RODS electronically. Every record comes with a vehicle location captured from GPS. In addition to the required basics, HOS247 ELD captures vehicle's fuel use and diagnostic codes and driver behavior data (breaking, acceleration, etc.)
What are the On-Board Diagnostics Protocols For Hotshot Trucks?
Light-duty and medium-duty vehicles come equipped with their own set of on-board diagnostics protocols, referred to as OBD-II. These protocols specify around one hundred different parameters that are standard as defined by SAE J1979. Most of the parameters pertain to the engine and include the FMCSA-required data.
Many ELDs on the market are built for heavy-duty vehicles (e.g. semi trucks) only and do NOT support protocols for hotshot vehicles such as pickups. HOS247 electronic logs hardware supports OBD-II and works flawlessly with light-duty and medium-duty vehicles.
ELD Installation for OBD-II Vehicles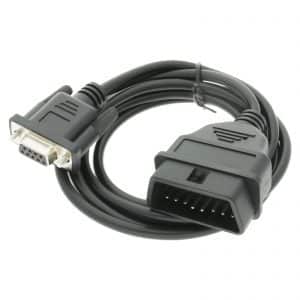 In order to install the ELD in your OBD-II vehicle, you will need to follow a few simple steps. Always start with the parking brake engaged and the engine turned off. The main power switch should also be turned off, if available.
When this is complete, you must find your OBD-II diagnostic port and follow these instructions:
Install the device in a convenient location such as near the windshield. It should have a clear line of sight to the sky for the GPS tracking capabilities.
Connect and lock the 16pin OBD-II end of the cable to the port located earlier.
Attach the other end of the cable to the installed device. Secure the device using screws or provided dual-lock reclosable fastener.
After successfully installing the hardware, use an electronic logbook app on your phone or tablet.
How to Choose an Electronic Logbook
When it comes to selecting electronic logs for hotshot drivers, not all solutions are created equal. Drivers and trucking companies must find a system that is going to work best to meet their needs. It is recommended that companies start by checking the reviews from real customers who have used the electronic logs. These can give an early indication that something might not work for the company.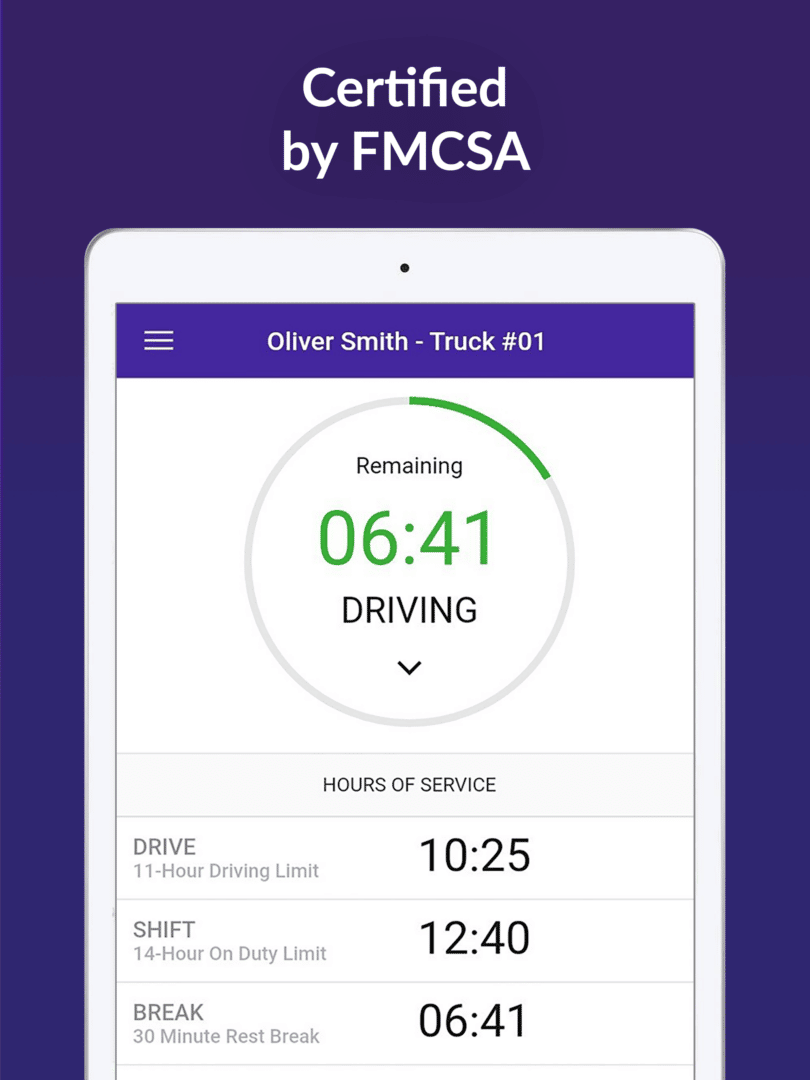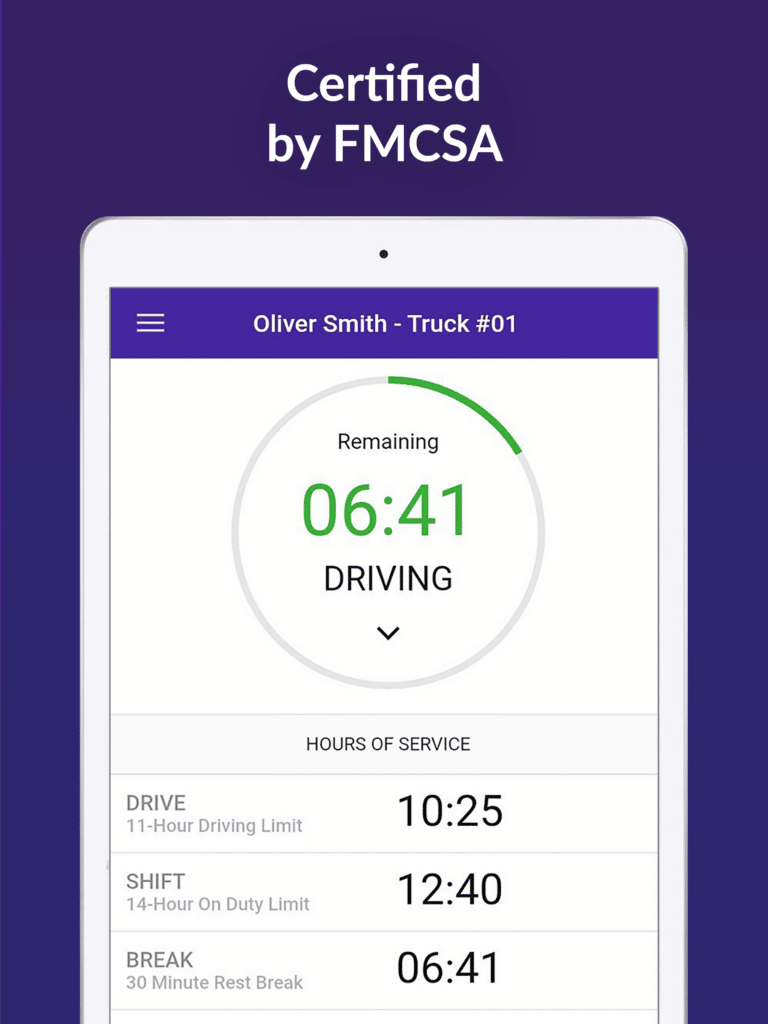 Another major feature to look for is ease of use. If it requires extensive training for drivers to be well-versed in how to use it, this might be more of a challenge in the future. Look for simple interfaces and easy to use logbook apps above all else. When you do run into a problem, your program should come with a support from a live person. Test out vendor support line by placing a call before you commit to their electronic logbook. Here, at HOS247, we take customer support seriously and even offer multilingual on-the-road elog assistance for hotshot drivers.
Be aware of the many red flags that ELD providers could potentially have. They may be relatively new to the field with little experience and few consumer reviews. Always opt for trusted companies who have experience over newcomers who want to make a few dollars.
Keep an eye out for hidden fees and long contract terms. Some companies will rope you into five-year contracts and then hit you with an abundance of hidden fees. Pay careful attention to the terms of your agreement with them before you settle on a single program. HOS247 team is confident that our ELDs will fit your hotshot trucking needs. We do not lock customers into long-term contracts and have a hassle-free, two-week return policy.
What Features Do You Need Other than ELD Compliance?
The ELD compliance may be at the forefront of your mind, but it isn't the only thing that a good trucking company needs. Check out a few of these other features that could be essential to running a solid hotshot trucking business.
GPS Fleet Tracking
If you have or planning to have multiple trucks on the road, it can behoove to know exactly where every unit is located. Take a look at the available detours, the progress made toward a destination, and even estimate how long the return trip will take. The HOS247 GPS Fleet Tracking keeps your trucks on the map and reduces both phone calls and stress.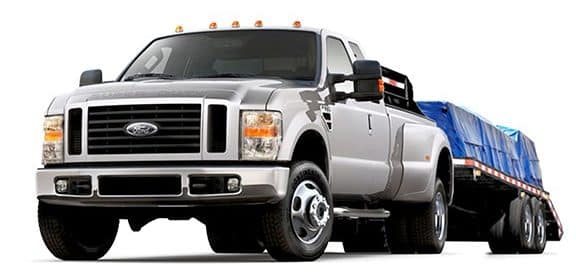 IFTA State Mileage Reporting
Many companies grow tired of calculating state mileage manually. HOS247 offers state mileage reporting feature for IFTA filing purposes. With just a few clicks, you can have a ready-to-print report that is likely more accurate than your previous system.
Trucking dispatch features
Spending time making phone calls and trying to schedule your next hotshot trucking route can be extremely time-consuming. With HOS247 Dispatch, managers can quickly identify shipments in progress, coordinate jobs, and review historical records. Managers can view all of their available hotshot trucks and distances/time from a shipping destination. Loads are assigned to appropriate drivers and monitored through completion. Dispatch feature helps managers to run their company with greater ease.
What is HOS247?
Hotshot drivers and trucking companies may want to consider HOS247 electronic logbook for light-duty and medium-duty vehicles. Our multilingual team is prepared to answer your questions. Flexible options to choose from:
    ELD
    GPS Tracking
    IFTA mileage
    Dispatch
Every hotshot trucking account comes with a dedicated account manager. Support team is constantly available to assist you with anything you need. We offer a hassle-free two-week return policy with no contracts. Give us a call today to request your demo!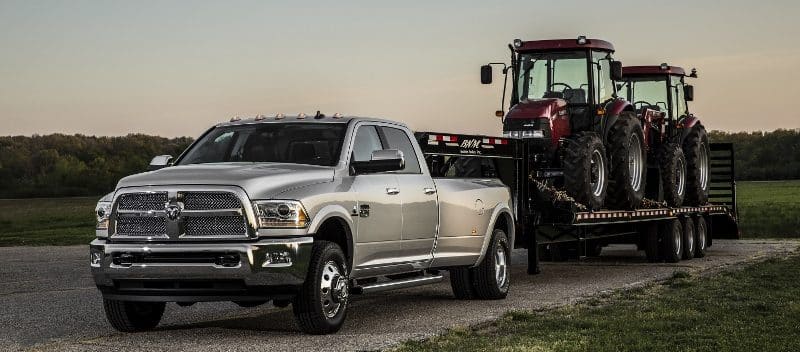 List of Supported Vehicles with OBD2 Port
2000 or newer semi-truck
2008 or newer pickup or van
2000 or newer box truck or bus
1996-2007 pickup or van
Kenworth
Kenworth – T170
Kenworth – T270
Kenworth – T370
Kenworth – T470
Kenworth – K370
Peterbilt
Peterbilt – 576
Peterbilt – 520
Peterbilt – 348
Peterbilt – 337
Peterbilt – 330
Peterbilt – 325
Peterbilt – 220
Peterbilt – 365
Chevy (All Models)
Chevy – Colorado
Chevy – Silverado 1500
Chevy – Silverado 2500
Chevy – Silverado 3500
Chevy – Express Cargo Vans and Passenger Vans, Cutaways (1500, 2500, 3500)
Mercedes & Freightliner
Sprinter Cargo and Passenger Vans
Nissan
NV Cargo Vans and Passenger Vans, Titan Pickups
Ford (All Models)
Ford – F150
Ford – F250
Ford – F350
Ford – F450
Ford – F550
Ford – Transit Cargo Vans, Passenger Vans
Ford – Cutaways
Ford – Stripped Chassis F650
Ford – Stripped Chassis F750
GMC (All Models)
GMC – Canyon
GMC – Sierra 1500
GMC – Sierra 2500
GMC – Sierra 3500
GMC – Savana Cargo Vans and Passenger Vans, Cutaways 3500
Toyota (All Models)
Toyota – Tundra (All Models)
Dodge (All Models)
Dodge – RAM 1500
Dodge – RAM 2500
Dodge – RAM 3500
HINO (All Models)
HINO – 195
HINO – 195DC
HINO – 195H
HINO – 195H-DC
HINO – 238
HINO – 258LP
HINO – 258ALP
HINO – 268
HINO – 268A
HINO – 338
ISUZU (All Models)
ISUZU – NPR
ISUZU – NQR
ISUZU – NRR
ISUZU – RESEARCH VAN
International Trucks
HV – SERIES
HX- SERIES
DURASTAR
PROSTAR
TERRASTAR
TRANSTAR
WORKSTAR
HOS247 ELD supports most vehicles including light-duty and medium-duty vehicles. Please contact us if you don't see your vehicle on the list.
"Awesome. Easy to install and use. Top notch customer service! I recommend it to everyone."


"Great company to deal with. The support team is very responsive and competent. They provided a great deal of education for our company."

"Customer service is great. They helped me to set up everything and showed how to edit my logs. Thank you."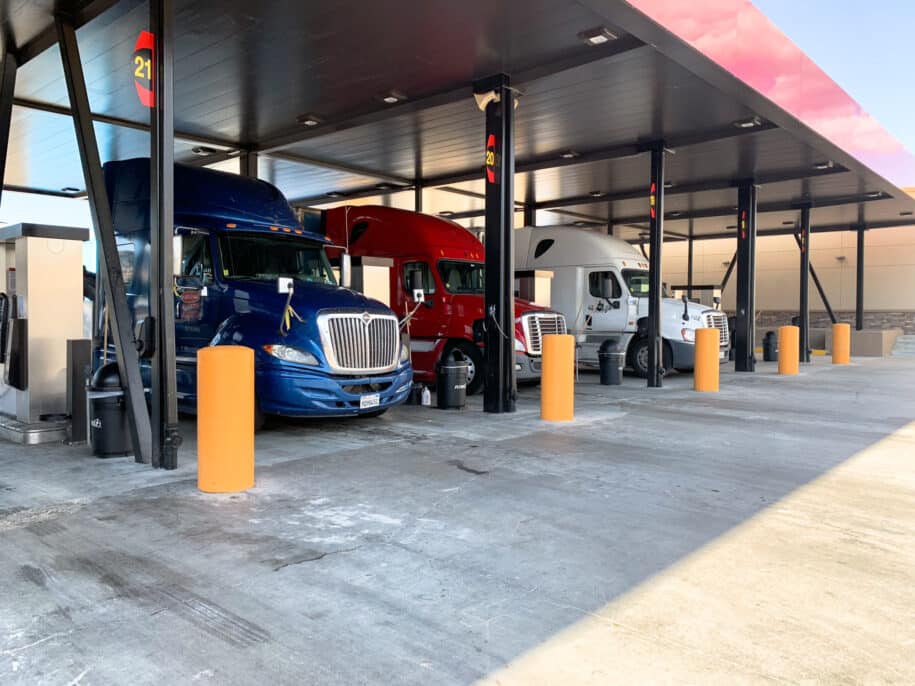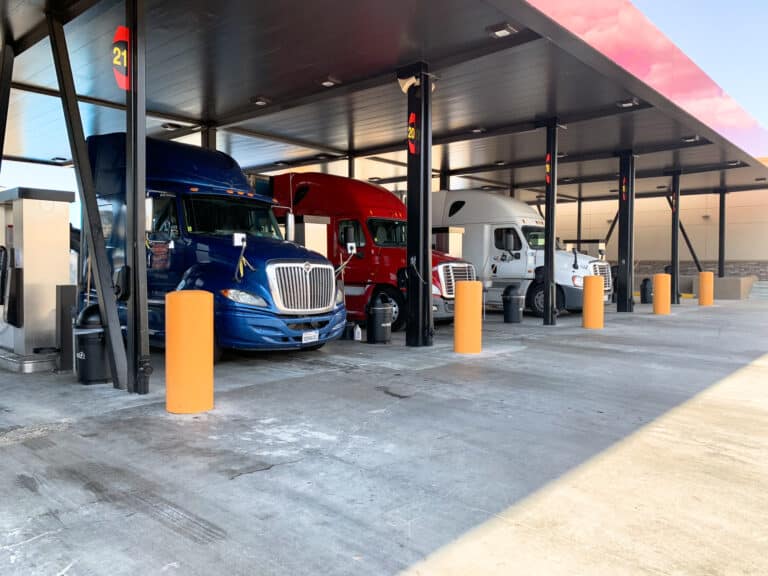 ELD Services & Devices
The ELD mandate final compliance phase is now in effect, but many trucking companies are stuck with outdated legacy providers and still have yet to make a move on the right compliance partner. They may not know whether it is
Read More »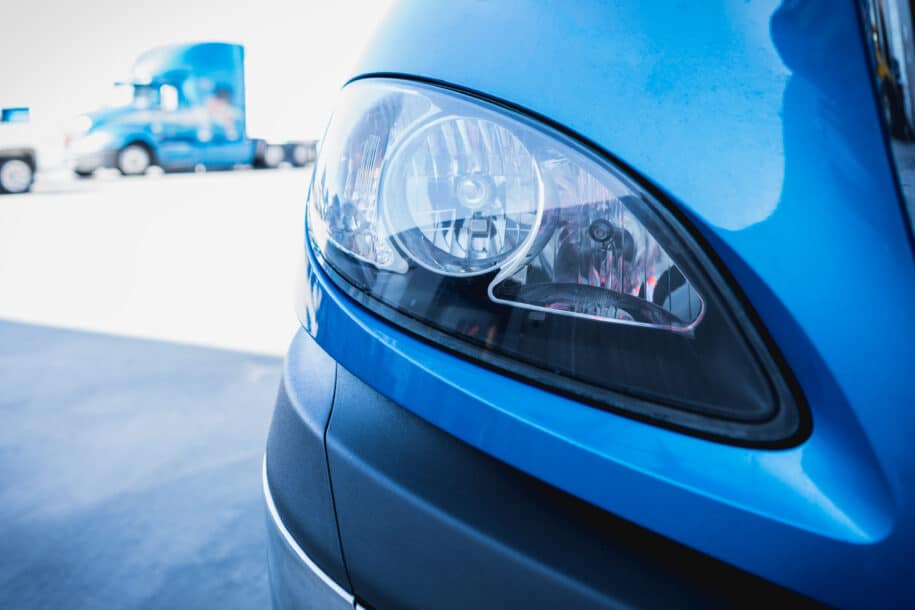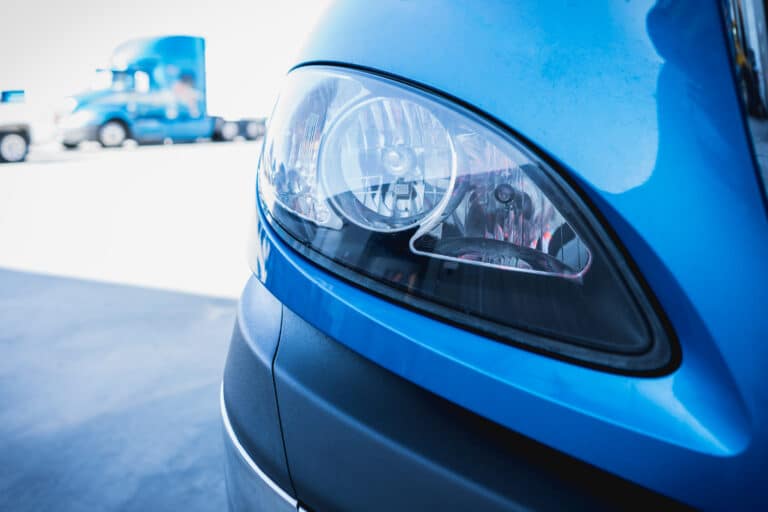 ELD Services & Devices
Hours of service limits for truckers were first established in the USA in 1937 to prevent driver fatigue. Since then, HOS rules have been revised many times, and electronic logging devices have changed the landscape of the trucking industry. The
Read More »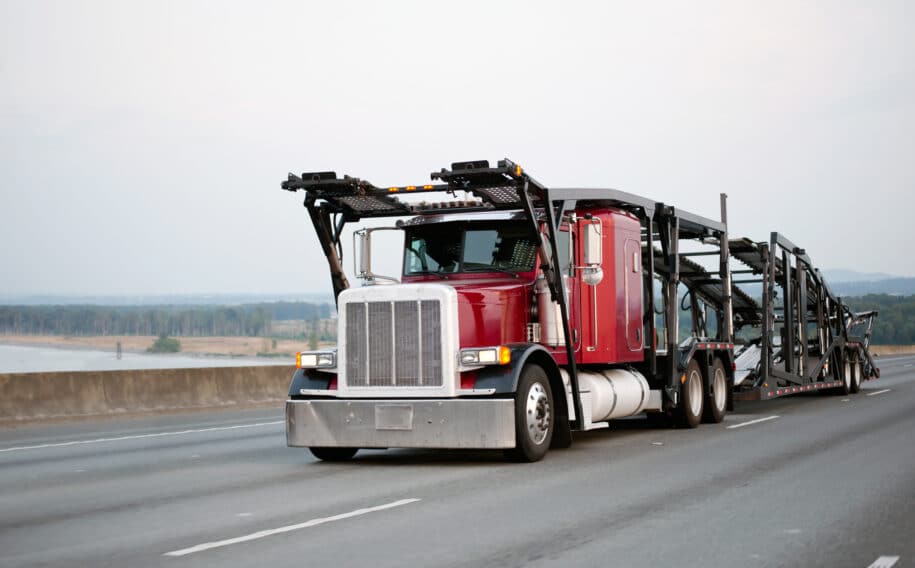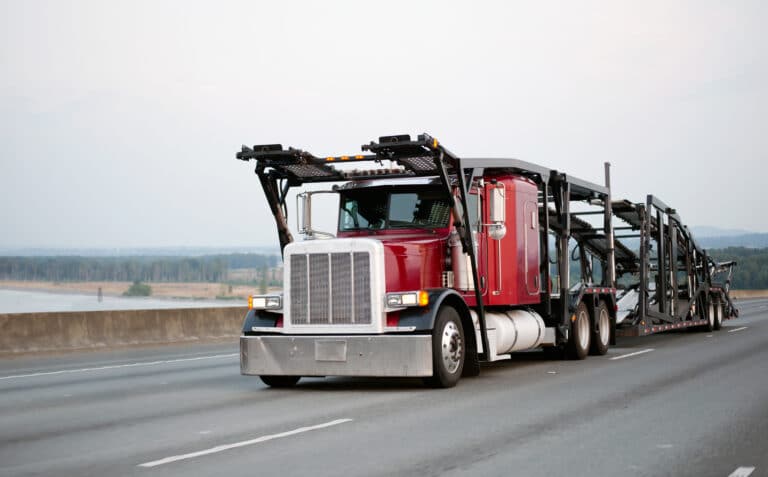 GPS Fleet Tracking Tips
For truck owners and carrier companies, logistics is always a priority. This is where real-time tracking of commercial vehicles can offer multiple benefits, including increased productivity and enhanced security. Before going into the advantage of live truck tracking in detail
Read More »