Trucking businesses in Canada need their fleet to safely transport products to their customers. It can be challenging to supervise the individual operations of each truck. Fleet managers often rely on calls to contact drivers or on second hand information to stay informed on locations and the state of operations. With GPS fleet management, trucking companies can reduce operational costs, enhance vehicle security and provide better customer service, improving overall fleet productivity.
There are several benefits of GPS trackers that have increased their demand among truckers and carrier companies. However, choosing the right supplier for a GPS system can be tricky. This guide will bridge the information gap for truckers and fleet companies looking for the best tracker.
Benefits of GPS Fleet Management
GPS tracking systems offer an effective way to achieve considerable savings on fleet operational costs. This is achieved in several ways:
Optimized fuel use. Idling, personal use of vehicles, and inefficient routes increase fuel consumption. Over time, operational costs will also increase considerably. With GPS, fleet managers can monitor and manage these situations to reduce fuel wastage. 
Longer vehicle lifespan. The preventative maintenance, fault code detection and idling monitoring features that come with the GPS tracking system contribute to increasing the useful life of vehicles. 
Improved vehicle security. Driving a vehicle in unauthorized locations will increase the chance of theft, accidents, etc. With a GPS based fleet management system, it is possible to monitor a vehicle's location to protect the driver and the load. In case of theft, the tracker can help recover assets. 
Faster dispatch. Managers can track vehicles and view drivers' HOS on the online platform to decide on load assignments more efficiently. 
Improved customer satisfaction. Streamlined operations and better fleet visibility through GPS fleet management software mean faster delivery of products to customers and more accurate estimated times of arrival.   
Functioning of a GPS Fleet Management System
GPS fleet management is a tool that primarily offers real-time surveillance of vehicles. The software uses telematics technology to collect and disperse data like GPS coordinates, idle time, engine faults, etc. Here are the step-by-step details for setting up a GPS management solution:
The GPS tracking device is installed in the vehicle (we offer plug-and-play, hardwired and ELD-integrated hardware options).
The device logs vehicle location via global positioning satellite and tracks vehicle diagnostic information directly from the engine.
The collected data is then transmitted to a common server using cellular networks.
GPS system providers usually have a common server that interprets the data and sends it to the fleet manager portal.
The fleet manager can check the real-time data on a computer, tablet, or smartphone.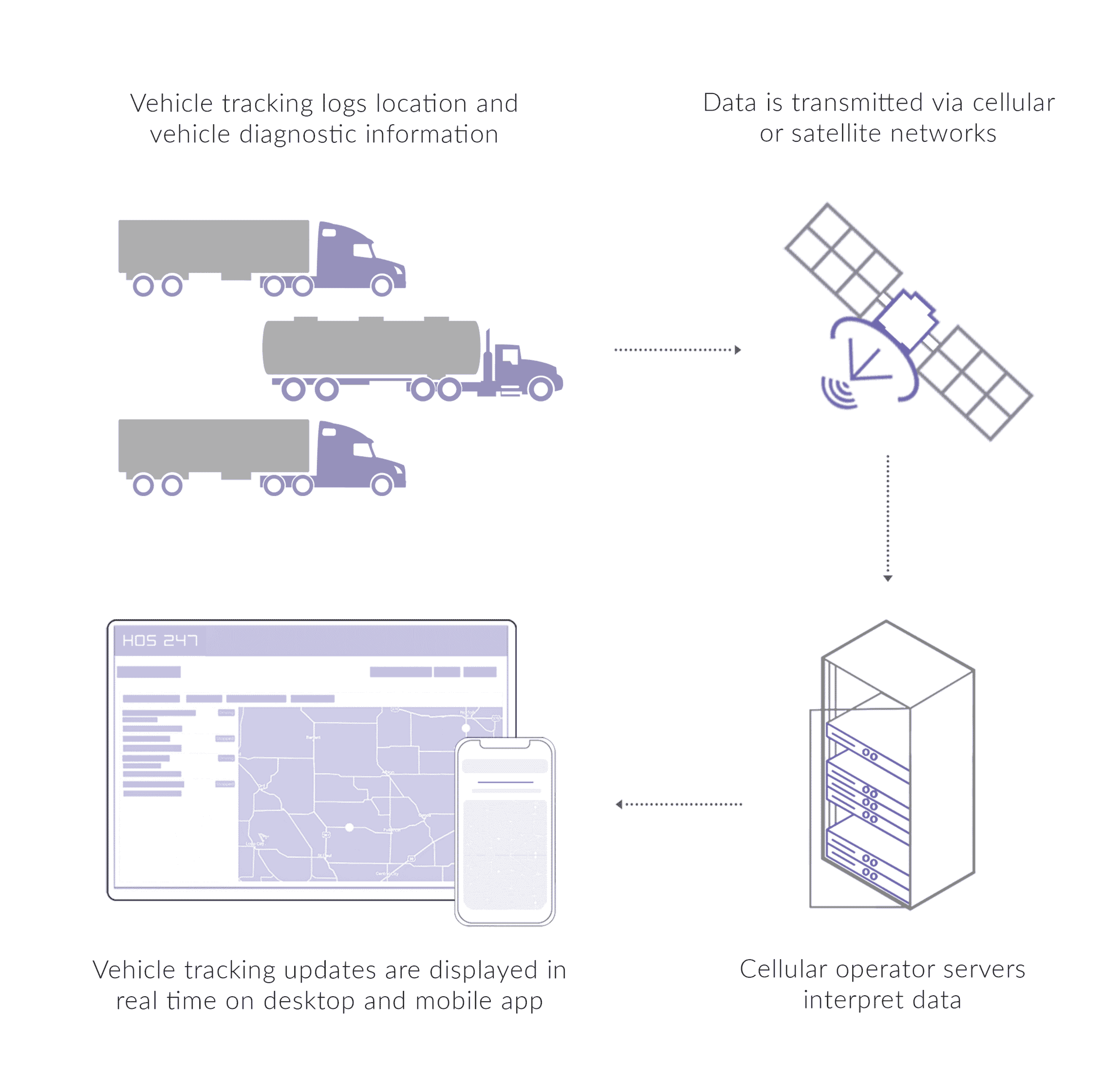 Choosing the Right GPS Software
In the crowded market of GPS fleet management solutions, finding the best device can be quite challenging. However, the right choice will enhance fleet efficiency and bring down operational costs in the long run. Here are some important factors that should be considered when purchasing a GPS solution:
ELD-integrated GPS tracker. This is especially useful for fleet companies running interprovincial operations. With the Transport Canada mandate coming into full enforcement in 2023, truckers will have to shift all record keeping activities to registered elog devices instead of paper logs. Adding yet another device to have GPS tracking will increase the burden on fleet managers to monitor two systems at a time and on the whole staff to learn two systems. If a single provider includes GPS tracking with the ELD, fleet management will be simpler, more convenient and you can probably get better pricing than you would from separate services. 
Compatible hardware. The GPS tracker must be compatible with all the vehicles in your fleet. For instance, a fleet can include trailers, light trucks, medium-duty and heavy-duty trucks, buses, and even specialized trucks. In these cases, it is necessary to have a GPS fleet management solution compatible with all these types of vehicles. 
Real-time tracking. Many GPS devices only send the fleet manager periodic updates. This means the vehicle's location details will be received less often, maybe every hour. Real-time data is more useful and helps managers make better informed decisions at any time.  
Easy installation. Some GPS fleet management options may require special devices or technology to install. This means operations may need to be delayed and the overall cost of the GPS increases. It is best to find a tracker that requires a simple installation and is immediately operational after turning the device on. 
User-friendly software. GPS fleet management solutions can be overly complex. An intuitive manager portal will facilitate monitoring activities, ease fleet management, and help with productivity.
4G technology. 3G networks will eventually become obsolete. It is best to choose a GPS fleet management software that supports 4G technology, which is significantly faster in comparison to 3G and carrier companies will not have to purchase new GPS devices anytime soon, which represents significant savings. 
Active customer support. A reliable GPS fleet management solution will include readily available customer support. The provider should guide the customer to ensure the system is used correctly. If there is a malfunction on the road, getting qualified support is important to troubleshoot technical problems. 
Trial or demo. First hand experience with the tracking system should be considered before signing off on the investment. Try to find a supplier that offers a trial period or demo to ensure the GPS fleet management meets your expectations.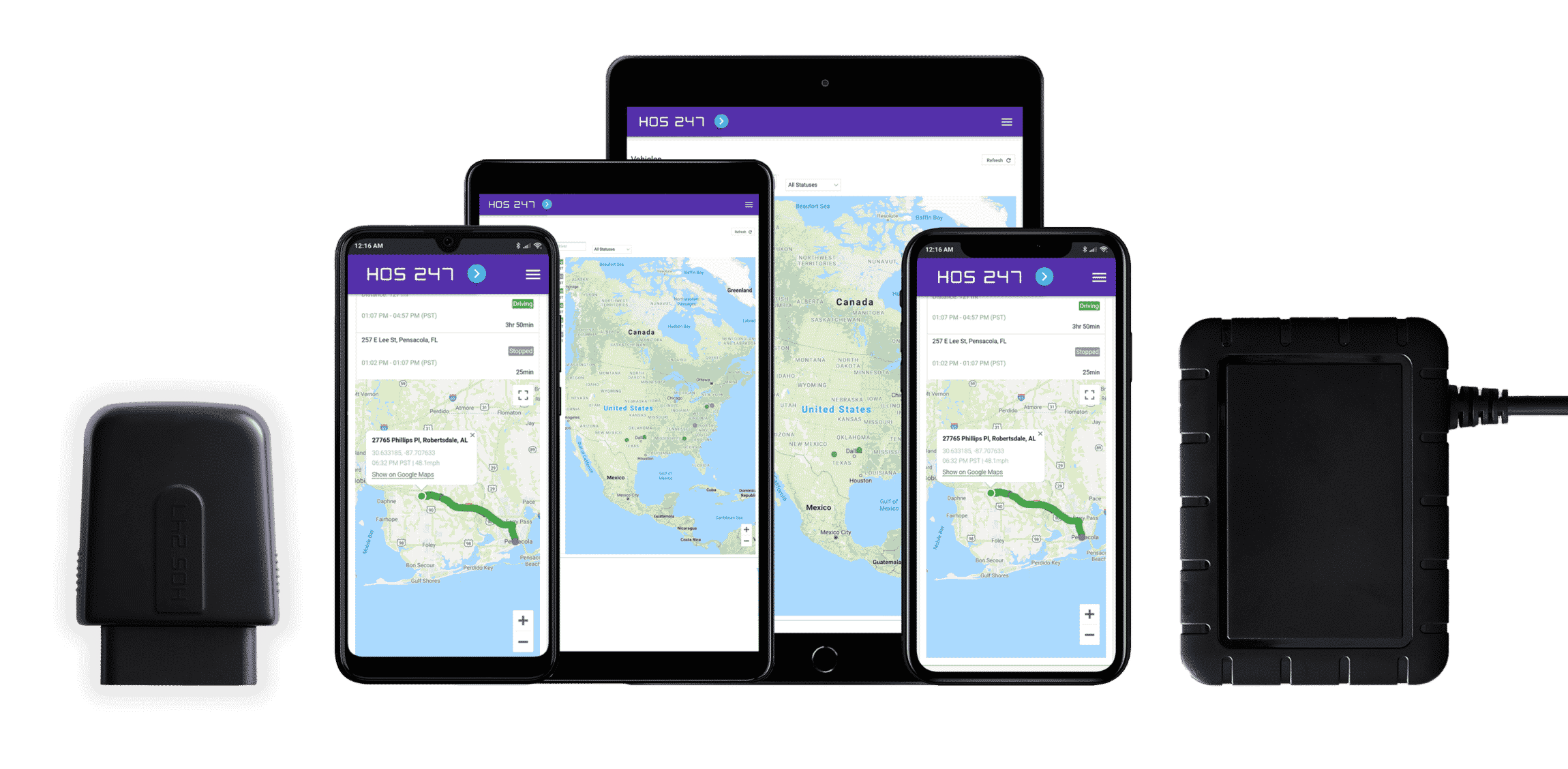 Reasons for Choosing All-In-One Vehicle Fleet Management Solutions
All-in-one fleet management systems have several benefits. They combine the functions of an advanced GPS tracker with other features to boost the fleet's security and productivity. HOS247 is a leading brand in ELD systems that offers a wide roster of additional features to provide customers with an advanced, all-in-one fleet management system. We have been in the market for many years and are trusted by a long list of fleet companies, drivers, and owner-operators. HOS247's fleet management services include: 
GPS fleet management. Real-time GPS data increases fleet visibility and shows opportunities to enhance fleet operations. It integrates all vehicle, equipment, and driver information into a single environment. Telematics technology monitors vehicle usage, fuel, engine temperature, barometric pressure, fault codes, etc., to reduce the chances of vehicle breakdowns. The system also enables dispatch managers to fast-track processes. 
Electronic logging device. Apart from complying with the mandate, an ELD system offers accurate and automated RODS, minimizing administrative burdens, lowering insurance premiums, and boosting overall efficiency.
IFTA calculations. IFTA kilometers driven per jurisdiction are calculated automatically. Complex calculations are streamlined and human error is reduced. 
Vehicle maintenance. Routine maintenance is crucial to optimize vehicle performance. This includes oil changes, tire rotations, tracking warranty expiry dates, license renewals, etc. An all-in-one fleet management system can be programmed to set a reminder for all the vehicles in a fleet. The system will keep a vehicle service schedule, service records and alert the company of an upcoming vehicle servicing date. 
Fault code detection. The system will notify drivers in real time in case a problem with the engine is detected. This increases safety and allows issues to be managed before they become dangerous.
Automatic idle tracking. This feature increases fleet efficiency and driver productivity by reducing fuel waste due to idling, reducing the carbon footprint, and helping fleet companies record employee performance to issue incentives and rewards.
ELD Mandate and Applicable Criteria
The federal Canadian mandate applies to drivers or carriers involved in interprovincial transportation. These carriers will be subject to the federal jurisdiction for their local activities as well. Provincial jurisdiction applies if carriers only engage in operations within a single province. Drivers subject to the mandate must use elog devices to keep RODS. However, Transport Canada will allow some exemptions. These are:
Commercial vehicles do not require the use of a registered ELD if there is a valid permit in place.
Vehicles operating under an exemption by the Motor Vehicle Transport Act are not subject to the rules of the Canadian mandate.
Vehicles working under rental agreements for periods of 30 days or less do not require elogs. Exemptions will not be granted or renewed if the rental agreement is extended.
Vehicle models older than the year 2000 are not capable of integrating an electronic logbook, so the mandate will not apply.

Conclusion
HOS247 offers all fleet management features in a single system to bring added value and a reliable solution for users. Not only does it save the cost of purchasing separate devices but also reduces burden on staff as the system is user-friendly and easy to learn. Interested truckers can schedule a demo or get a two-week trial to enjoy all the benefits HOS247 has to offer.
"Awesome. Easy to install and use. Top notch customer service! I recommend it to everyone."


"Great company to deal with. The support team is very responsive and competent. They provided a great deal of education for our company."

"Customer service is great. They helped me to set up everything and showed how to edit my logs. Thank you."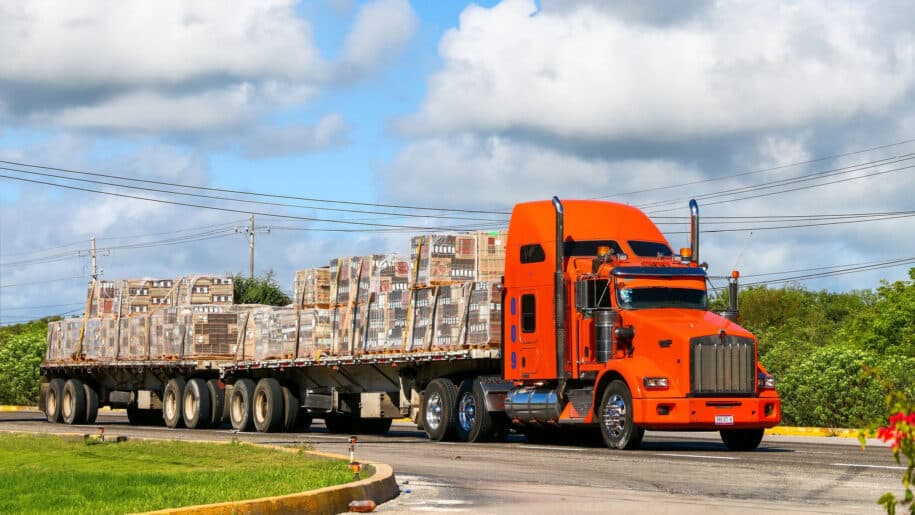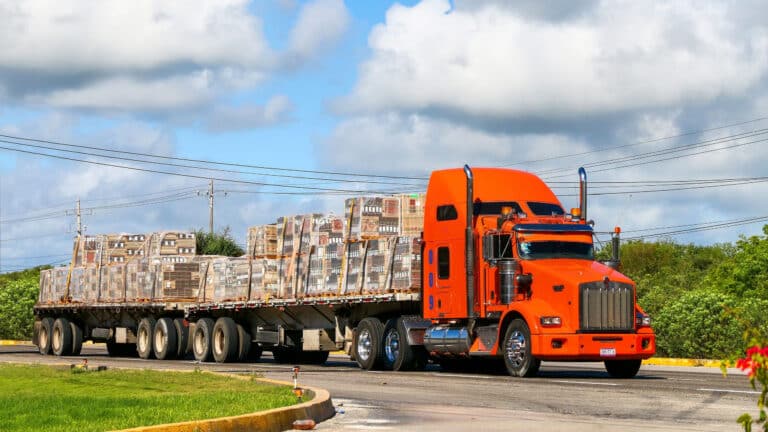 Fleet Management Systems & Features
In today's fast-paced business world, managing a commercial fleet can be challenging, but it doesn't have to be. With the help of fleet management systems, carriers can enjoy various benefits, such as reducing fuel costs, enhancing driver safety, providing better
Read More »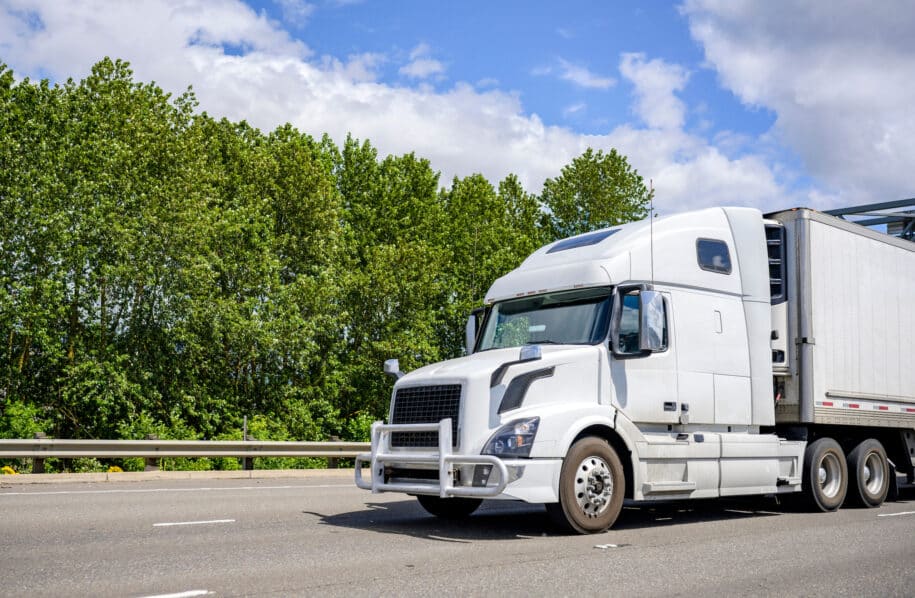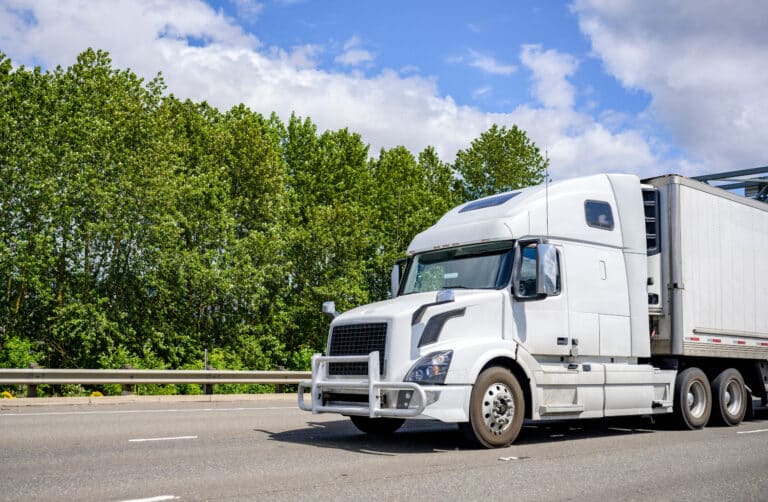 ELD Services & Devices
HOS ELD Logbook for Truckers in Canada The new federal mandate for the use of HOS ELDs will help keep drivers compliant with driving and on-duty time limits. Driver fatigue has proven to cause accidents and losses—human, material, and economic.
Read More »


GPS Fleet Tracking Tips in Canada
Managing a fleet of trailers can be challenging, from tracking their locations to preventing delays, theft, and other issues. However, there is a solution that can revolutionize fleet management: GPS trackers. These innovative devices provide motor carriers with greater control
Read More »