GPS fleet trackers allow managers in Canada to monitor vehicle locations and other relevant data to identify efficiency gaps, streamline operations, and increase productivity. Tracking devices, also known as automatic vehicle locators, capture real-time data using telematics technology,  including GPS coordinates and information like speed, fuel level, idling time, battery charging, etc. 
This technology increases vehicle and driver security while exposing areas of opportunity that can be tackled to increase overall profitability. Most trackers offer multiple benefits for carriers, which can be maximized by choosing the one that best fulfills your business's needs. In this article, we will go over the crucial factors when selecting a GPS fleet tracker and the benefits offered by HOS247.
Choosing a Fleet GPS Tracker
Fleet tracking technology implementation can mean significant savings in operating costs and better asset management. However, when looking for a fleet tracker solution, carriers must be aware of certain factors that will determine if a particular system is right for them. Here are some must-check factors that can guide you in picking the right GPS tracking system.
Ease of installation. Complex hardware leads to extra downtime and can burden a carrier company with additional installation charges. A provider that offers compatible devices that can be installed in minutes without expert intervention is a smart choice, as it saves time and effort.
Compatibility. Some fleets might contain trailers as well as light or medium-duty vehicles. Carriers must look for a fleet GPS tracker compatible with all vehicles to avoid the additional cost of having to purchase a different GPS for each vehicle category. 
Usability. The success of any technology lies in its user-friendly features. Tracking software must be user-friendly so the fleet manager and even drivers can use it seamlessly without training. Fleet tracking solutions come with an online panel to simplify fleet management.
Real-time tracking. Some fleet trackers offer periodic instead of real-time updates on vehicle data and location to save battery. However, truckers are left with less precise information. Finding a fleet management GPS tracker that provides real-time updates about the vehicle is crucial to ensure better fleet management with reduced dispatch time, higher vehicle security, less idling time, etc.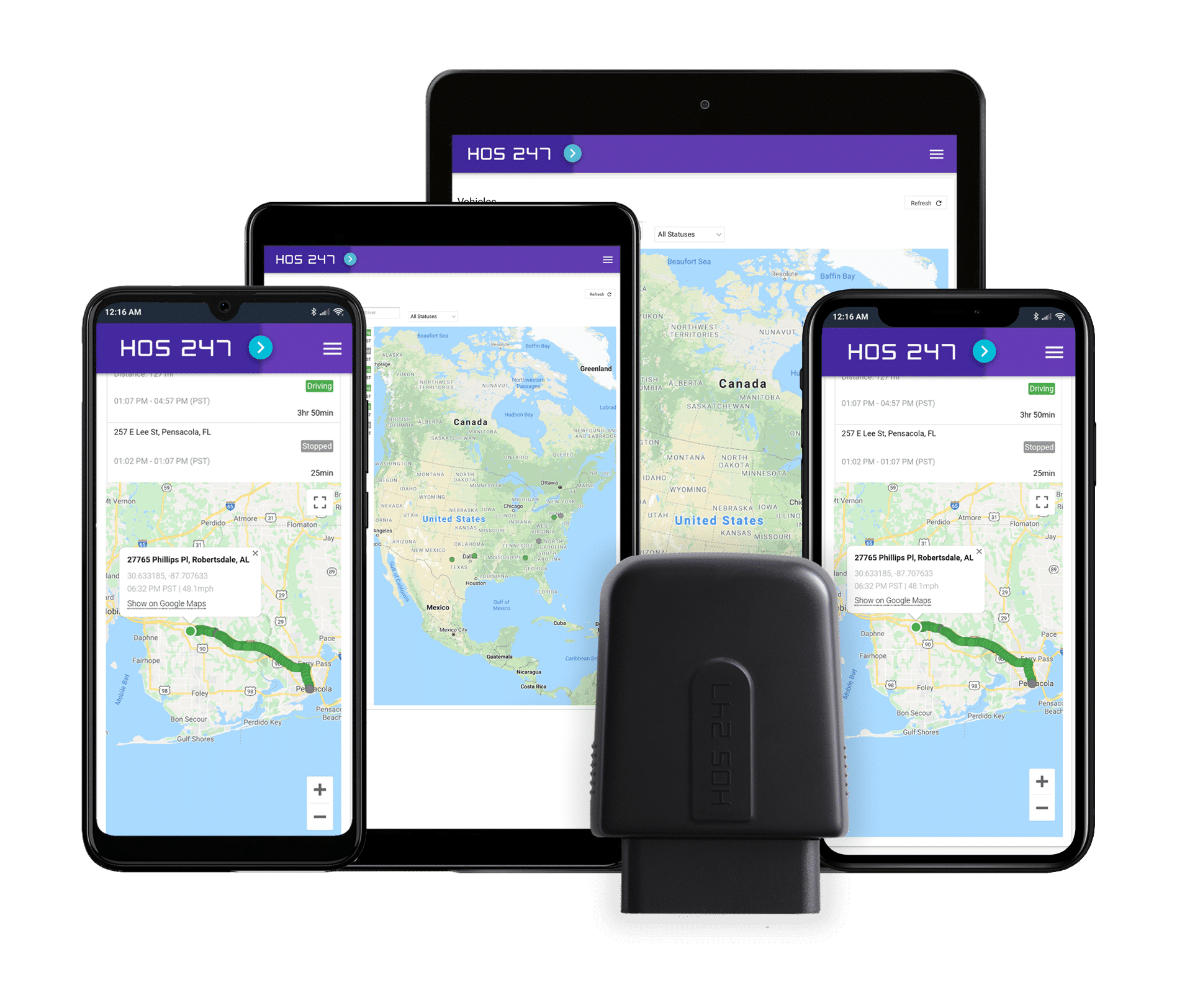 Round-the-clock support. The provider should be easily available for assistance regarding the use of the device and the software. They should have a dedicated support team to help consumers make optimum use of the tracker for enhanced fleet management and vehicle safety. 
4G compatibility. 4G technology is much faster than its predecessor. The newer technology also means that the system will be current for longer. 
Product trial. Truckers can ask for a trial to make sure the fleet management GPS tracker synchronizes well with all the vehicles and works accurately to provide real-time data as expected. Purchasing a fleet GPS tracker without a trial can lead to bad investment if it doesn't fulfill all fleet management needs and getting out of lengthy contracts can be expensive.
ELD integration. If the vehicles in your fleet are used for interprovincial transportation, then investing in an ELD solution that integrates with a GPS tracker is a good idea. This way, truckers only have to work with one provider and only have to get used to one system. Choosing an ELD-integrated fleet tracker can be cheaper and more efficient.
Benefits of HOS247 Fleet GPS tracker
HOS247 is a market leader in GPS tracking and ELD solutions. We offer a complete GPS fleet management system that is easily integrated with an electronic logbook and offers real-time data. HOS247 has already gained a long list of clients who are satisfied with the reliable service of our GPS fleet tracker solutions. Here are some of the advantages of HOS247 fleet trackers that are helping truckers and carrier companies thrive.
Simple and fast installation. HOS247's tracking solution is a web-based software easily available on the internet for download. The tracking system can be installed in minutes by the fleet manager without any help from a technician.
Enhanced security. HOS247 offers devices that can be concealed to help the recovery of stolen or lost assets. The fleet GPS tracker also sends alerts to fleet managers if the vehicle is driven in unauthorized locations or during off-duty hours. 
Long-term savings. Apart from securing the vehicle from theft, the HOS247 tracker also increases the fleet's profitability with real-time alerts on driver idling and routine fleet maintenance notifications. Reduced idling time saves fuel costs and also improves fleet productivity. Maintaining the fleet in top condition prevents sudden breakdowns and unplanned costly repairs.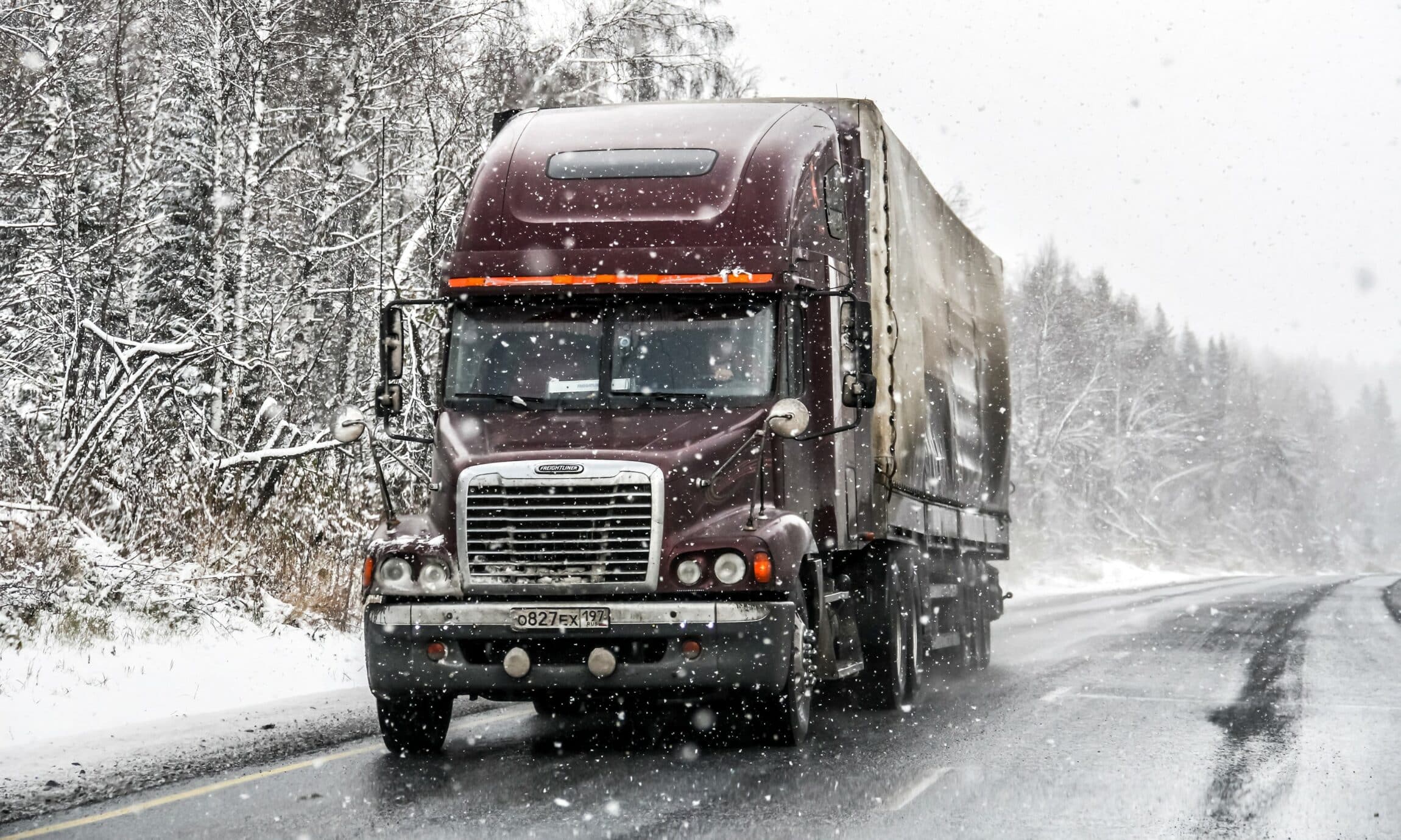 4G supported. The HOS247 fleet tracker is designed to integrate with the 4G network that is ten times faster than 3G. Perfect for real-time tracking, the 4G connectivity allows for an uninterrupted signal in any condition. 
ELD integration. This feature is especially beneficial for interprovincial commercial vehicles that come under the radar of the elog mandate. As the HOS247 fleet tracker device easily integrates with our electronic logbook, a single system is sufficient to monitor the entire fleet and stay compliant.
Intuitive interface. HOS247's GPS tracker has a user-friendly fleet manager portal that allows complete visibility of the fleet. The fleet manager can check real-time updates on vehicles and drivers, and monitor driver behavior from the dashboard with just a few clicks.
Reliable hardware. The HOS247 fleet management GPS tracker comes with hardware that can be easily installed by anyone, as it requires little to no technical knowledge. It can be hidden inside the truck to help prevent tampering and allow recovery after theft. All HOS247 devices are made using quality grade materials for longer durability, optimum performance, and less possibility of breakdown.
Additional features. HOS247 offers idling time monitoring, detecting fault codes, IFTA calculations, and preventive maintenance notifications.
Flexibility in upgrading. As a trusted brand with years of experience providing fleet management solutions, HOS247 understands that fleet requirements change with time. To suffice the needs of all sizes of fleets, HOS247 offers complete flexibility in upgrading or downgrading their monthly plans. 
Active customer support. HOS247 has a dedicated team of experts to offer support to our customers. Whether it is troubleshooting a problem or guidance on the optimum use of the fleet GPS tracker, the HOS247 support team is always ready to help. To reach a wider group of customers, we maintain a multilingual team that communicates in English, Spanish, Polish, and Russian. We also have a call-back policy to follow up with the client if the call drops.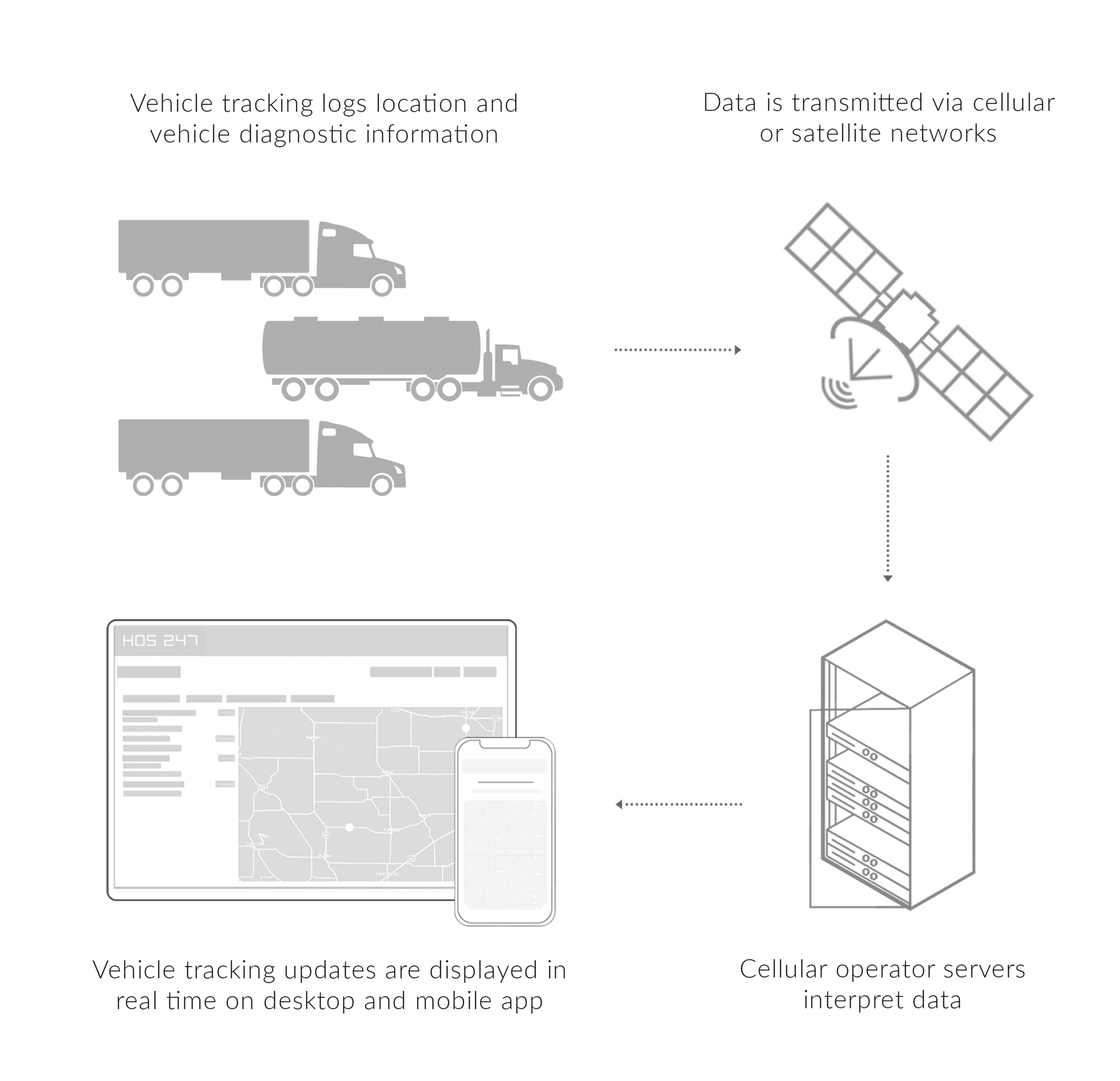 Functioning of a Fleet GPS Tracker
Understanding how a fleet tracker device works can also help truckers make optimum use of the solution. GPS stands for Global Positioning System, and the device uses technology to send real-time updates on the vehicle. After the GPS tracker is installed in the vehicle, it logs location and other vehicle diagnostic information like speed, idle timing, etc. This data is then transmitted using 4G/LTE cellular networks to the provider's server. After being analyzed in the tracking system, the data is displayed in the fleet manager portal, which can be accessed through any computer, tablet, or smartphone.
About HOS247 Fleet GPS Trackers
A reliable provider of ELD and GPS devices, HOS247 addresses the needs of motor carriers with different-sized fleets. Our trackers provide real-time monitoring, collecting the GPS coordinates between 30 seconds and 2 minutes when the vehicle is being driven. Gathered separately from the driver data, the truck information is available even when the driving status or a driver changes. HOS247 offers two types of fleet tracker solutions: ELD-integrated and 24/7 monitoring hardwired devices.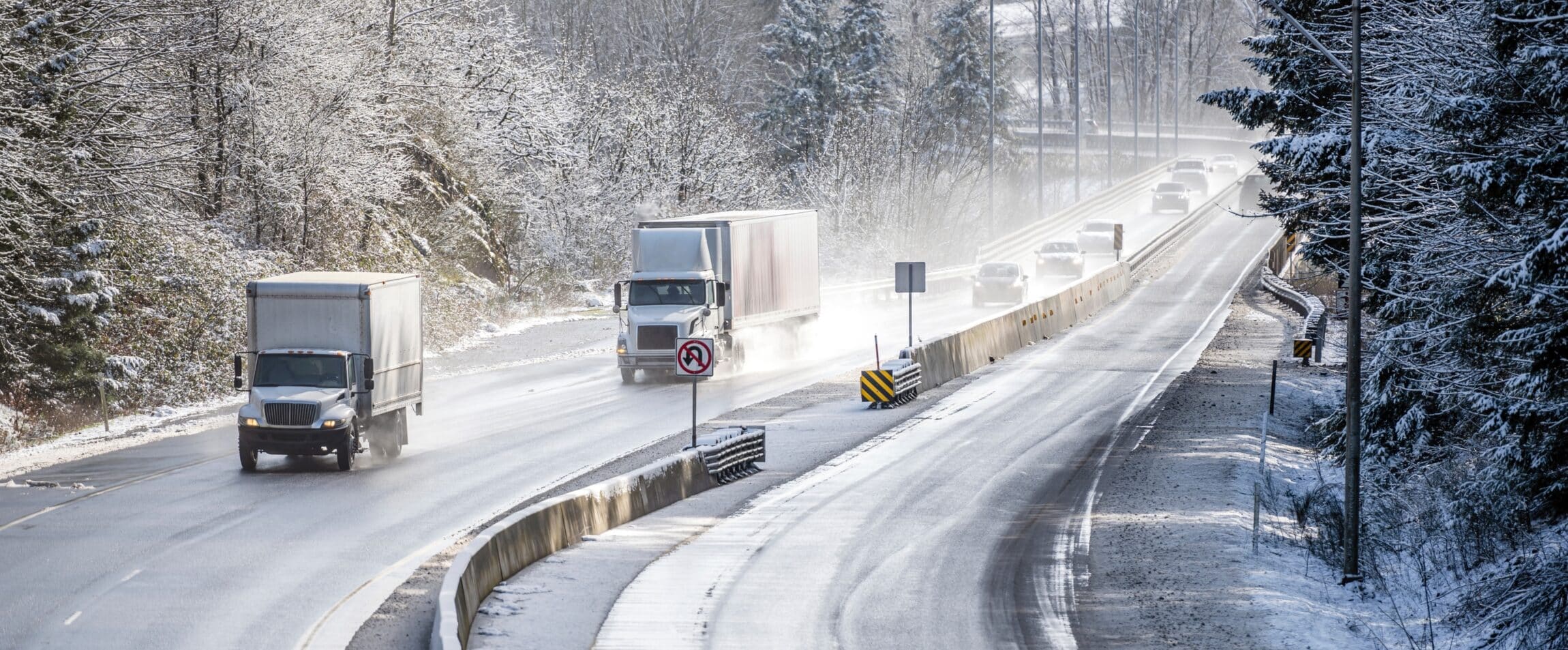 The ELD-integrated tracker is a good option for fleets with large numbers of vehicles that travel between provinces. Easily set up by plugging into a vehicle's OBD2 port, the device can be uninstalled as quickly. So motor carriers can move the hardware between vehicles, saving money on purchasing a GPS tracker for each truck. ELD integration helps ensure compliance with regulations established by Transport Canada, preventing HOS violations.
The 24/7 monitoring hardwired tracker allows uninterrupted tracking of assets. It connects to the vehicle's ignition and comes with a separate battery, which transmits location data even when the vehicle is off, and a sim card that provides an uninterrupted signal even in bad weather conditions and remote areas. 
Operating a fleet comes with several challenges, and an important one among them is the loss of assets and hidden costs in excess idling. A fleet management GPS tracker can simplify fleet operations by extending technological support to tackle these issues. Finding a reliable GPS solution provider can be difficult, with so many brands on the market. HOS247 has a proven track record of offering advanced fleet management solutions. Request a HOS247 fleet tracker trial to enjoy the advantages of technology-supported vehicle monitoring that will automatically boost fleet efficiency and productivity.
"Awesome. Easy to install and use. Top notch customer service! I recommend it to everyone."


"Great company to deal with. The support team is very responsive and competent. They provided a great deal of education for our company."

"Customer service is great. They helped me to set up everything and showed how to edit my logs. Thank you."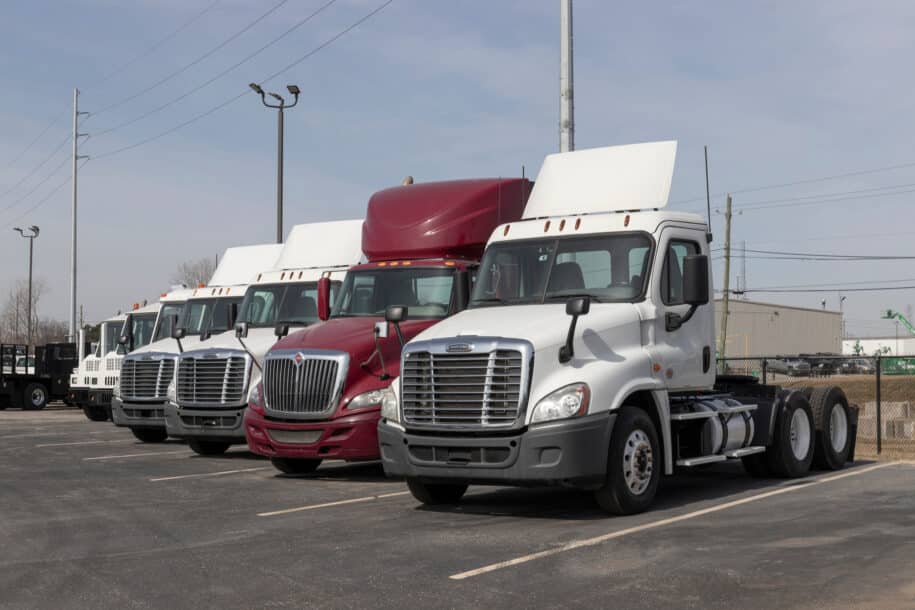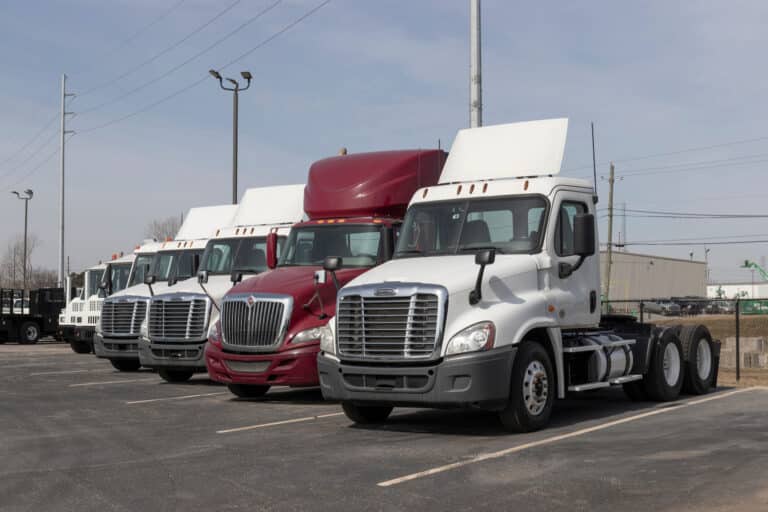 GPS Fleet Tracking Tips in Canada
GPS fleet trackers allow managers in Canada to monitor vehicle locations and other relevant data to identify efficiency gaps, streamline operations, and increase productivity. Tracking devices, also known as automatic vehicle locators, capture real-time data using telematics technology,  including GPS
Read More »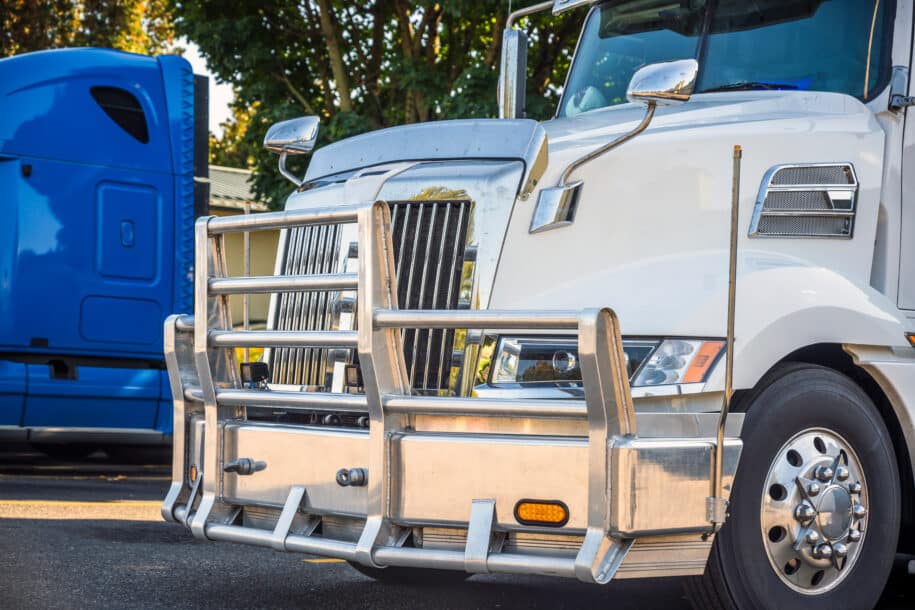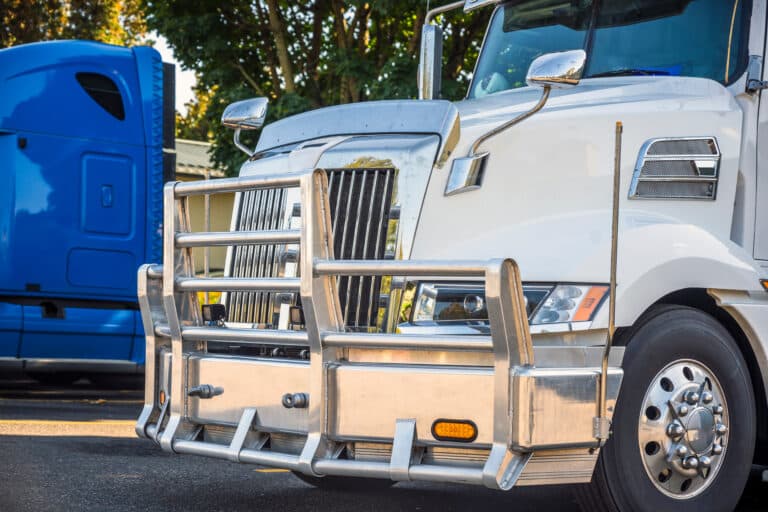 ELD Services & Devices
Elogs for truckers help businesses in the transportation and trucking sectors with HOS compliance and productivity. Carriers must use them to comply with the mandatory federal requirement for drivers to keep their RODS electronically; however, they can also be an
Read More »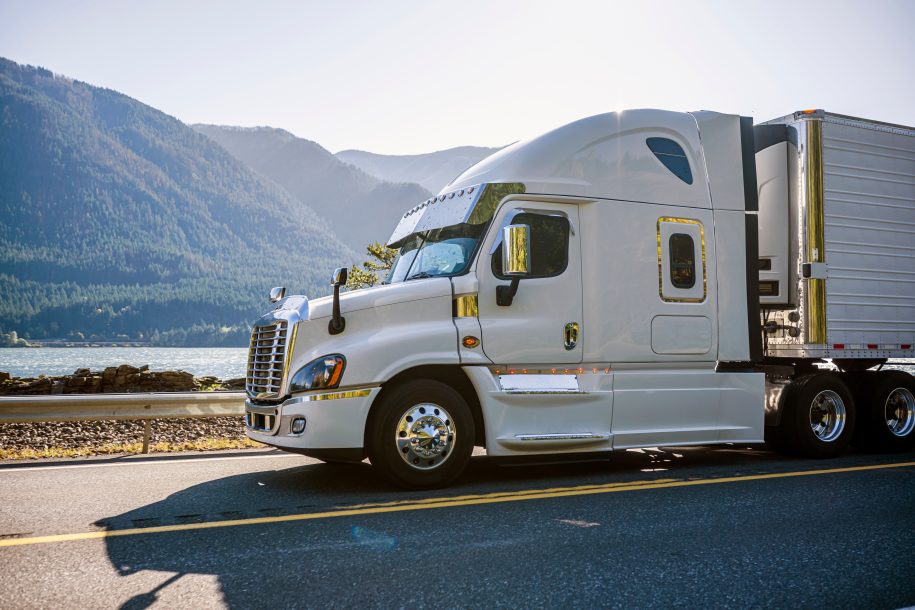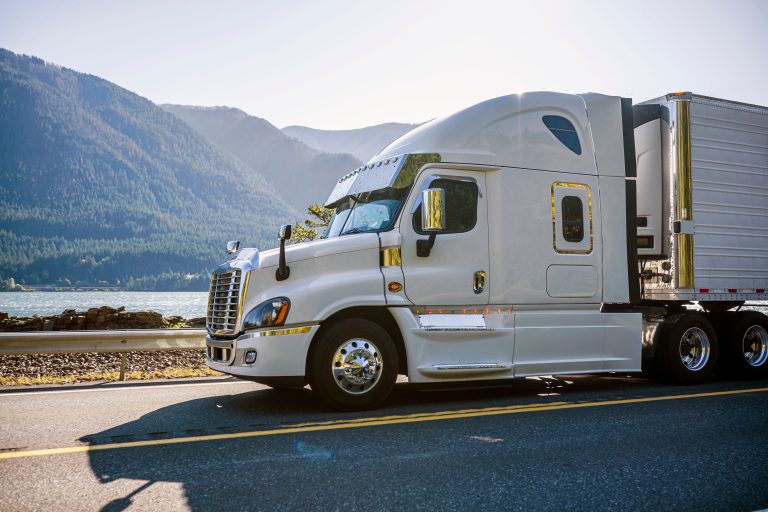 ELD Services & Devices
ELD logs are here to stay: using an electronic logging device will become mandatory for commercial vehicles in Canada as of January 1, 2023. Professionals in the industry must choose and equip one to comply with the law. This is
Read More »