GPS software has become a vital tool for trucking operations in Canada. The advantages it offers carriers practically make it a must-have to be competitive in the industry. HOS247 understands the need for reliable GPS truck tracking solutions, so we have developed an effective, well-rounded system with top-tier customer service.
HOS247 fleet tracking services come with the following benefits:
Substantial cost savings. HOS247's GPS fleet tracking system has shown to cut fuel costs. This technology can be used to keep speeding and idling under control and optimize the vehicle's fuel use, useful life, and overall performance. The maintenance features show the condition of each vehicle and allows preventative maintenance scheduling for each, reducing downtime.
Improved inspection outcomes. Regular maintenance can prevent several violations, and the considerable penalties that result from them, including being put out of service. This can also help carriers avoid higher insurance premiums. 
Improved safety and security. The tracker in the HOS247 system is an essential safety feature for any GPS truck tracking solutions:

Vehicles and assets can be quickly located in case of theft. 
It provides essential information to manage emergencies like road accidents. 
Trips can be planned safely thanks to alerts about road conditions and available services in the area.

Easy installation. In comparison with other GPS tracking solutions for trucks with an intricate installation process, HOS247's tracker can be set up quickly and easily without any wiring or complicated assembling. There is no additional fee, special processes or actions required.
User-friendly software. The program can be downloaded and installed directly from any standard internet browser. The fleet manager will be able to log in and the program will be set and ready for use in minutes. The intuitive design means no training is needed.
Enhanced customer service. GPS truck tracking show managers the exact location of vehicles, optimizing both dispatching and routing. Since it also keeps a record of the locations visited, it can be used as accurate back up evidence for services performed.
Extended vehicle lifespan. By tracking mileage, engine hours, fuel usage, and other metrics, it is easy for fleet managers to stay on top of any mechanical issues. As such, they can budget better and reduce downtime. It also extends vehicles' useful lives, boosting their return on investment.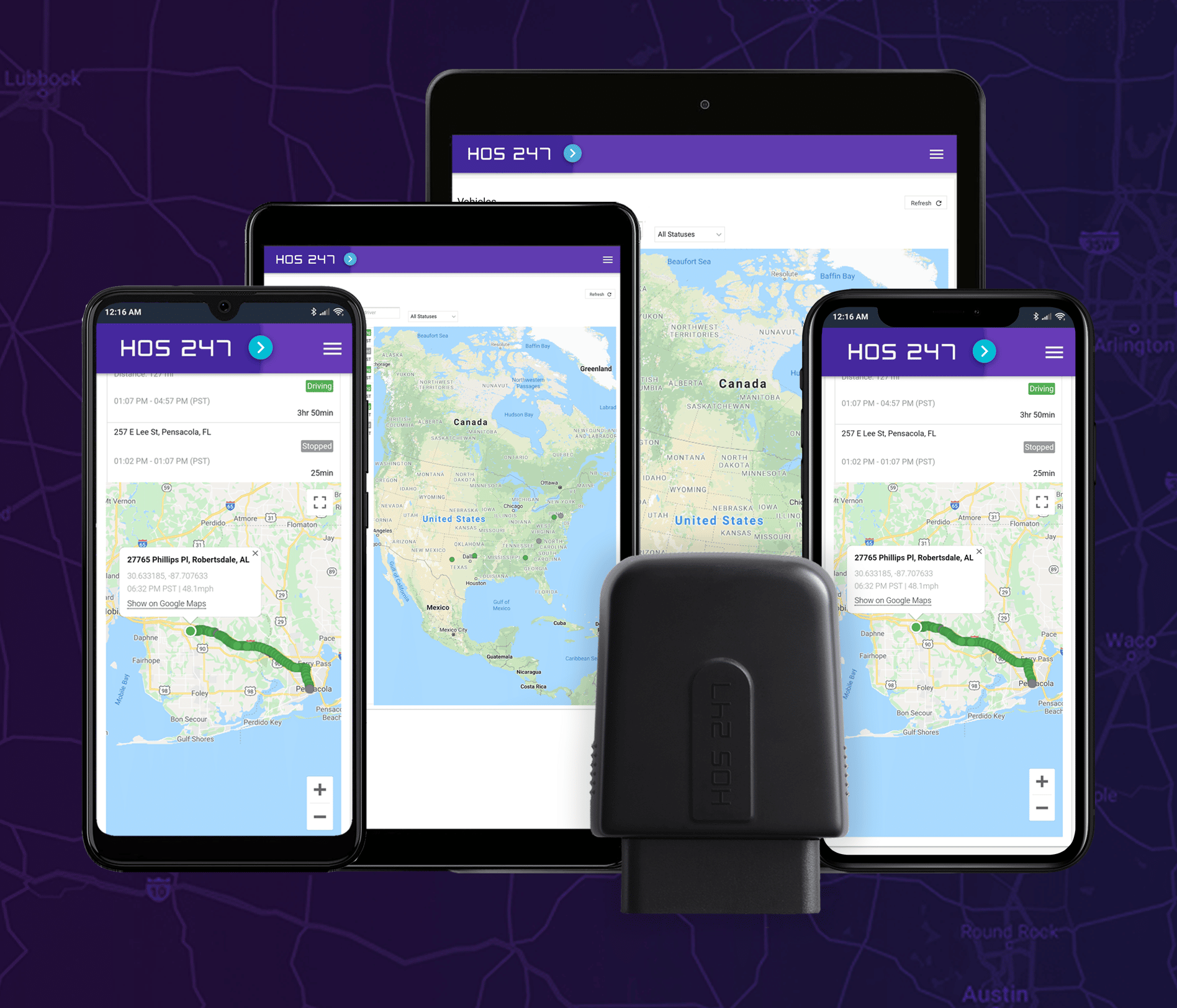 Other Important Features for Trucking Operations 
The rapidly growing Canadian market for GPS truck tracking solutions already offers many options. Making the best choice will come down to finding a provider whose product enhances the fleet's capabilities and efficiency, and keeps operational costs low.
Here are some factors that bring additional value to the business and should be considered before purchasing a GPS tracker:
Electronic logging device. Come January 1, 2023, fleets operating across provinces will have to comply with Transport Canada regulations, and that most likely includes the use of ELDs. The federal mandate states that hours of service must be recorded using a registered elog device. GPS tracking will increase the burden on fleet managers to monitor two systems at a time and on the whole staff to learn two systems. Since both the electronic logbook and the GPS tracker are essential components of the fleet, providers that offer ELD-integrated GPS fleet truck tracking will make management tasks simpler and more convenient (and the overall cost will surely be lower).
IFTA calculations. The task of calculating the due IFTA tax per jurisdiction can also be done automatically, eliminating human error. 
Vehicle maintenance. This includes a wide array of activities such as oil changes, tire rotations, license renewals, among others. Trailer and semi truck tracking services can keep vehicles' maintenance schedules and records and issue alerts for upcoming events. Also, keep in mind that routine maintenance brings many benefits aside from optimizing vehicle performance, for instance, extending its useful life.
Fault code detection. Many systems can be set to notify drivers in real time when a problem with the engine is detected. This will increase safety and allow issues to be solved before they escalate.
Automatic idle tracking. This feature increases fleet efficiency and productivity by keeping fuel waste caused by idling to a minimum, as well as reducing the carbon footprint.
HOS247 Offers Top-Rated GPS Truck Tracking Services 
As part of the all-in-one feet management system, HOS247 offers trucking businesses a quality GPS truck tracking solution with numerous benefits. Some of the reasons our services are highly rated by truckers are: 
Reliability. The logbook and GPS systems have been tested to make sure their performance is optimal and consistent. 
Dependable hardware. Our devices are durable and come with a one-year free replacement warranty in case anything were to happen.
Top-rated customer service. HOS247's technical support team is knowledgeable and ready to provide support for clients every day of the week and in four languages: English, Polish, Russian, and Spanish. Our callback policy makes sure your issue is followed up on if the call drops.
Two-week trial period. As an HOS247 customer, you are entitled to a tryout period to get familiar with our services. You may return the product within these two weeks if you are not satisfied and receive a hassle-free refund.
No contract policy. We offer clients a roster of flexible plans that may be upgraded or downgraded according to the needs of the client. Its subscription service allows users to choose a monthly or yearly plan without the need for a contract.
User-friendly solution. The software app is straightforward and intuitive, so users will learn to use it quickly and without the need for training. It only takes a few minutes to get the system installed and ready to go.
Extra features. The HOS247 fleet management system offers the following features in addition to GPS tracking:

Vehicle diagnostics.
Fault code detection.
Idling monitoring.
IFTA calculations.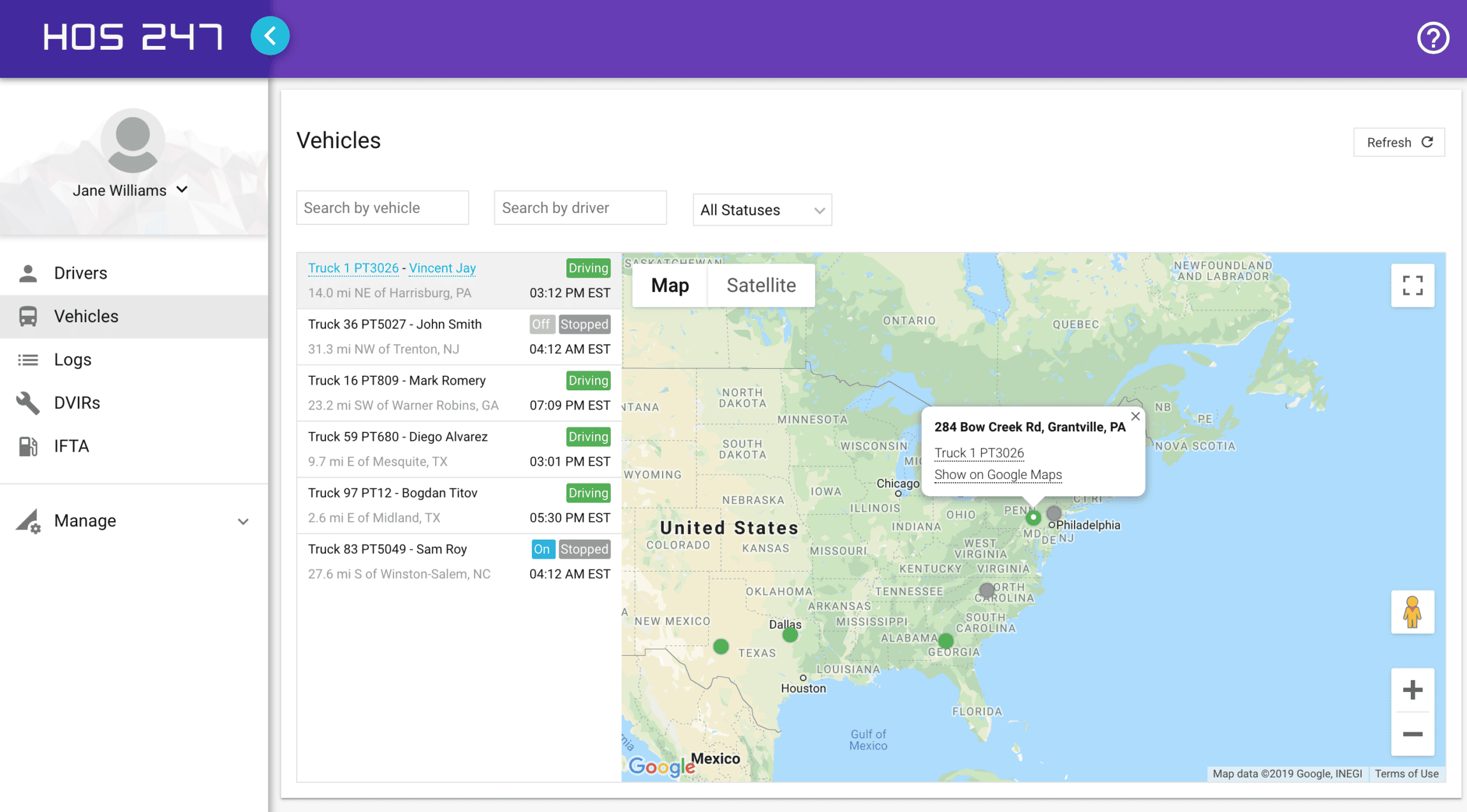 What Is an ELD?
An electronic logging device is a technology commercial motor vehicle drivers use to keep records of their hours of service (HOS). The main reason for using an ELD is to comply with federal legislation aimed at upholding public safety on roads. HOS rules were implemented when authorities noticed that most road accidents happened when truckers drove for over eight hours.
Truck drivers were first required to keep records of duty status (RODS) on paper. However, logging mistakes or tampering make paper records only partially reliable. It is expected that logging hours of service automatically with an ELD will  help them improve compliance and pass inspections with less paperwork.
An electronic logging device is made up of two parts: hardware (the device that connects to the truck's engine) and software (which comprises the fleet management software and the mobile app). ELDs monitor the vehicle's engine activity and capture data on:
When the engine is running
When the vehicle is moving
Distance driven 
Engine operation time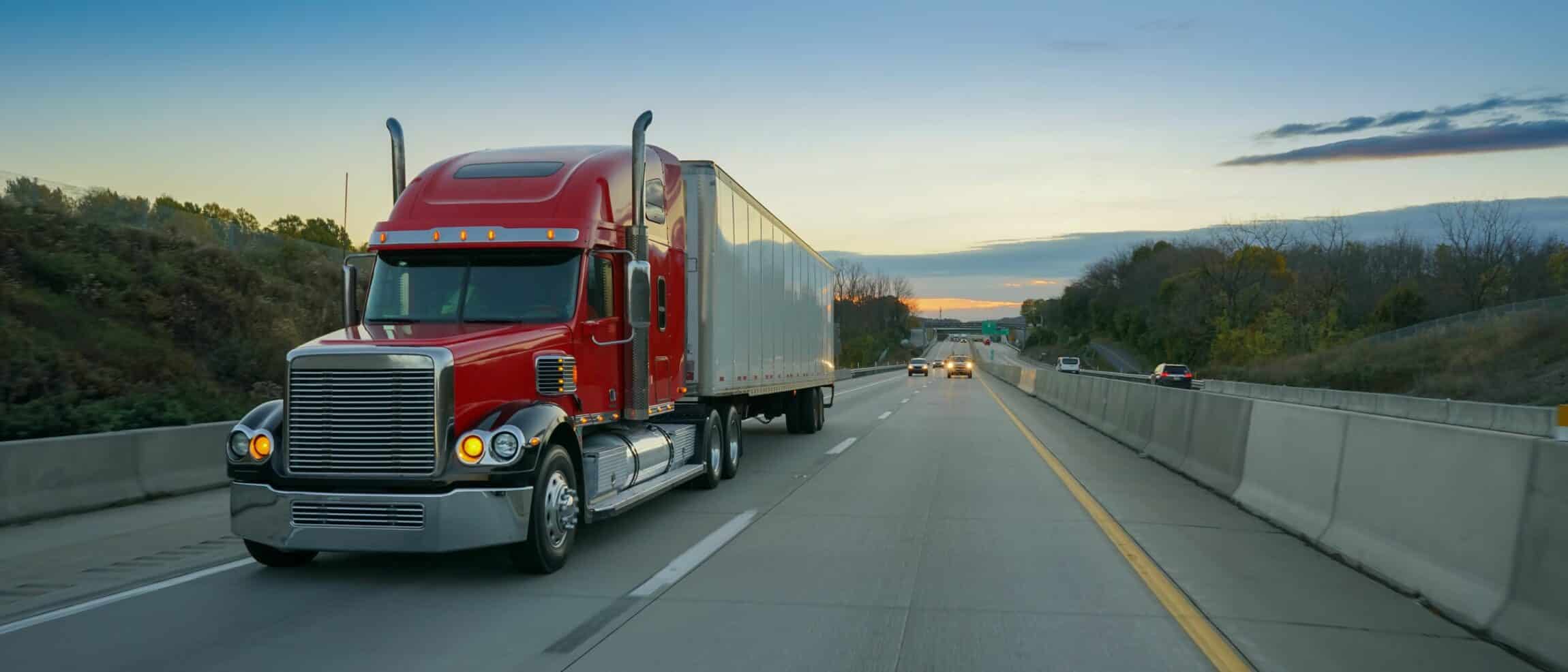 Who Is Affected by the Canadian ELD Mandate?
In Canada, all federally regulated truck fleets will have to comply with the rules of the ELD mandate beginning January 1, 2023. The difference between extra-provincial and provincial motor carriers is that the former fall under federal jurisdiction, while the latter have to comply with laws of the provincial administration. Provinces will adopt the federal rules based on their specific needs.
There are four main exemptions to this rule:
Short-term rentals (less than 30 days).
Commercial vehicles manufactured before the year 2000.
Vehicles operated within a 160 km radius from their home terminal.
Vehicles operated by a motor carrier with an exemption issued by provincial or federal authorities.
Preparing for ELD Mandate Full Implementation in Canada
All federally regulated commercial truck fleets in Canada will have to keep RODS with a certified electronic log book to comply with the new ELD mandate. It can take time and planning to prepare your drivers and fleet managers to adapt. Here are some tips to facilitate the transition from manual to electronic logbooks:
Conduct a focus group research. Before a new ELD system is introduced to your entire crew, pick several drivers that would test the solution and give their opinions on the device. Thus, you can understand the particular needs of your operators and adjust your implementation strategies. 
Find a reliable provider. Consider an experienced provider who offers support for Canadian hours of service and has efficient customer service to assist your crew during the transition. 
Make a detailed implementation plan. Discuss with your provider particular needs and challenges of your organization to craft an ELD implementation plan that will smooth up the transition for all members of your crew. 
HOS247 is a top-rated international provider that supports Canadian HOS rules and exceptions. Our customer-centered approach is highly appreciated by truckers in Canada and the US who find our services easy to use and value our professional support team. Check users' reviews about our product on Google Play and Apple App Store and book your demo now.
"Awesome. Easy to install and use. Top notch customer service! I recommend it to everyone."


"Great company to deal with. The support team is very responsive and competent. They provided a great deal of education for our company."

"Customer service is great. They helped me to set up everything and showed how to edit my logs. Thank you."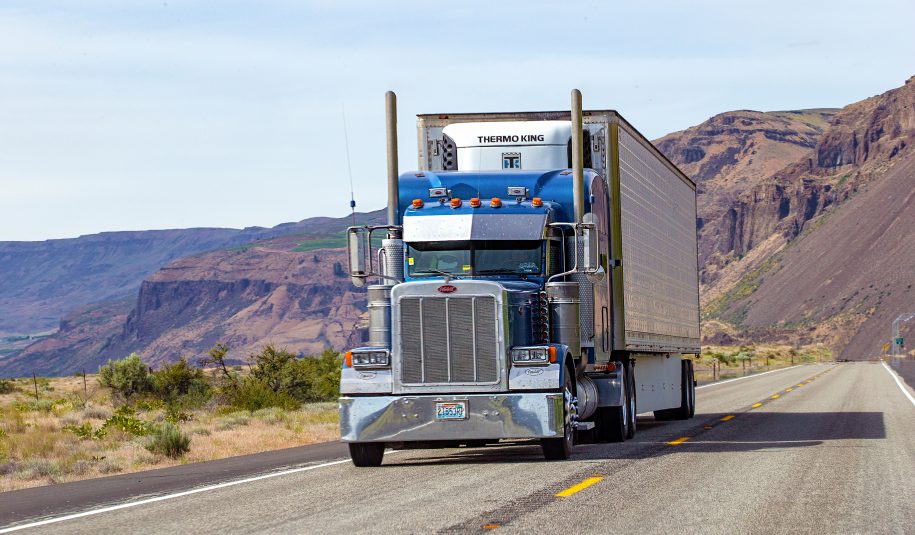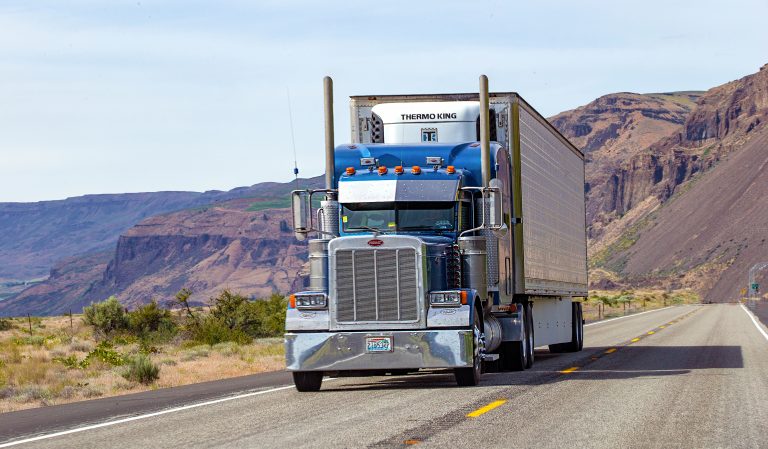 ELD Services & Devices
The federal mandate for electronic logging devices for trucks will soon be in full force. This new requirement came into effect on June 12, 2021. A one-year progressive enforcement period began on that date and was extended for six more
Read More »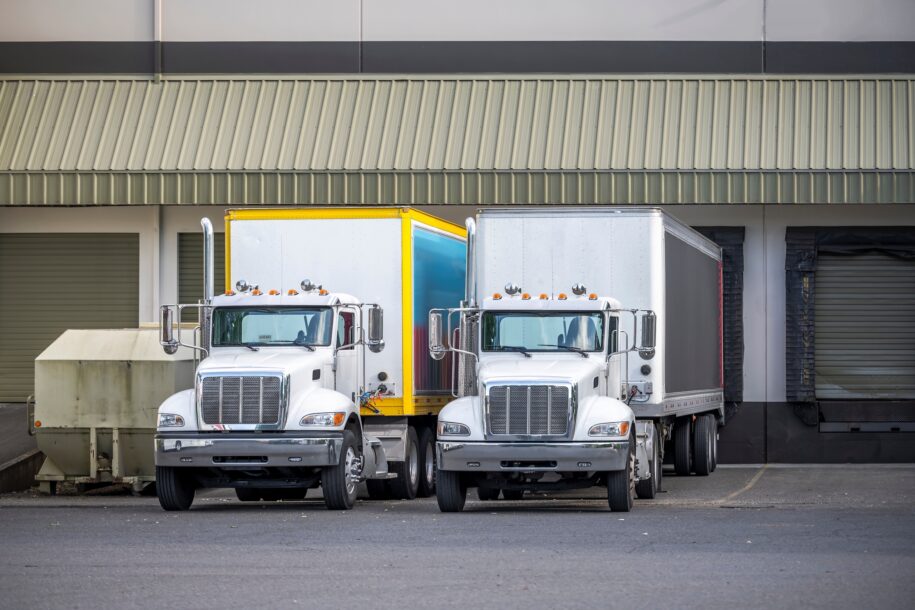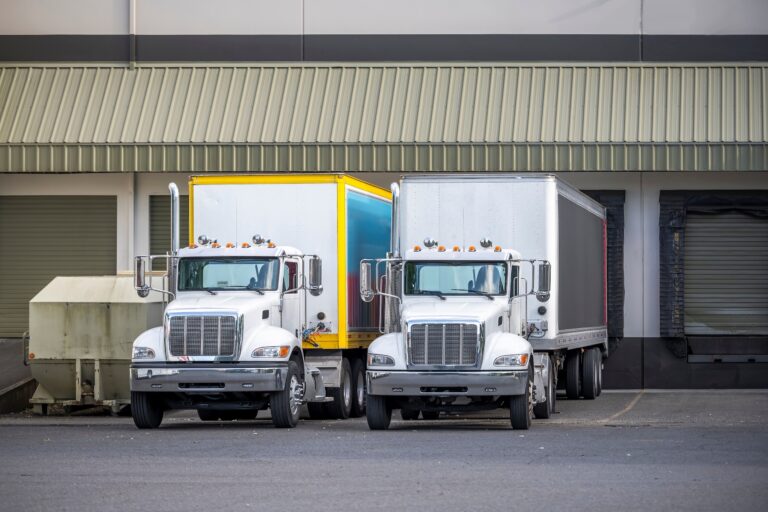 GPS Fleet Tracking Tips in Canada
GPS software has become a vital tool for trucking operations in Canada. The advantages it offers carriers practically make it a must-have to be competitive in the industry. HOS247 understands the need for reliable GPS truck tracking solutions, so we
Read More »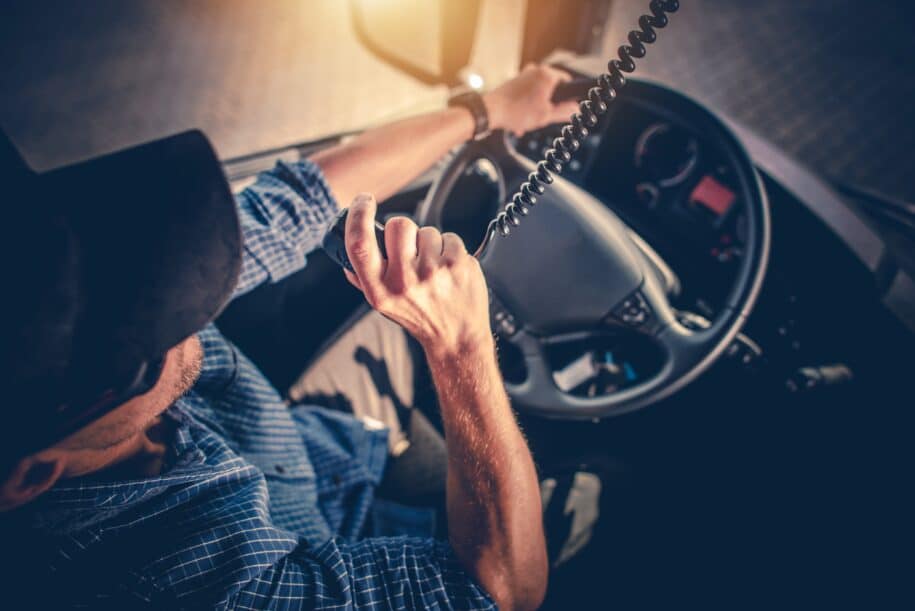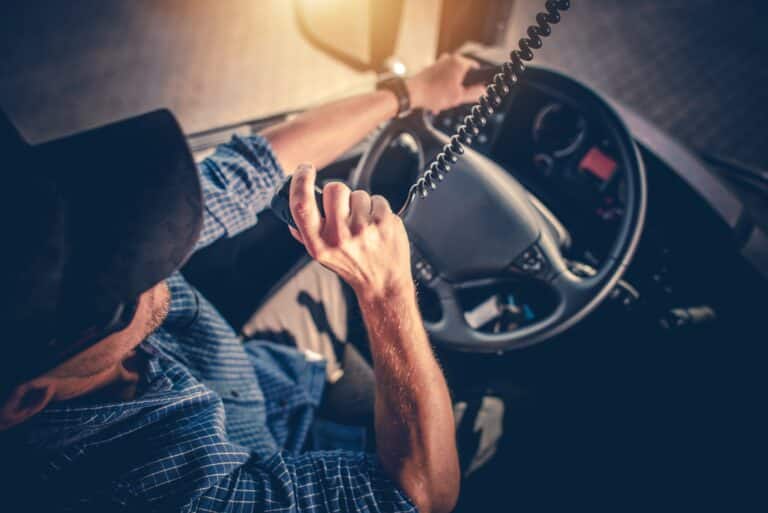 ELD Services & Devices
Finding the perfect electronic logbook for truckers in Canada is a challenging but necessary part of the job. HOS247 offers a comprehensive solution with easy to use interface and a dedicated customer support team. When drivers sign up for our
Read More »