While many providers on the market claim to sell top ELD systems, only a few live up to their promises. Choosing the best ELD system can be challenging for truckers because the market has become overcrowded with elog providers. Some companies supply elogs that are designed to meet the bare minimum FMCSA's standards to be registered. Are you still looking for the best elogs to achieve compliance and boost productivity? This is a guide to choosing the best ELD system to get more for your money. Here are a few ways to identify dependable elog providers.
Four Characteristics of Top ELD Systems
The most efficient logbooks fulfill certain criteria that place them among the top-rated devices. Apart from meeting the FMCSA's pre-set standard features, the best ELD system must offer additional advantages for truckers. Here is what you should look for in an electronic logbook: 
Positive reviews: Check for genuine user reviews on popular platforms like Google Play or the Apple App Store. These reviews can be a useful resource to find the best fit for you. Go for an elogbook that has the most positive reviews from other truckers.
User-friendly features: Ease of use is a must-have for the best ELD systems; drivers should not require excessive training to manage their RODS. An efficient logbook should be intuitive, easy to install, and automated to make it user-friendly for both the driver and fleet manager or owner-operator. 
Uninterrupted connectivity: Some devices still use a 3G connection, which is obsolete, slow, and experiences frequent disconnections. The newer logging systems have shifted to 4G technology, which is faster and provides uninterrupted service in any corner of the country. 
Efficient customer support: The best ELD solution providers are always accessible over the phone, via their websites, or the ELD app. Technical support helps solve any issues that might arise regarding the usage of the elog or compliance and should be an extension of a proper elog service. 
Four Red Flags to Avoid
When looking for must-have features to identify the best ELD solution, it is also important to watch out for red flags. These are a few things that truckers must be aware of and avoid during purchase:
Proprietary hardware of the brand: Some providers develop proprietary tablets for their brand of electronic logs. This additional hardware leads to added costs. Instead, go for a device operated via an ELD app that integrates with a smartphone or tablet, which could bring down the overall cost. 
Lock-in period: Many providers will try to lock customers into long-term contracts. Any lock-in period or contract that extends beyond a year is probably not a good idea, especially when it comes to technology services. 
Non-specialized providers: With the issue of the FMCSA's mandate, many fleet management companies started offering electronic logbooks. ELD technology is complex and requires specialized staff, including well-trained customer service reps to perform at its best. Make sure to choose a provider with a good track record.
Hidden costs: Many companies are not transparent about their pricing structure. While the deal might appear affordable, the cost might go up incredibly with additional charges that were not clearly mentioned before the first invoice arrived. These charges might include a data package, activation costs, training, installation, and implementation. The best ELD system providers are always open about their pricing and service plans.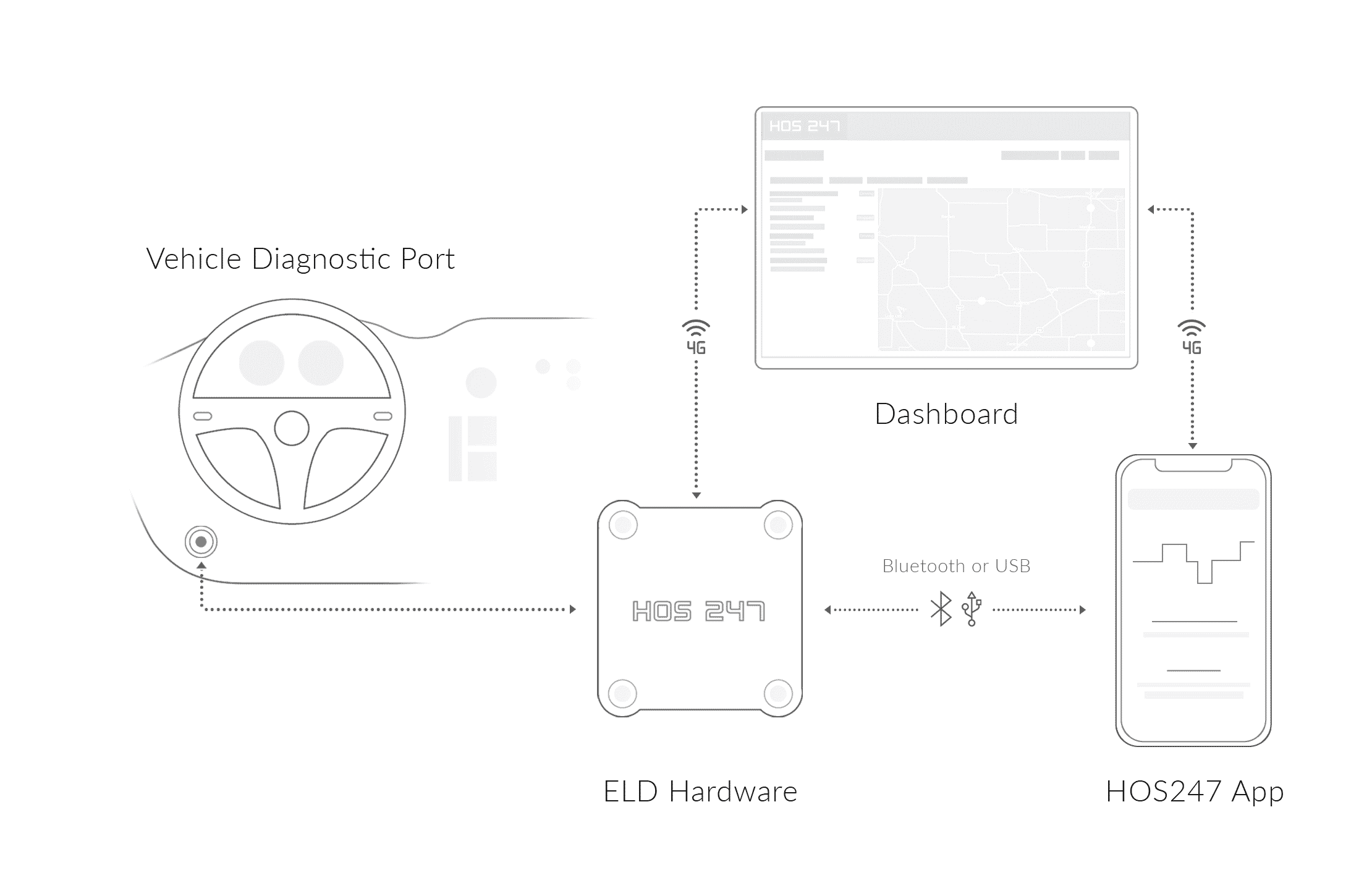 Popular ELD Service Providers
We have drafted a list of 15 companies that provide electronic logbooks. You can read user reviews by clicking on each app's rating.
| RANK | ELD PROVIDER | iOS APPSTORE | ANDROID PLAYSTORE |
| --- | --- | --- | --- |
| 1 | | | |
| 2 | Samsara | | |
| 3 | KeepTruckin | | |
| 4 | JJ Keller | | |
| 5 | BigRoad | | |
| 6 | Garmin | | |
| 7 | Rand McNally | | |
| 8 | | | |
| 9 | Geotab | | |
| 10 | | | |
| 11 | Transflo | | |
| 12 | PeopleNet | | |
| 13 | Verizon | | |
| 14 | Stoneridge | | |
| 15 | Teletrac | No iOS app | No Rating Yet |
How to Check Elog Registration to Avoid Compliance Issues
The FMCSA has clearly stated in the electronic logbook mandate that truckers must only use registered elogs. Using an unregistered device can lead to serious compliance issues, resulting in heavy penalties. To help truckers and carriers choose registered devices, the FMCSA has published a list of all certified electronic logbooks on its official website. Here's how truckers can find the list of FMCSA-approved devices: 
Truckers can visit

https://eld.fmcsa.dot.gov/List

to check the list of registered devices, which is updated regularly.

Sign up on the FMCSA website and turn on updates.

Check email daily for notifications from the FMCSA.
It is important to track the list of registered devices on the FMCSA's website because providers might be removed if they are found not to meet the requirements. In such a situation, the FMCSA will alert the affected users via email. These truckers can then switch to another registered provider to stay compliant.  
This is where choosing the best ELD system can prove to be cost-effective in the long run. With the best ELD solution providers, there is less to no risk of poor standards because of their years of experience. HOS247 is one such trusted provider that has earned a vast client base over the years and excellent ratings on app distribution platforms. 
HOS247 Certification
The HOS247 electronic logbook meets FMCSA's requirements and comply with regulations 49 CFR § 385, 386, 390, and 395 regarding electronic logs.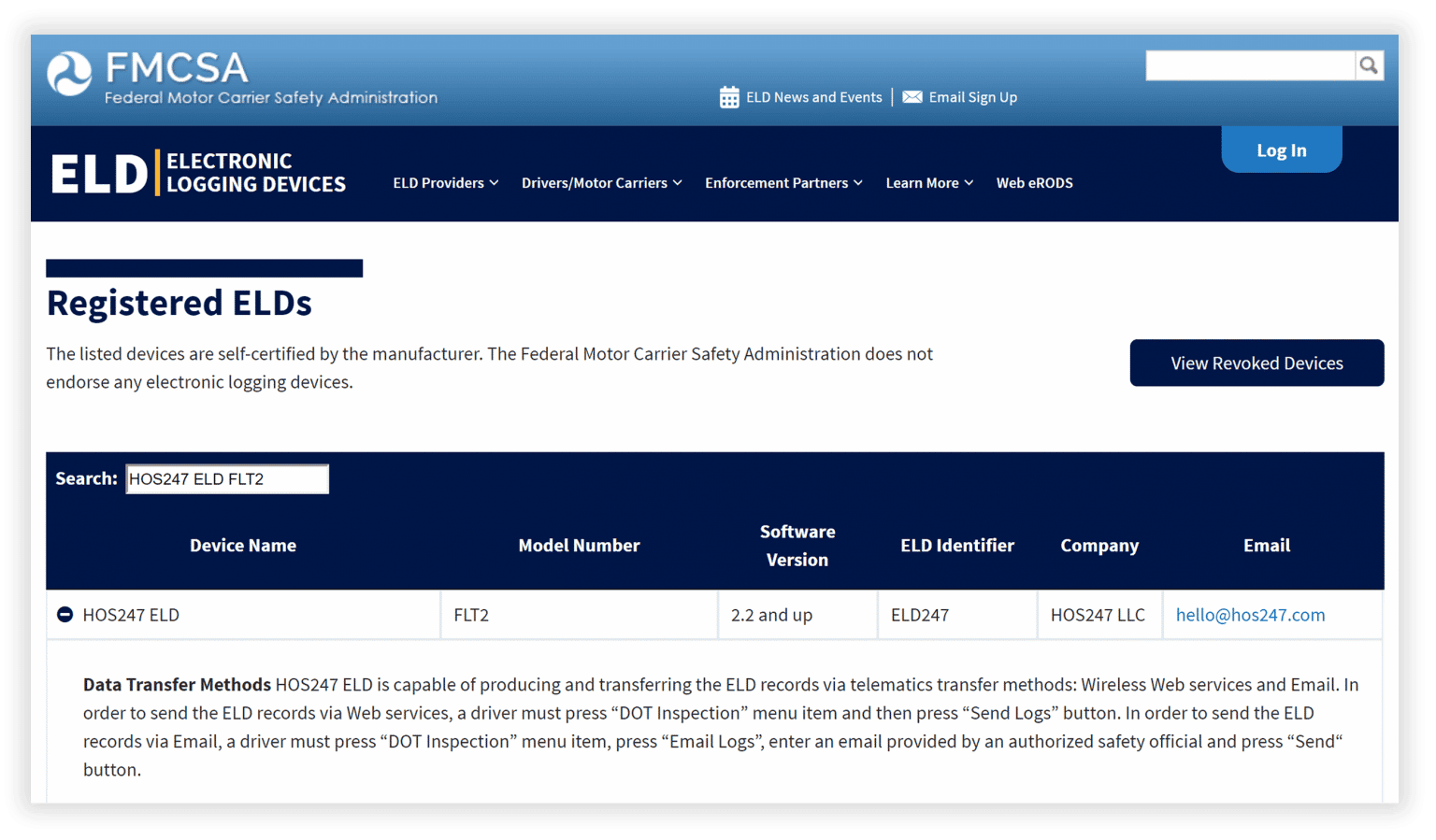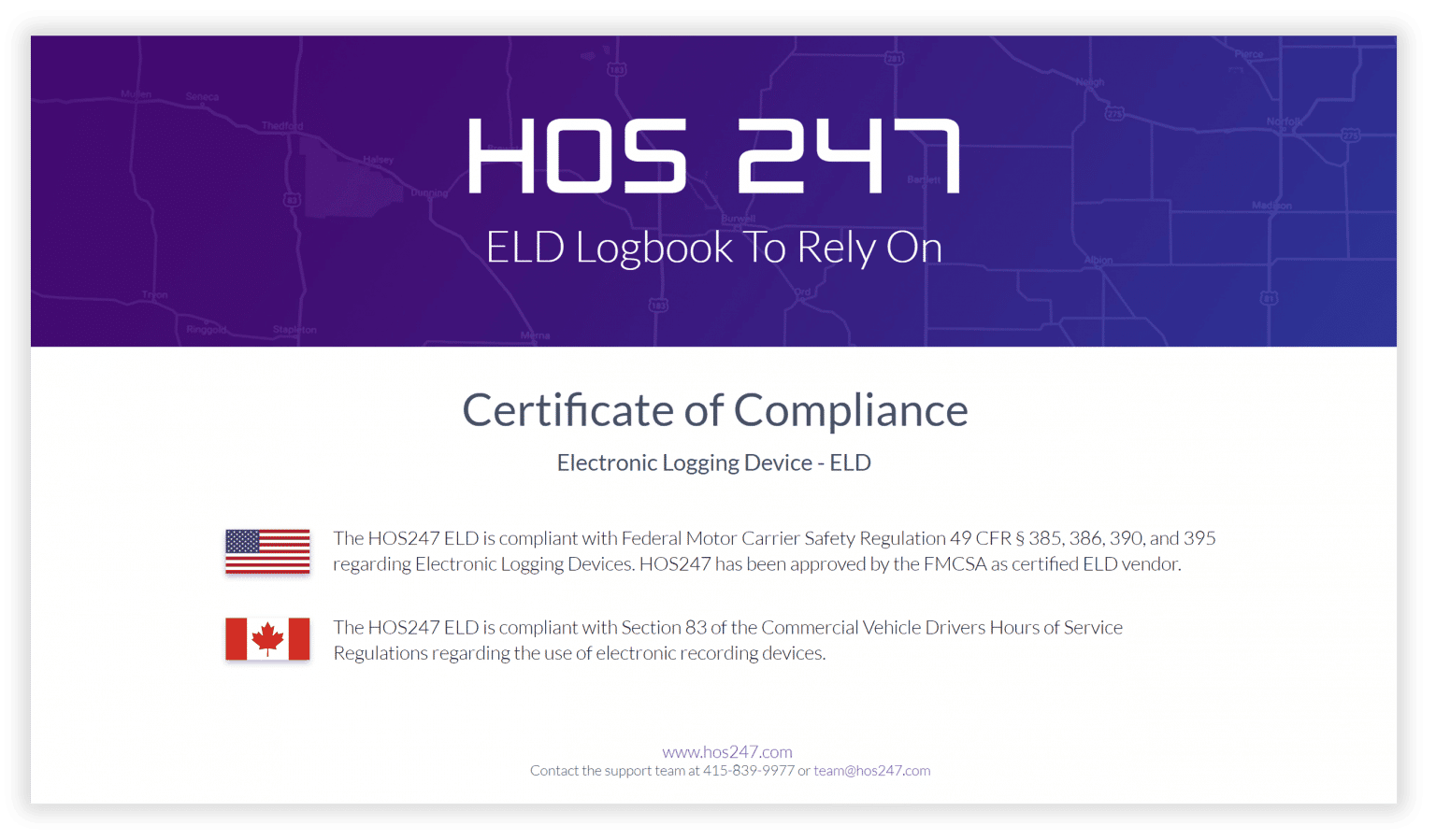 Device Name: HOS247 ELD Model Number: FLT2 ELD Identifier: ELD247  >   Verify the FMCSA registration
HOS247 Is a Top-Rated ELD System for Truckers
HOS247 is an industry leader in providing advanced electronic logbooks. HOS247's logs meet FMCSA standards and optimizes fleet management and productivity. Here are some features of the HOS247 logbook that makes it one of the top ELD systems: 
Positive user reviews: HOS247 is top-rated in user experience and customer support app distribution platforms. Clients have awarded us a 4.8 rating on the Apple App Store and a 4.4 rating on the Google Play Store. Positive reviews from real users are the best source to verify the usability of an elogbook and the after-sales service that the provider offers. 
FMCSA-registered: All HOS247 electronic logbooks are FMCSA-registered. This means HOS247 clients don't have to worry about DOT compliance. Our logbooks maintain the highest industry standards to avoid issues for trucking companies so they can focus on growing. 
Compatible with Android and iOS: HOS247 devices can be operated via smartphone or tablet through a stable Bluetooth connection. The HOS247 elog app is compatible with both Android and iOS tablets and smartphones.
Automated IFTA mileage calculations: The HOS247 app syncs with the vehicle's engine to automatically record IFTA mileage per state to avoid human error, costly penalties, and audit risks. 
Provision of telematics: HOS247 provides telematics as an optional feature. The trucker can choose to use this additional feature depending on the size and requirements of the fleet or business.
Vehicle diagnostics: HOS247's electronic logbooks are designed to track vehicle diagnostics and send necessary alerts to the driver and fleet manager. The elog notifies in the case of faults detected. The device also alerts in advance about routine vehicle services to prevent costly fleet maintenance charges. 
Idling alert: HOS247 devices monitor the behavior of the driver by tracking engine and fuel usage. The system alerts the fleet manager or truck owner if the engine is idle for more than the permitted break time. This decreases the idling time of the driver, increasing overall fleet productivity. 
Multilingual customer support: HOS247 maintains a multilingual customer service team to assist clients in their own language. Support is offered in English, Spanish, Polish, and Russian. 
Customer service: HOS247's customer support team of trained professionals offers assistance seven days a week to guide clients regarding the optimal use of the device to increase productivity and lower fleet management costs.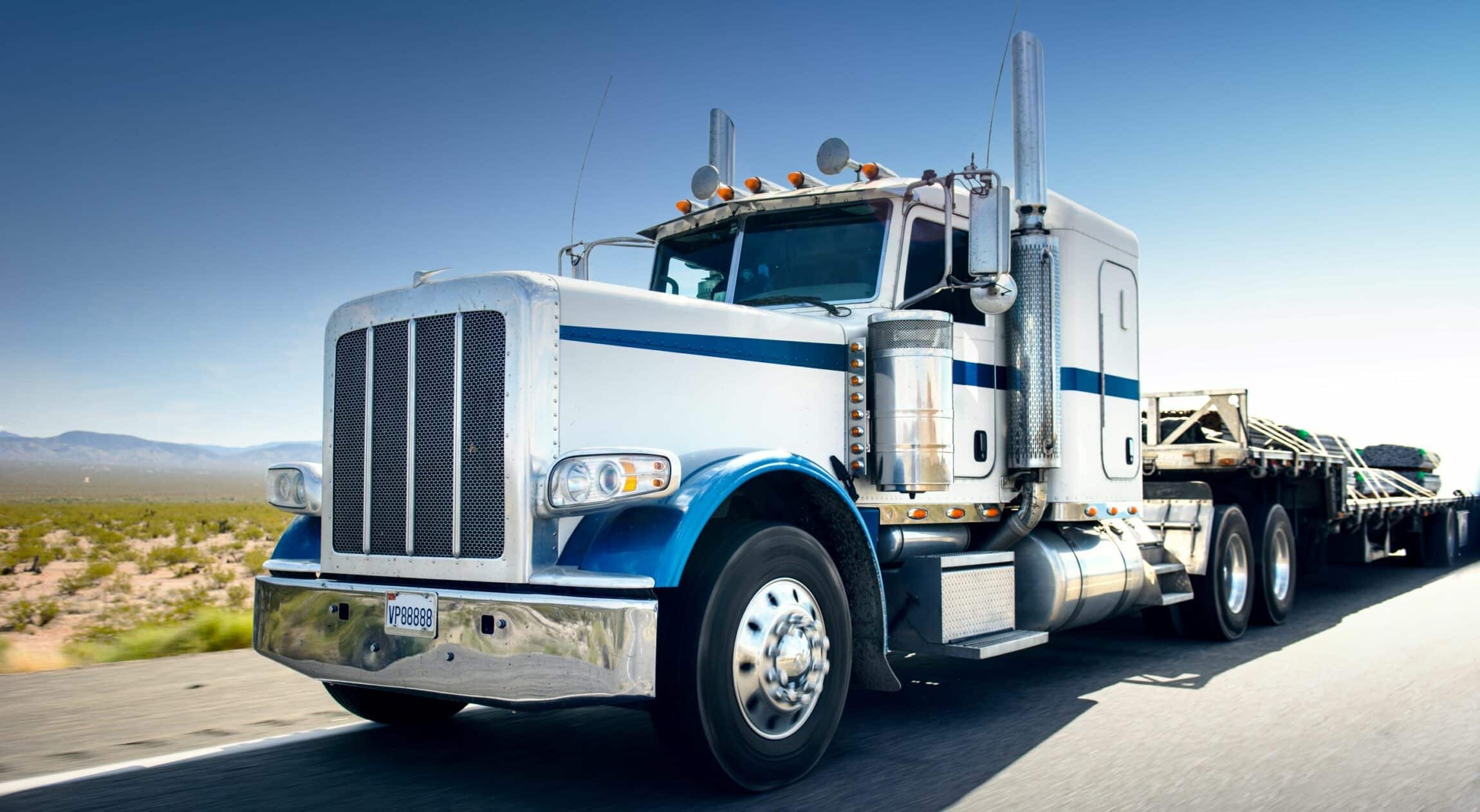 Choosing Between an Android or iOS ELD App
Some ELD service providers offer devices that operate on Android, while others provide iOS-friendly software. Many truckers wonder if the operating system they choose can have advantages or disadvantages in regards to managing their RODS. To bust the myth, truckers can choose any operating system depending on the comfort level of the driver and manager. Some drivers and fleet managers are extremely savvy with Android technology, while others are more comfortable using iOS logbook apps. The choice should be based on usability and not the operating system.
The best ELD system providers usually design their elog apps to be compatible with Android and iOS. The HOS247 logbook runs smoothly on both iOS and Android to give truckers the freedom to choose whichever operating system is available to them and comfortable for them.
"Awesome. Easy to install and use. Top notch customer service! I recommend it to everyone."


"Great company to deal with. The support team is very responsive and competent. They provided a great deal of education for our company."

"Customer service is great. They helped me to set up everything and showed how to edit my logs. Thank you."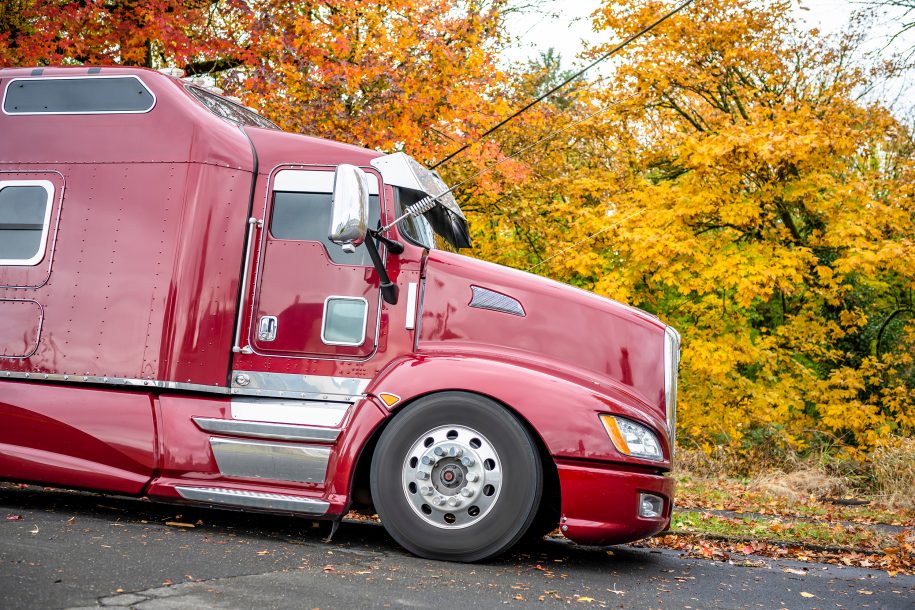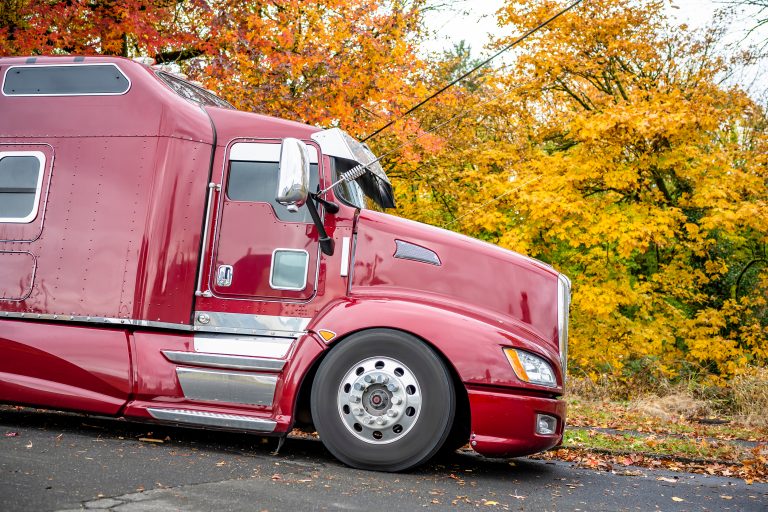 ELD Services & Devices
If you're on the lookout for a new ELD option, then you need to find an eLog for sale from a reputable company.  If you look at the list of registered electronic logging devices (ELDs) posted on the website of
Read More »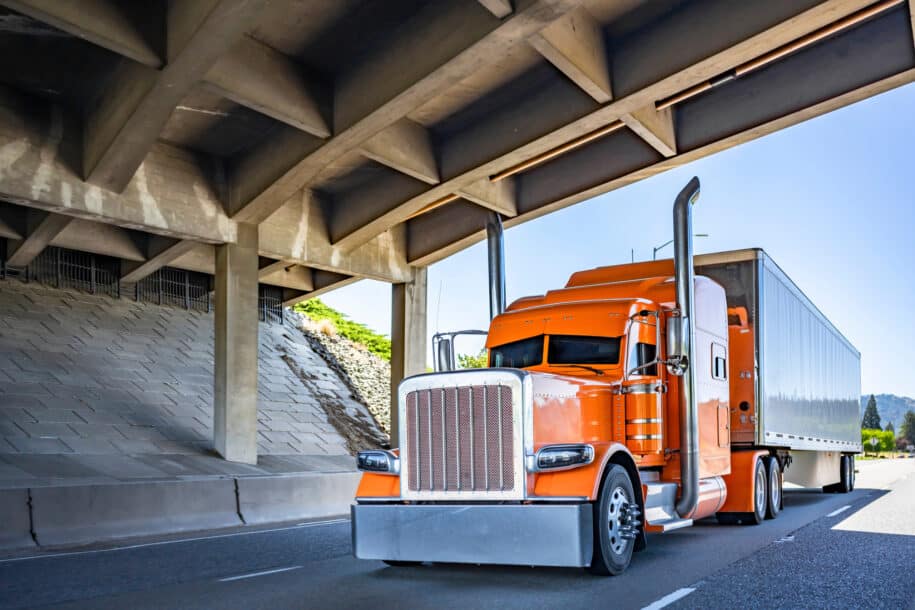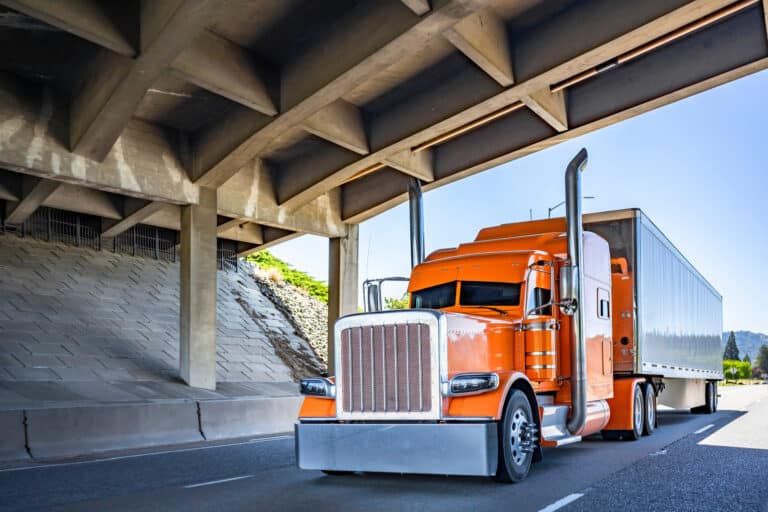 ELD Services & Devices
Finding a guaranteed compliant DOT ELD may be challenging in the US. Manufacturers of electronic logging devices certify their own products based on the technical requirements established by FMCSA. Unfortunately, even elogs officially registered in the DOT ELD list may
Read More »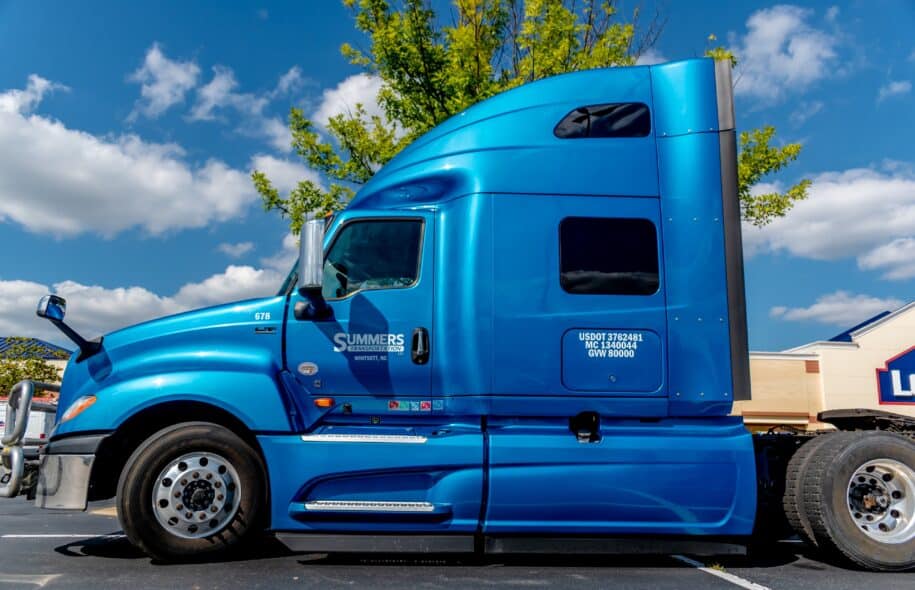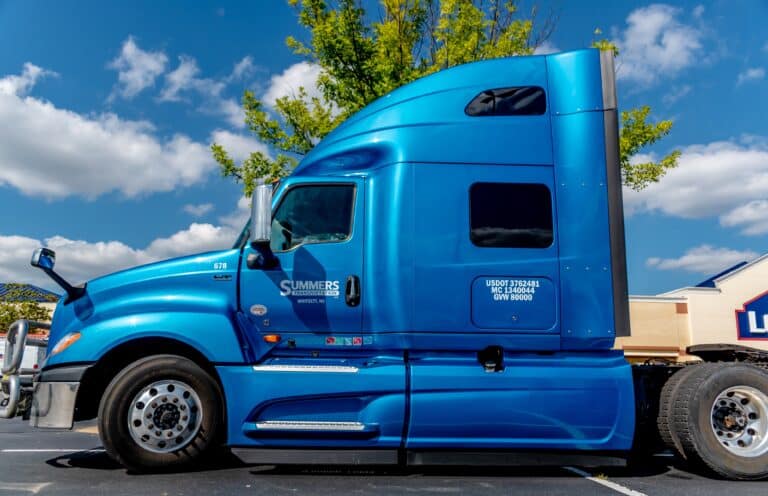 ELD Services & Devices
Some drivers might find it pointless to invest in a quality ELD for truck drivers when a low-cost device meets their requirements. Also, with hundreds of providers of truck driver electronic logging devices in the market, finding the right one
Read More »