The electronic logbook law is another term for the ELD Mandate, which is a federal law requiring certain commercial motor vehicle drivers to use electronic log devices (ELDs or elogs). This new law on electronic logs shouldn't be news to drivers, as it's effective date was Dec. 16, 2019, and all drivers subject to the elog law must already be using these devices.
ELD elogs have been recognized as an important tool not only by drivers and fleet managers, but also the Department of Transportation (DOT) and the Federal Motor Carrier Safety Administration (FMCSA). That's because, unlike paper logs, electronic log devices seamlessly record driver and vehicle activity as it relates to hours of service (HOS) and records of duty status (RODS). But the seamless recording only occurs if the electronic log device is obtained by a reliable ELD supplier. Some ELDs are better than others, so the FMCSA does their best to monitor ELD suppliers to ensure they're compliant. As such, suppliers of ELDs are allowed to self-certify their log devices by listing them on the FMCSA website. If the FMCSA discovers that the ELD suppliers are no longer compliant, they will be removed from the list.
Who Must Comply With the New Law on Electronic Logs?
According to the electronic log law, commercial motor vehicle drivers are required to use an electronic log device if they are required to keep RODS. 
Interstate commerce drivers need to keep RODS and comply with the electronic log law if their vehicle:
Weighs 10,001 lbs. or more
Has a gross vehicle weight rating (GVWR) or gross combination weight rating (GCWR) of 10,001 pounds or more
Was designed or is used to transport 16 passengers or more, including the driver, not for profit
Was designed or is used to transport nine passengers or more, including the driver, for-profit
Transports hazardous materials in a quantity that requires them to use placards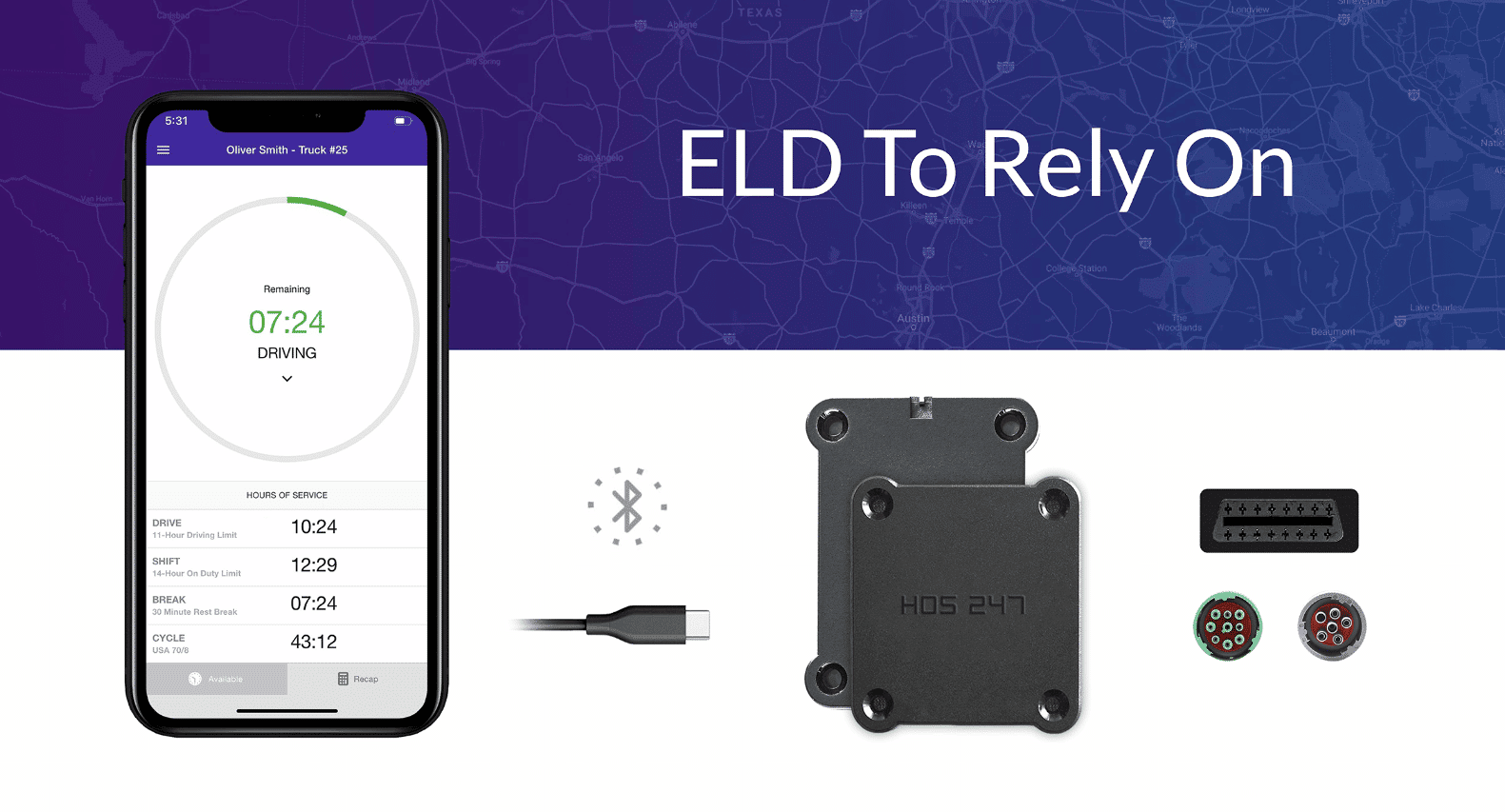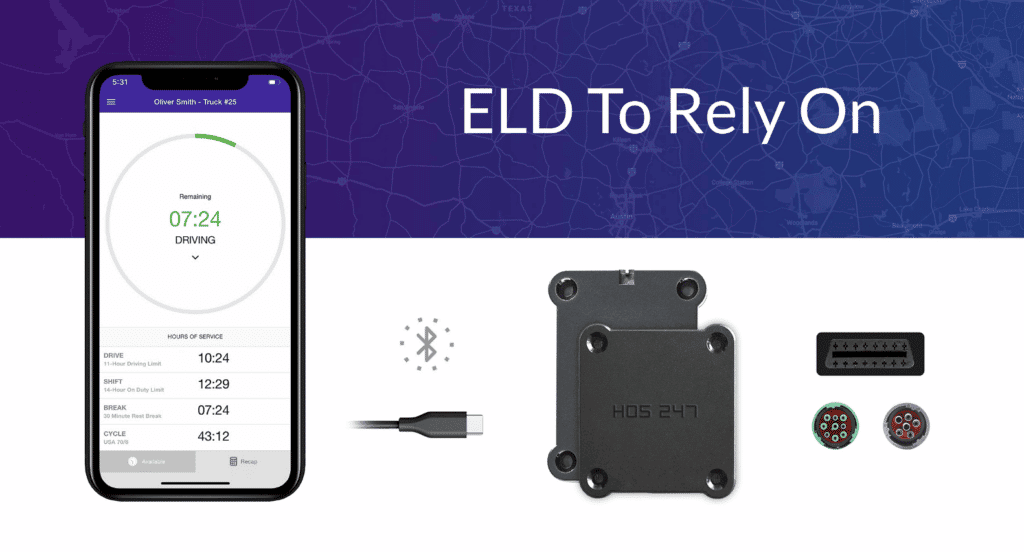 The elog law states that if any of the requirements above apply to a carrier, they have to keep 24-hour RODS unless they use an exemption to operate as any of the following: 
A driver-salesperson whose driving time is under 40 hours in a seven-consecutive-day period
Oilfield carrier that transports oilfield equipment
Short-haul CDL driver who operates within a 100 air-mile radius of where they normally report to work
Non-CDL driver who operates within a 150 air-mile radius of their home base
Having an electronic logging device installed in each vehicle in a  fleet, and having an app and platform that helps managers monitor driver performance is recommended for a wide variety of reasons. The benefits of a HOS247 ELD will be discussed later in this article.
What Are the Electronic Logbook Law Exemptions?
Drivers are exempt from the electronic log law if they use the timecard exception, as they're not required to keep RODS either. In addition, the drivers listed below aren't required to use electronic log devices, but still need to prepare logs on paper or with a software program that logs RODS when required:
Drivers using paper RODS for eight days or less in a 30-day period
Drivers conducting drive-away/tow-away operations, driving the commodity that is being delivered
Drivers of vehicles that were manufactured before the year 2000, per the vehicle registration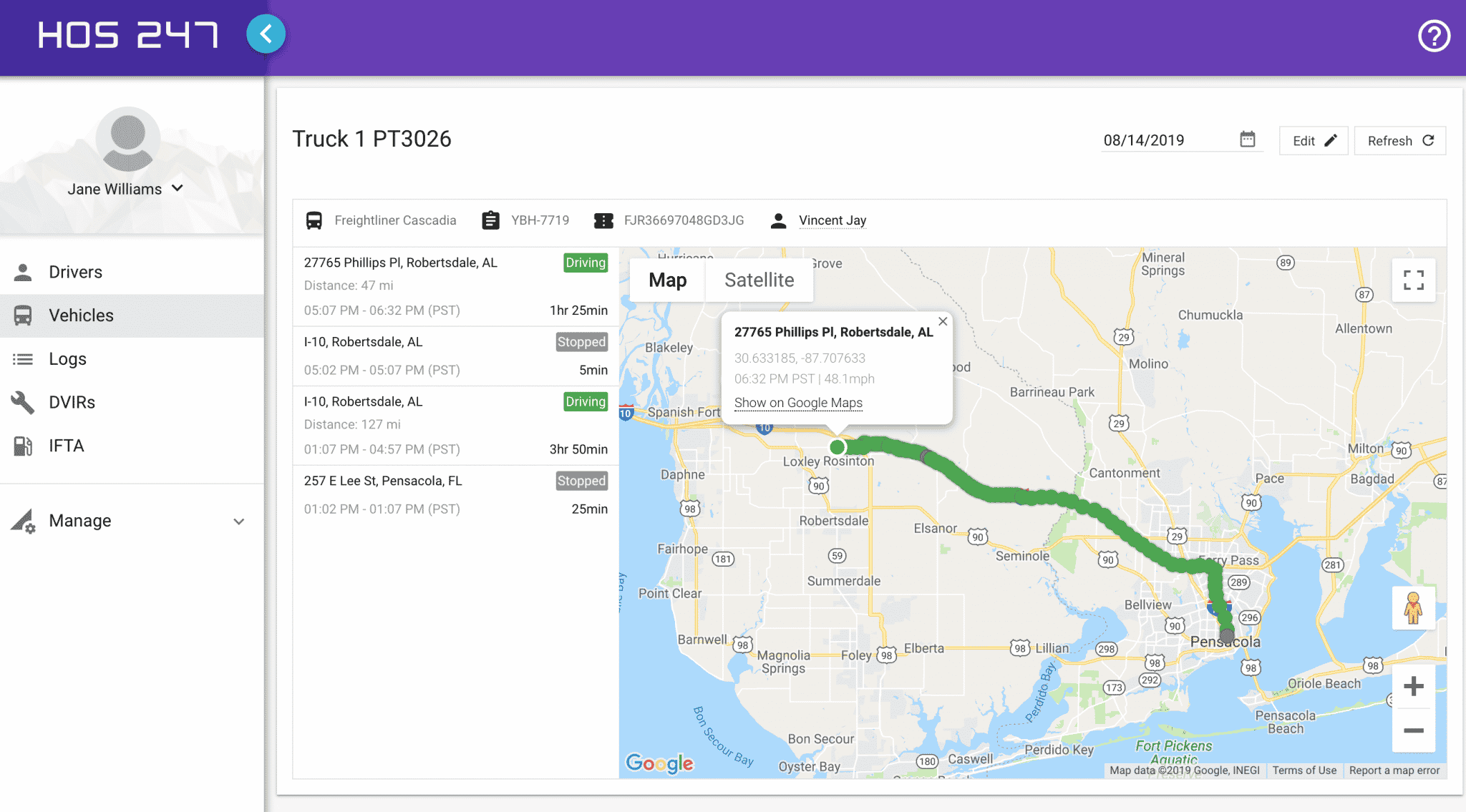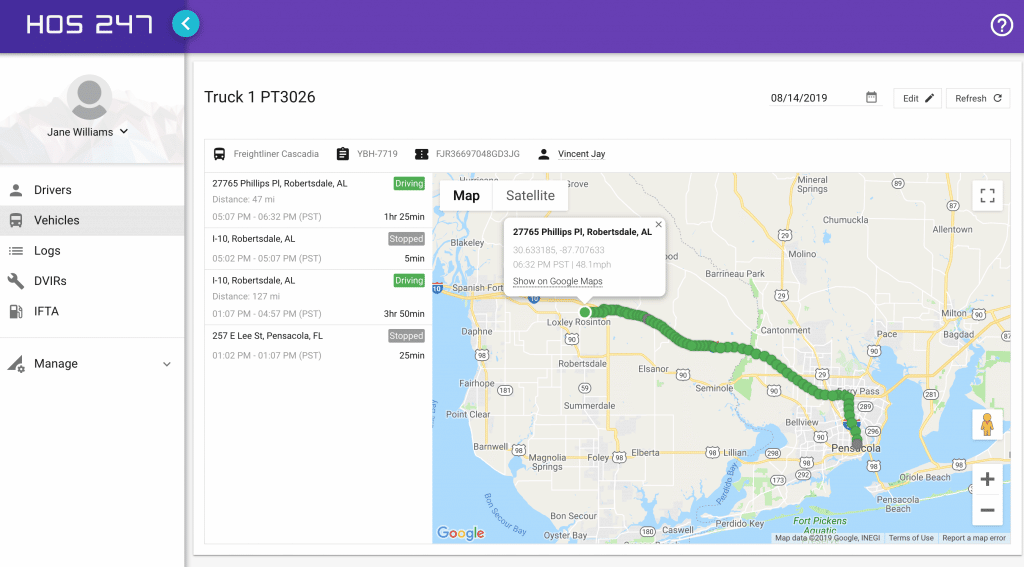 HOS247 Is an Industry Leader Providing ELD Devices, Software and Applications
While other ELD suppliers have come and gone, HOS247 has been an industry leader, providing electronic logging devices that are FMCSA-approved and highly recommended by drivers and fleet managers. The benefits of choosing HOS247 as an ELD provider are many. Here are just a handful:
Dedicated account manager to help with any questions fleet managers may have
A multilingual customer support team available whenever they are needed, speaking English, Spanish, Polish and Russian
Zero contracts 
Hassle-free 2-week returns
Flexible options that include not only an ELD, but GPS tracking, IFTA mileage reporting and optional tablets; or the choice of an all-in-one solution that includes all of the above as well as dispatch
Driver-friendly – very easy to install and use
Prevents HOS violations
Ability to both manage and edit elogs and DVIRs
An intuitive fleet manager portal that automates FMCSA compliance, and increases fleet visibility and efficiency
Ensures HOS and DOT compliance 
Automates IFTA state mileage calculations, which reduces human error and the risk of an audit
Accurately tracks vehicles in real-time and helps plan for maintenance 
Streamlines vehicle diagnostics due to its fault code detection and real-time notifications
When Using an ELD, Does Any Physical Documentation Have to Be Kept in a CMV?
Yes. A driver who uses an electronic logging device must keep an ELD information packet onboard the CMV. That packet needs to contain these four items:
A user manual that describes how to operate the electronic logging device
An instruction sheet that describes the data transfer process and mechanisms the ELD supports, as well as instructions for transferring HOS records to authorized safety officials when required
An instruction sheet that describes how to report malfunctions and what record keeping procedures to follow during a malfunction
An eight-day supply of blank paper RODS graph grids that the driver can use to record their RODS and any other required information 
The ELD information packet can be in electronic form. 
For How Long Must Motor Carriers Keep Their ELD's RODS Data?
The electronic logbook law requires motor carriers to retain their RODs data as well as their backup data for a period of at least six months. In addition, motor carriers should realize that their backup ELD data is required to be kept on a separate device from the device storing the original data. All ELD records must be kept in a way that protects their drivers' privacy.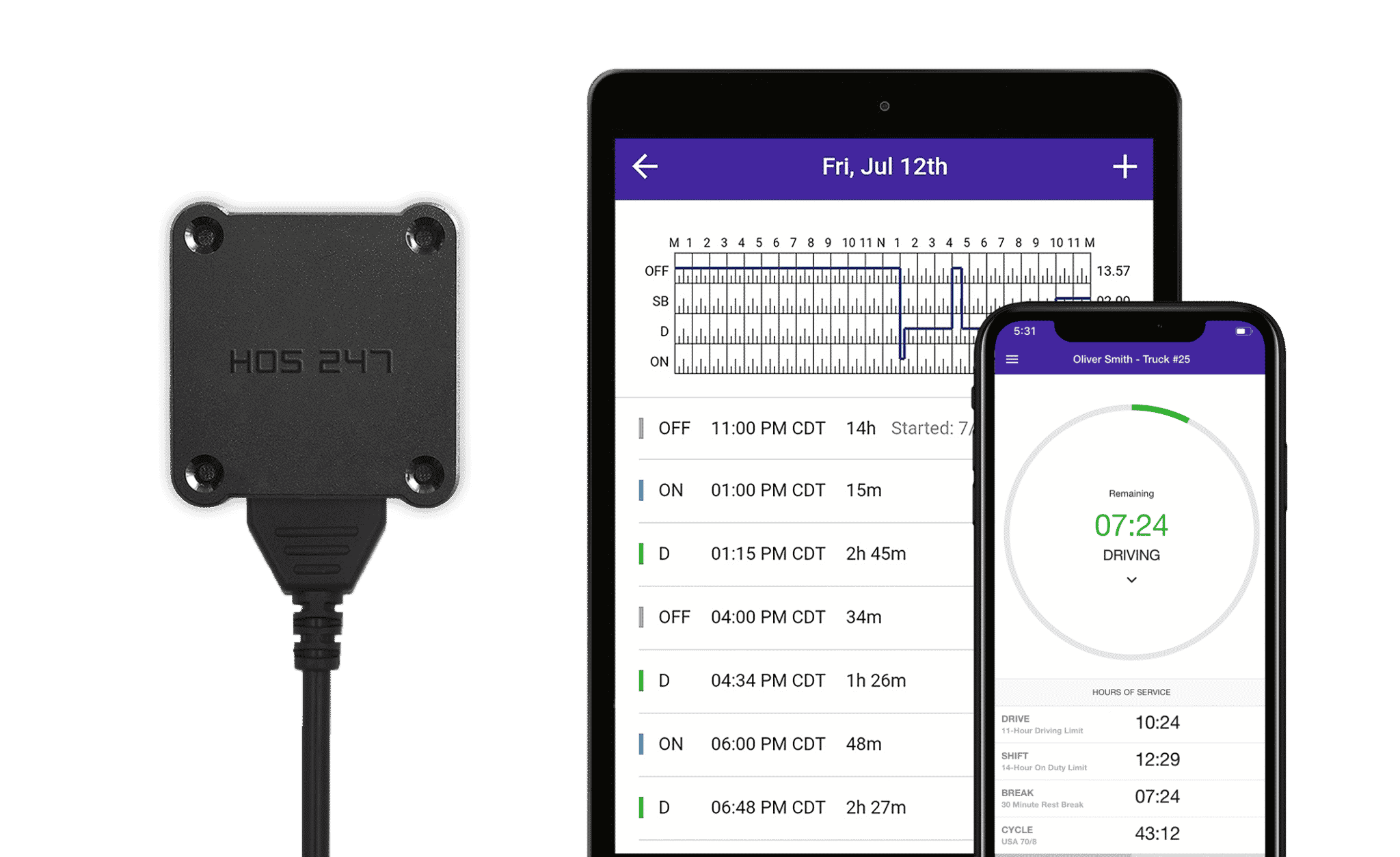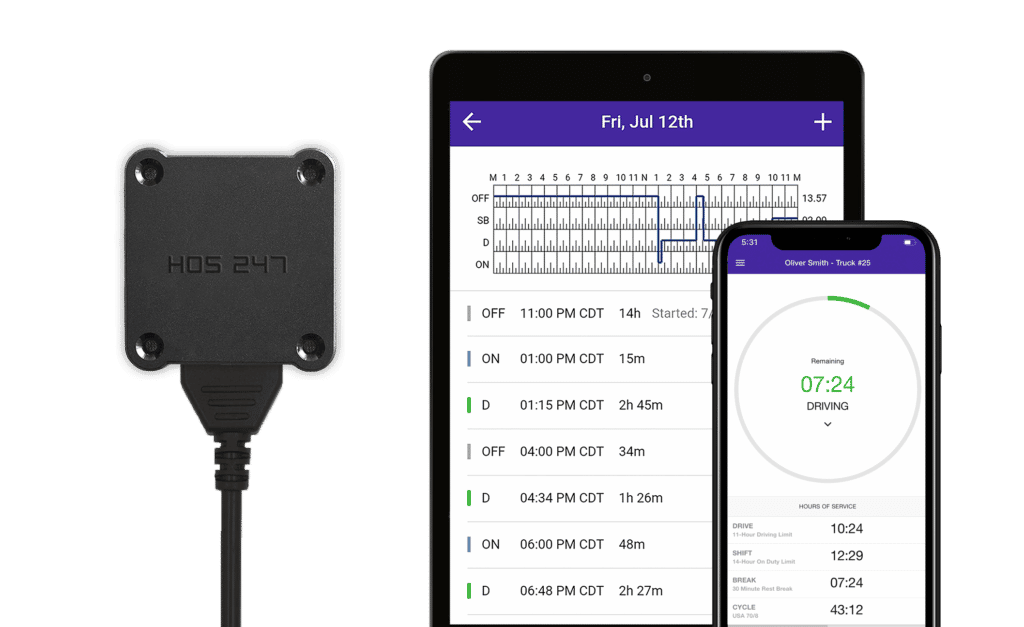 What is the Responsibility of the Carrier in Regard to Making Sure They Use an FMCSA-Registered Device?
The responsibility lies entirely on the motor carrier in regard to ensuring their drivers' ELDs are registered with the FMCSA, and therefore self-certified. As such, motor carriers will need to check the FMCSA's registration list periodically, as well as the revocation list to make sure their ELD supplier hasn't been revoked. While the FMCSA will try to notify affected users and the public about the revoked ELD, motor carriers should still sign up for updates to ensure they are notified when an ELD has been removed from the list. Carriers can use this link to access registered ELDs and this link to access the list of revoked ELDs.  
If a motor carrier's ELD devices are found to be noncompliant, the carrier has eight days from receiving their notification to replace their ELD with a compliant one.
Are Drivers Domiciled in Mexico and Canada Required to Use ELDs When Driving in the United States? 
Yes, all North American drivers are required to comply with the federal law and HOS regulations when driving in the United States, unless they qualify for an exception. The ELD should allow drivers who operate in multiple jurisdictions to annotate their driving records for any location outside of the United States. 
Can Motor Carriers Continue to Use Their Grandfathered Automatic Onboard Recording Device (AOBRD)? 
No. Motor carriers using AOBRDs before the elog law was made effective were allowed to continue to use their devices until Dec. 16, 2019. After that date, ELD usage was made mandatory.
How Does the Electronic Log Law Address Harassment of Drivers Who Use ELDs?
According to the FMCSA, harassment is any action by a motor carrier to its drivers that the carrier should have known would result in an HOS violation against the driver. It protects drivers from being required to drive when their alertness might be impaired and risk compromising safety. The action by the motor carrier must involve information obtained by an ELD or other technology in combination with it. 
The elog rule states that drivers may file a written complaint with the FMCSA if they feel they were subject to harassment. However, ELDs only allow limited edits, so the devices make it difficult for motor carriers to harass drivers without leaving evidence of HOS tampering. The complaint must be made within 90 days and include the following information:
The name, address and phone number of the driver
The name and address of the motor carrier being accused of harassment
Facts that describe the allegations of harassment, including:

How the ELD (or other technology used with the ELD) contributed to the harassment
Date of the alleged harassment
How the motor carrier violated 49 CFR 392.3 or 49 CFR 395

The driver's signature
Any additional evidence that can be used by the FMCSA to support the investigation
The complaint should be filed either with:
The FMCSA Division Administrator for the State where the driver is employed (https://www.fmcsa.dot.gov/mission/field-offices).
"Awesome. Easy to install and use. Top notch customer service! I recommend it to everyone."


"Great company to deal with. The support team is very responsive and competent. They provided a great deal of education for our company."

"Customer service is great. They helped me to set up everything and showed how to edit my logs. Thank you."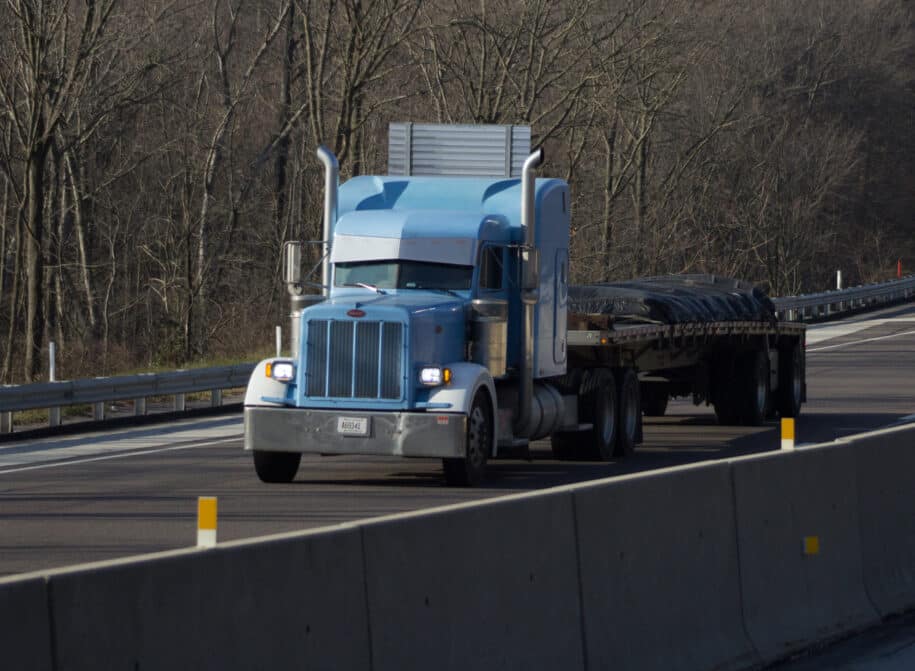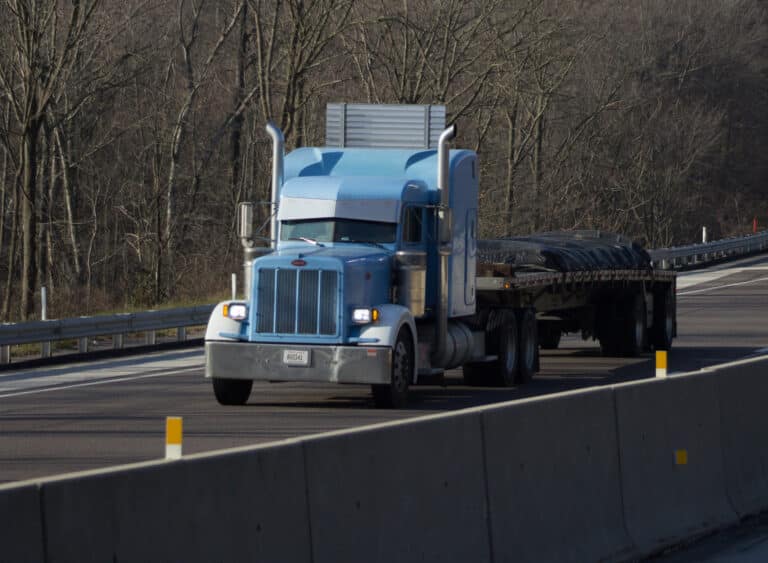 ELD Services & Devices
As a commercial motor vehicle carrier or driver, you need a truck logbook that complies with the Federal Motor Carrier Safety Administration's regulations. The fact that FMCSA certified electronic logging devices do not necessarily fulfill all the necessary requirements complicates
Read More »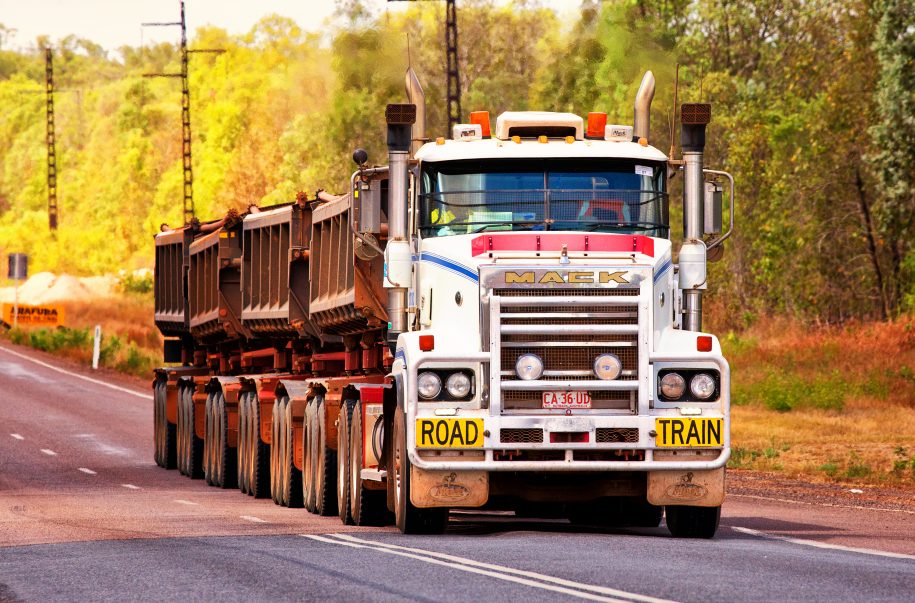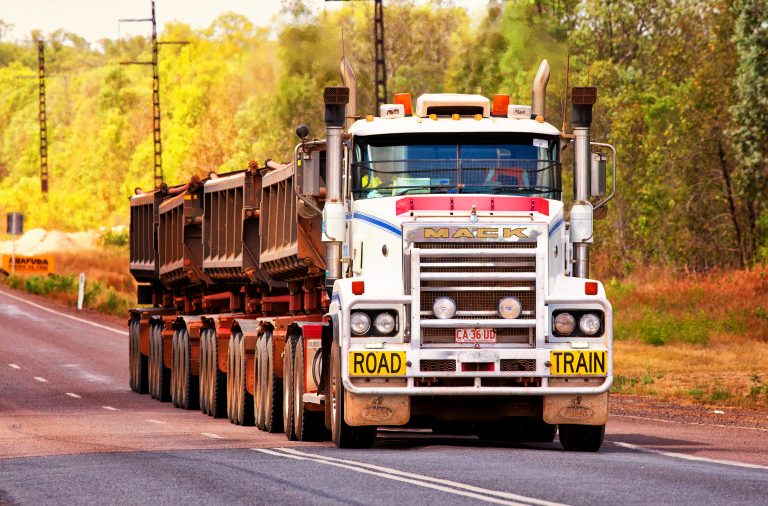 ELD Services & Devices
In December of 2019, the United States Department of Transportation and the Federal Motor Carrier Safety Administration (FMCSA) updated its truck driver electronic log law. This update ruled out the use of Automatic On-board Recording Devices (AOBRD) and confirmed that
Read More »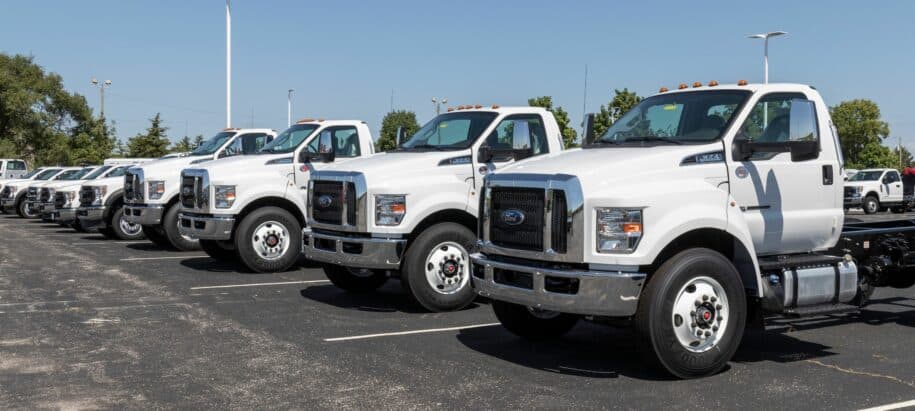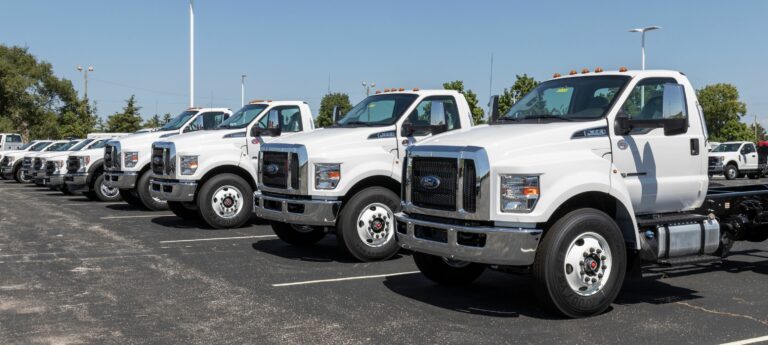 ELD Services & Devices
Best ELD for Hot Shot Trucks in the US The FMCSA started the rollout of the ELD mandate back in 2017 and it is now in full enforcement. Compliance with these regulations includes using registered electronic logbooks. Many hot shot
Read More »