With the primary goal of improving road safety and reducing the number of accidents that occur, the ELD Мandate is a federal regulation. This means that companies who utilize commercial motor vehicles that are covered by this law are required to use ELDs (electronic logging devices). This allows fleet managers to easily capture truck movements, locations, mileage, and even calculated driving time to prevent trucking violations. With this as a foundation that needs to be obeyed, it stands to reason that companies should only seek top-rated, all in one ELD fleet management providers such as HOS247.
Advantages of Using ELD and Fleet Management System
The advantages that can be gained by implementing ELD and fleet management are astronomical. For example, safety is one of the primary reasons business owners opt for the system. From the reduced driver distracting due to the hands-free capabilities, automated alerts related to speed and braking, and the reporting of unsafe driving are all elements that enhance safety in the drivers. Some other highly notable supporting aspects include:
HOS Compliance – Using an ELD, companies will be able to comply with the HOS rules and stay on track much easier than without it. Since drivers get alerted when it is time to stop driving, it reduces the number of violations from going over hours on accident.
Increased Productivity – According to FMCSA, truck drivers spend, on average, 20 hours each year filling out paperwork. This equates to about 15 minutes each day. By using an ELD, drivers are able to bypass tedious logging paperwork all together and can focus on their tasking at hand. 
Reduced Fuel Costs – With the use of ELD and fleet management, drivers can save an abundance of fuel costs because they will have access to hands-free directions and take fewer unnecessary turns or long routes. 
Optimize Vehicle Performance – The vehicle sensors are able to deliver alerts that can let drivers know that there is an engine problem or other diagnostic issues. This prompts drivers to seek a safe place to pull off at and fleet management to repair damages before it becomes detrimental and costly. 
Better Job Satisfaction – Though the end goal is to make customers happy, businesses still need to have a strong and satisfied team of drivers to make that mission happen. With electronic logs, drivers can have more control over their daily routines and collaborate better with dispatchers. This collectively translates to happier employees and reduced turnover rates.
Why Choose HOS247 ELD Fleet Management System
When deciding to go with HOS247, visibility and compliance worries will never be an issue again. The team is composed of professionals who have a mission to put their customers first and aim to deliver overall quality experiences. This leading platform for ELD fleet management guarantees optimal trucking organization and hosts exponential benefits for those who invest. For example, a fleet manager does not have to sign any contracts and can take advantage of the hassle-free 2-week return policy. Other attractive features that one can expect to obtain include: 
Every person will have incredible customer service to answer any questions and be a valuable resource for guidance. Furthermore, the team is multilingual with the ability to speak in English, Spanish, Russian, and Polish. This can solidify confidence in customers that there is a much less likelihood of language barriers.
The user display is easy to navigate and log data effortlessly, which is one of the primary reasons why so many companies choose HOS247. In addition, management from the HOS247 team is also available to help if there are any uncertainties, giving users peace of mind that they have constant support.
By going with HOS247, users can get primary functions all in one place. This eliminates the need to have several different providers and the ability to experience the convenience of just one. The platform, in particular, contains everything that is needed for optimal ELD and fleet management, including GPS tracking, IFTA, vehicle maintenance, idle tracking, and dispatching.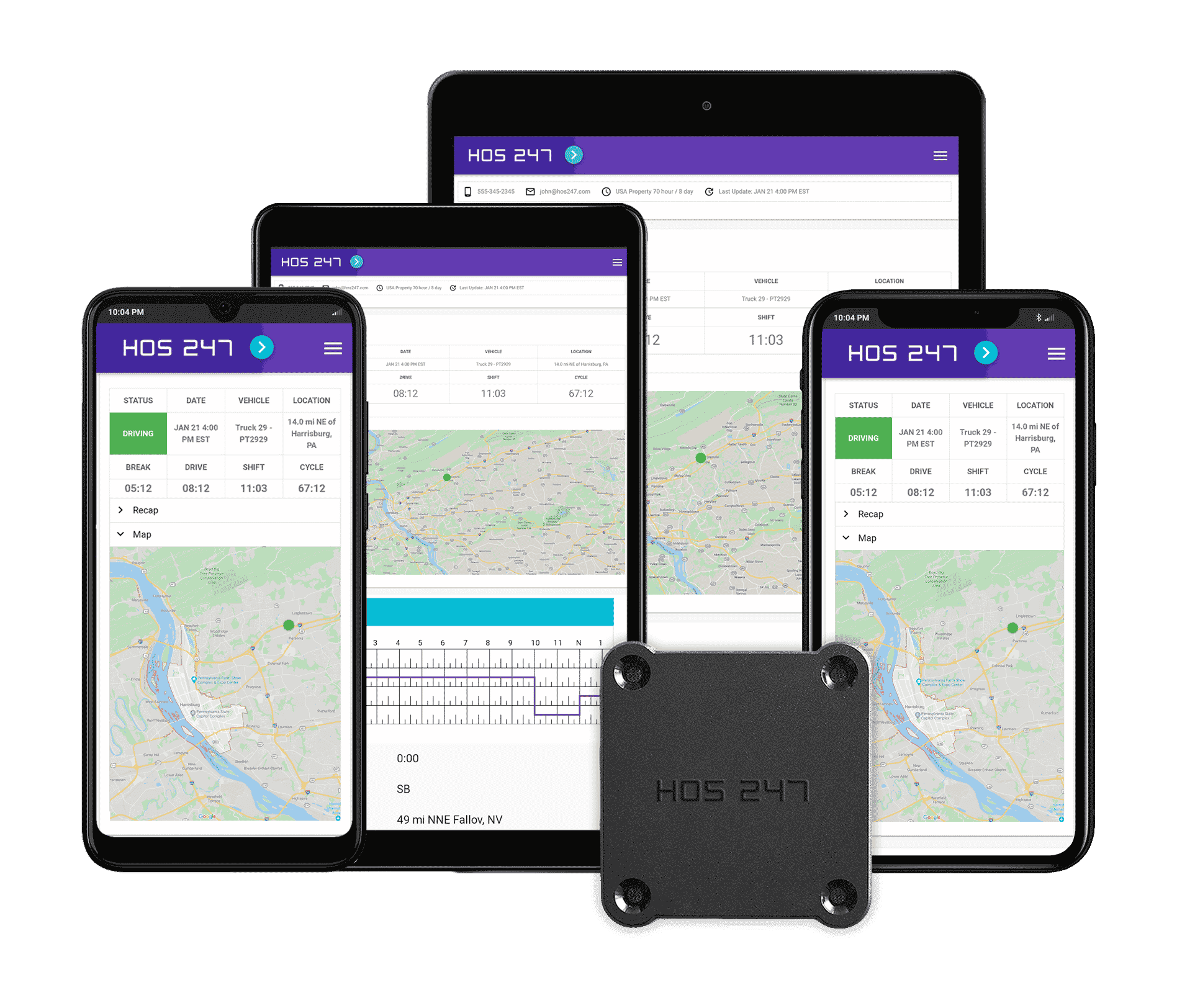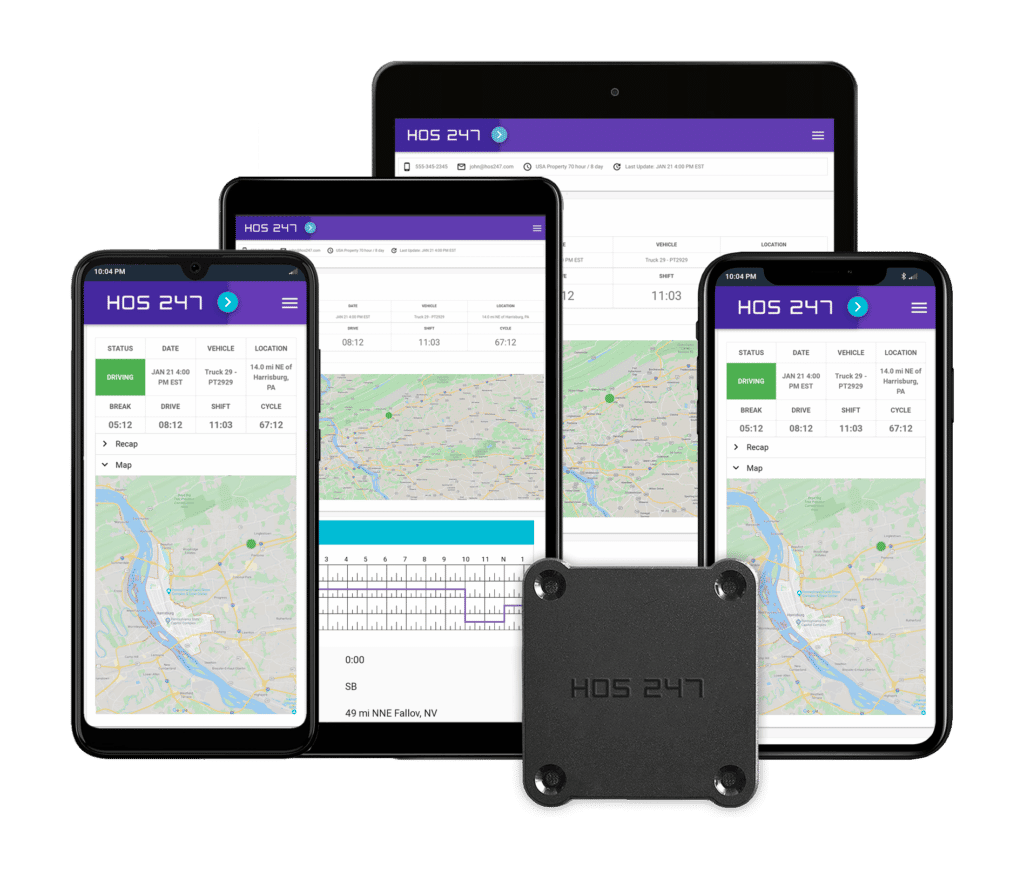 Advanced 4G GPS Tracking 
Something that gives HOS247 a competitive advantage is the fact that this provider uses advanced 4G GPS tracking. The use of 4G allows for a much quicker communication, speedy response times, better connectivity, and higher data rates than ever before. Though 3G is still capable and many other ELD fleet management companies still rely on it, it will soon be outdated. With mobile carriers such as Verizon and AT&T freeing up radio spectrums for people using 4G to experience faster services, 3G will become a thing of the past. With 5G not expected to rise for another decade, 4G is the prime source for the best benefits.
IFTA Mileage Reporting
It can be challenging to keep up with mileage reporting the traditional way. HOS247 allows business owners to adopt automatic mileage processing for IFTA fuel tax reporting. This means less administrative time needing to be allocated for collecting mileage and fuel receipts. This also results in error-free data for accurate quarterly mileage reporting.
Vehicle Maintenance
Fleet trucks are what get products from point A to B, so keeping them well maintained is vital. Though keeping track of each truck and knowing when the next appropriate services are is excellent, it can be much easier with a leading platform. With HOS247, drivers and business owners receive maintenance reminders and have continuous oil, tire, and other preventative monitoring for vehicle health. It can even store essential data such as warranty expirations and license renewals to always be up to date.
Automated Idle Tracking
It is no secret that idling trucks can be costly and non-productive. The problem is that without ELD fleet management, business owners have no genuine way of knowing how much their trucks idle while away. However, with it incorporated, they can see transparently any excessive idling taking place through detailed reporting. The data breaks down to segregated levels, such as who was driving, the idling duration, and which truck it was so owners can address the issue appropriately. Furthermore, drivers who are aware that this is tracking their performance are much more likely to prevent idling as much as possible.
Dispatching
Without the right software or resources, dispatching can be a headache for the coordinator. From constant phone calls, texts, and trying to figure out the logistics of driver routes and availability are all fleet management portions that can cause concern. Though this could be what many are facing now, the problem can be remediated with HOS247's dispatching tool. This user-friendly fleet management resource can coordinate jobs, see progress, and make the entire dispatching process much easier on everyone involved.
Conclusion
Trucks and trucking equipment are a significant investment for any business owner and are frequently a necessity for business success. Because of this reality, making sure that they are being handled properly and are following the strict government regulations is vital. The last thing any business wants to face is the shutdown of operations due to too many compliance violations from the lack of oversight and time.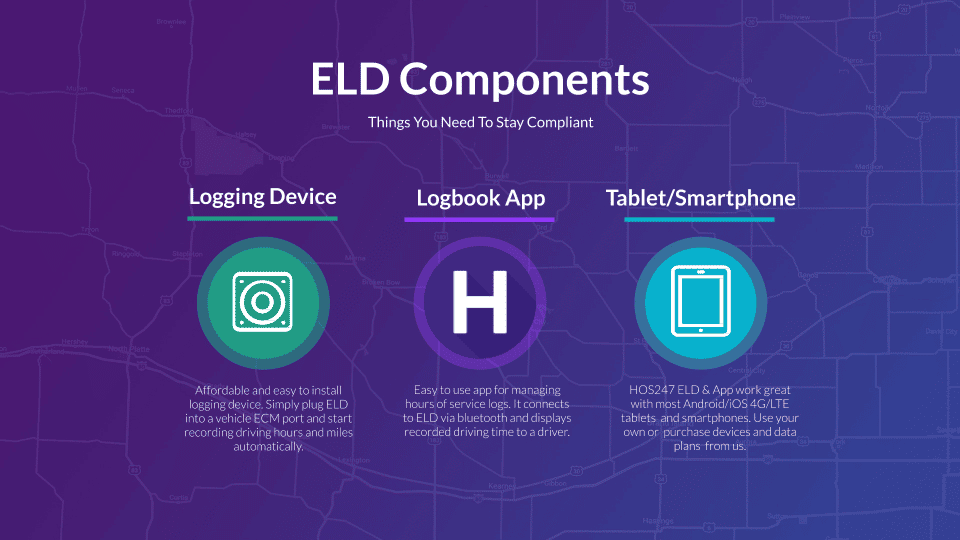 Since the effort in overseeing the entire transportation logistical process and maintenance is such a time-consuming endeavor, take advantage of the advanced tools explicitly made for this purpose. By going with HOS247, the all one ELD fleet management provider, business owners can gain full access to cutting-edge features that are guaranteed to optimize fleet functionality.
"Awesome. Easy to install and use. Top notch customer service! I recommend it to everyone."


"Great company to deal with. The support team is very responsive and competent. They provided a great deal of education for our company."

"Customer service is great. They helped me to set up everything and showed how to edit my logs. Thank you."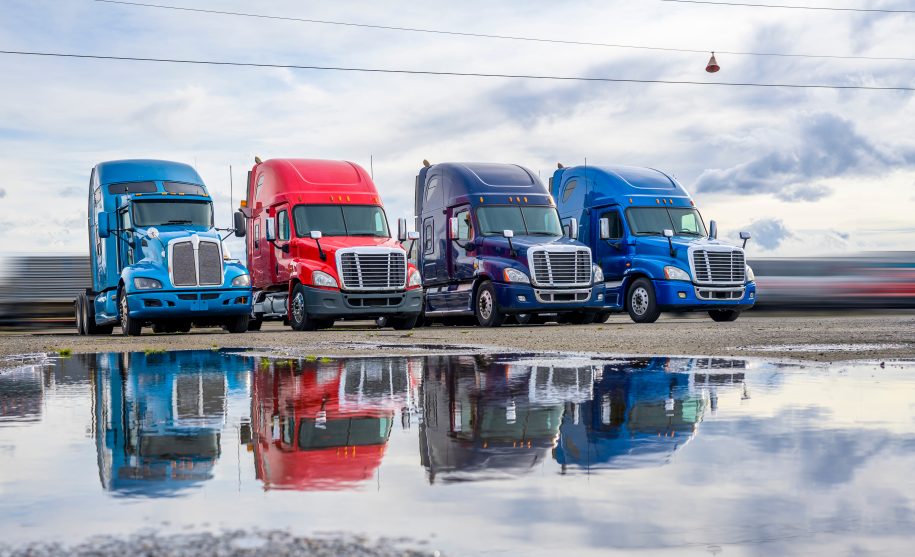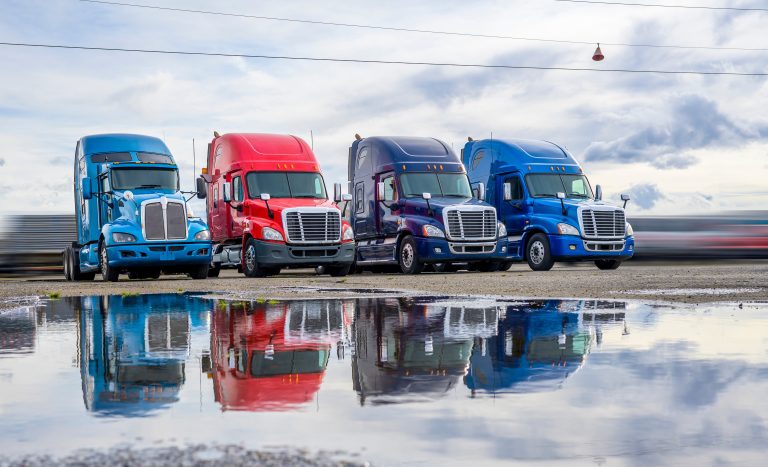 GPS Fleet Tracking Tips
GPS fleet tracking, sometimes just referred to as "fleet tracking" or an "automatic vehicle locator system" is a type of technology that gives fleet managers the ability to keep track of their fleets in real-time. But it isn't just about
Read More »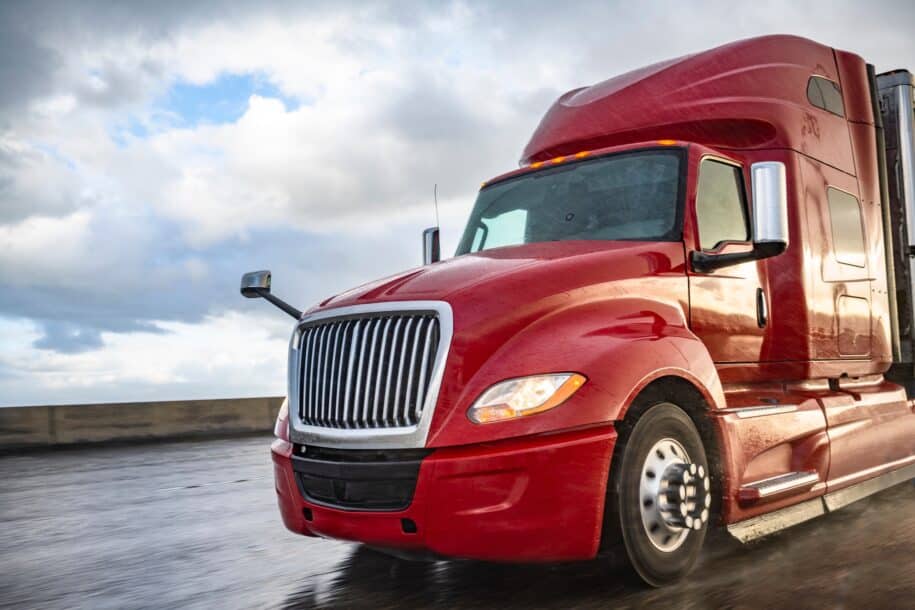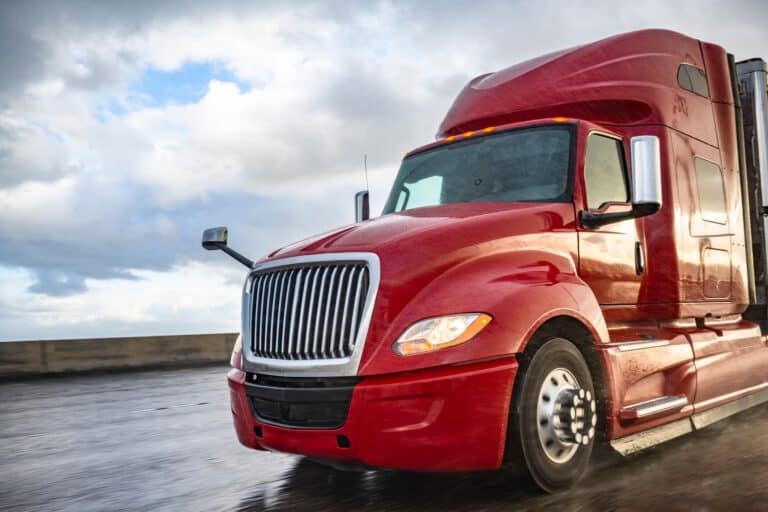 ELD Services & Devices
The ELD mandate implemented in December 2017 drastically changed the trucking industry. With several exemptions, elog rules require most commercial drivers to automate their working routine using FMCSA approved elogs. The initiative intends to avoid the problem of inaccurate data
Read More »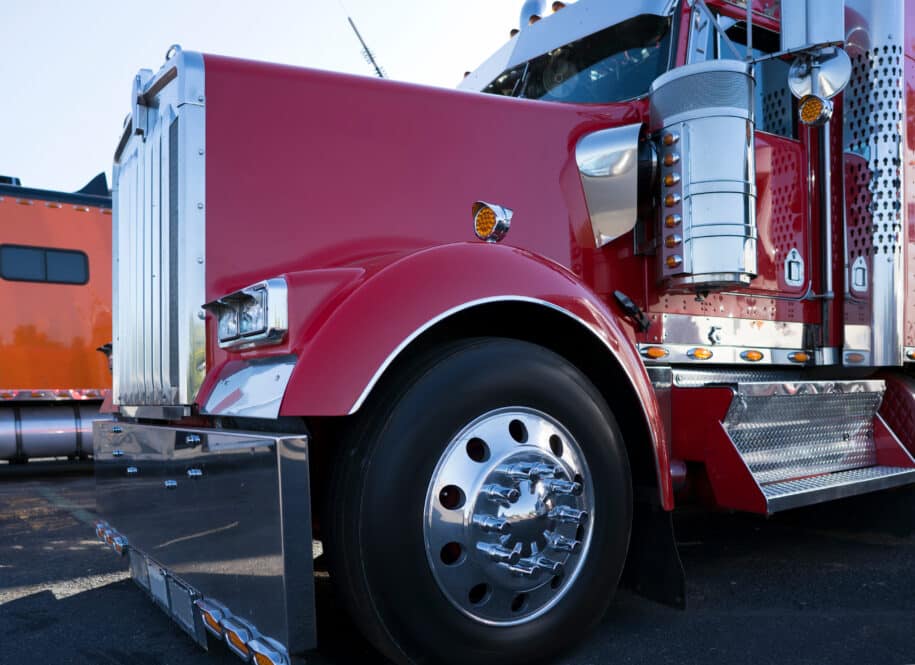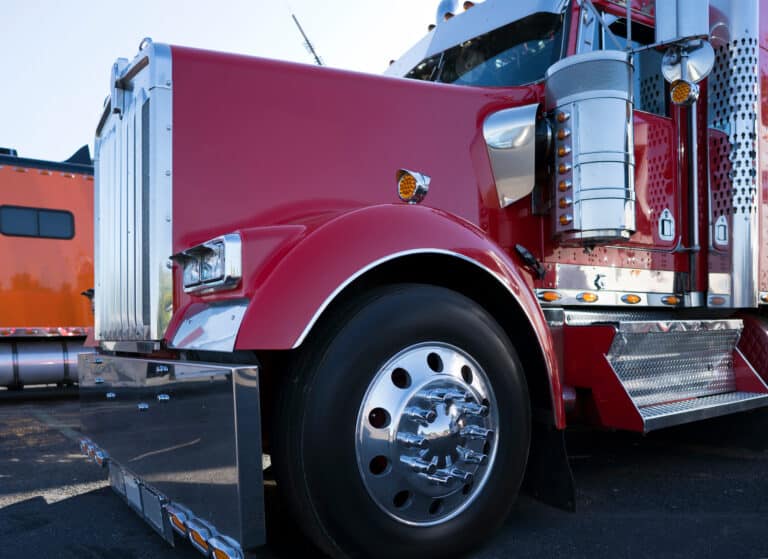 ELD Services & Devices
The ELD electronic logging device has become an essential tool for trucking professionals since the FMCSA issued its mandate. This legislation is aimed at commercial vehicle drivers who are required to keep RODS and operate under HOS rules. In this
Read More »