Truckers and commercial motor vehicle drivers in Canada still have some time to adjust to the incoming ELD Mandate, but there will be no excuse for not complying with its regulations come January 1, 2023. Without a compliant electronic logging device, drivers will risk penalties, being placed out of service, or both. However, finding the right logbook is not as easy as it sounds; users should do some basic research on the ELD manufacturer and get a sense of the logbook system they choose for their fleet.
It is recommended for truckers looking for an electronic logging device to consider these features:
Intuitive interface. If the app isn't intuitive and easy to use, drivers may not use the elog correctly, or they may not use it at all. A user-friendly app can go a long way to simplify compliance.
Positive reviews. Look for unbiased reviews from actual users, such as those posted on Google Play and the App Store; fellow truckers are the best source of information.
Efficient customer support. It takes only a minute to test customer support. Give the provider's support line a call. If nobody answers, consider it a red flag. If they do answer, check that the person on the other side of the line is qualified to help. 
Bring your own device (BYOD) solution. Drivers appreciate the familiarity of their own devices. Some ELD manufacturers may require the use of their own tablets, meaning carriers will be locked into their ecosystem and will probably pay a hefty upfront fee. Look for a solution that works with drivers' smartphones or tablets. It typically costs less and is easier to manage.
No long-term contracts. Any contract that lasts more than one year is a red flag. Keep in mind that technology is fast-changing. Look for a provider that allows you the flexibility to accommodate your business's evolving needs.
Experience. ELD manufacturers should be knowledgeable of the elog technology and technical requirements.
Multiple vehicle class compatibility. An electronic logbook that works with all classes of vehicles makes it easier for drivers who operate different types of CMVs. 
Transparent pricing. Watch out for hidden fees. If a price seems too good to be true, it probably is. The ELD manufacturer sometimes charges extra fees for installation, training, additional tablets, etc. Make sure to ask to avoid going over budget.
By keeping these features in mind, truckers can make an informed choice of electronic logbooks to stay in line with regulations and boost productivity, efficiency, and driver safety.

Canadian Certification Process for ELD Manufacturers
Just like owner-operators and drivers of commercial vehicles will have to use electronic logbooks to keep their RODS, electronic logging device manufacturers must complete a certification process to enter the market. The ELD manufacturer must contact a third-party accreditation agency to have their device and logbook app tested. These agencies must be previously approved by Transport Canada to carry out certifications. The process will verify these three main conditions:
Conformity assessment. Compliance with the International Organization for Standardization standard ISO/IEC 17065—Requirements for bodies certifying products, processes, and services, as amended from time to time.
Knowledge of the process. This applies to knowledge of the ELD manufacturer regarding certification requirements according to the Technical Standard. 
Validation. The testing methodology and the corresponding results must be verified and validated to ensure the devices work optimally.
The elog certification process will require verification of the devices' compliance with the Technical Standard on a regular basis. If the device is approved, the certification will be valid for five years. On the other hand, if the requirements are not met, the provider may be allowed a chance to take corrective action (for one time only) and achieve certification. 
Advantages of Using an ELD Fleet Management System
Some elogs will undoubtedly meet just the minimum requirements of the coming mandate, which might be enough for some truckers. However, fleets looking to improve efficiency and profitability can benefit from a fleet management system. These allow carriers to utilize information gathered by the electronic logbook to ensure that each company vehicle's use aligns with the business's objectives. The improper use of a carrier's vehicles is a compliance issue, and it can also affect their bottom line, especially when gas prices are at a premium.
Electronic logging device manufacturers who design their products with the driver's day-to-day experience in mind offer added value with their solution. Elogs are used mainly to improve safety on the road by assisting with HOS compliance and keeping driver fatigue low, but they are capable of much more. Here are some of the most valuable advantages of an ELD-based fleet management system:
Reduced administrative burden. Recording, saving, and storing RODS is done automatically.

Automated and straightforward process for keeping RODS.
Improve HOS rule compliance with automated recording.
Optimize office administration tasks.

Optimal fuel consumption. You can track exactly how long the engine is running while the vehicle is not in motion. As a result, you can save thousands of dollars every month by reducing excessive idling.
Vehicle diagnostics. The logbook can monitor fault codes and send real-time alerts and detailed reports to the fleet manager. This feature allows them to plan the necessary vehicle maintenance and manage these issues ahead of time to achieve higher efficiency and productivity.
Location tracking. GPS tracking technology helps make dispatch more efficient. The manager has a bird's eye view of the entire fleet and drivers' remaining driving time to optimize load assignments and route management.
Reduced liabilities. Lawsuits are something trucking businesses deal with every now and then. Having an elog solution from a reliable ELD manufacturer can make the difference in these cases, serving as evidence of the driver's innocence. This can prevent thousands of dollars in penalties.
HOS247 Is a Leading ELD Manufacturer
Drivers and fleet managers choose HOS247 because it is a top-rated logbook provider. The major benefits of our solution include:
Top-rated customer experience. Our multilingual customer service team is available seven days a week and speaks English, Spanish, Polish, and Russian.
User-friendly interface. A driver-friendly app trusted by fleets and owner-operators.
Comprehensive elog system. Complete visibility into trucking operations via an all-in-one platform.
Easy setup. Reliable hardware that installs within minutes and connects with the app via Bluetooth.
Flexible plans. No contracts, meaning you can cancel or change plans at any time and for any reason.
Trial period. Users may try out the HOS247 ELD for two weeks. If they are not satisfied and choose to return it in that time, they may receive a hassle-free refund, no questions asked.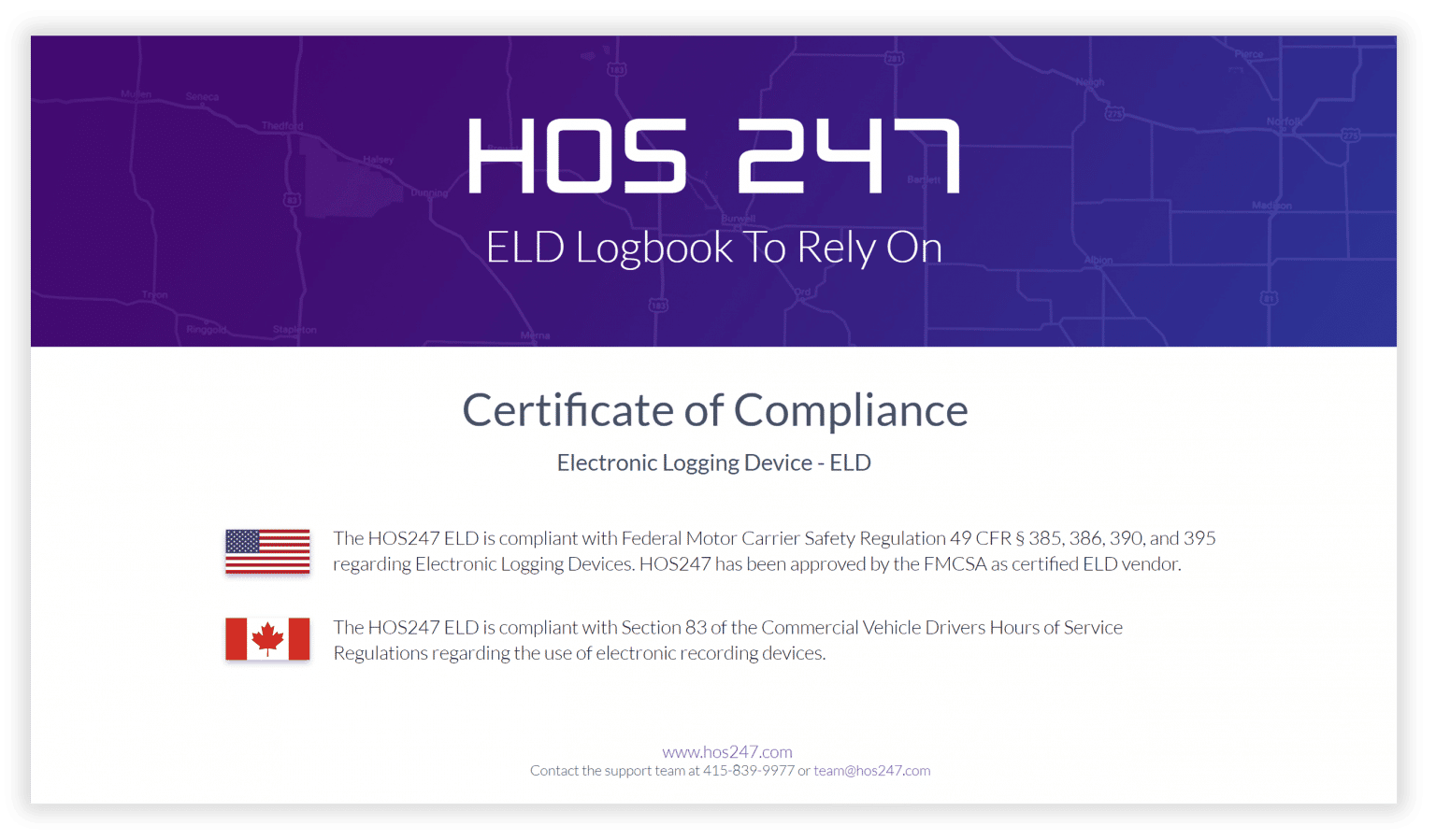 E

xtra Features of HOS247 Logbooks

HOS247 offers an all-in-one fleet management solution to improve operations and increase profitability. Features include:  
GPS fleet tracking. Monitor vehicles in real-time to collect data such as vehicle location, idle time, and driver's proximity to leading sites. HOS247 provides real-time visibility of the entire fleet on one centralized platform.
IFTA calculations. Administrative staff does not have to perform complex calculations. Use HOS247 fleet management software to determine kilometers traveled by jurisdiction and avoid errors on tax reports.
Vehicle maintenance. Keeping track of maintenance schedules for each vehicle can be time-consuming. Let HOS247 automatically track mileage to remind you when your vehicles need an oil change, tire rotation, license renewals, and more.
Automated idle tracking. Gain visibility into your drivers' idling habits, so you can improve fuel economy and find ways to improve driver behavior.
How to Install the HOS247 ELD 
Web Portal Setup
Go to portal.hos247.com and log in with the provided credentials.
Click "Manage", update your Company information, add Vehicles, Portal Users and Drivers.
Please note that even if the driver is the same person using the portal, they must have DIFFERENT LOGIN credentials. Portal users can't log into the HOS247 app, and Drivers can't log in to the portal with the same login credentials. Please use different emails for each.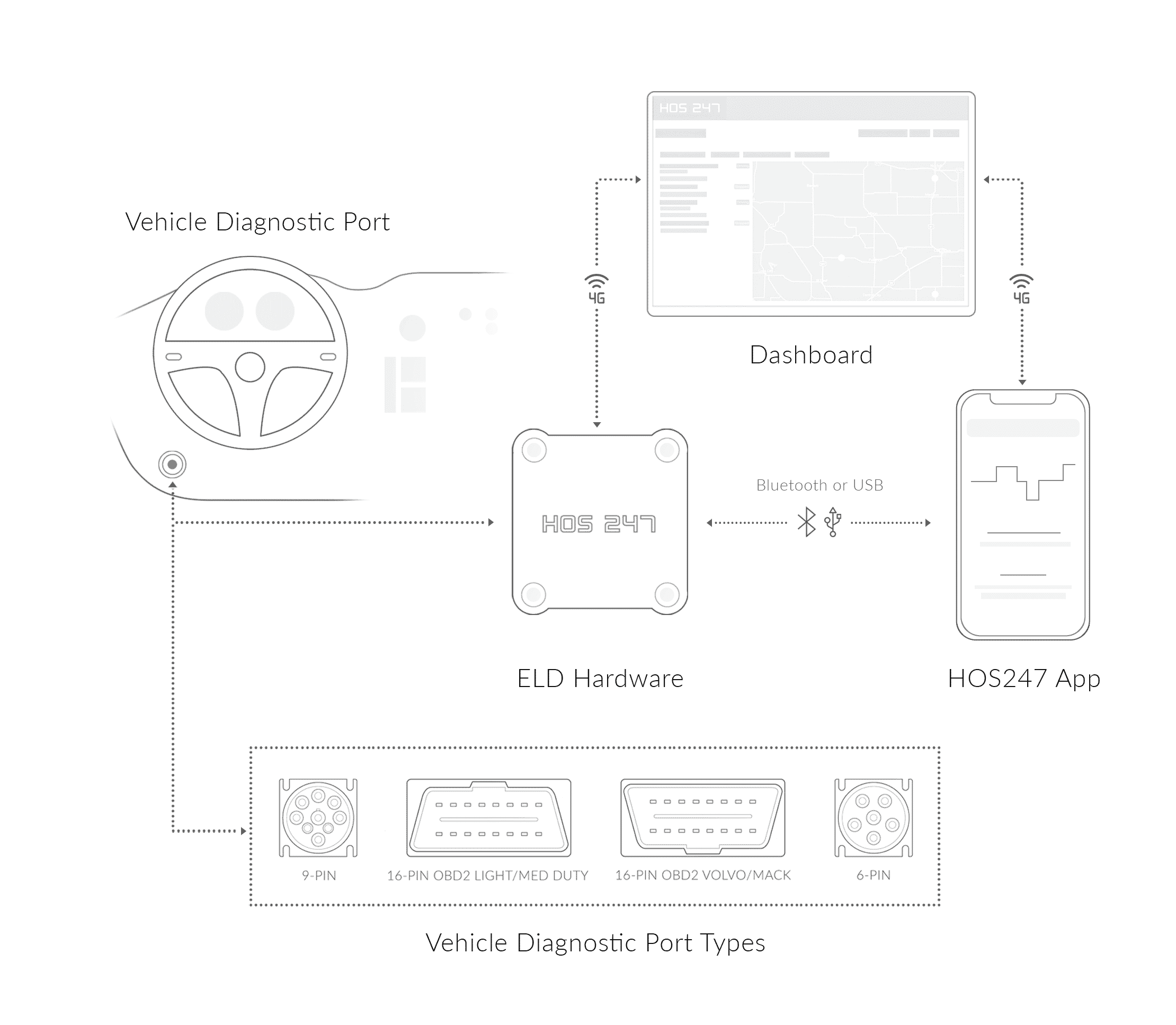 Hardware Installation
First, plug the device into the vehicle port using the 9-pin cable, BEFORE turning the vehicle on and BEFORE running the HOS app. Use adapters if necessary, you may have to use: 

6-pin adapter.
16-pin for some heavy-duty Volvo/Mack engines.
16-pin OBD2 light/medium-duty vehicles.
Note: the dual fastener is provided for dash mounting.
You should see a slow flashing green LED indicating that the device is powered. You should also see a flashing red LED, which means the internal GPS is in acquisition mode. A solid red LED indicates that the signal is locked, but you can still proceed to the next step without waiting for the GPS lock.
Turn the engine on.
You should see a fast flashing green LED, indicating that vehicle activity has been detected.
When the green LED becomes solid, the device is registered on the vehicle bus, and you can run the HOS app.
From this point on, the device will collect and retain the information it needs, such as VIN, to communicate with the app via Bluetooth. Note that sometimes the LEDs will not stay on for power management reasons.
"Awesome. Easy to install and use. Top notch customer service! I recommend it to everyone."


"Great company to deal with. The support team is very responsive and competent. They provided a great deal of education for our company."

"Customer service is great. They helped me to set up everything and showed how to edit my logs. Thank you."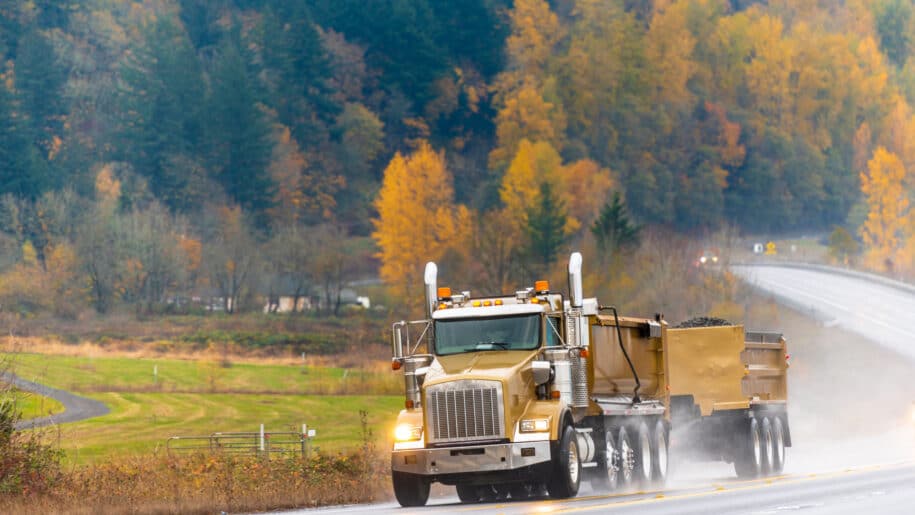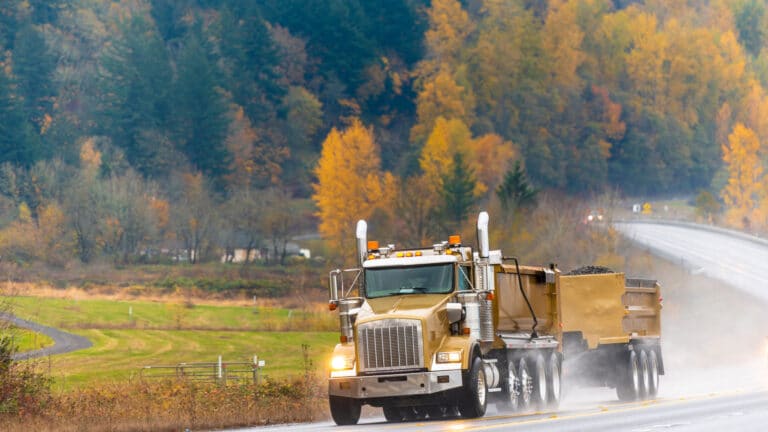 GPS Fleet Tracking Tips in Canada
In today's dynamic business environment, where efficient operations and cost savings are crucial, fleet tracking has become a vital solution for trucking businesses. This technology uses GPS and advanced fleet management systems to monitor and manage vehicles in real time,
Read More »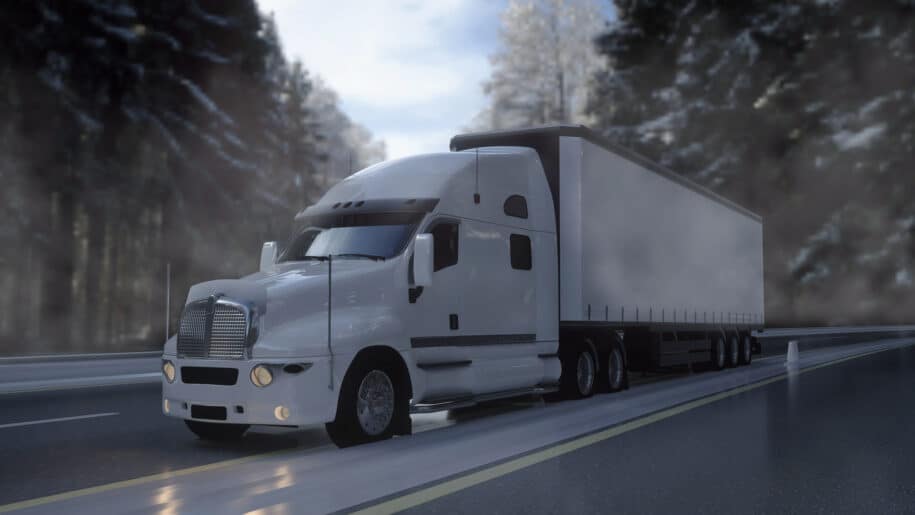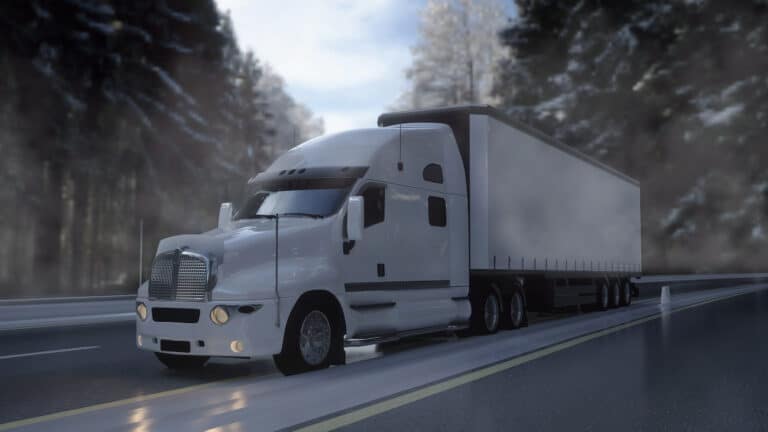 ELD Services & Devices
HOS247 ‏‏‎‎‏‏‎ ‎HOS247 Rating HOS247 ‏‏‎‎‏‏‎ ‎HOS247 Rating HOS247 is a top ELD provider in the trucking industry. We offer a heavy vehicle log book app for transportation professionals that takes care of compliance and optimizes fleet operations. Our customers
Read More »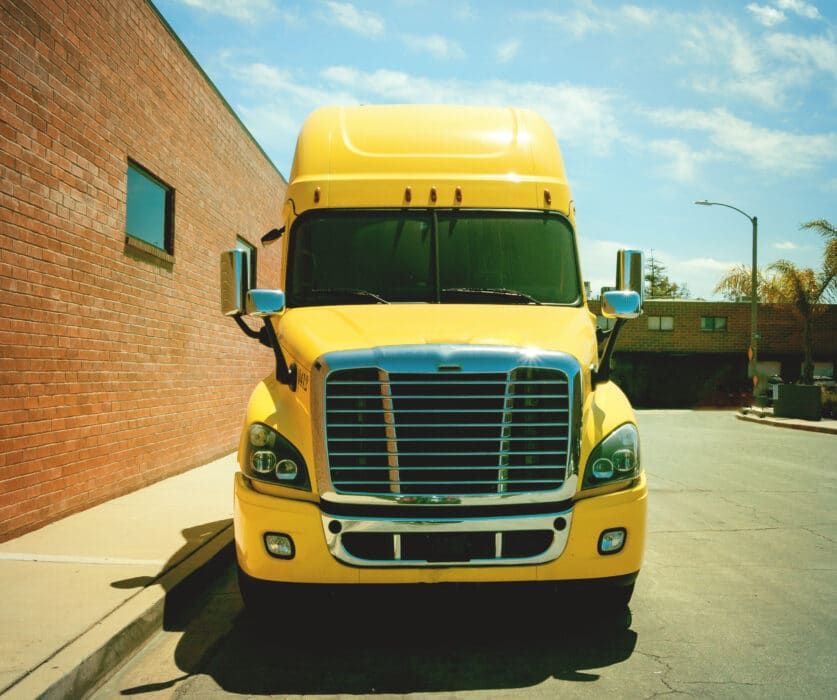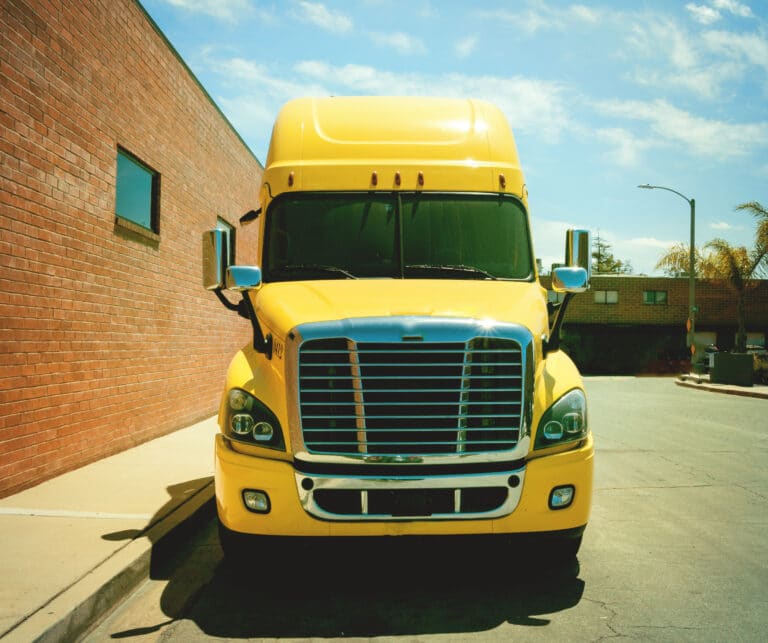 ELD Services & Devices
As per the ELD mandate, commercial vehicles will soon require electronic logging systems to stay Transport Canada compliant. An efficient elog solution will be essential for trucking businesses to thrive once the mandate is fully enforced beginning 2023. In this
Read More »