Transport Canada has introduced the ELD mandate to increase road safety and vehicle security in the industry. These new electronic logging systems are expected to reduce problems such as driver fatigue while enhancing fleet companies' productivity. Electronic logbooks manage and streamline the legal requirements to comply with the mandate and HOS regulations. They also notify drivers and fleet managers if there are mechanical issues. 
Trucking businesses and drivers must be well informed on choosing the correct provider to make the most out of an electronic logbook and gain full benefits. It is wise to look for quality devices and accessible post-sale support for their logbooks. This guide will help fleet companies, owner-operators, and drivers choose an ELD system they can trust.
Definition of an ELD System
The focus of this article is to discuss the main characteristics of a Transport Canada compliant electronic logbook that can also optimize your business operations. Electronic logging devices are used to track hours of service for commercial vehicles. An elog system for trucks is designed to record driving time automatically, use of the engine, off-duty and on-duty hours, etc. Devices can often calculate miles driven by the vehicle and alert the driver and the fleet manager in case of a possible break-down or a fault in the engine. 
The device connects to software that the driver can edit or manage logs using the app on their smartphone or tablet. There is also an online portal for fleet managers. ELD systems for trucks are configured according to trucking rules issued by the authorities. This again helps drivers and fleet companies stay compliant and avoid audit risks.
Choosing the Right Electronic Logbook
Finding a genuinely dependable electronic logbook is crucial for carriers. The fact is that not all ELD systems for sale may be a good choice. There are specific criteria that fleet companies and truck owners should look for, including:
User-friendly interface. Look for an electronic logbook with a straightforward installation that is easy to use while on the road to help operations run smoothly and make life easier for transportation professionals.
Reliable provider support. Timely assistance from the provider is extremely valuable to keep things running and optimized. Make sure your provider has easy-to-reach technical support and competent reps. It only takes a minute to call your intended provider's customer support line and check their performance. 
Favorable user reviews. It is useful to check ratings on unbiased platforms like Google Play and the Apple App Store to get genuine feedback from real-life users about the brand and the device.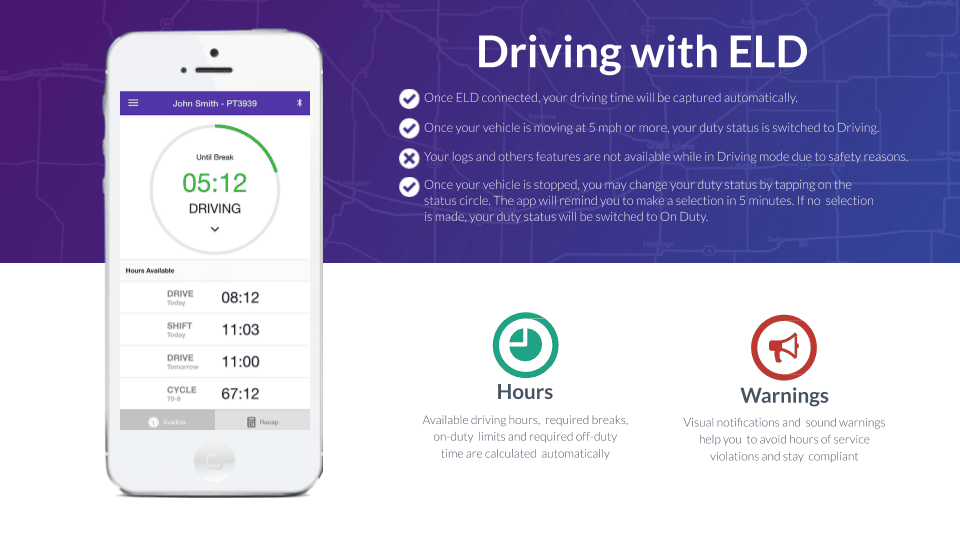 Red Flags to Consider When Purchasing ELD systems
There are also some red flags to avoid when purchasing an ELD system for trucks or that might make you want to switch providers. For instance, beware of long contracts or commitments upfront since they limit customers considerably. They may have to take losses if the solution does not meet expectations. Likewise, be careful with providers that are not specialized in electronic logbooks. Although they may have a solid presence in the industry, companies focusing on elog solutions are probably more familiar with regulations, deadlines, and compliance and are a safer investment overall.
Here are three common (and avoidable) consequences of an inefficient electronic logging device:
Missed or delayed loads. A faulty ELD system can get a driver stuck in the road, which will delay the assigned dispatch. This may affect the delivery schedule and therefore the reputation of the company. 
Non-compliance issues. Any transportation-related mismanagement issues can face legal compliance issues once the progressive enforcement period is over on January 1, 2023.
Added costs. Needless to say, compliance issues imply severe penalties. A malfunctioning ELD system can drastically increase fleet management costs while simultaneously reducing productivity.
Additional Features for Improved Trucking Operations
Trucking companies can benefit greatly from additional features of their electronic logbooks. Providers like HOS247 offer ELD systems thought out and designed to improve the performance of trucking companies and owner-operators, with advantages such as:
GPS tracking. HOS247 logbooks come with a GPS tracker that increases vehicle security and improves overall fleet performance. The tracker allows the carrier company to monitor if the truck is driven to unapproved locations. 
IFTA calculations. HOS247 ELDs are designed to integrate with the vehicle engine and record IFTA kilometers per jurisdiction. The collected data is then processed to calculate taxes. This eliminates manual labor and human error, reducing audit risk. 
Idle reporting. Track drivers' idling time and get notifications when the limit is passed. Reduced idling means reduced fuel costs and higher productivity.
HOS247 Is a Reliable ELD System Provider
It is crucial to choose a reliable supplier who has a proven track record of manufacturing quality electronic logging devices and offering world-class support. HOS247 is one of the leaders in the industry, offering advanced elog systems to fleet companies and owner-operators. 
HOS247 logbooks are top-rated in the market are loaded with features that make fleet management easier than ever before. They also come with reliable hardware that can be installed in minutes. There are no hidden costs or long contracts that lock customers in. Our clients receive technical support in four languages every day of the week to help customers optimize operations and maximize gains.
Advantages of HOS247 ELD Systems
Over the years, HOS247 has earned the customers' trust to emerge as an industry leader. HOS247 ELD systems are designed with advanced features that make them highly efficient while easy to operate.
Manage and edit logs and DVIRs. HOS247 ELDs allow drivers to edit and manage elogs legally while on the road. It integrates with the vehicle engine to record data and presents it as a report that the driver can approve or edit and annotate.
Top-rated customer support. Our customer support team is available to help customers optimize the use of the logbook and deal with any issues. Our reps speak English, Spanish, Russian, and Polish.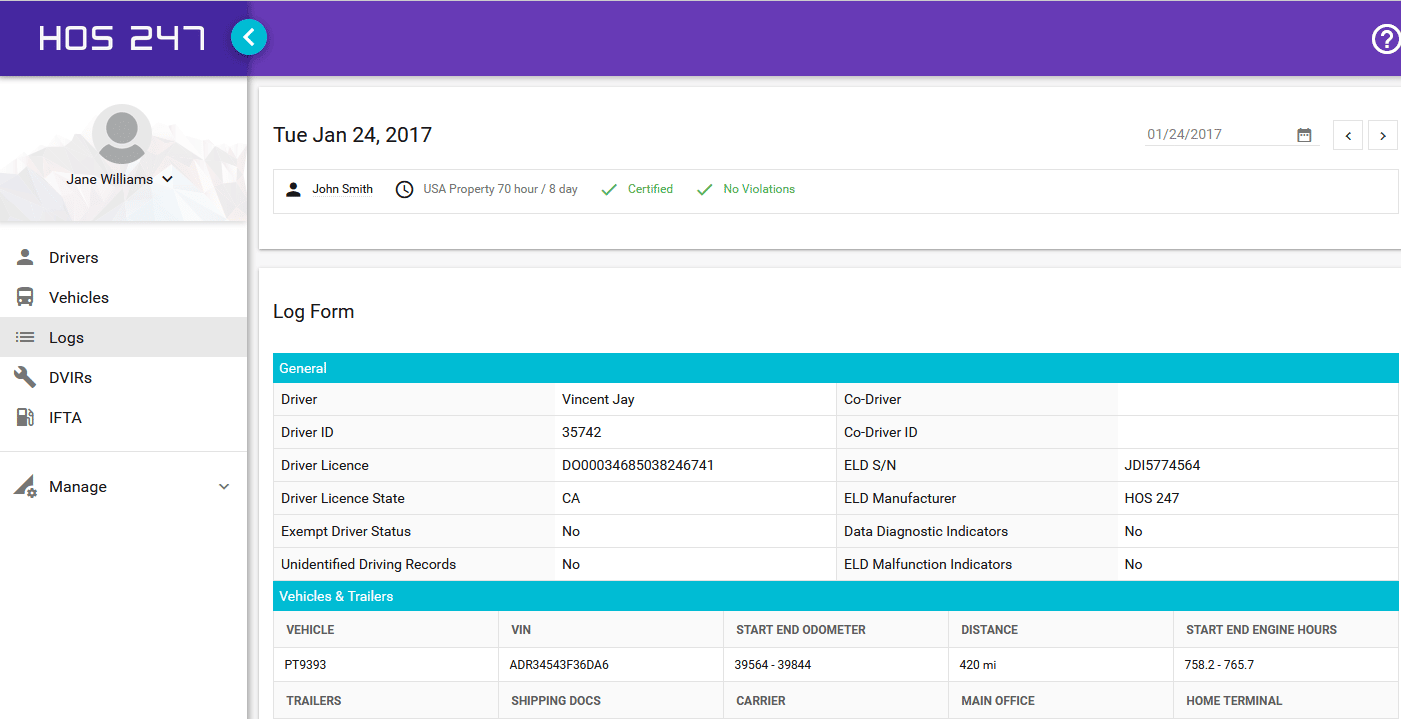 Intuitive fleet manager portal. The panel shows drivers' HOS and vehicle diagnostics. This prevents sudden breakdowns and prevents having to pay penalties for HOS violations. 
GPS tracking. Fleet managers can monitor vehicles' movement and receive notifications if driven during off-duty hours or to unregistered locations. 
IFTA calculations. The electronic logbook calculates distance per province to facilitate tax reports, reducing audit risks due to human error or manipulation. 
No contracts. Our no-contract policy suits both fleet companies and owner-operators. You can ask for a 14-day trial period of the ELD system without providing any payment information. If you are not satisfied, the device can be returned for a full refund.
HOS247 has emerged as a leading supplier of elog systems in both the U.S. and Canada. The user-friendly devices and high-end customer support have made HOS247 stand out from the rest. HOS247 ELD systems are proven compliant, efficient, and driver-friendly to help truckers maximize their productivity.
"Awesome. Easy to install and use. Top notch customer service! I recommend it to everyone."


"Great company to deal with. The support team is very responsive and competent. They provided a great deal of education for our company."

"Customer service is great. They helped me to set up everything and showed how to edit my logs. Thank you."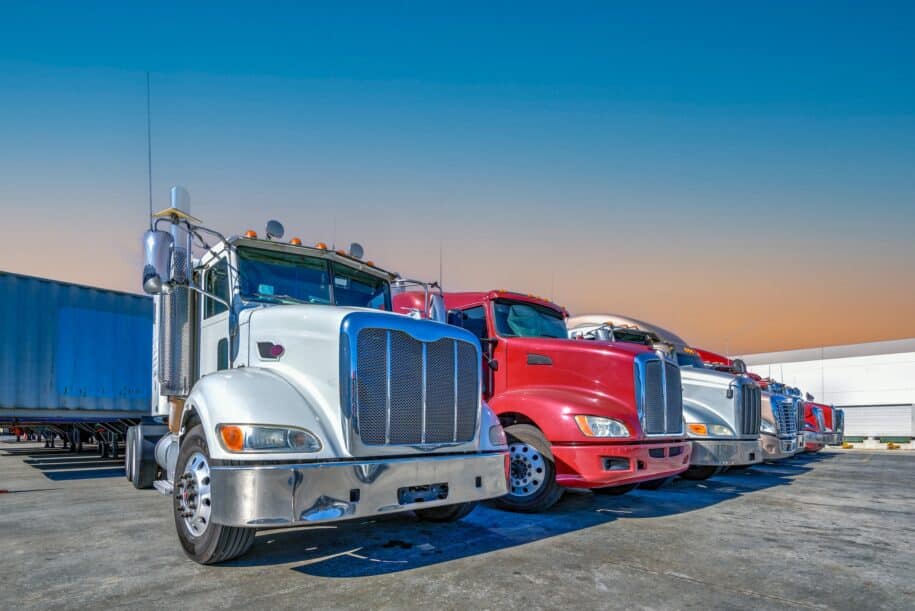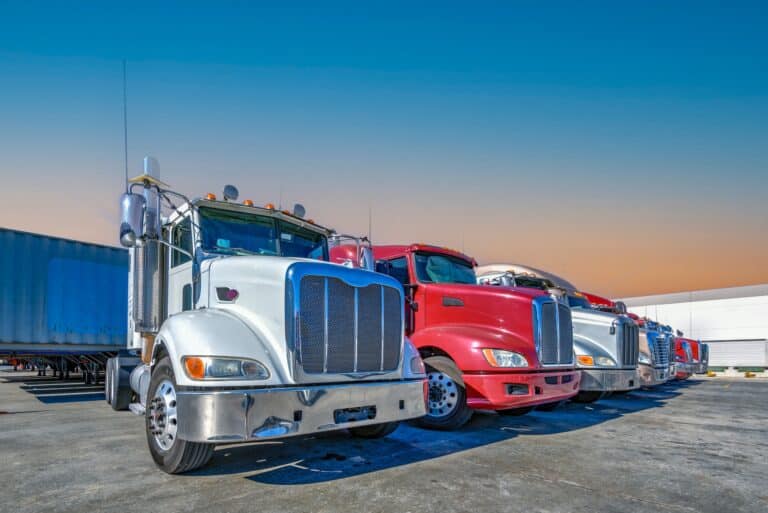 GPS Fleet Tracking Tips in Canada
Fleet managers and carriers come across multiple day to day operational tasks, such as vehicle maintenance, tracking assets, supervising, etc. These activities are all vital to the business, so they shouldn't be a challenge. Real-time GPS tracking can make those
Read More »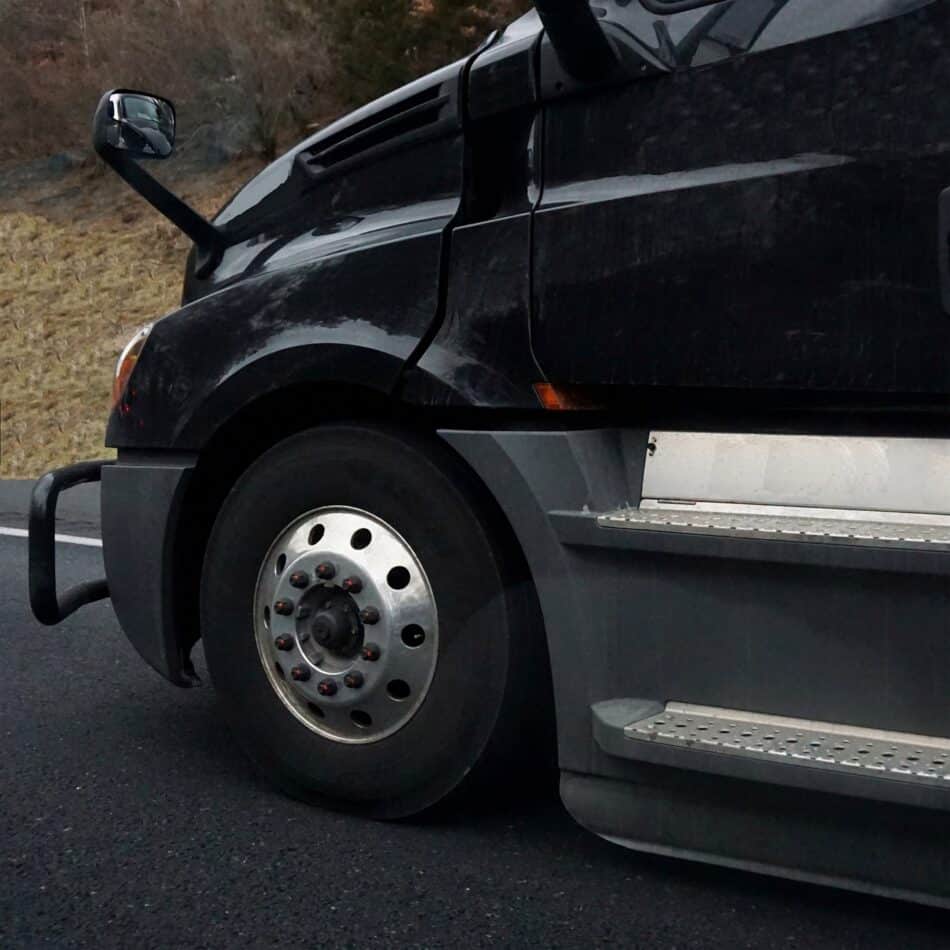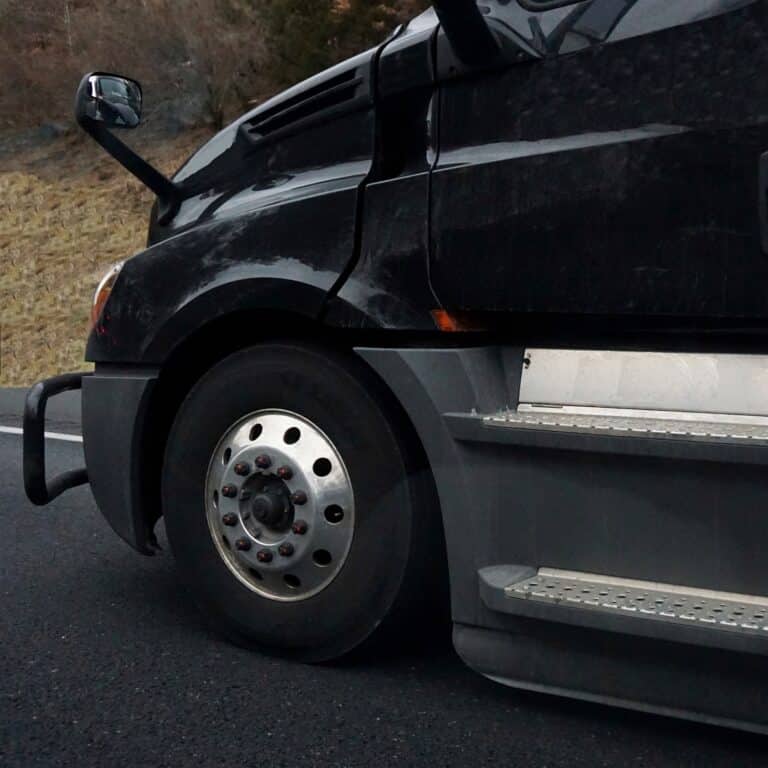 ELD Services & Devices
The best electronic logging devices do more than tracking hours of service — they must be backed up with prime customer support and have additional features to help carriers increase profitability. With the Canadian mandate's full enforcement date approaching, trucking
Read More »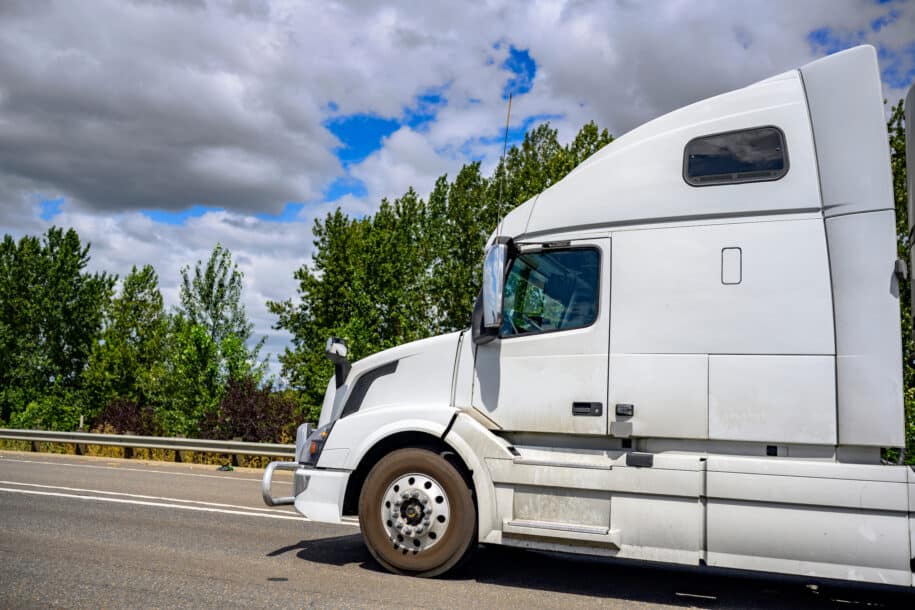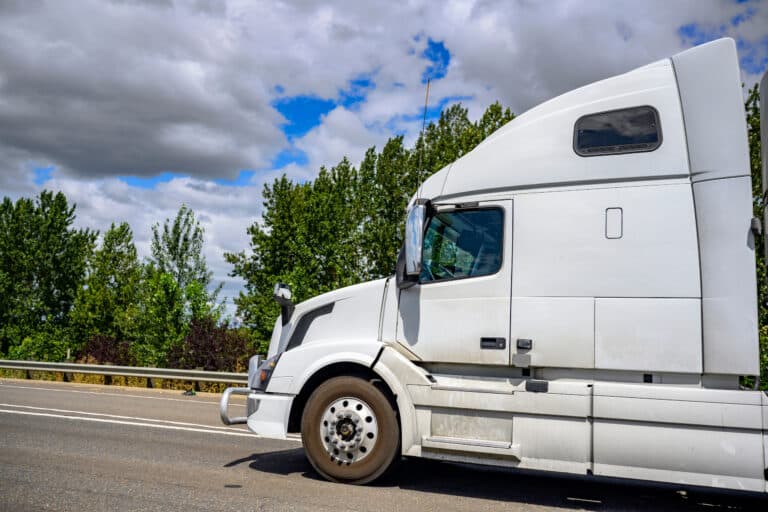 ELD Reviews
The transportation industry will change with the implementation of ELDs. Electronic logging devices for truckers are intended to improve road safety by ensuring compliance with HOS rules. However, finding a quality ELD may be challenging. A substandard device can make
Read More »