Ever since the ELD mandate was introduced by FMCSA, trucking companies and drivers are in a dilemma on how to choose the right provider. The e-log system has been mandated by the DOT to increase road safety and vehicle security. In turn, the new ELD systems have also helped to reduce driver fatigue and boost the productivity of fleet companies. The ELD solution can take care of much of the legally required documentation and even provide alerts when there is a mechanical issue. Of course, to get all of the benefits of a good ELD solution, it is crucial to choose a provider that supplies registered ELD systems for trucks and also offers post-sale support. With many ELD systems for sale in the market, it can be confusing to single out a reliable provider. This guide can help fleet companies and individual owners choose a genuine ELD system for their trucks.
Choosing a reliable ELD supplier is important
This is one of the reasons why FMCSA has put up a list of registered suppliers on its website. It's the first step in finding a reliable supplier that can offer a genuine e-log device or an FMCSA-registered ELD system that will work to minimize the cost of fleet management and ensure DOT compliance. With a defective device, the truck and the driver can face several problems which will increase fleet management costs. Here are a few possibilities with a malfunction in ELD systems.
Incomplete assignments: If the driver gets stuck on the road due to a faulty ELD system, then the dispatch or assigned task will be delayed. This might affect the customer delivery dates and the reputation of the company. 
Compliance issues: As the ELD mandate has been issued by FMCSA and enforced by DOT, any mismanagement in transportation or operation of the vehicle can face legal compliance issues. 
Incurring additional cost: Needless to say, compliance issues come with loads of penalty costs. A malfunctioning ELD system can drastically increase fleet management costs while simultaneously reducing its productivity.
Definition of ELD systems
ELD systems are electronic logging devices used in commercial vehicles like trucks to track the hours of service (HOS). ELD system for trucks is designed to automatically record driver log-in time, RODS, engine usage, off-duty and on-duty hours, etc. The E-log device can also calculate miles driven by the vehicle and alert the driver and the fleet manager in case of the possibility of vehicle break-down or if a fault in the engine is detected.
The device connects to software that is managed by the fleet company. The driver can edit or manage logs using an App via Smartphone or tablet. The ELD system for trucks is configured according to trucking rules issued by FMCSA. This again helps drivers and fleet companies stay compliant and avoid audit risks.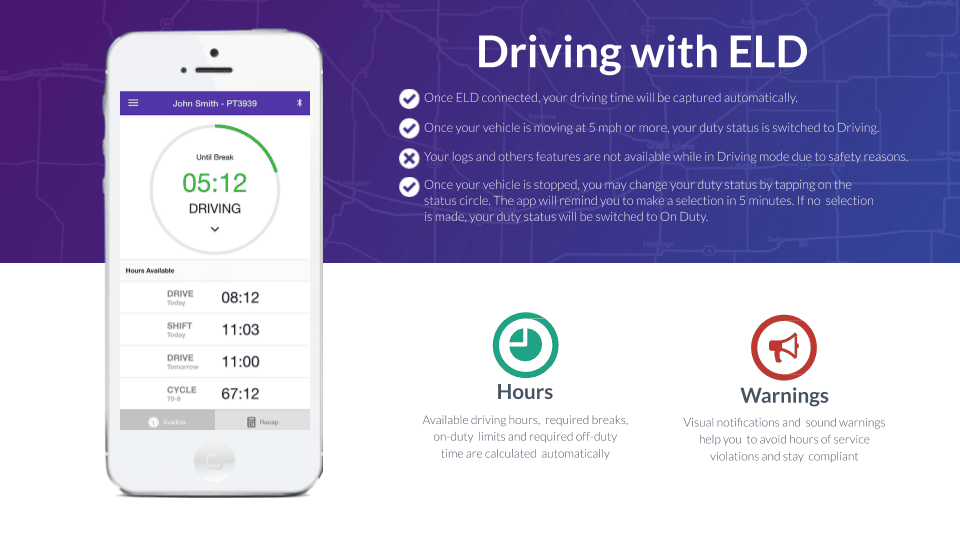 Benefits of FMCSA registered ELD system
FMCSA has mandated the ELD system for trucks for some specific reasons. In addition to increasing road safety and reducing accidents due to unsafe driving, ELDs have also benefited fleets in several ways. 
Reduce idling time: As the HOS is automatically recorded, the driver cannot manipulate the logbook or the RODS. This will reduce idling time improving the overall productivity of the fleet. 
Prevents unregistered vehicle usage: The registered ELD system will alert the company if the vehicle is used during off-duty hours. The device tracks vehicle usage by monitoring engine-start-up and shut-down.
Saves fuel cost: Since the idling time of the driver is reduced and unregistered usage of the vehicle is checked, it can save on fuel costs. With the increase in the productivity of the fleet in terms of completing tasks, late charges will also be reduced. This will have a positive impact on the total cost of fleet management.
Choosing the right ELD system for trucks
Based on the information above it is clear that finding a genuine ELD system is crucial for carriers. The fact is not all ELD systems for sale or all FMCSA registered ELD systems may be the right choice. There are certain criteria that a fleet company or truck owner should look for in an ELD. Also, there are some red flag points to avoid while purchasing an ELD system for trucks.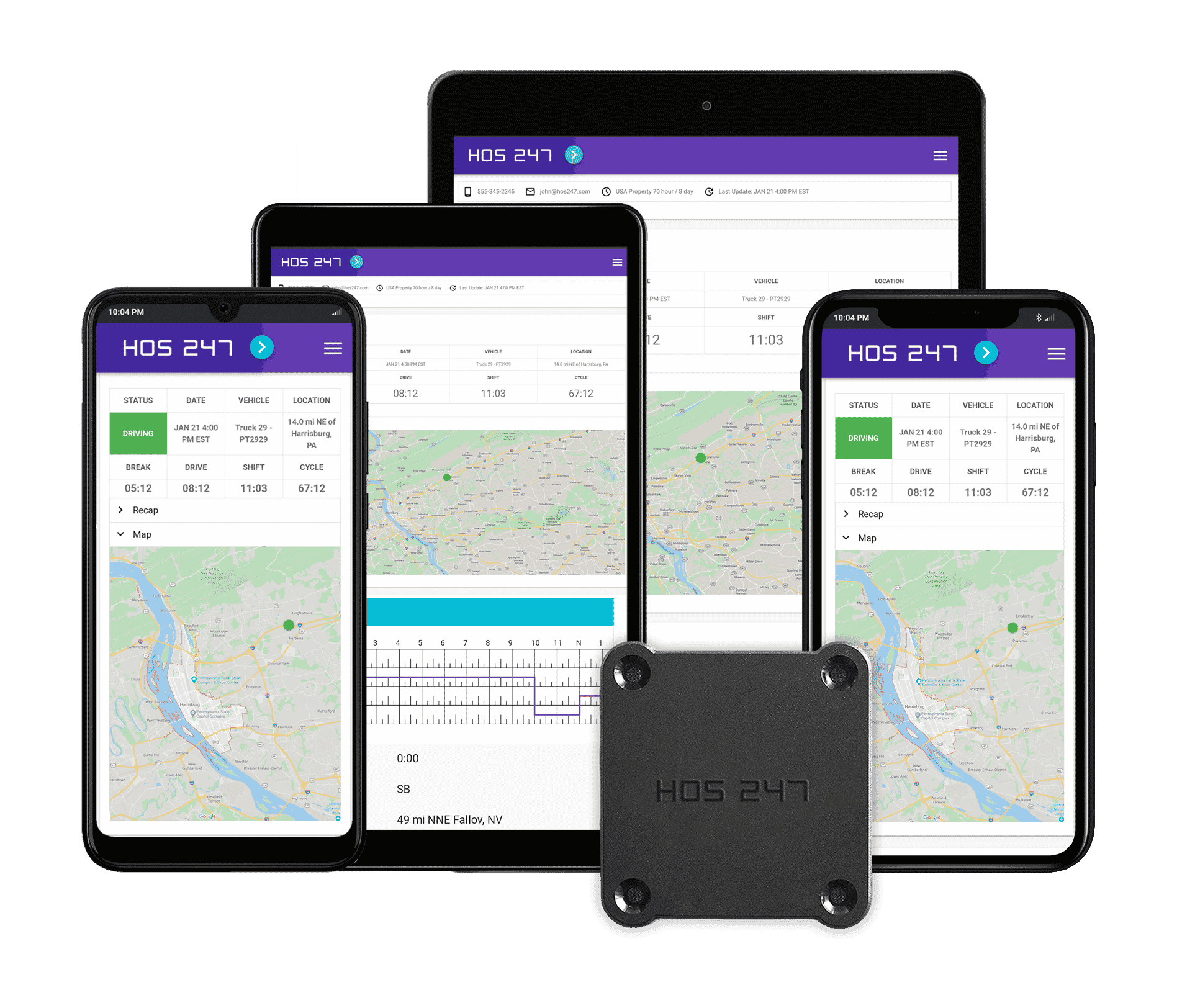 Key points to verify ELD systems / ELD provider
A truck owner or fleet company should not settle for anything less than the features below:
User-friendly features: ELD system for trucks should be simple to install and easy to use on the go. It has to be intuitive enough for the driver who is trying to use it. This is a big part of what separates good ELD systems from the rest.
Active support from the provider: The ELD systems may initially require some support from the provider to be optimized for fleet management. The ELD provider should be prepared with a support team 7 days a week to help customers maximize their profit with the optimum use of the device. 
Connectivity: ELD system for trucks acts as a means of communication between fleet managers and drivers. The device should use faster networks like 4G to send emergency alerts and notifications instantly to the users at both ends. Delayed information in such cases can result in big problems.
User reviews: Check the rating of the ELD on unbiased platforms like Google, iTunes Store, or Play Store. This always helps to get genuine feedback about the brand and the device from real-life users.
Criteria to avoid while purchasing ELD systems
These factors are red flags to warn truck owners or fleet companies before investing in an ELD system.
Complicated contracts: Some providers want to trick fleet companies and owner-operators into expensive contracts. In such cases, the provider tried to lock in the consumer for three to four years with a complicated contract. These contracts will put a clause that will won't allow carriers to return the device in the first year. 
Inexperience in the field: With the rising demand for ELDs, FMCSA registered ELD system providers have crowded the market. These new providers are inexperienced in the field and only came in to make a quick buck. It is doubtful if the brand will survive over the long haul so be careful with new suppliers offering ELD systems for sale.
Additional features in ELD systems to facilitate trucking operations
Apart from the ELD features mandated by FMCSA, fleet companies will require additional benefits for hassle-free performance. Many providers of FMCSA registered ELD systems are offering the mandated features only. This has listed the brand on the FMCSA website but some devices fall short and don't have the features carriers need to optimize fleet operations.
Only a few registered providers like HOS247 are offering ELD systems truly designed for trucking companies along with owner operators. Here are some of the additional features in HOS247 ELD systems.
GPS tracking: HOS247 ELDs come with a GPS tracker that increases vehicle security and improves overall fleet performance. The tracker uses Geo-fencing to track vehicle usage in unregistered locations and sends alerts to the company instantly. 
IFTA mileage reporting: HOS247 ELDs are designed to integrate with the vehicle engine and record IFTA mileage.  The collected data is then processed into a report format that meets the FMCSA standards. This eliminates manual labor and human errors avoiding audit issues. 
Faster Dispatch (coming soon): With this feature assigning jobs to vehicles/ drivers can be fast-tracked. It tracks vehicles near the job site and notifies the dispatcher. The system also allows marking the progress of the job with status like assigned, started, completed, canceled, and unassigned.
HOS247 as a reliable ELD system provider
It is crucial to source ELD systems from a reliable supplier who has a proven track record of manufacturing quality devices and world-class support. HOS247 is one of the leaders in the industry. The brand has been offering advanced FMCSA registered ELD systems to fleet companies and individual owners. All HOS247 ELDs are loaded with features that make fleet management easier than ever before. This is the reason the brand now has a large base of happy customers.  
HOS247 ELDs are top-rated in the market. The device comes with reliable hardware and can be installed in minutes. The company has no hidden costs or long contracts that lock customers in. HOS247 also offers round-the-clock customer support in five languages to help customers optimize the ELD and maximize gains.
Advantages of HOS247 ELD systems
Over the years, HOS247 has earned the trust of the customers to emerge as an industry leader in ELDs. HOS247 ELD systems are designed with advanced features that make them highly efficient and easy to operate.
Manage/ Edit Logs/ DVIRs: HOS247 ELDs allow drivers to legally edit and manage e-logs while on road. It integrates with the vehicle engine to record data and presents it as a report which the driver can approve and edit.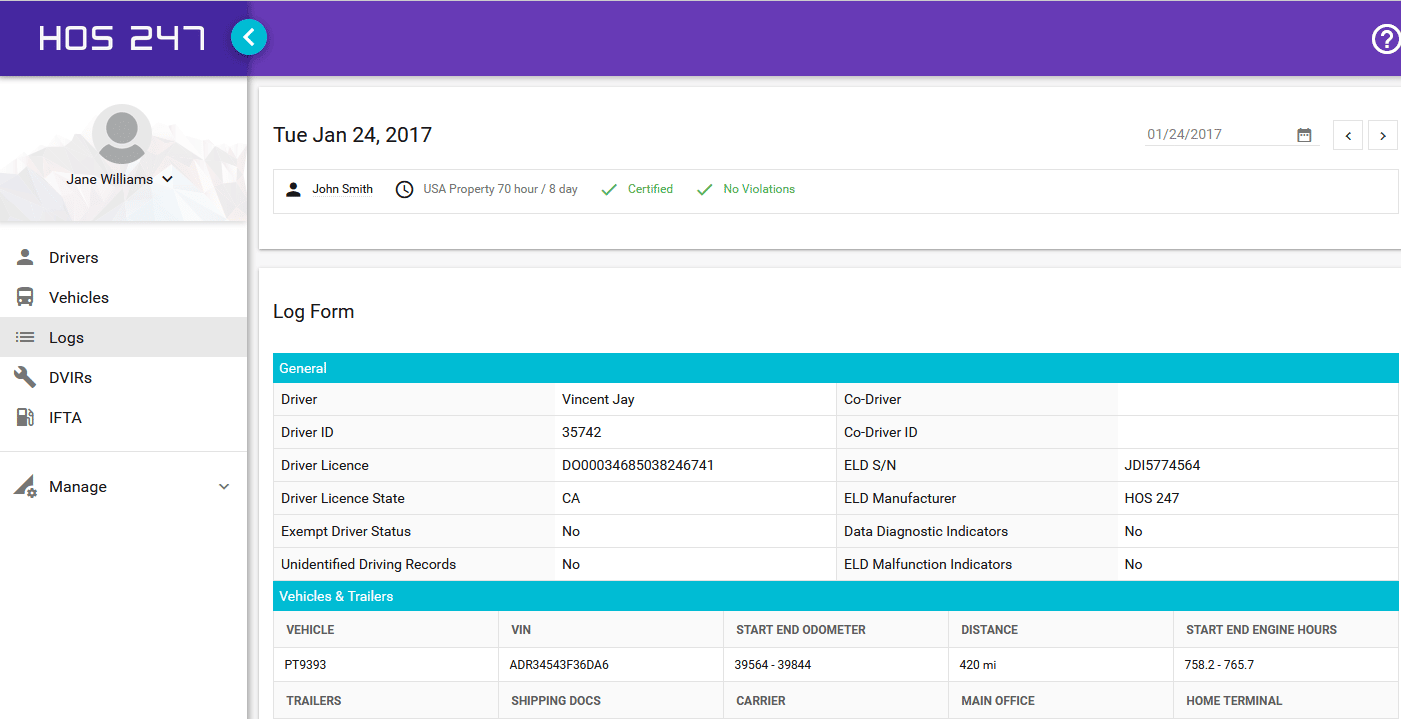 On-Road Driver Support: All HOS247 E-log devices operate on a 4G Network to enable instant communication between driver and fleet managers. This helps to resolve on-road compliance issues. It also extends support to the driver during a vehicle breakdown.
Intuitive fleet manager portal: The panel shows vehicle diagnostics and displays the compliance standard of the vehicle. This prevents the sudden breakdown of the vehicle and also saves violation costs. 
GPS tracking: With in-built GPS tracker fleet managers can monitor the movement of the vehicle. It sends notifications when the vehicle is driven in off-duty hours or unregistered locations. 
IFTA Mileage: HOS247 ELDs integrate with the vehicle engine to track IFTA Mileage and then prepare a formal report. This eliminated audit risk as the data is less likely to have human errors or manipulation. 
Flexible policy: HOS247 offers a no-contract policy that suits both fleet companies and individual owners. The provider allows a 14-day free trial period of the ELD system without any payment information required. If not satisfied with the features, the customer can return the ELD without paying any charges.  
Conclusion
HOS247 has emerged as a leading supplier of FMCSA registered ELD systems in both the U.S.A and Canada. The user-friendly devices and high-end customer support have made HOS247 stand out from the rest. HOS247 ELD systems are proven to be one of the best cost-effective solutions for truckers to stay compliant.
"Awesome. Easy to install and use. Top notch customer service! I recommend it to everyone."


"Great company to deal with. The support team is very responsive and competent. They provided a great deal of education for our company."

"Customer service is great. They helped me to set up everything and showed how to edit my logs. Thank you."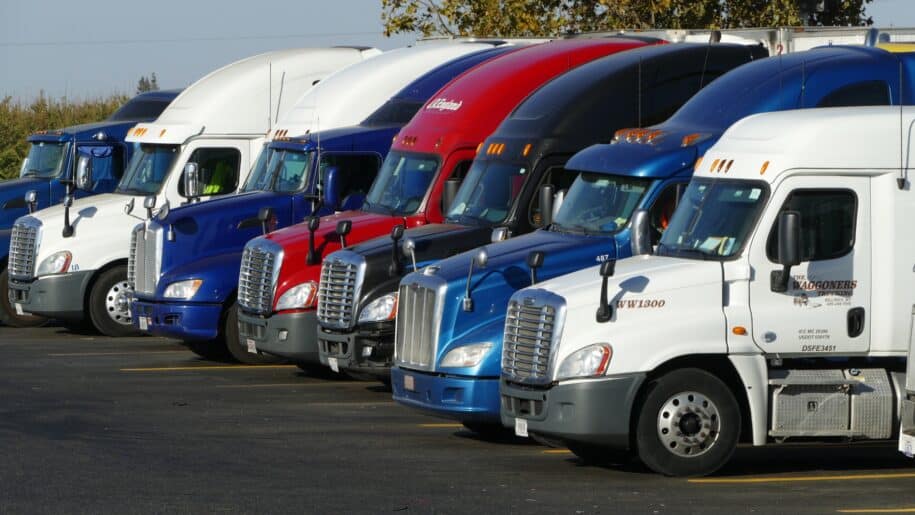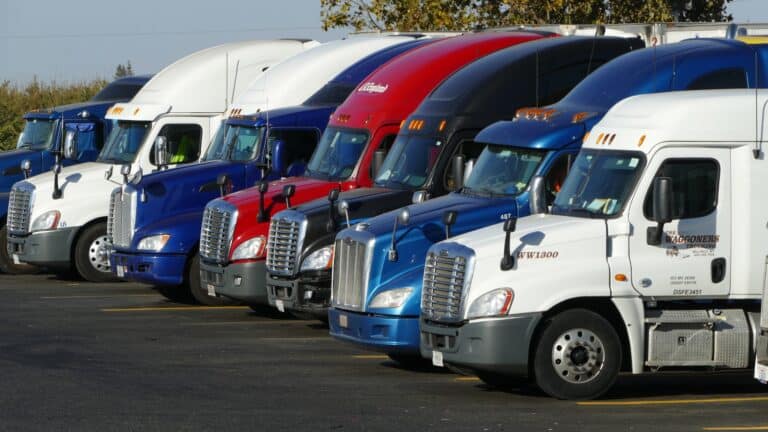 ELD Services & Devices
Your ELD should have everything needed to keep your trucking business in compliance with federal regulations and to make your job easier. However, there are hundreds of electronic logbook options, and some of them can be pretty frustrating to manage.
Read More »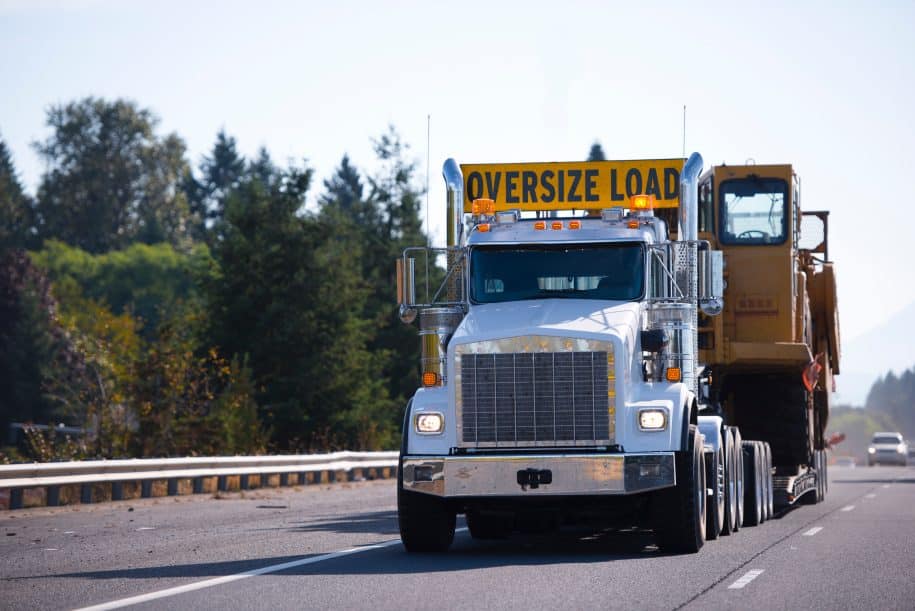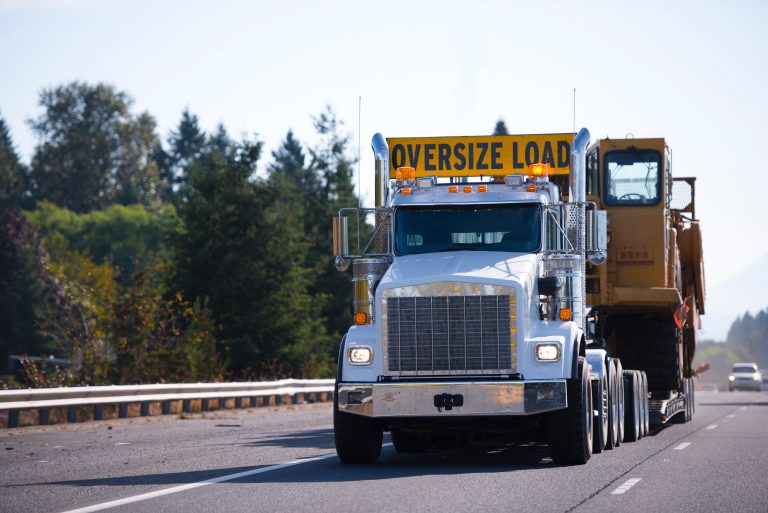 ELD Services & Devices
The Federal Motor Carrier Safety Administration (FMCSA) issued the ELD mandate in an effort to improve driver safety, as well as the safety of everyone else on the road with the drivers who have to use ELDs (electronic logging devices).
Read More »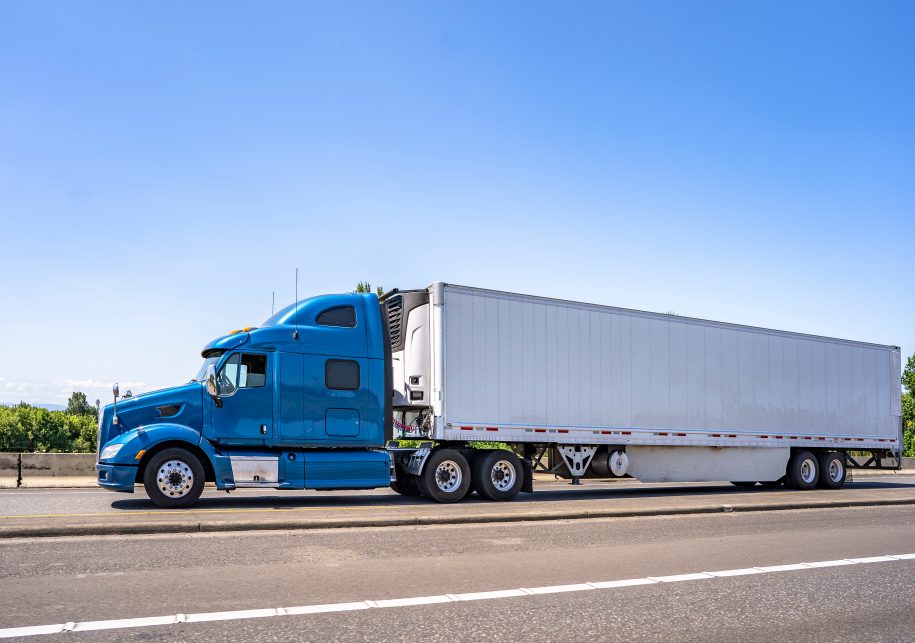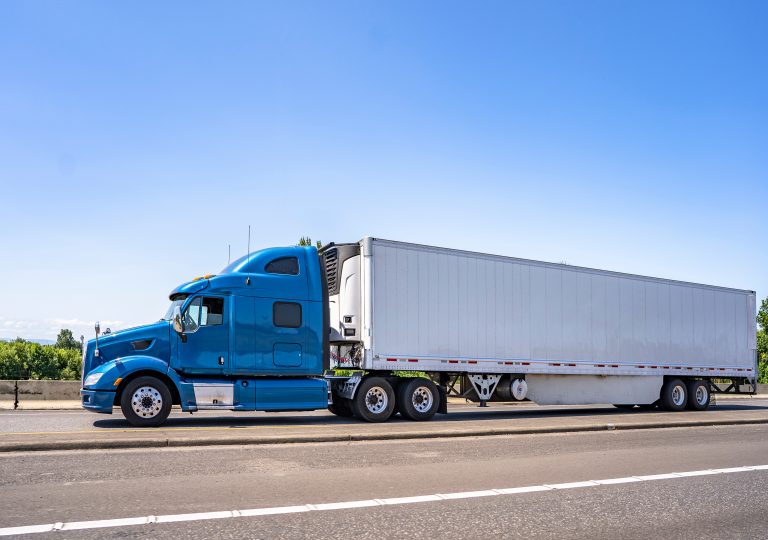 ELD Services & Devices
According to Department of Transportation (DOT) regulations, drivers of commercial motor vehicles must keep a driver log book to record their hours of service (HOS). Records of duty status (RODS) can be recorded manually on a paper log or using
Read More »