Transport Canada requires commercial drivers to record hours of service data with an electronic logging device. The hardware of the ELD must be connected directly to the engine of the truck and it must be tamper resistant. The electronic logs will then record important information such as engine hours, duty status, vehicle miles, driving locations, etc. The data is sent to the driver's mobile device through an app and to the fleet manager through an online portal to achieve compliance and improve trucking operations.
ELD Compliance Timeline
The first phase of the mandate's implementation began in December 2017, when the Canada Gazette published the proposal. The publication initiated a public consultation period, including industry stakeholders, ELD vendors, and both provincial and territorial governments. The consultation ended in February 2018, and the Canada Gazette published a final ruling in June 2019. The ELD mandate came into effect on June 12, 2021, the original deadline for enforcement. However, due to the pandemic, the Government of Canada decided to implement a one-year progressive enforcement period, which was later extended. Thus, all carriers must switch to ELDs from paper logs before January 1, 2023, but no penalties will apply before then.
The Transport Canada website will list all vendors that offer certified ELDs. In Canada, ELDs will be certified by accredited, independent organizations, and carriers must choose from the approved devices to comply with the mandate. The period between the final ruling and full enforcement provides carriers with plenty of time to select and install certified ELD devices in their vehicles.
Who Must Comply with the ELD Mandate?
The Canadian ELD Mandate applies to all federally regulated carriers. About 157,000 commercial vehicle drivers in Canada must comply with the new rules. If a company operates within a Canadian province, it will fall under the provincial jurisdiction, while those that provide extra-provincial transportation such as local activities come under federal jurisdiction. At the time of the most recent announcement, provincially regulated carriers do not need to comply with the changes laid out in the ELD Mandate, unless their province mandate the use of electronic logbooks (like Ontario has announced they will be doing).
The ELD Mandate does specify three core exemptions to the rules. If a commercial vehicle was built before the year 2000, it does not fall under the new regulations. Also, short-term rentals that are less than thirty days and vehicles operating within a 160km radius of a home terminal do not need to keep a logbook.
Paper logs can be kept for a maximum of 14 days in Canada if an ELD does happen to malfunction but must be repaired if the vehicle returns to a home terminal before that point. The ruling is a variance between the 8 day ruling in the US mandate.
How to Choose an Electronic Logbook App?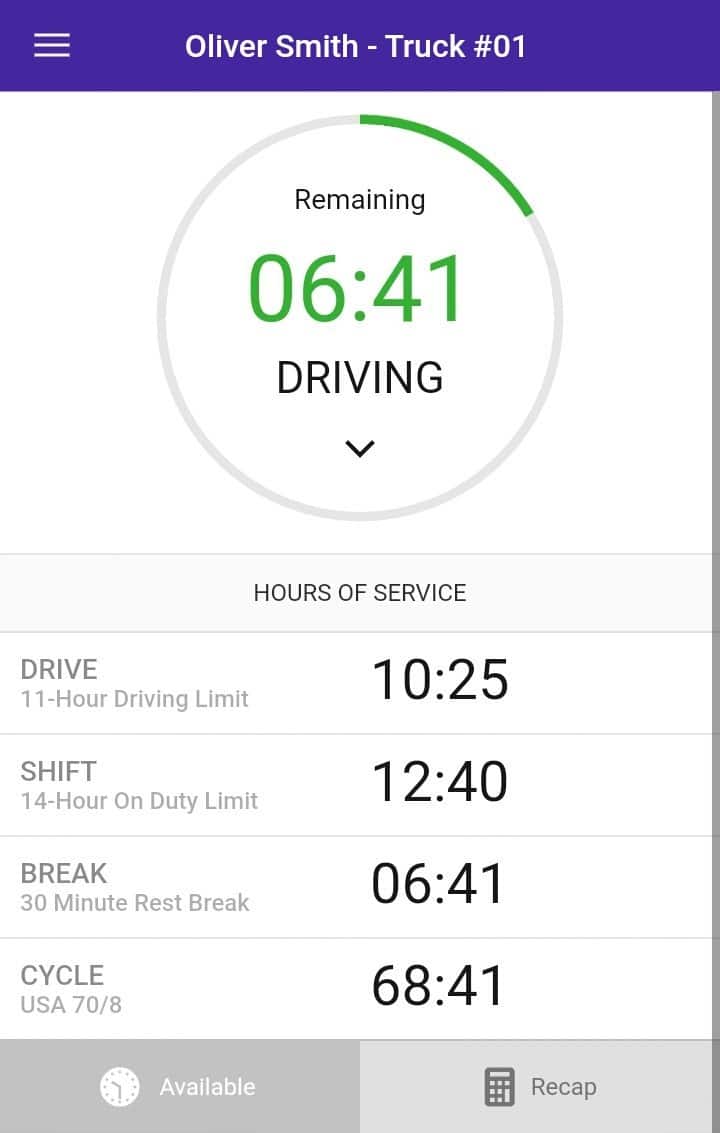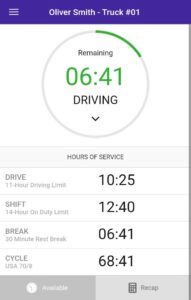 When choosing the right e logs app, there are a few essential things that need to considered before the final purchase:
Proper Support. One of the most vital things to consider when selecting an e log app is if there is adequate support in place. This means having someone you can call or chat with online to help you with any questions or concerns regarding your app and compliance issues. Some apps can come without proper support, which makes it hard for the drivers to manage malfunctions when they really need it. Not having proper support can put the driver in danger of making errors in their data, which can come with hefty fines, or of being put out of servuce. When looking at your options, be sure to ask if there are real-life support agents available 7 days a week to help you.
Ease of Use. Arguably one of the most important things to consider when choosing an electronic log is whether or not it is easy to use. The worst thing for any driver is to purchase an application that is very complicated to understand and navigate. In purchasing an application that is unintuitive or requires extensive training, you can be left with some severe repercussions. For starters, it can take up a lot of your time, give inaccurate data readings, and make drivers' jobs ore complicated. When looking at your options, be sure you are choosing an application that is simple and user friendly. This will guarantee that you are able to do your job, record your data properly, and avoid any unnecessary issues.
Check Reviews. Before you make your final decision, be sure to check reviews written by real users about the electronic logbook app you're thinking about purchasing. Reading reviews is a simple and effective way to ensure you're making a wise decision. All you have to do is go to app distribution platforms and find out what other drivers have experienced when using a particular e log book app. Be sure to pay close attention to how easy the hardware is to use, to whether or not any additional hardware is needed, or if any extra fees were charged to former or current customers. If the hardware or customer service have a lot of negative reviews, odds are it is not the right one for you. Take your time, sift through the reviews, and make a smart, calculated decision.
When choosing an electronic log book application, there are some red flags you will need to watch out for before you make your final decision:
Long Contracts. Some carriers get roped into very expensive, long contracts by their providers. This can make it hard if the hardware is faulty, the service is deficient or if drivers would like to try something new.
Little to No Experience. Any providers who launched their product after the ELD mandate came to be can be considered as having little to no experience with the complexities of e-log technology. This means that they might not be able to offer adequate support and can cause issues that can be costly for carriers. It is best to make sure your chose provider has a positive track record.
Benefits of HOS247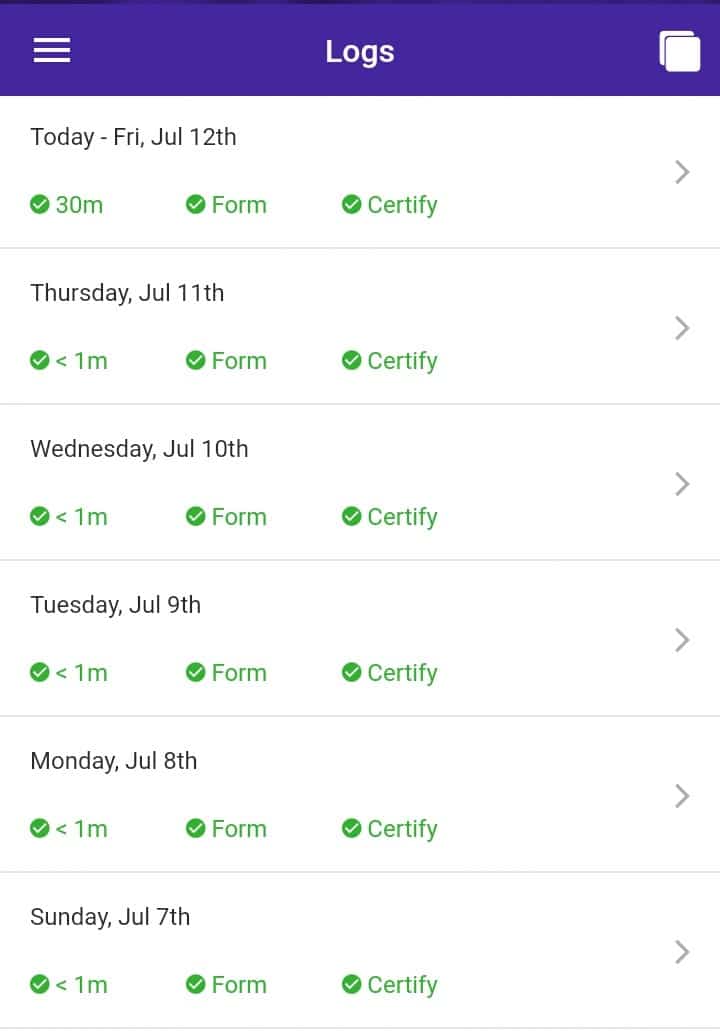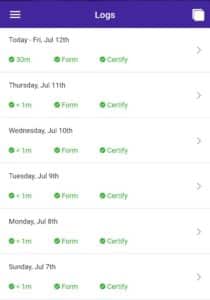 HOS247 is an industry leader providing Android and Iphone electronic logbooks apps and hardware for the transportation industry. Here are several benefits of using HOS247:
No Contracts. One of the most significant benefits of using HOS247 is that there are no contracts involved. For many drivers, they find that getting locked into a long contract with an electronic logbook app can be frustrating. With HOS247, you can choose how long you want to stay with us and enjoy an app that works great without any long contracts to hold you down.
Hassle Free 2-Week Returns. Having the ability to try a truck log app is great if you are testing out solutions. With HOS247, you get to try the electric logbook app for two weeks and, if you do not like it, you get a full refund, hassle-free. This is something that not many other ELD providers offer, which is another amazing benefit that HOS247 brings to the table.
Free Demos. HOS247 provides free demos for those drivers who are unsure about making the purchase. This free demo will enable you to try the electronic logbook applications without the finality of purchasing. This is very convenient for drivers who are still on the fence and need a little more assurance before they make their final decision.
Top-Rated Technical Support. Another benefit of using HOS247 is our dedicated support team. One of the most important things drivers need to consider when purchasing a truck log book app is if it comes with adequate support. With HOS247, you can rest easy knowing that a top-rated support team is waiting to help you seven days a week in English, Spanish, Polish, and Russian.
HOS247 Offers Extra Features to Improve Operations 
GPS tracking. HOS247 comes with reliable GPS tracking. This real-time GPS tracking can accurately track current location and location history, and it offers fault code detection with real-time notifications to fleet managers through the portal.
IFTA calculations. Another feature offered by HOS247 is automatic IFTA calculations per jurisdiction, which makes tax reports easier to manage. It also improves operational efficiency and reduces audit risks and human errors.
Fault code detection. Fault code detection and driver vehicle inspection reports (DVIRs) allow truckers to stay ahead of their vehicle or fleet's maintenance needs to prevent breakdowns and expensive repairs.
"Awesome. Easy to install and use. Top notch customer service! I recommend it to everyone."


"Great company to deal with. The support team is very responsive and competent. They provided a great deal of education for our company."

"Customer service is great. They helped me to set up everything and showed how to edit my logs. Thank you."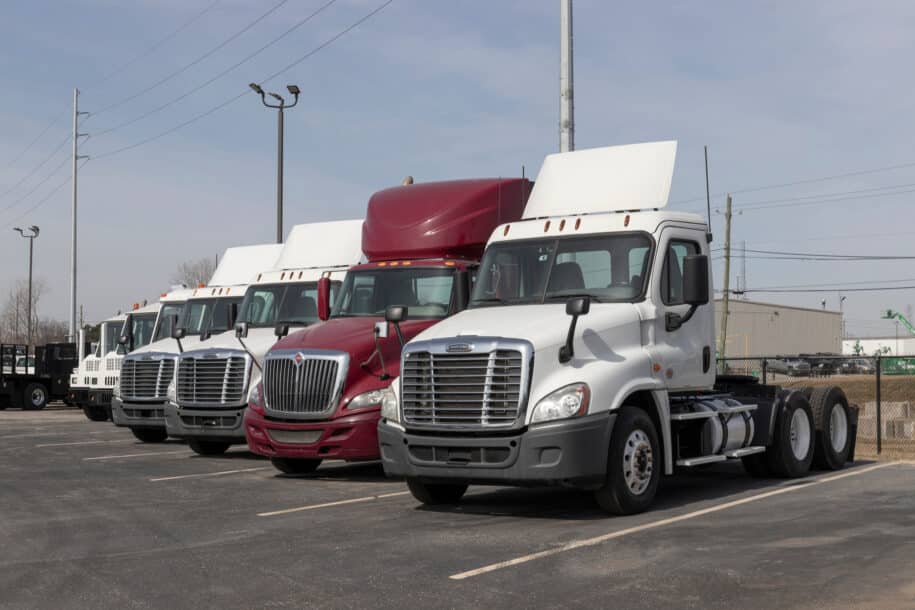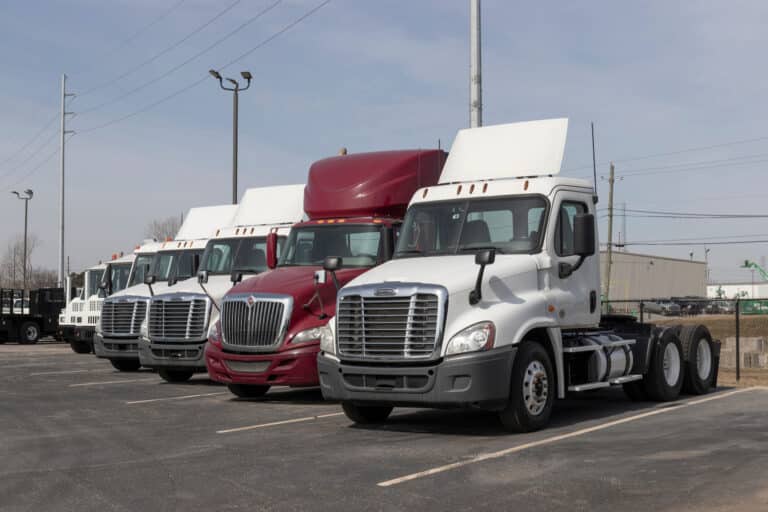 GPS Fleet Tracking Tips in Canada
GPS fleet trackers allow managers in Canada to monitor vehicle locations and other relevant data to identify efficiency gaps, streamline operations, and increase productivity. Tracking devices, also known as automatic vehicle locators, capture real-time data using telematics technology,  including GPS
Read More »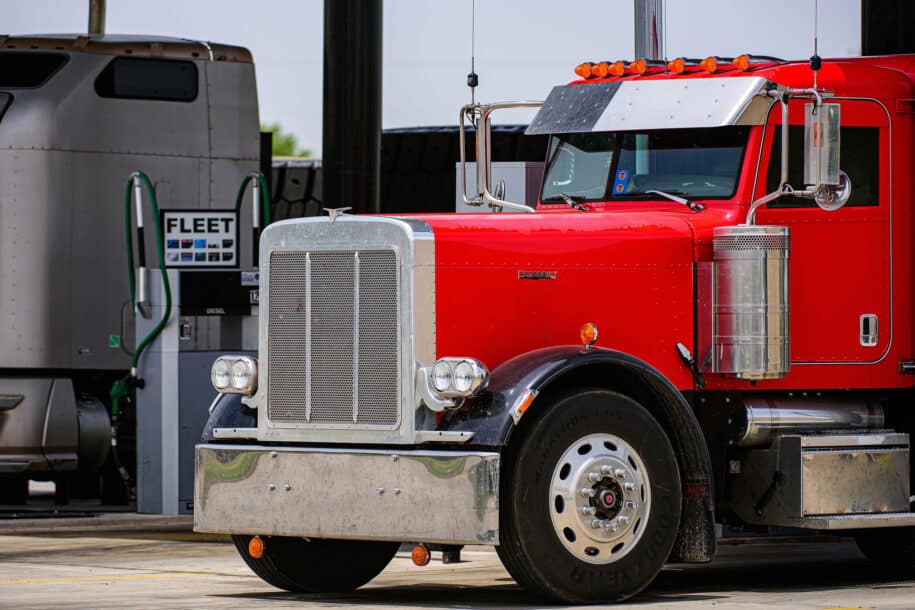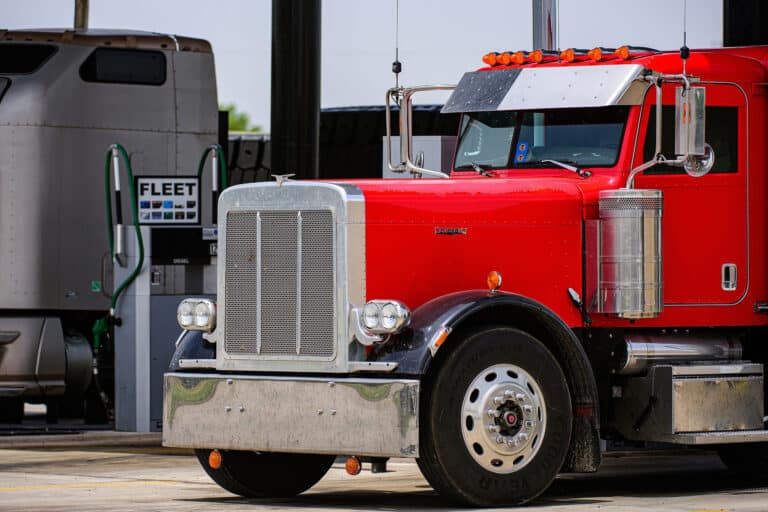 GPS Fleet Tracking Tips in Canada
GPS tracking for trucks helps carriers in Canada cut operational costs and optimize processes by monitoring vehicles' locations in real-time, creating a more efficient workflow and increasing security for drivers and company assets. GPS tracking technology offers way more than
Read More »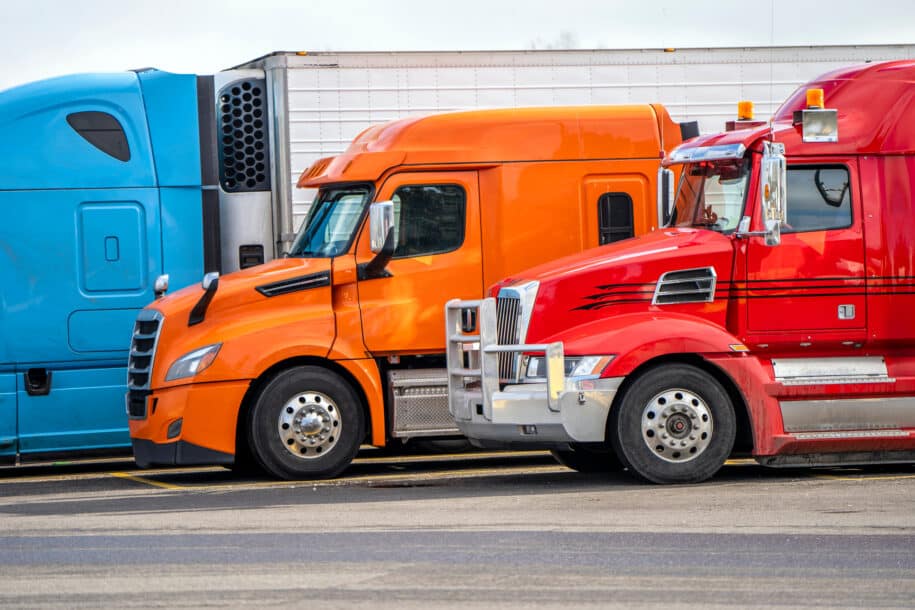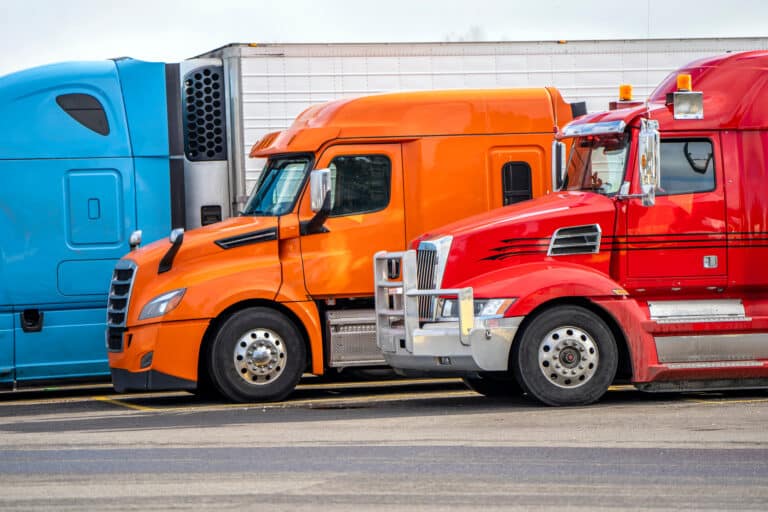 GPS Fleet Tracking Tips in Canada
Fleet and asset tracking gives carriers in Canada an opportunity to improve operations by providing full fleet visibility, reducing operating costs, and increasing productivity. These systems monitor, track, and analyze vehicle data, such as location, diagnostics, routing, fuel consumption, and
Read More »