Trucking companies have much to gain by using a GPS tracker for commercial vehicles. Logistics and overall business performance can reach a new level of productivity thanks to this technology. By having a bird's eye view of ongoing operations, drivers, dispatchers, and fleet managers can cooperate more effectively.
GPS trackers offer several advantages for transportation businesses, such as:
Optimized driving time. Accurately predict departure and arrival times, and see traffic updates and road conditions in real-time.
Reduced fuel consumption. Better planning equals fewer delays, less idling, better vehicle maintenance and lifespan, and more efficient use of fuel overall. With the current price of fuels, fleets can save a significant amount of money.
Protected assets. Track and recover lost vehicles in case of theft.
Improved customer service. The technical support team is much more effective when it has real-time access to the location of their vehicles and loads. Customers benefit from more precise ETA times and increased safety.
Increased safety. Use GPS to prevent and reduce road accidents, monitor and quickly identify unauthorized use of vehicles, and keep location records.This will also reduce the cost of insurance premiums.
How to Choose the Best GPS Tracker
Decision makers must consider several factors and find a practical and well-suited solution to make the most out of a GPS tracker for commercial vehicles. Here are some of the most essential qualities to look for in a tracking system: 
Real-time tracking. The best GPS tracker for commercial vehicles should offer real-time location data instead of hourly updates, helping dispatchers control their workload more effectively.
Compatibility with several vehicle types. Fleets often have several kinds of vehicles. It is important to choose a provider that offers devices that can be connected to each of them.
Easy installation. If the installation process takes too long or has a fee, the overall cost of the product can rise, and downtime can affect profits. There are quick and straightforward hardware options available that can be installed by the driver.  
Ease of use. User-friendly software is critical. Tracking technology is fairly complex, and users must be able to manage it without any trouble. An intuitive manager portal and interface are key to facilitating the implementation of the system.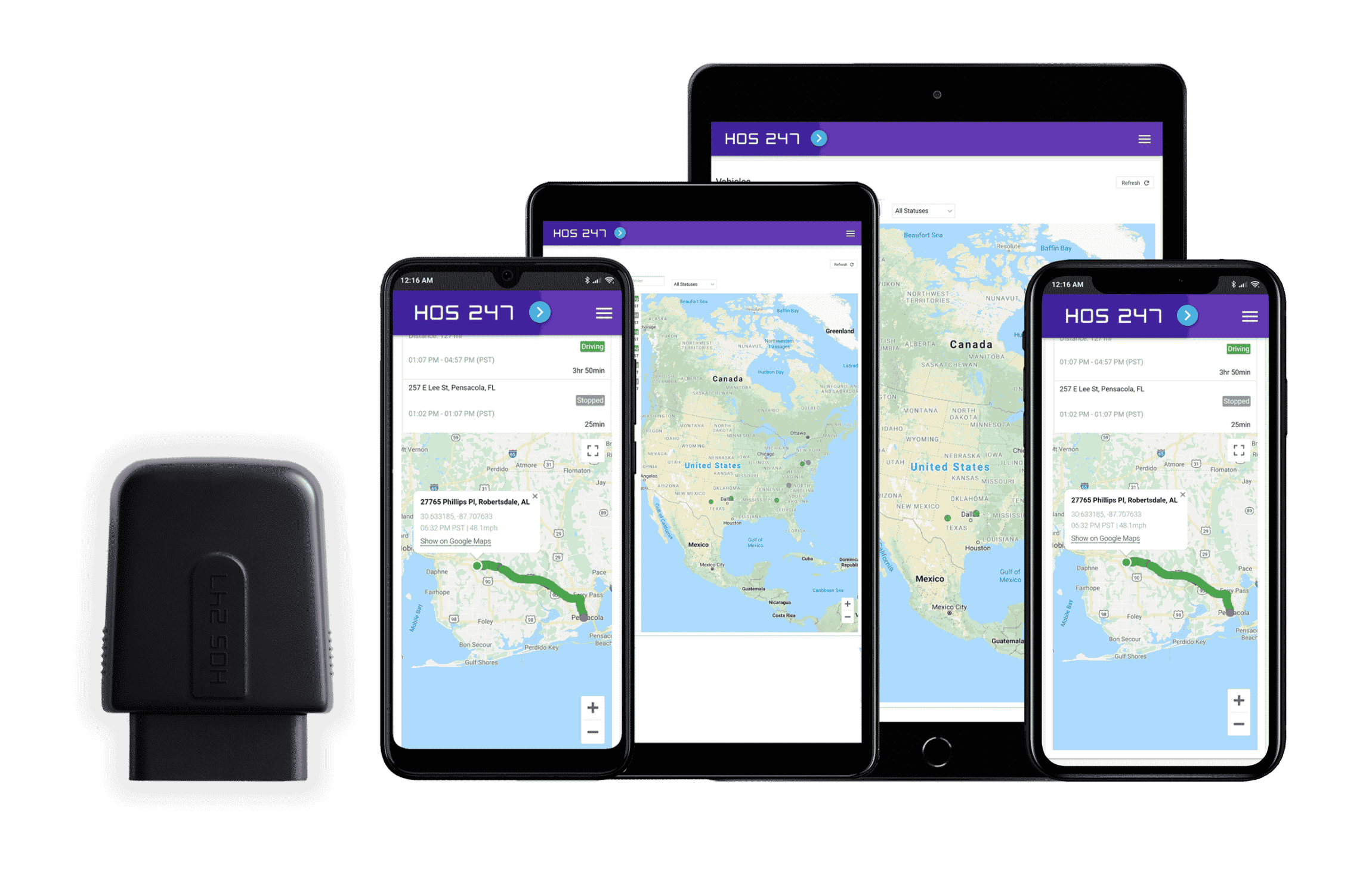 Efficient technical support. Excellent customer support is a must for the best GPS tracker for commercial vehicles. Your provider should assist with how to use the tracker effectively and optimize performance all around. It is also vital to be able to troubleshoot if necessary.
4G technology. Since the phase-out of 3G networks was announced for late 2022, 4G technology has become an essential feature. A device with 4G will give the company a head start and spare truckers the need for a new GPS system. 
Trial period or demo. To have a firm grasp of the technology, try to find providers who offer a trial period to ensure that the GPS is right for your trucking business. 
Electronic logging device. If the truck crosses state borders, the driver must comply with the federal ELD mandate, so finding an electronic logbook that provides GPS technology is a smart solution to cover both needs.
Benefits of the HOS247 4G GPS Tracking System
HOS247 understands the importance of having a quality GPS tracker for commercial vehicles on board. Our team has developed a 4G tracking system that can integrate into an all-in-one fleet management solution. We provide top-rated customer service, offering several practical benefits and bringing additional value to our solution. Our fleet GPS tracking system will improve the fleet's performance by offering these advantages:
Cost savings. The insight gained from GPS tracking allows operators to optimize performance and decrease costs significantly. 

Idle time monitoring. Truck drivers can optimize their fuel consumption with the help of their managers by implementing strategies to keep idling to a minimum.
Optimized routes. GPS tracking allows drivers to plan ahead and save time by avoiding delays caused by traffic or accidents.       
Protected assets. Tracking devices help recover stolen vehicles, preventing massive losses.

Ease of use. The HOS247 GPS tracker software can be downloaded from an internet browser like any standard program. The fleet manager can then log in and the interface will be ready for use.
Fast installation. The 4G GPS tracker for commercial vehicles is a small device; it can be easily installed by the staff. There is no need to bring a technician in, and there are no charges for installation or activation. 
Visible operations. Real-time GPS data enhances fleet visibility and reveals opportunities to improve operations, help dispatchers be more efficient when assigning loads, and raise the level of accountability.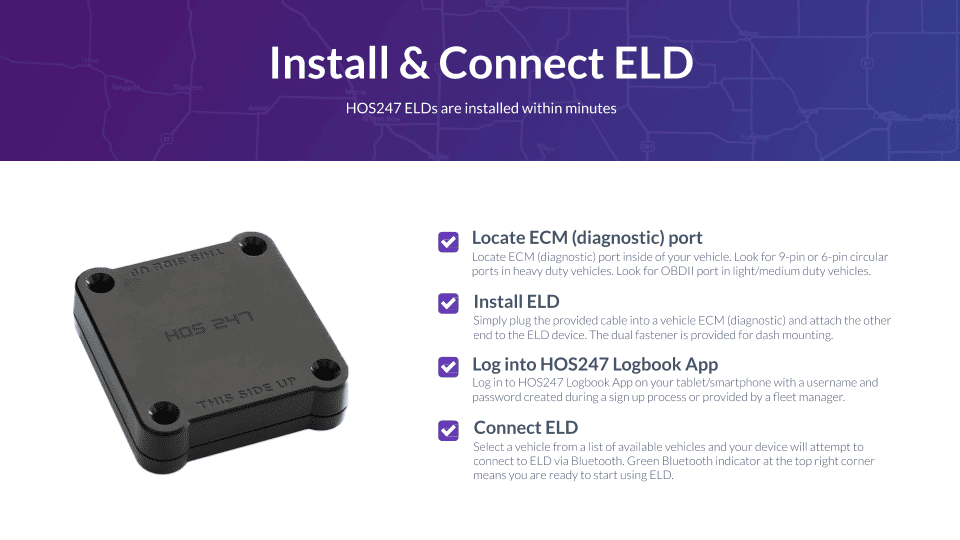 HOS247 Is an All-In-One Fleet Management Solution
By combining several technology-based functions into a single system, the GPS tracker for commercial vehicles can work off other features and further boost productivity and safety. HOS247 values the performance of its products and offers a wide array of benefits, advantages, and additional features to ensure a quality experience for its clients.
The advanced, all-in-one fleet management system has earned the trust of trucking businesses of all sizes all around the country. HOS247's fleet management services include: 
Electronic logbook. Aside from achieving compliance with the mandate, an ELD system collects accurate RODS data, minimizing administrative burdens, lowering insurance premiums, and boosting overall efficiency.
IFTA calculations. Miles driven per jurisdiction are calculated automatically, streamlining complex calculations and reducing the chances of being audited. 
Vehicle maintenance. Routine maintenance is crucial to optimize vehicle performance and extend useful life. An all-in-one fleet management system can send preventive and periodic maintenance reminders for each vehicle. The system will keep a service schedule and records to ease managers' workload.
Fault code detection. The system will notify drivers if an engine problem is detected, allowing issues to be dealt with before they become dangerous.
Automatic idle tracking. This feature increases fleet efficiency and driver productivity by reducing fuel waste caused by idling, and reduces the carbon footprint. Companies can monitor idling incidences to issue incentives and rewards.
HOS247 Customer Care Policies 
At HOS247, we are dedicated to our customers. We give our best daily to provide a quality service so our customers can focus on strengthening their business.
Reliability. We work hard to provide an efficient service. Our company's staple is a customer-centric approach to AI-powered tools for the transportation industry. 
Callback policy. We will never leave you hanging. HOS247 offers multilingual technical support Monday through Sunday to help with troubleshooting, compliance questions, and the everyday use of our devices. 
No contract policy. We do not lock customers into long-term contracts. Instead, we offer subscription plans that can be paid for on a monthly or yearly basis. Depending on the client's preference, plans can be scaled up or down (or even canceled).
One-year hardware replacement warranty. We stand behind our product. Our devices are guaranteed to work seamlessly for at least one year. If they don't, we will provide a free replacement. 
Two-week trial and demos. We provide all the info needed. Before subscribing to our services, you can request a demo or test our products for two weeks to ensure they are the right fit for your business. 
If you are looking for a GPS, ELD, or fleet management provider, take a look at our customer's reviews on app distribution platforms. Truckers appreciate the reliability of the HOS247 logbook and customer service team. You can request a demo or trial and check out our prices here. 
"Awesome. Easy to install and use. Top notch customer service! I recommend it to everyone."


"Great company to deal with. The support team is very responsive and competent. They provided a great deal of education for our company."

"Customer service is great. They helped me to set up everything and showed how to edit my logs. Thank you."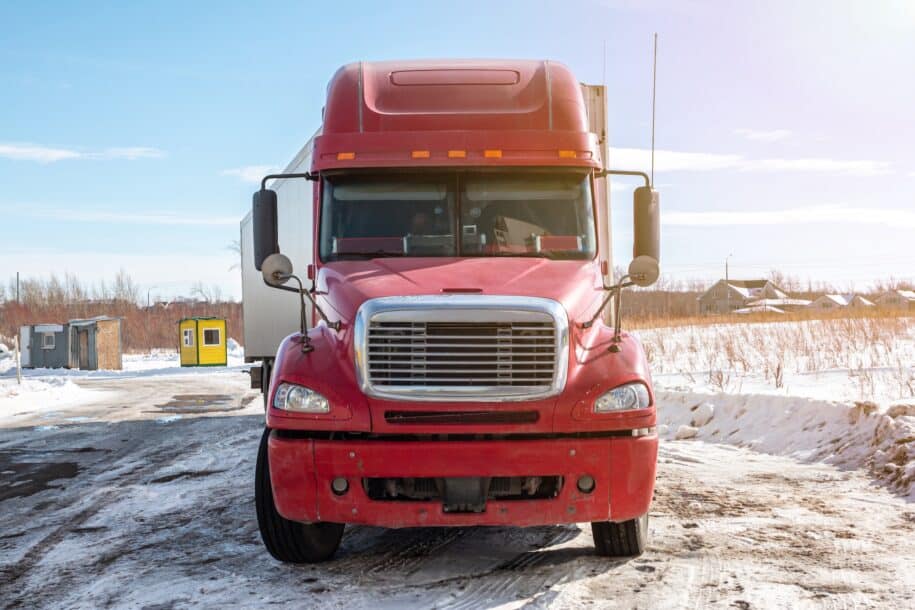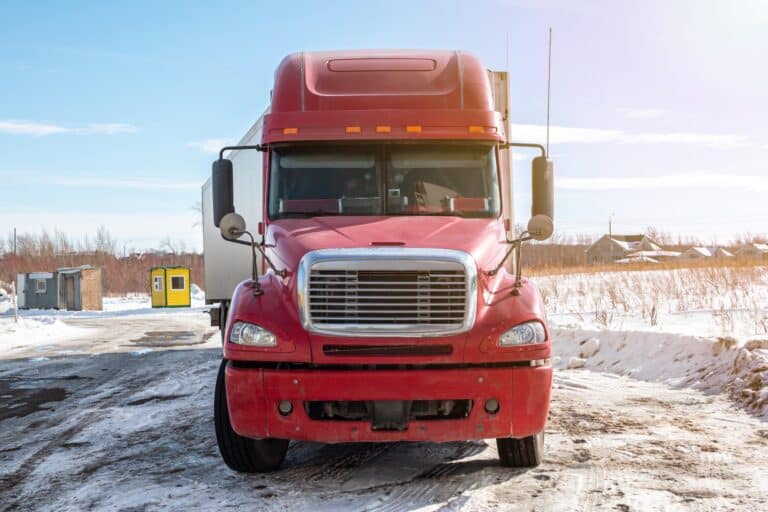 ELD Services & Devices
The Logbook App for iPhone to Rely On Electronic logging devices are critical for drivers and carriers that operate under FMCSA hours of service rules. The challenge is finding the right ELD when there are so many on the market.
Read More »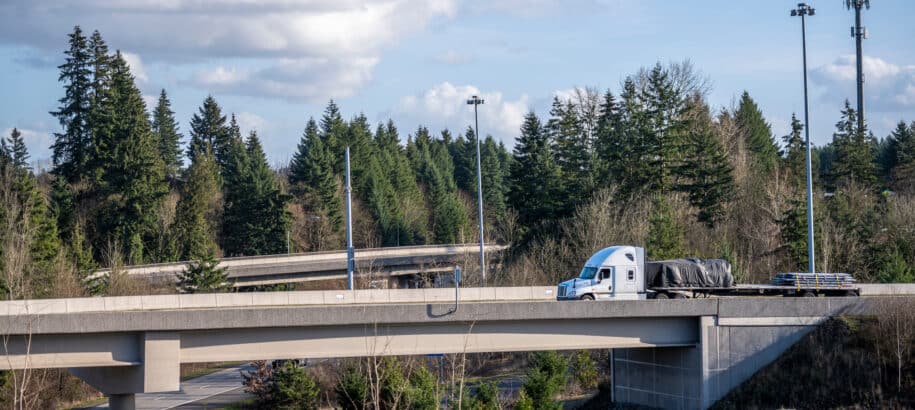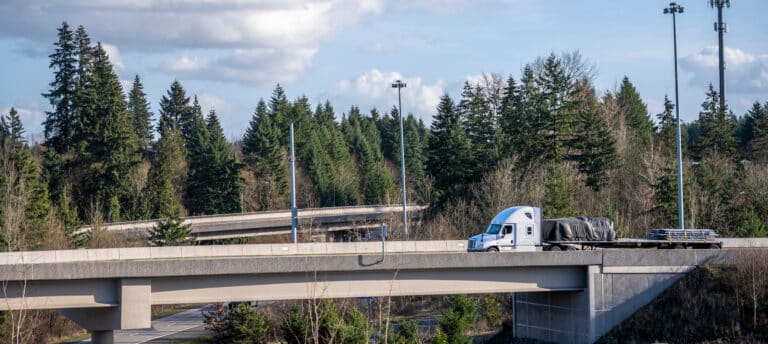 ELD Reviews
Ensuring compliance with government regulations is one of the biggest concerns for small fleets. The use of approved electronic devices is a vital part of that. This article focuses on what to take into account when looking for the best
Read More »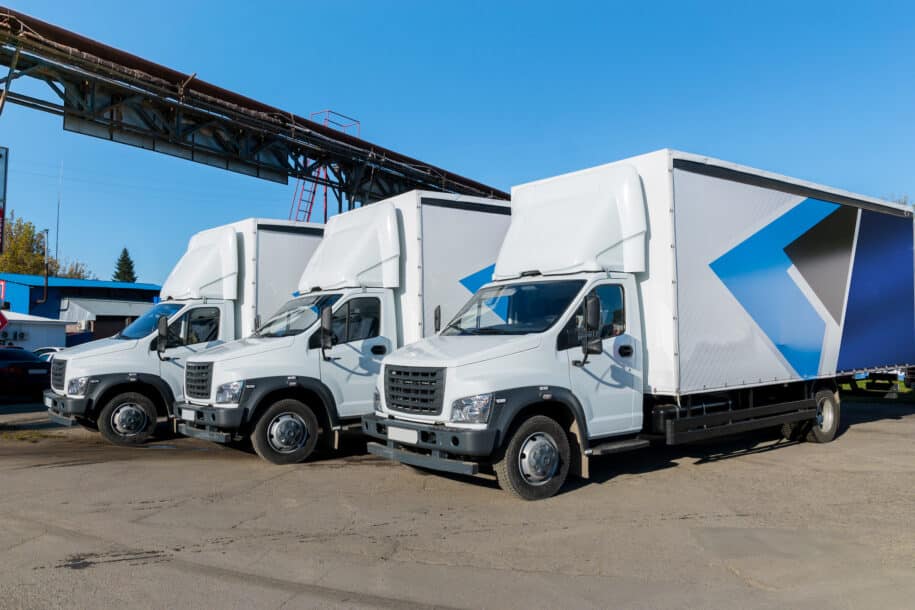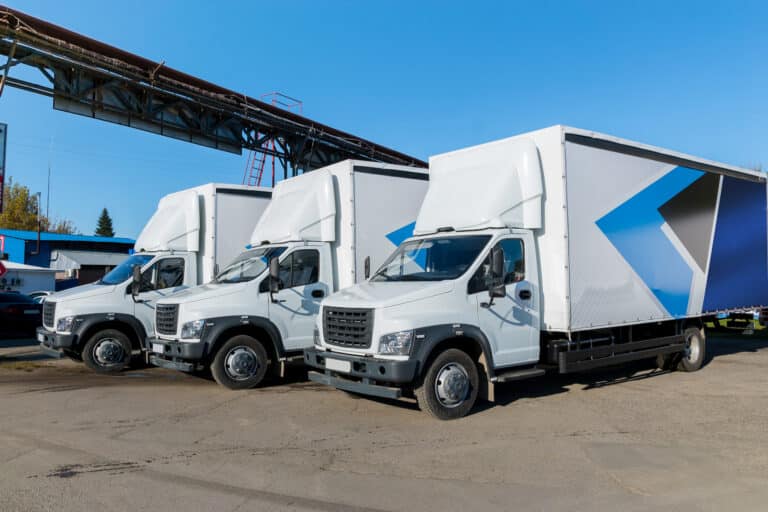 Fleet Management Systems & Features
Trucking businesses need their fleet to safely transport products to their customers. It can be challenging to supervise the individual operations of each truck. Fleet managers often rely on calls to contact drivers or on second hand information to stay
Read More »