A GPS tracker for trucks is an essential tool to optimize fleet management and enhance safety conditions. With a growing demand for these devices in the industry, the market offers various options. Hardware, installation process, and efficient support are just some of the many aspects to consider when selecting a tracking system. This article will cover the essential qualities to look for to help you find the best truck GPS tracker for your business.
Choosing the Best Truck GPS Tracker
A reliable tracker will improve work efficiency and driver safety by monitoring vehicle location, usage and maintenance requirements. Business owners gain monetary and time savings by choosing a provider who offers the best services to optimize fleet operations and provide their drivers with better working conditions. What are the crucial characteristics to take into account while picking a GPS tracker for trucks?
Compatible hardware. Fleet companies that use trailers as well as light- and medium-duty trucks for their services will benefit from a hardware that offers both plug-n-play and hardwired tracking options. Durability is another critical factor to consider as a high-quality electronic device avoids breakage and downtime. 
Easy installation. Look for hardware that doesn't require special installation. If the system is too complicated, it may cost extra to install it. Ideal hardware is the one that your crew members can easily set up.
Ease of use. User-friendly software is a vital feature in a GPS fleet tracking for trucks as it helps avoid moments of frustration and saves time.
Demo or trial period. Make sure potential providers offer a trial period to test their trackers. Reliable companies that are sure of their products' quality provide their clients with trials or demo versions. Take your investment seriously.
Efficient technical support. Buying a high-quality GPS truck tracker is as critical as having access to reliable customer support to help you get the most out of the product. The provider should help you implement the device, troubleshoot, and timely answer any questions about the service.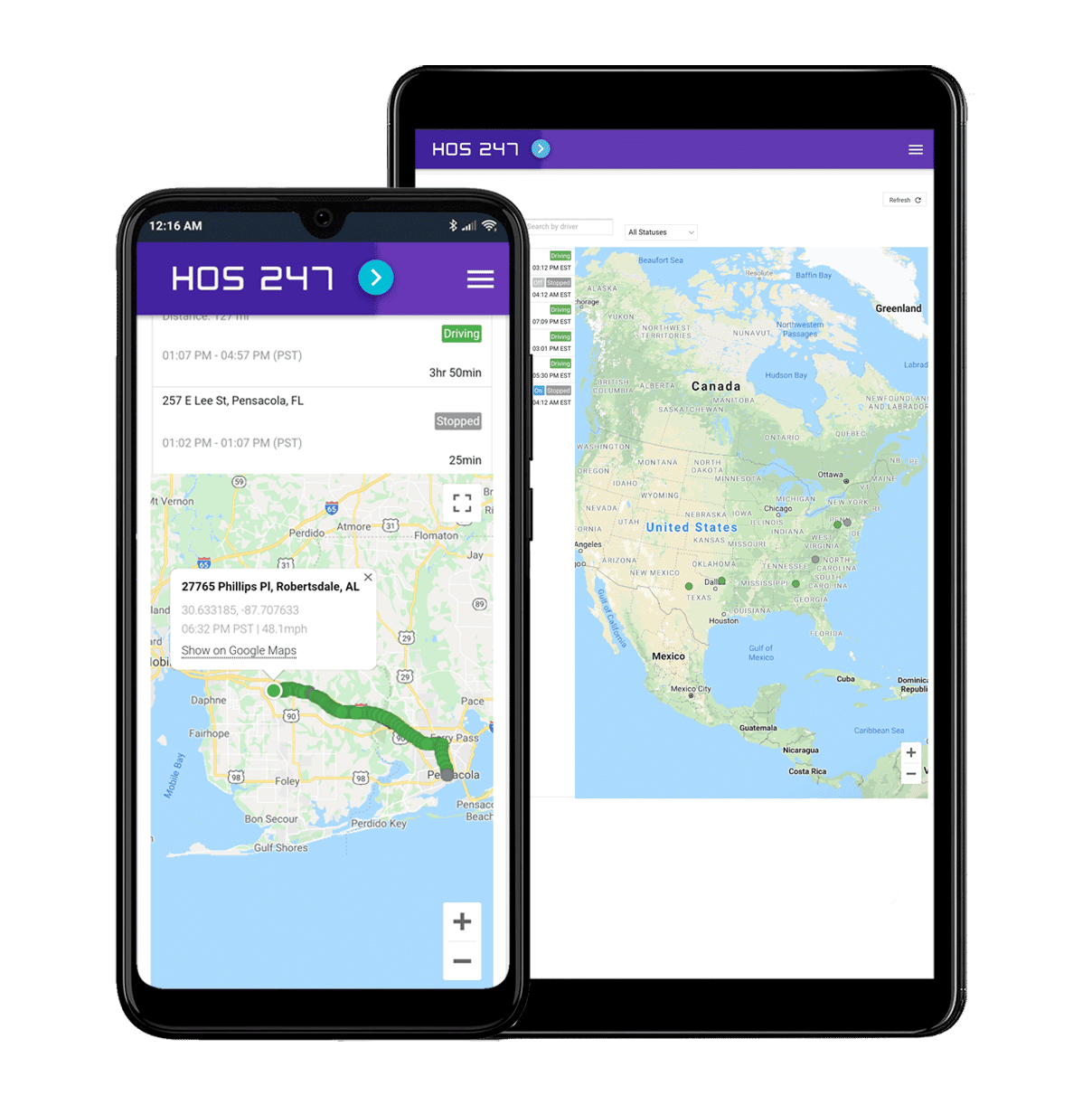 HOS247 Customer Care Policies
The flexible and customer-centered policies of HOS247 have made our company a top-rated fleet management provider. We use a wide range of technological and business tools to provide our clients with reliable service. The benefits we offer customers include:
No contract policy. At HOS247, we don't bind our customers with a long-term contract. Instead, we adjust to their needs by offering monthly and yearly subscription plans. You can easily scale up and down your plan depending on your necessities.  
Two-week trial and demos. If you want to test our service before subscribing to a plan, we invite you to try our devices for two weeks. Request your demo to discover how efficient and reliable our services are. 
Hardware replacement warranty. Our devices are dependable and resistant. HOS247 hardware comes with a one-year free replacement warranty in case of malfunction. 
Top-rated customer support. Doubts and questions are inevitable. HOS247 offers efficient Monday-to-Sunday service. Our international team of professionals will help you with troubleshooting, compliance questions, and the everyday use of our devices. We speak English, Spanish, Polish, and Russian. 
Callback policy. We know how frustrating it may feel to be hung up on the phone when you need assistance. If the call drops, your rep will call you back so you don't have to explain the issue again.
Benefits of the HOS247 GPS Tracking System
The HOS247 GPS tracker for trucks uses the latest technologies to provide an accurate, efficient, and smooth service. AI-powered tools and a set of extra features increase safety and help reduce overall expenses.
4G technology. HOS247 tracker is an up-to-date 4G GPS that offers a better quality of signal and faster response than its 3G counterpart. In addition, all mobile carriers in the US will be obliged to switch to 4G by 2023.
Dependable hardware and intuitive interface. Our hardware is made with high-quality materials that make it more resistant and durable. The software is easy-to-install and has an intuitive interface that helps manage tasks smoothly and save time.
Improved safety and security uses. The HOS247 GPS tracker informs fleet managers if the driver heads to an unauthorized location and can help recover stolen assets.
Extra features to improve fleet management efficiency. The HOS247 GPS fleet tracker for trucks has idling monitoring, a feature that considerably reduces fuel expenses. It also includes code detection and preventative maintenance to help prevent downtime due to breakdowns and improve overall performance.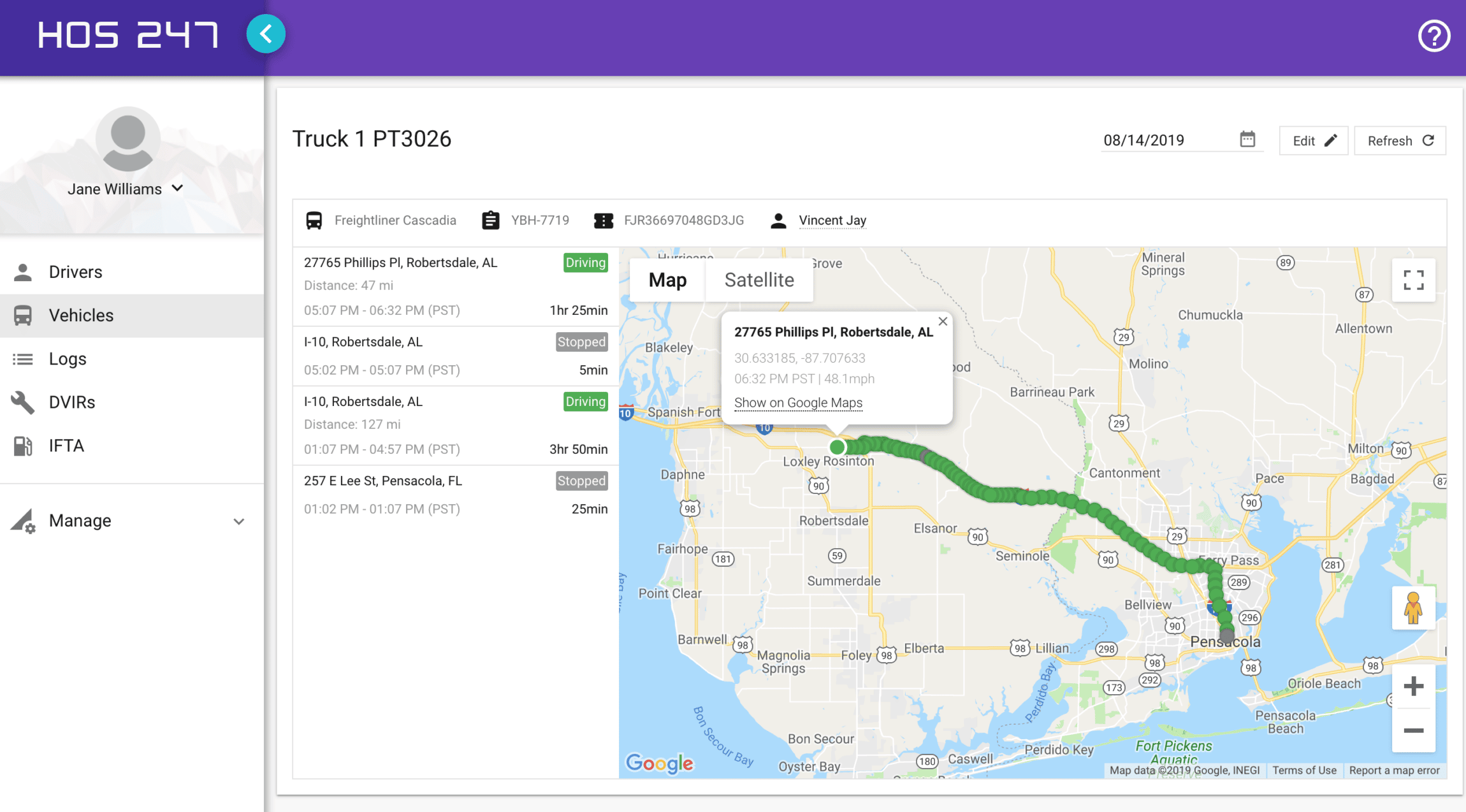 HOS247 GPS Trackers Integrate with ELD
The HOS247 GPS tracker for trucks can integrate with an electronic logging system, which is indispensable for fleets that conduct interstate commerce. The elog helps achieve FMCSA compliance and prevent HOS violations and fines.The rule was implemented to ensure safety of the road by tracking driver's house of service records. By synchronizing with the vehicle engine, the electronic logging device is able to record driving time and create driver's records of duty status, helping them achieve FMCSA compliance. 
Who must use electronic logging devices?
Current federal legislation requires most commercial drivers, subject to HOS, to record driving hours using an approved electronic logbook. However, FMCSA allows limited exemptions to the ELD mandate for the following categories: 
Short haul drivers.
Drivers who keep paper RODS for not more than eight days out of a 30-day period. 
Drivers of drive-away-tow-away operations.
Drivers of vehicles with engines manufactured before 2000.
Who sets up requirements for ELD devices?
The Department of Transportation designs the requirements for electronic logbooks. Any ELD systems have to be approved by the Federal Motor Carrier Safety Administration. 
What are these requirements?
Official certification from the manufacturer.
Conformity to technical specifications set by the DOT.
Registration with the FMCSA.
Supporting documents for drivers: ELD user manual, instructions in case of malfunction and a data-transfer guide. 
Key Functions of an ELD
Electronic logging devices are meant to improve HOS compliance while automating trucking processes. Some of the functions they provide are:
Synchronization with the engine control unit.
Automatic record of vehicle parameters.
Collecting data about vehicle performance.
Electronic data transfer via telematics or Bluetooth.
Tamper prevention. 
Certification of driver records.
Issuing reports for safety officials on-demand.
User manual.
Audio controls.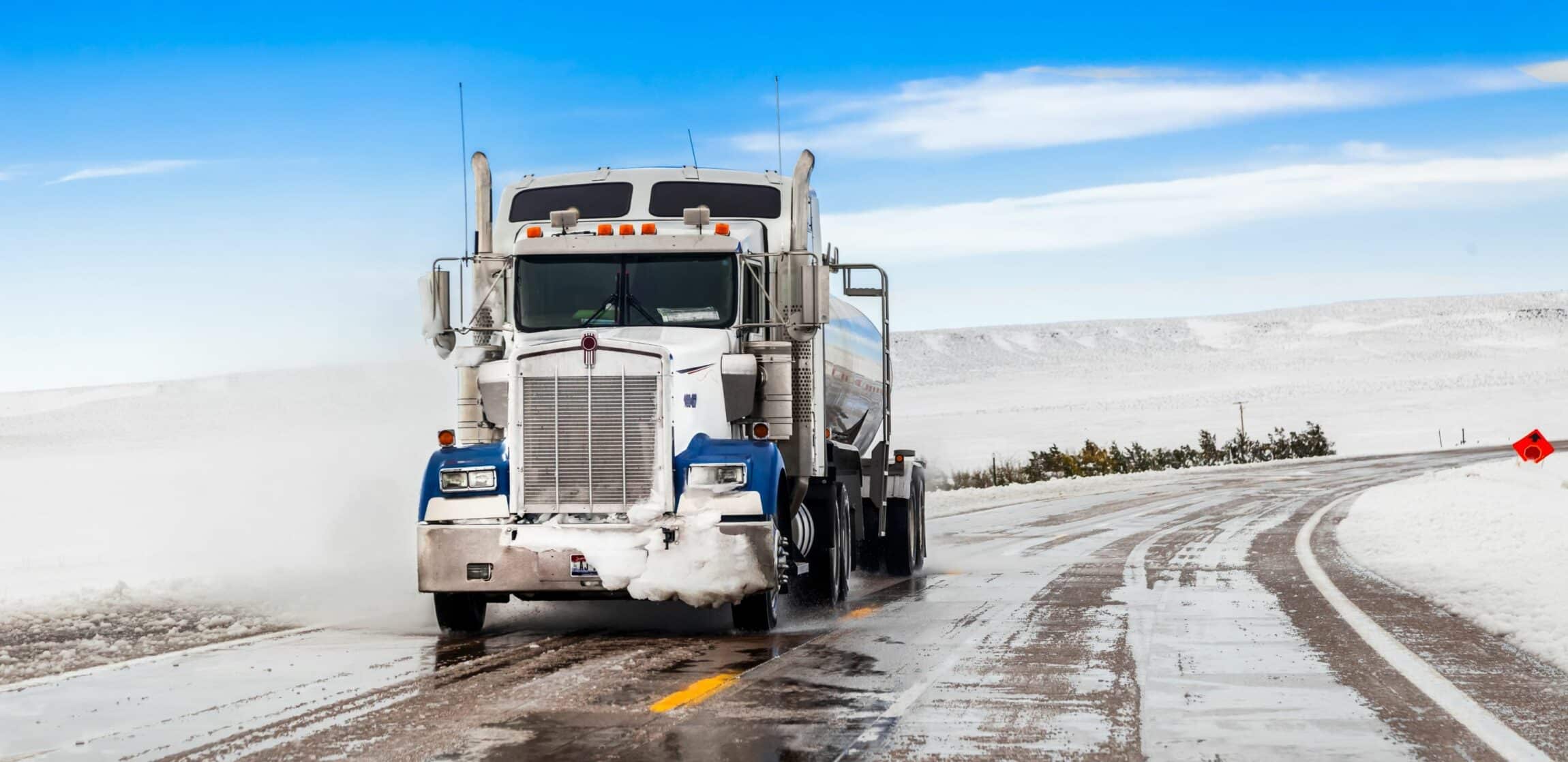 Electronic logging systems can be of two types according to the device used to display the data collected by the hardware piece:
Manufacturer's proprietary tablets. The service provider includes a tablet with a preloaded mobile app. 
Bring your own device (BYOD) solutions. The logbook app can be downloaded from app distribution platforms like Google Play or the App Store and installed on the driver's smartphone or tablet of choice. 
HOS247 is a top-rated ELD provider approved by the FMCSA. Our BYOD electronic logbooks are efficient and easy to use. Visit our HOS247 App Reviews page to find out what our clients think about the service and request your demo. 
"Awesome. Easy to install and use. Top notch customer service! I recommend it to everyone."


"Great company to deal with. The support team is very responsive and competent. They provided a great deal of education for our company."

"Customer service is great. They helped me to set up everything and showed how to edit my logs. Thank you."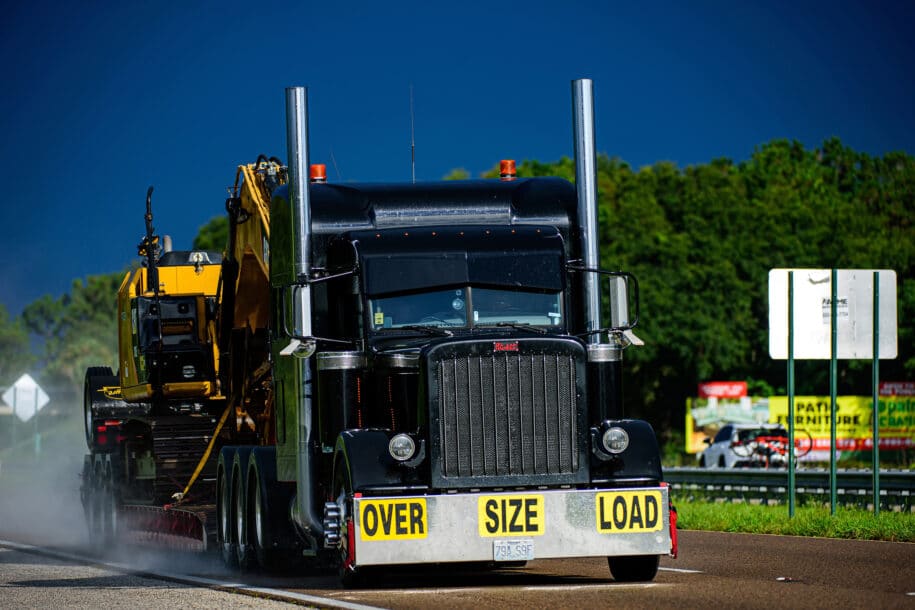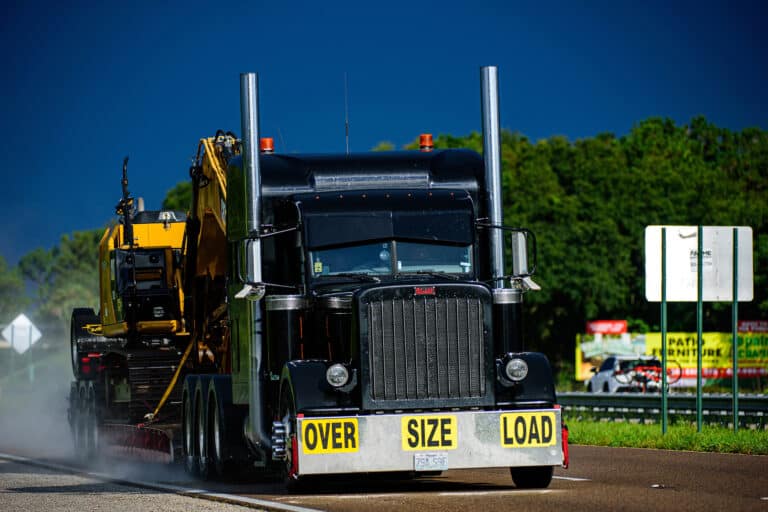 Fleet Management Systems & Features
Truckers appreciate GPS fleet management systems for various reasons: workflow optimization and considerable cost savings are among the main arguments in their favor. Devices that offer real-time tracking help motor carriers gain complete control over their operations, increasing the security
Read More »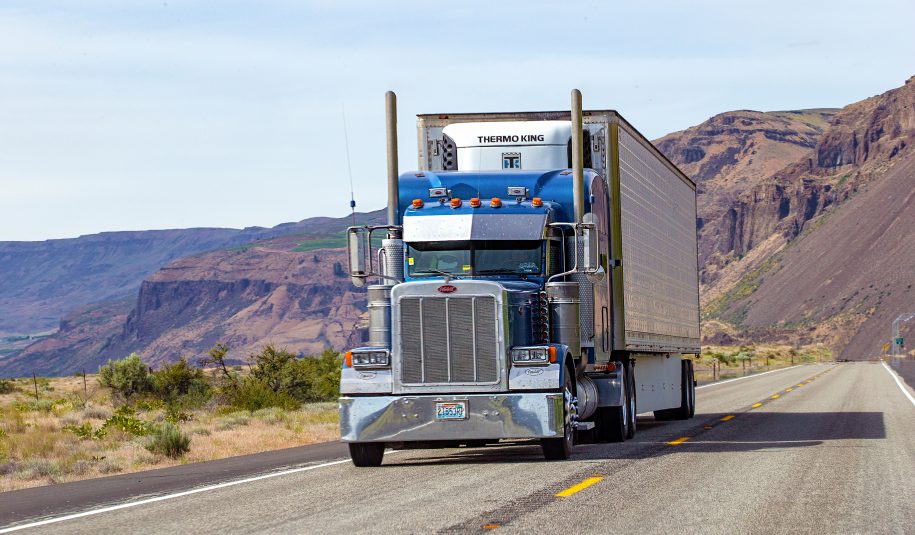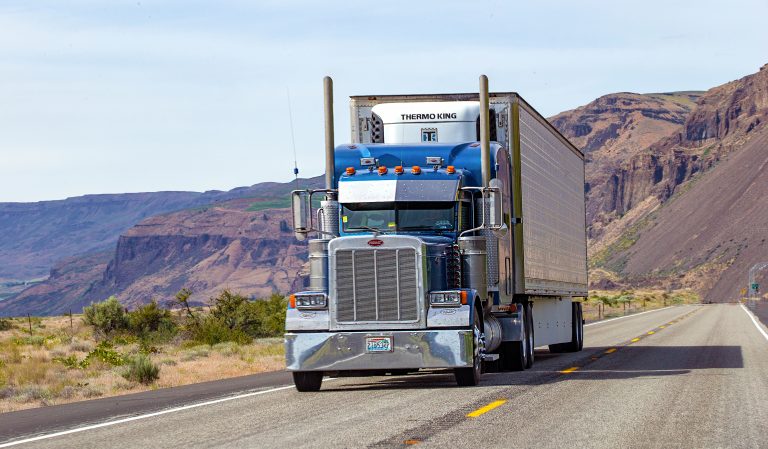 ELD Services & Devices
The federal mandate for electronic logging devices for trucks is now in full force. This new requirement became law in February 2016 with a mandatory implementation date of December 2017. An exemption was originally made for AORBD (Automatic On-Board Recording
Read More »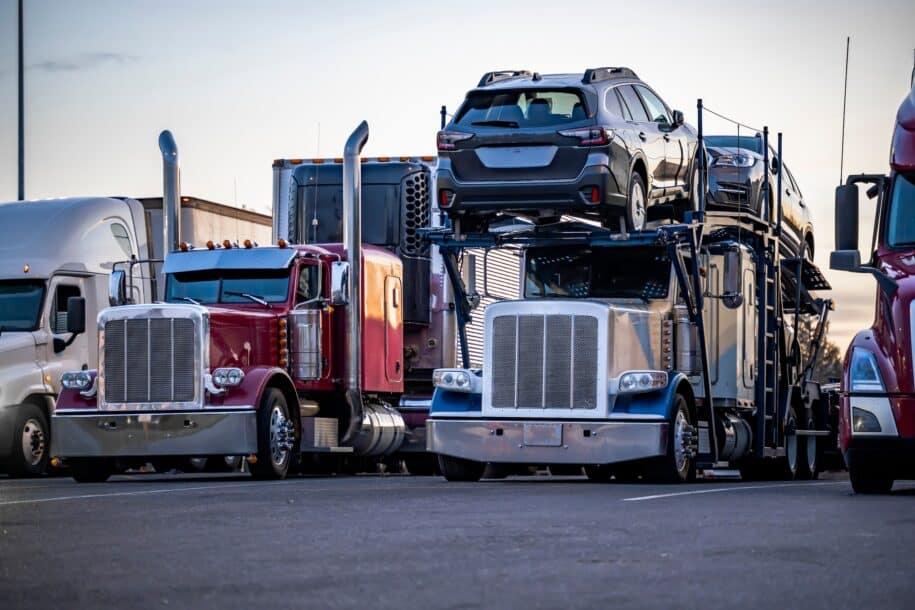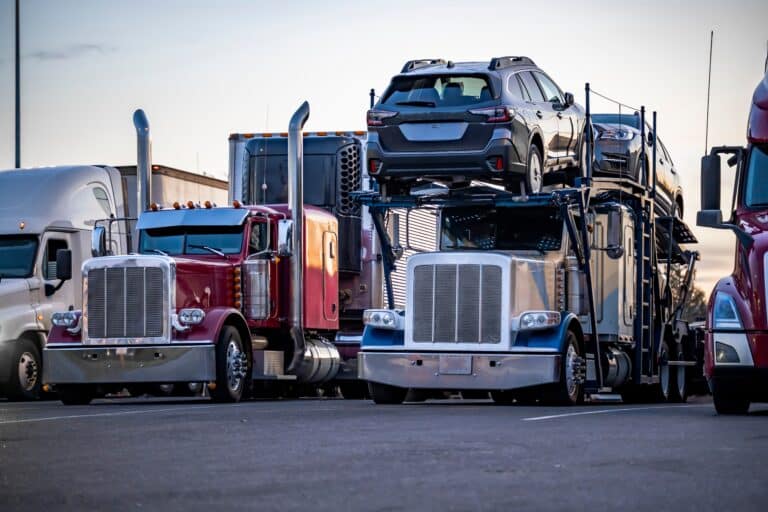 ELD Services & Devices
Drivers are subject to inspection by the FMCSA at any time. It is best to stay on the safe side, and that includes having a dependable truck driver log. To do that, drivers looking for an ELD should spend some
Read More »