Tracking trucks with GPS helps carriers cut operational costs and optimize processes by monitoring vehicles' locations in real-time, creating a more efficient workflow and increasing security for drivers and company assets.
GPS truck tracking systems offer way more than just accurate vehicle monitoring; it allows managers to analyze collected data and gain valuable insights on vehicle maintenance, fuel consumption and other information that can be used to streamline workflows and optimize operations, improving profitability and customer satisfaction. That said, choosing the right system is essential to enjoy the benefits that trucks GPS tracking has to offer. In this article, we will answer important questions about GPS tracking and the benefits of HOS247 trackers.
Benefits of HOS247 Trucks GPS Tracking
When purchasing a GPS tracker, motor carriers expect to get a reliable solution to help them manage their fleet more efficiently, comply with safety regulations, and smoothen daily processes. HOS247 4G GPS tracking for big trucks is an up-to-date, accessible technology that provides monitoring and managing services for your fleet and boosts the overall productivity of your business.
The latest technology. Our system incorporates a 4G LTE network that can be ten times faster than 3G systems. The real-time fleet monitoring encourages better, more efficient fleet management and more transparent communication between operators and dispatchers. 
High-quality GPS truck tracking devices. Depending on our customer needs, we offer hardwired and ELD-integrated options. The trackers are tamper-resistant and provide truckers with insightful data. Installing this GPS tracking for trucks is easy and can be done by your own staff.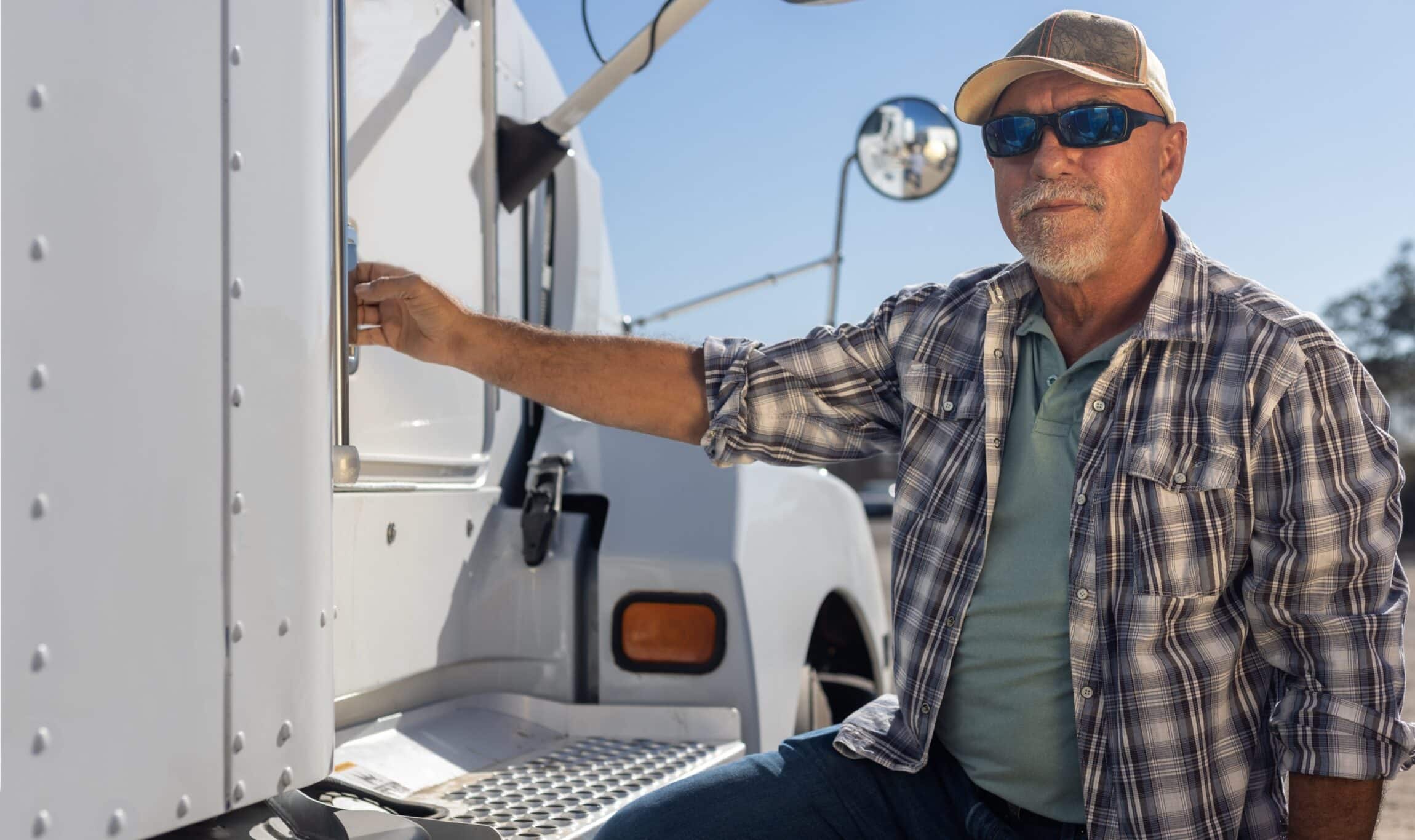 Easy to use and install GPS software. Our software can be easily downloaded from your internet browser and installed in a few minutes. 
Accessible online portal. The comfortable fleet manager portal gives access to accurate reports based on the trackers' data, including idling, maintenance issues, vehicle diagnostics, and more.
Optimized dispatch. Tracking truck drivers facilitates the work of dispatchers who can monitor vehicles in real-time and improve load assignment, avoiding deadhead miles.
Increased security. The system will notify the manager in case a vehicle is used during off-hours, driven to unauthorized locations, or has been involved in an accident. Besides preventing theft, concealed GPS devices may also help recover stolen assets.
Timely vehicle maintenance. The fleet maintenance feature issues automatic alerts when a truck is due for preventative maintenance, helping avoid major breakages and ensuring vehicles' compliance with safety guidelines, and prolonging its useful life.
Significant savings. Last but definitely not least, our reliable tracking device helps cut fuel costs caused by inappropriate driving behaviors such as speeding and idling. Fleet managers can use this information to identify areas of opportunity and implement solutions. By coaching your drivers to be more careful about fuel waste, you also reduce the carbon footprint produced by your company's activities.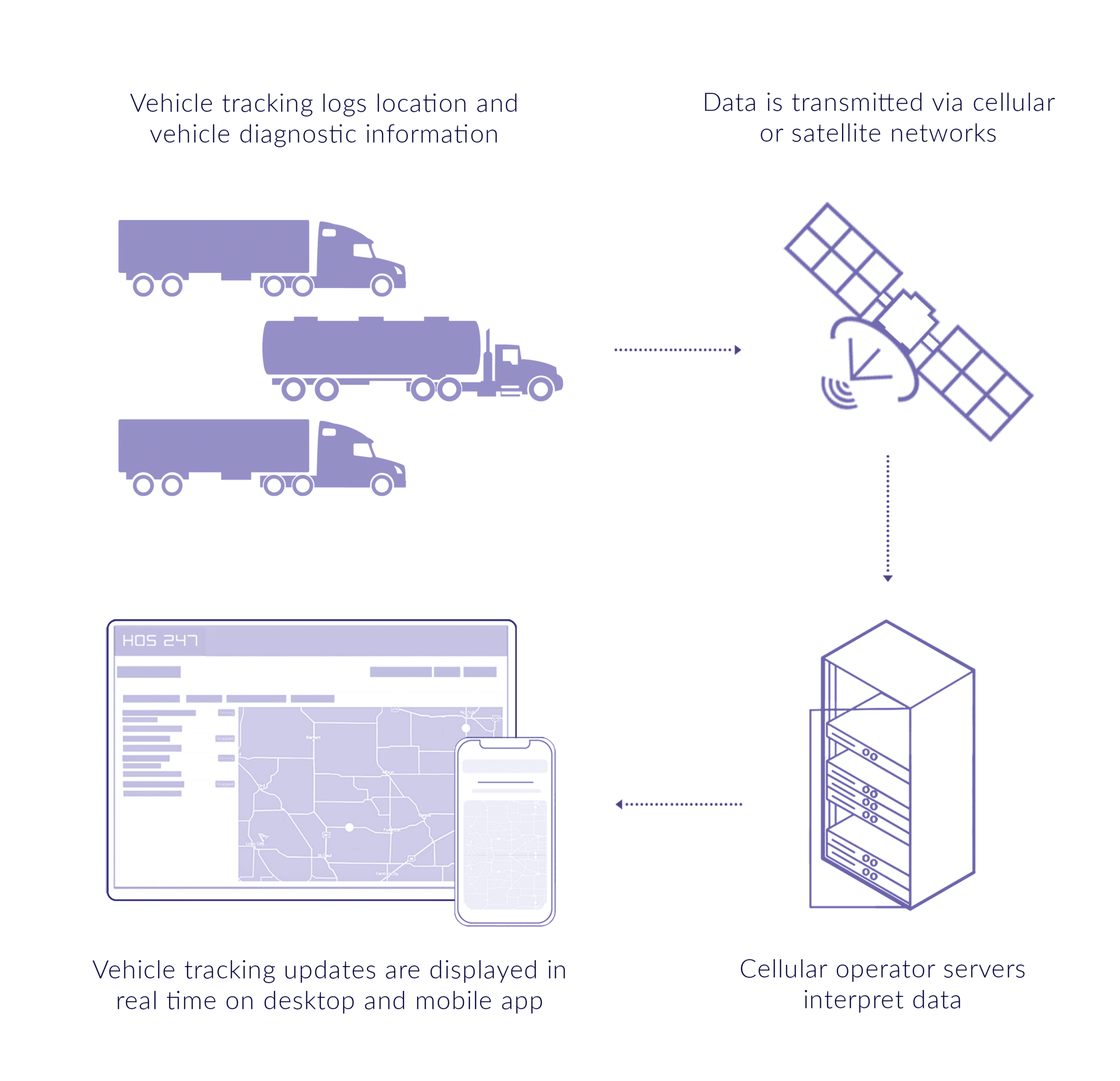 How Does GPS Tracking Work?
Global navigation systems use data transmitted in real-time via Global Positioning Systems (GPS satellites). Satellite signals are processed in a designated receiver built into the GPS tracker device installed in the vehicle. It computes the geographic location, time, and other data related to the vehicle and transmits it wirelessly to the providers' servers via 4G/LTE cellular networks. The trucks GPS tracking system analyzes the received information and displays it via the fleet manager portal, allowing total control over fleet operations.
Can GPS Integrate with ELD?
HOS247 GPS can be fully integrated with our ELD solution to achieve FMCSA compliance and 24/7 monitoring with a single system. Easily paired with a tablet or smartphone through an app, the electronic logbook collects all relevant information about a driver's status, drive-shift-and-cycle time left, violations, and more, allowing operators to manage their digital driver log books and inspection reports with ease.
In addition to HOS records and inspection data, the ELD + GPS system generates complete reporting on fuel usage, vehicle diagnostics, and IFTA mileage, helping streamline internal workflows. When integrated with GPS, an ELD solution notifies fleet managers about problematic issues via a web-based portal. The system helps fleet administrators modify risky driver behavior, reduce fuel expenses, avoid expensive repairs and stay in compliance with ELD regulations.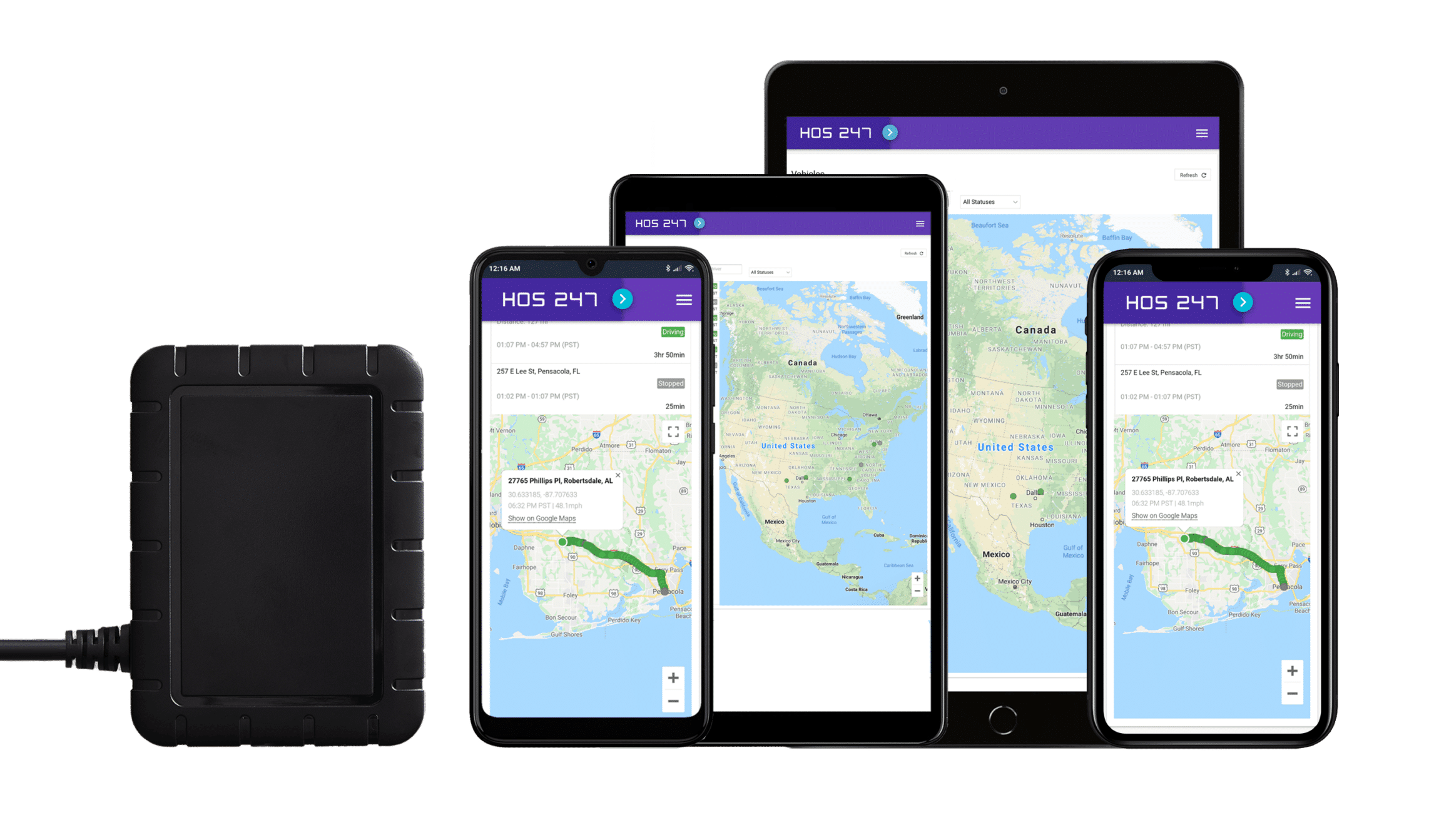 HOS247 GPS Tracking Devices
With a focus on customer needs, HOS247 offers both 24/7 monitoring hardwired and ELD-based GPS hardware options. ELD-integrated hardware is set up by plugging into a vehicle's OBD II port. Quick and simple installation allows truckers to rotate the hardware between different vehicles if needed.
Electronic logging device integration helps to stay compliant with the ELD law by accurately recording driving hours and sending alerts in case of possible HOS violations. The 24/7 monitoring hardwired tamper-proof device can be concealed inside the truck for security purposes. Battery-powered, this tracker will function even when the vehicle is off, allowing fleet managers to track the location and recover assets in case of theft. 
HOS247 hardwired devices collect GPS coordinates every 30 seconds when the truck is in motion. Even when the driver is not connected to the HOS247 gateway, fleet managers can still track vehicle data as the GPS truck tracking device collects it separately from driver data. The quality of the 4G connection receiver is optimal to ensure accurate data recollection in remote areas and in any weather conditions.
Trucks GPS Tracking and Privacy 
The use of GPS trackers in the fleet industry may raise questions related to privacy issues since business owners monitor the location of their drivers. Although it's legal to have a GPS tracking system installed in your trucks and assets, you still may want to check existing federal and state laws to ensure that your actions are legal.
With new cases continually coming up, the legislation on this topic keeps expanding, adding extra amendments. These are the main points you need to know to avoid problems with the law:
You can use trucks GPS tracking in your own vehicle or asset.
Make sure that your employees are aware they are being monitored during their shifts.
Only use trucks GPS tracking for business-related purposes.  
By being transparent with their employees about the use of GPS tracking on trucks, business owners build trust  and ethical working conditions.
"Awesome. Easy to install and use. Top notch customer service! I recommend it to everyone."


"Great company to deal with. The support team is very responsive and competent. They provided a great deal of education for our company."

"Customer service is great. They helped me to set up everything and showed how to edit my logs. Thank you."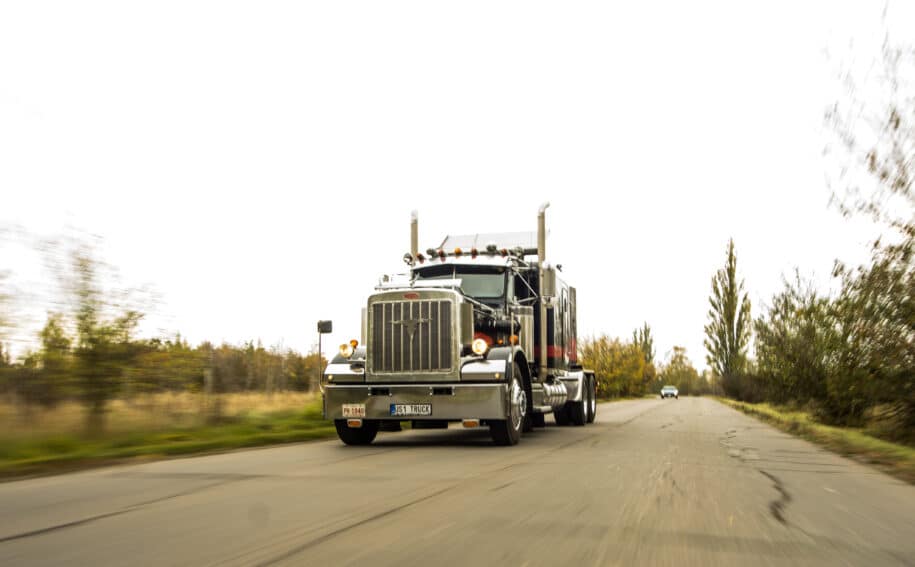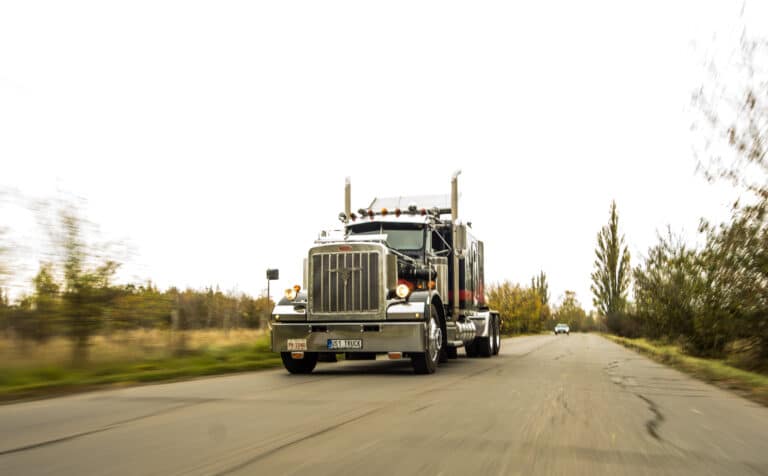 GPS Fleet Tracking Tips
GPS fleet tracking for small businesses is one of the most cost-effective and useful tools found in the trucking sector. Smaller-scale businesses can perform very well because of their capacity for lean management. Using technology to optimize processes and effectively
Read More »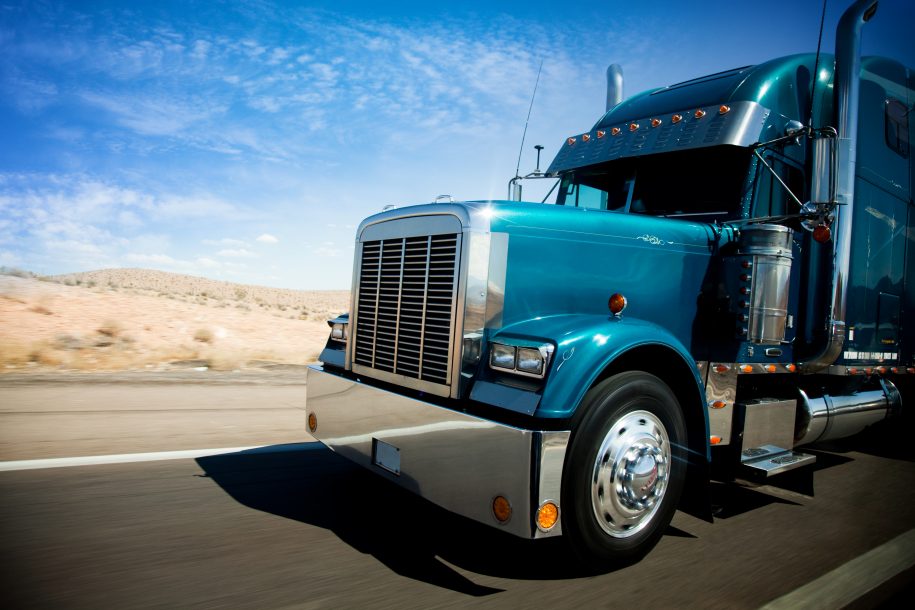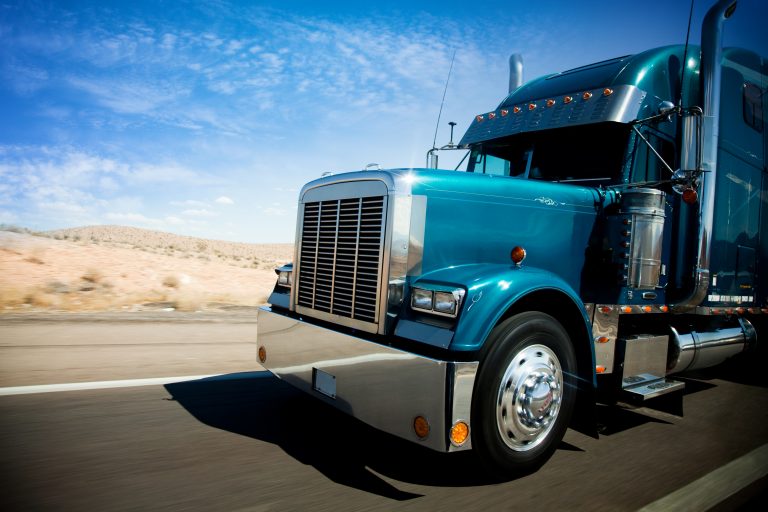 ELD Services & Devices
Electronic Logbooks are mandated by the DOT and FMCSA. Carries and owner-operations must comply with the HOS compliance rules or risk fines and delays. In an effort to avoid these problems transportation companies may be paying more than they should
Read More »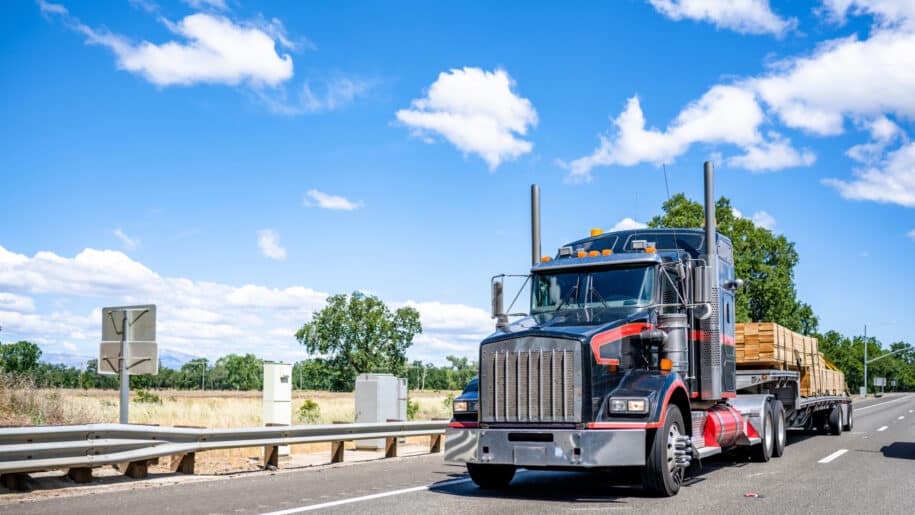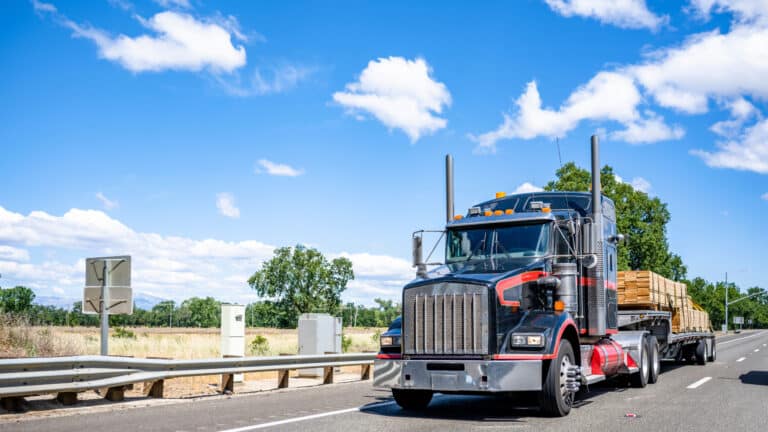 ELD Services & Devices
How to Do a Truck Driver Log Book: Simplify Compliance with the Right ELD A trucker's log book is a vital document that provides a detailed account of a CMV driver's activities within a 24-hour period. In accordance with HOS
Read More »