The FMCSA has developed a list for electronic logbook providers to register their logbook systems. Trucking professionals must choose from this ELD approved list. However, there are hundreds of options, so carriers should consider several factors before deciding which one is right for their company. This article will look at some critical qualities to look for in elog providers and devices to help truckers choose a logbook to fulfill federal requirements while adding value to their business.
Pitfalls of the ELD Approved List
The providers on the FMCSA's ELD approved list self-certify their devices by declaring they meet the requirements for approval, but the FMCSA does not verify compliance. This means that, in a strict sense, there are no ELD certified devices, they are merely approved by the Administration and can be removed from the list if user complaints mount up. In that case, carriers whose devices' approval has been revoked will be given eight days to switch vendors. Truckers can sign up on the FMCSA's website to receive updates about revocations in case there is an issue with their vendor.
You can verify your provider is on the ELD approved list here: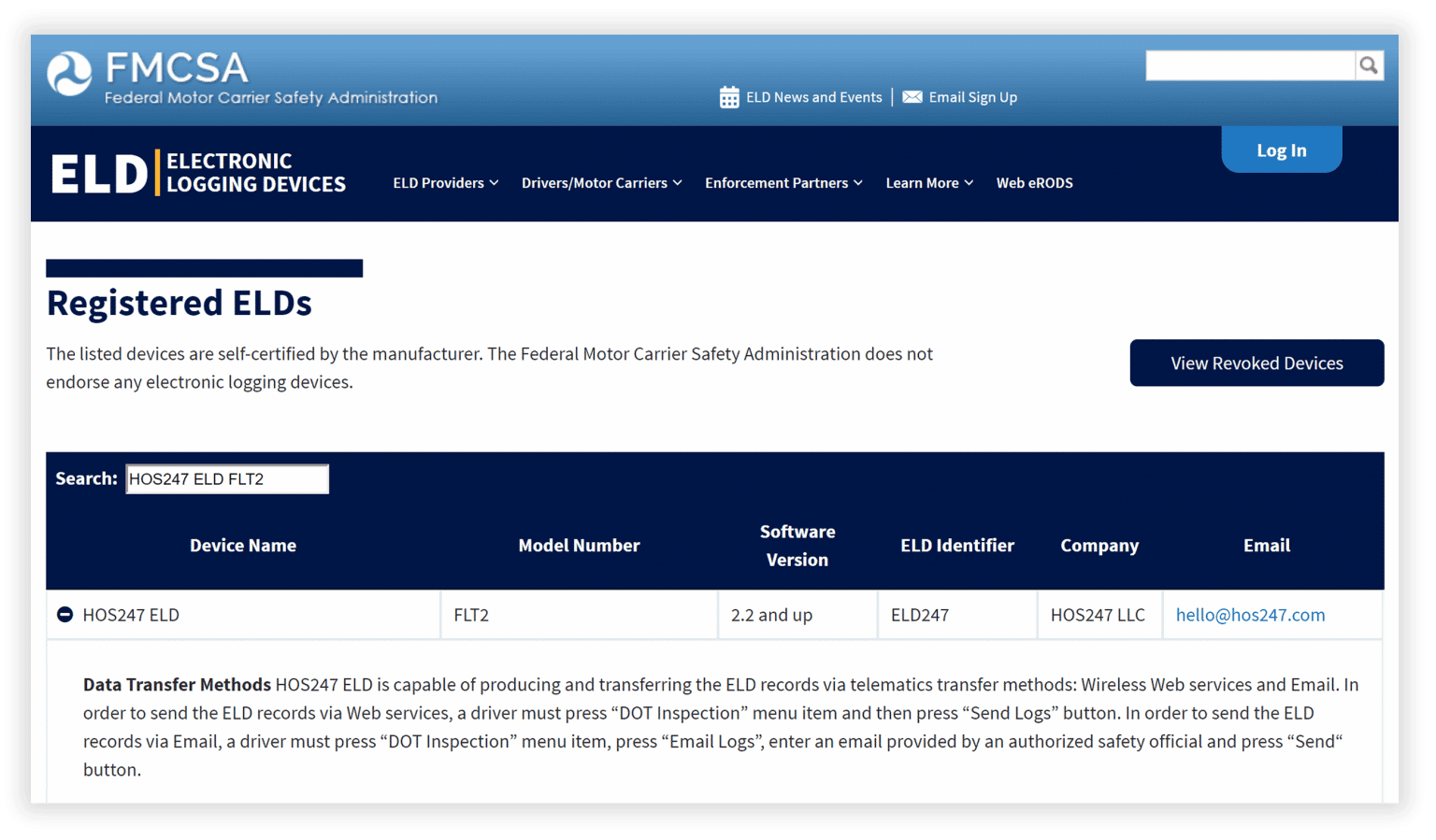 HOS247 Is a Top-Rated FMCSA Approved Elog Provider
HOS247 provides a practical and dependable electronic logbook with high-quality technical support. Our purpose is to help our clients increase profitability and grow their businesses. We have tested our solution extensively to make sure it fulfills all requirements and, apart from being on the ELD approved list, the HOS247 logbook app is top-rated by truckers. Customers appreciate the easy use of the app and several other benefits, including:
Efficient support team. Our technical support is available seven days a week in English, Spanish, Polish, and Russian. Our reps are well-trained to address any issue with the hardware or software.
High-quality hardware. Our hardware has been tested to make sure the performance is optimal at all times. The fast and stable Bluetooth connection keeps data collection on point and in real-time. 
Compatible software. The HOS247 logbook app has versions for Android and iOS smartphones and tablets to suit the preference of drivers. 
Trial-period. Take HOS247 for a test drive for two weeks and become familiar with the system. Customers may return their purchase within this period and get a hassle-free refund, no questions asked.
No contract policy. The service is provided as a subscription, so users do not need to commit for extended periods of time and can decide to scale their plans as they see fit. Payments can be monthly or yearly.
Extra features. With these features, efficiency is improved and the workload is optimized:  

Fleet maintenance. Keep the fleet in peak condition and increase vehicles' useful life by scheduling preventative maintenance and avoiding breakdowns.
Vehicle diagnostics. Get real-time alerts for diagnostic issues to prevent violations and increase driver safety.
IFTA mileage calculations. Automated calculations eliminate human error and make management more efficient. 
Idling monitoring. Reduce fuel consumption and increase profitability.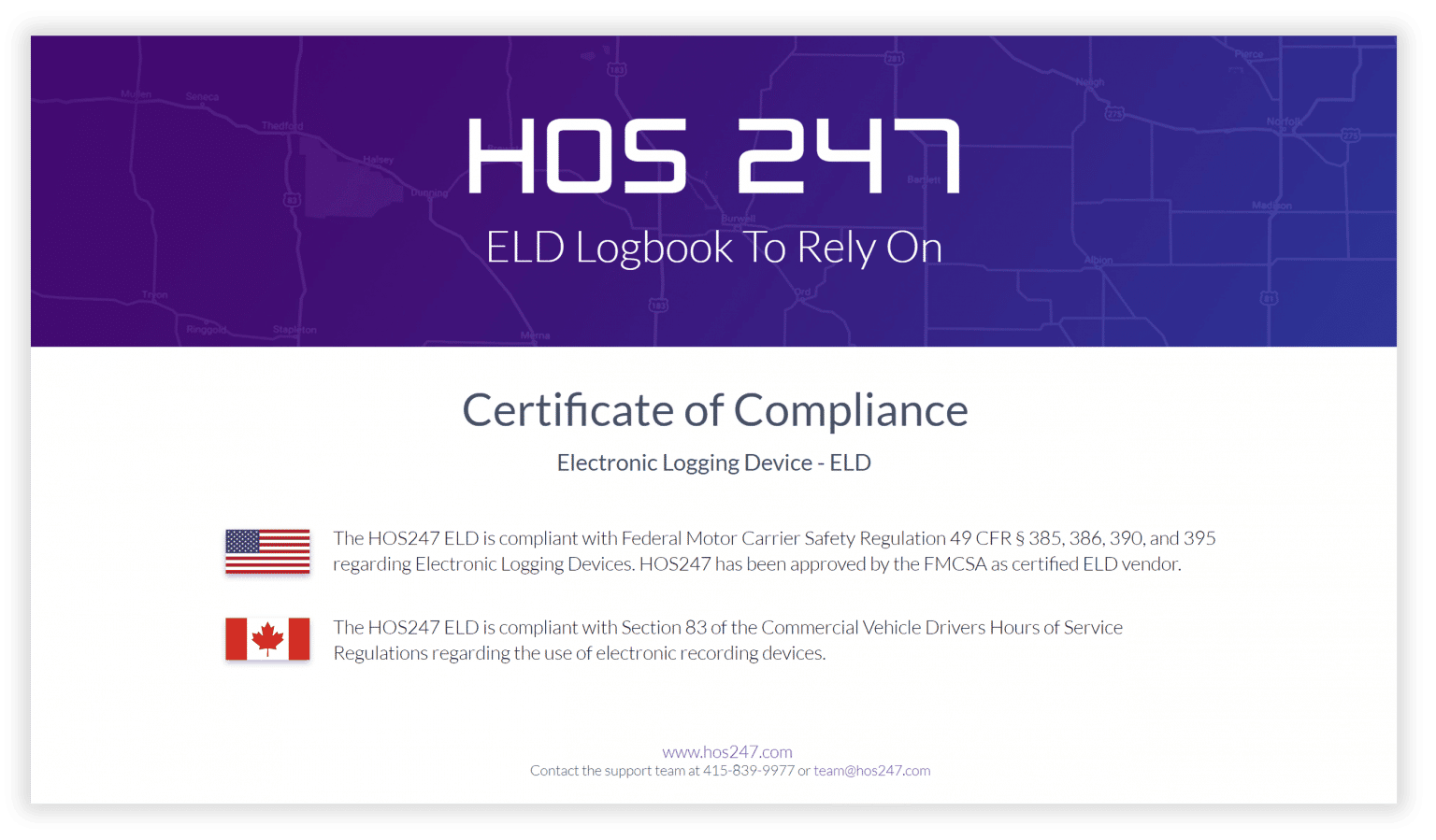 FMCSA Hours of Service Regulations
Hours of service (HOS) regulations have an essential purpose: to keep drivers and roads safe. Drivers subject to HOS regulations are capped on the amount of time they can spend driving and on duty. These rules have been effective at reducing accidents and their updates continue to improve those numbers.
Drivers must keep records of duty status (RODS) and have them available for safety officials in case of roadside inspections or DOT audits. If there are violations or cases of non-compliance, drivers and carriers are subject to penalties. These guides and rules for drivers' HOS are established and enforced by the FMCSA. 
Drivers Covered by HOS Regulations
HOS rules apply to commercial motor vehicle drivers and fleets. Commercial vehicles are those used for business operations in-between states, and they fall into the following categories:
Weight limitations. Vehicles weighing at least 10,001 lbs, with a gross vehicle weight or combination weight rating of 10,001 pounds or more.
Passenger limits. Vehicles transporting 16 or more passengers (including the driver) or nine or more paying passengers.
Hazardous materials. Vehicles used for transporting hazardous materials in quantities that require placards.
HOS Verification and CSA Scores
The FMCSA manages a nationwide program called the Safety Management System. It uses the Compliance, Safety, and Accountability score to rank commercial motor carriers regarding road safety. The criteria to assess carriers' compliance includes adherence to HOS rules, frequency of crashes, and vehicle miles traveled. Motor carriers' CSA scores are made public for potential clients to consult; the higher the percentile, the riskier a carrier is perceived, which can diminish customer's trust and increase insurance premiums.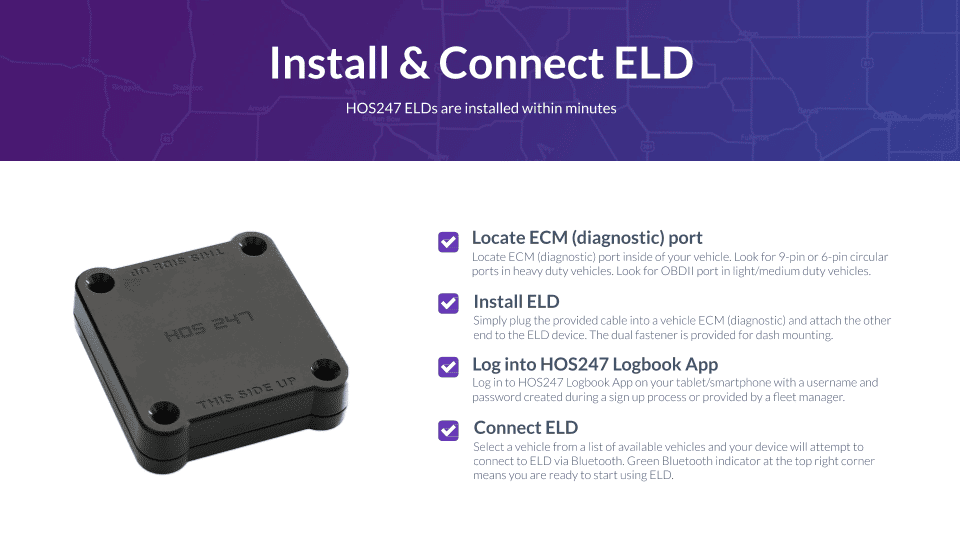 HOS and Technology
HOS logs have long been a key part of the trucking and transportation industry. However, with the introduction of the elog mandate, the electronic logging device has mostly replaced paper records to streamline processes and prevent tampering. Since 2017, elogs have been required for most commercial truckers to operate legally.
The devices included in the ELD approved list work hand-in-hand with an app that can usually be downloaded from the driver's smartphone or tablet (otherwise, the manufacturer can provide its own brand's tablets with a preloaded app). The app displays the collected information for the driver and the fleet manager can view it through an online portal.
Note that the logbook app alone is not not enough to achieve compliance, since an engine-connected device is essential. Technically, there is no such thing as DOT approved ELD apps, but they become compliant as part of a registered electronic logging system.
Approved ELD Systems Must Support Updated HOS Rules
On June 1, 2020, four provisions of the HOS regulations found in title 49 of the Code of Federal Regulations were revised by the FMCSA. The purpose was to improve flexibility for drivers without compromising their safety, and devices registered in the ELD approved list must support these and any other updates. The revised rules, which came into effect on September 29, 2020, are: 
Short-haul exemption. The short-haul exception was expanded to a 150 air-mile radius; 14-hour work shifts are now allowed.
Adverse driving conditions exemption. The driving window during adverse conditions was increased by 2 hours.
30-minute break rule. The required break changes to a minimum of 30 consecutive minutes after an 8 hours of driving time (in place of on-duty time). It also allows on-duty non-driving time to count as a break.
Sleeper berth provision. Drivers are now allowed to split the 10-hour minimum off-duty requirement following these conditions: 

At least 7 hours of berth time must be combined with a minimum of two off-duty hours, inside or outside the berth.
The two periods must add to a total of at least 10 hours. 
When used together as specified, the periods do not count against the 14-hour driving window.
"Awesome. Easy to install and use. Top notch customer service! I recommend it to everyone."


"Great company to deal with. The support team is very responsive and competent. They provided a great deal of education for our company."

"Customer service is great. They helped me to set up everything and showed how to edit my logs. Thank you."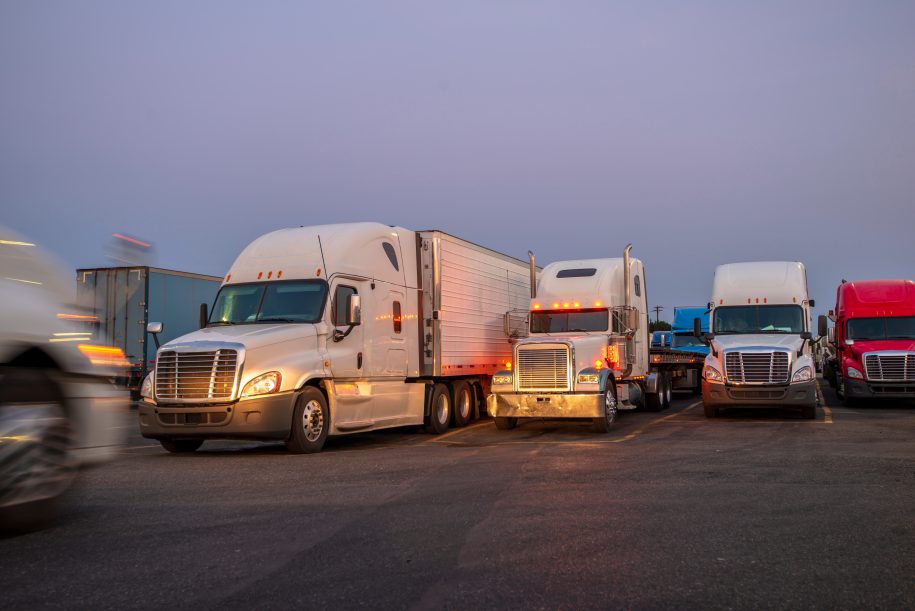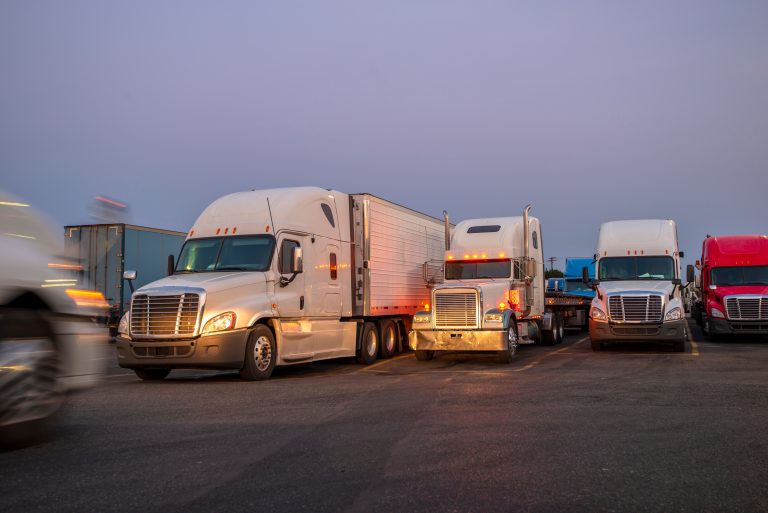 Fleet Management Systems & Features
Every business has software that helps to support it. Whether you need an accounting software or something more uniquely tailored to your business, software is often the backbone of a highly-functioning business. Truck drivers and trucking companies must carefully consider
Read More »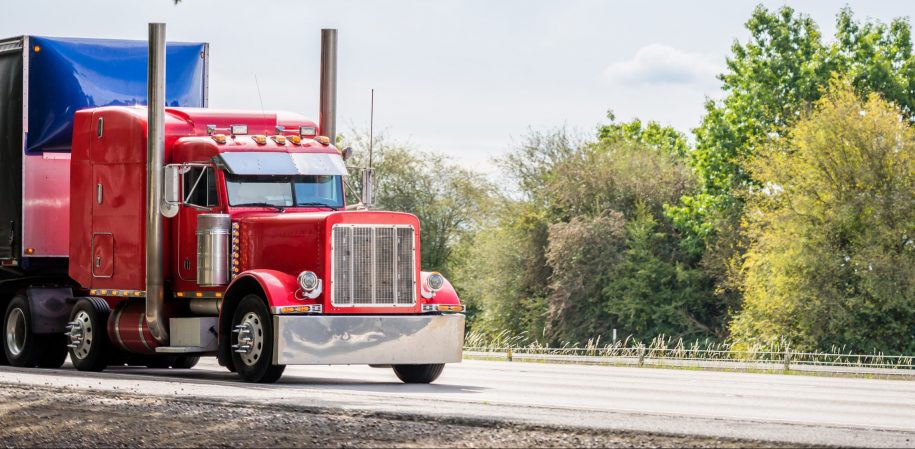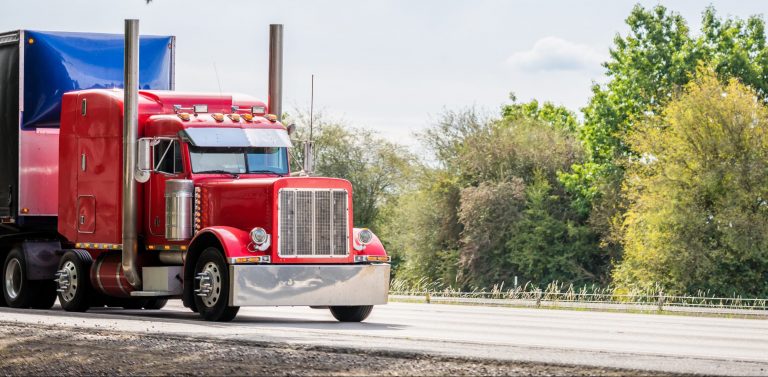 ELD Services & Devices
It may be challenging to stay compliant with the FMCSA electronic logs law due to unreliable providers or faulty devices. If you are looking for electronic logs for sale, make sure to choose the best solution for your business. FMCSA
Read More »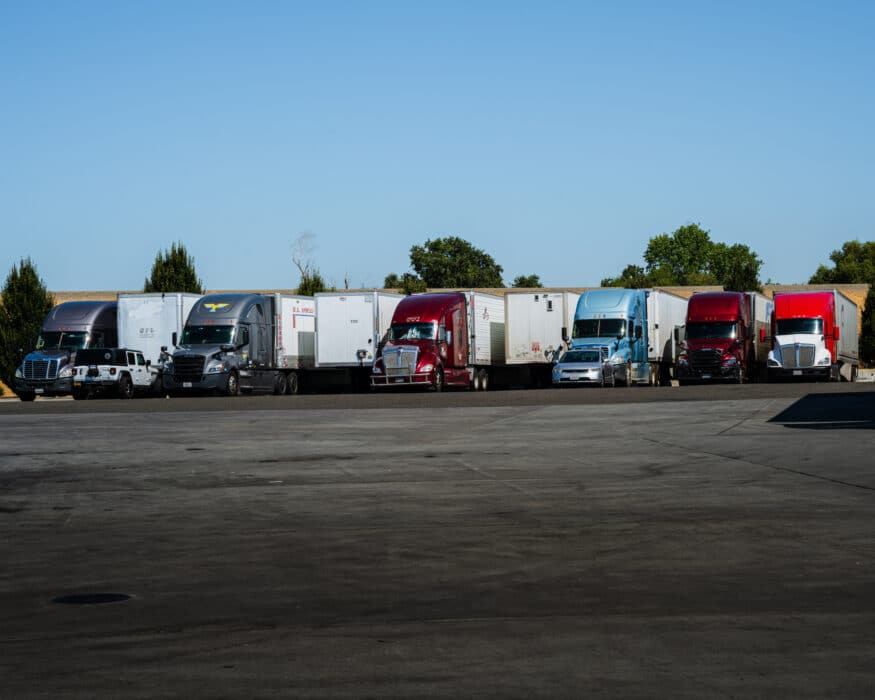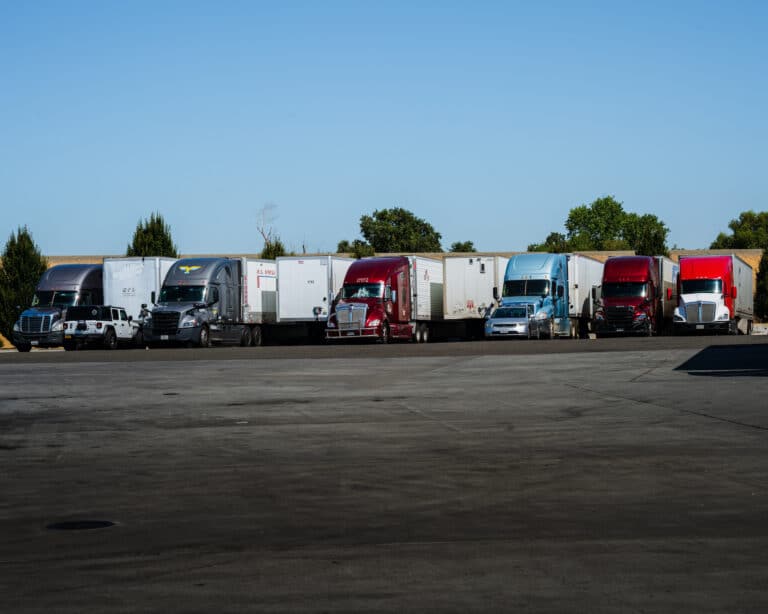 GPS Fleet Tracking Tips
The trucking industry operates on tight schedules, narrow margins, and the need for maximum safety. In such a complex and demanding environment, having the right tools can make all the difference. One such tool is truck tracking software, powered by
Read More »