In order to comply with the regulations set in place by the FMCSA, fleet managers and owner-operators need to do their due diligence when choosing a truck driver log book. Electronic logs are self-certified into the FMCSA's list, but that doesn't mean carriers should assume that any provider is a good choice. Many devices have been removed from the list due to non-compliance or driver complaints. If you are looking for a dependable truck log book for sale, it is important to do some research on ELD solutions and make sure that they abide by DOT regulations to help trucking businesses achieve compliance.
HOS247 Is a Top-Rated ELD Provider
HOS247 is highly trusted by both drivers and carriers and has been proven to fulfill all the requirements stated by the law to remain compliant. When choosing HOS247, you get an FMCSA-approved elog with dedicated customer support that you can rely upon to help you manage your electronic logs. At HOS247, we also provide the following benefits to carriers and drivers alike:
Top-rated multilingual customer support.

Our multilingual support team speaks English, Spanish, Russian and Polish, and they are available seven days a week.

Compliant and knowledgeable of FMCSA regulations

. The HOS247 truck driver log book supports all HOS and ELD rules and exemptions to achieve compliance. 

No contracts.

There's no need to commit long-term. We allow you to choose monthly or annual plans to fit the needs of your fleet and your budget. 

Hassle-free returns.

If for any reason you're not satisfied with the solution for your trucking business, you can return it within two weeks, no questions asked.

Extra features

. We realize that needs change as fleets grow. That's why we have the option to add GPS tracking, IFTA mileage recording, and DVIR.

Cutting-edge innovation

. We're constantly improving to best meet the needs of fleets and owner-operators, which is why we're working on innovative features to manage logistics operations and transportation networks, as well as a dashcam option.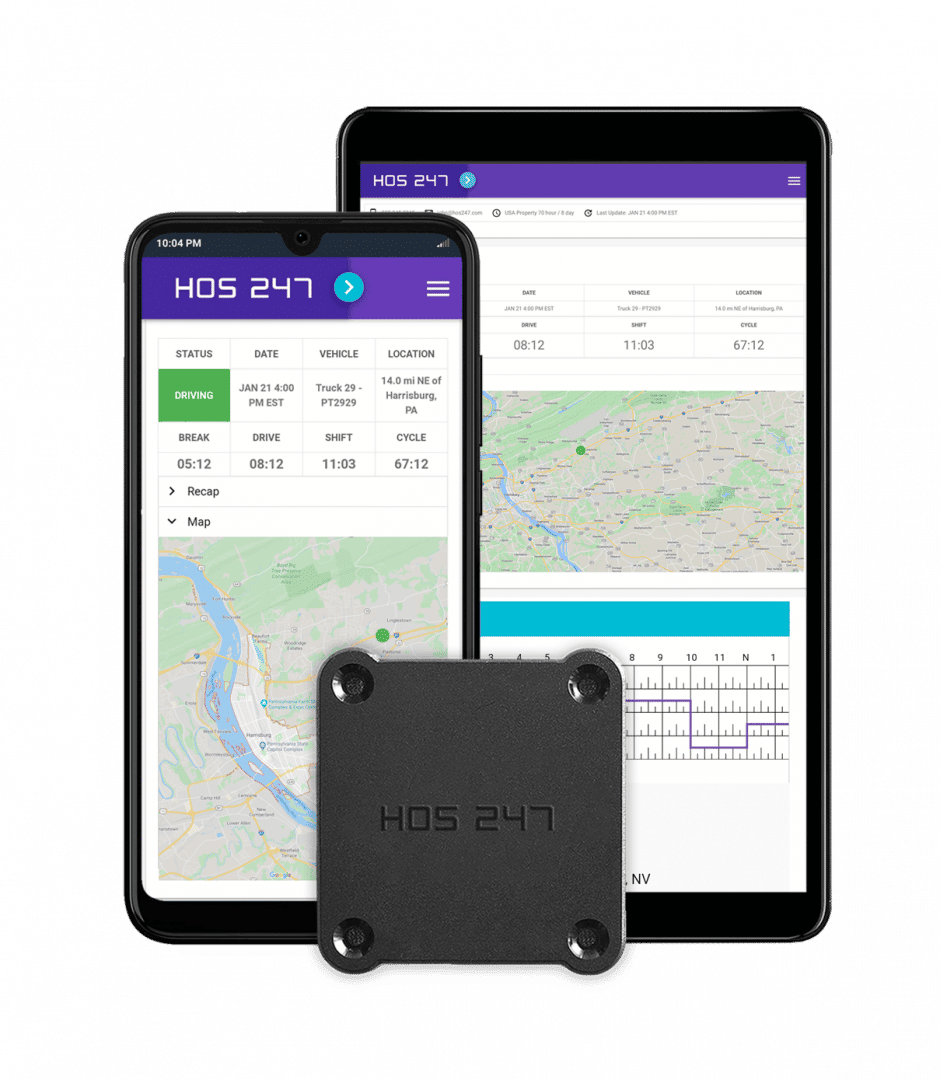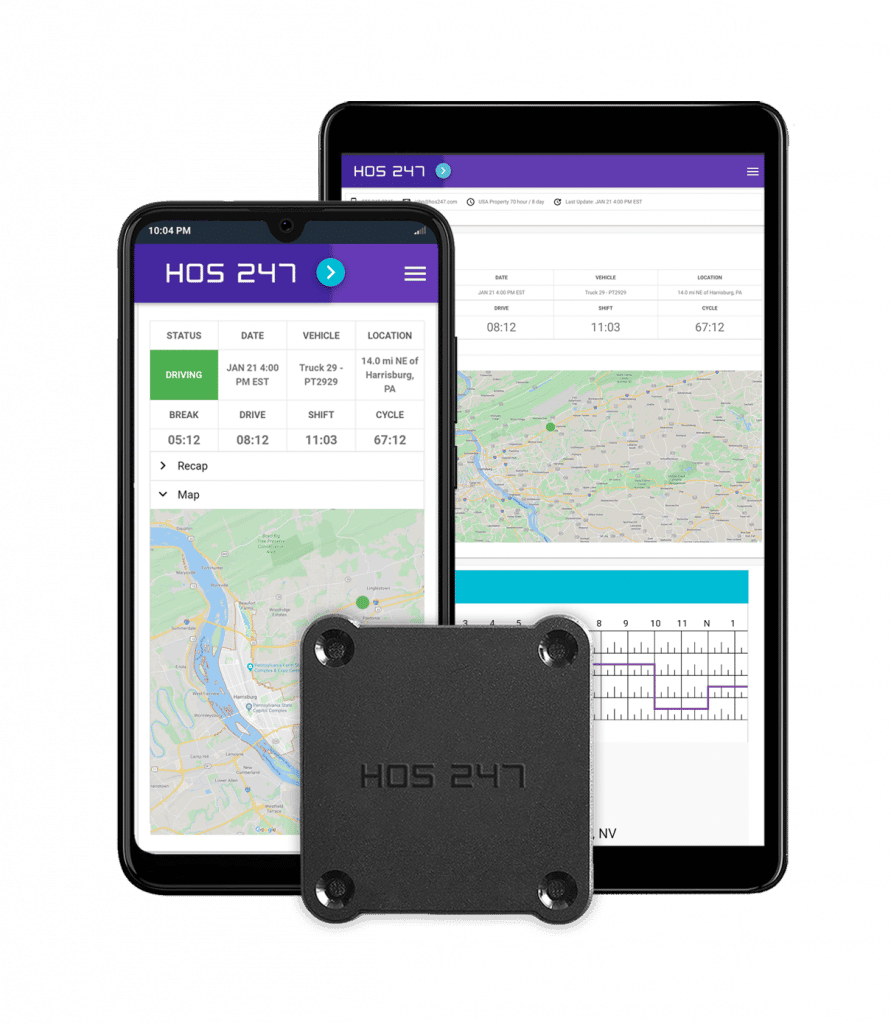 Who May Keep Their Driver Log Books on Paper and Who Must Use an ELD?
Driver log book rules have changed significantly since they were first published in 1937 to regulate how hours of service are recorded. Now that the ELD mandate is in place, there are two types of log books: paper log books and electronic logs. 
When an electronic truck driver log book is used, it automatically records driving time and distance since it is connected to the engine, meaning a reduced margin of error than with paper log books. However, the number of drivers still using paper logs has decreased notably since the mandate requires most commercial truck drivers who were required to use paper log books before the ELD mandate was passed into law to use an electronic truck driver log book. This includes: 
Drivers carrying property or passengers across state lines that are required to keep RODS. 

Drivers of vehicles that weigh more than 10,001 pounds.

Hazmat drivers with placarded loads.

Drivers of passenger-carrying vehicles, depending on their vehicle class.
Drivers who are exempt and can continue to use paper logs to record HOS include:
Drivers who meet the short-haul exception and operate within an air radius of 150 air miles from their central work location.

Drivers who keep RODS for no more than eight days in any 30-day period.

Drivers involved in "drive-away-tow-away" operations.

Drivers of vehicles that were manufactured before the year 2000.

Drivers of agricultural, farm and livestock vehicles.
Unless a driver meets any of the exemptions listed above, they must abide by the truck driver log book rules and record their HOS by using an electronic log book that is compliant and listed on the FMCSA's list of registered devices.
How Long Should Driver Log Books Be Kept?
A truck driver log book displays the driver's status, whether they're off-duty, on-duty (but not driving), driving, or using the sleeper berth. In addition to the status of the commercial driver over a 24-hour period, the truck driver log book must also contain other information, including location history, miles driven, the identity of the driver, and details about the vehicle and motor carrier.  
Commercial drivers and carriers are responsible for keeping this information for specific periods. Drivers are required to keep RODS for the preceding seven days of driving. Anything older than seven days of driving history does not have to be retained. Motor carriers, however, are required to keep driver logs for at least six months. Carriers are also required to keep any supporting documentation that an auditor might ask for if they're ever audited, for example, fuel receipts and dispatch records.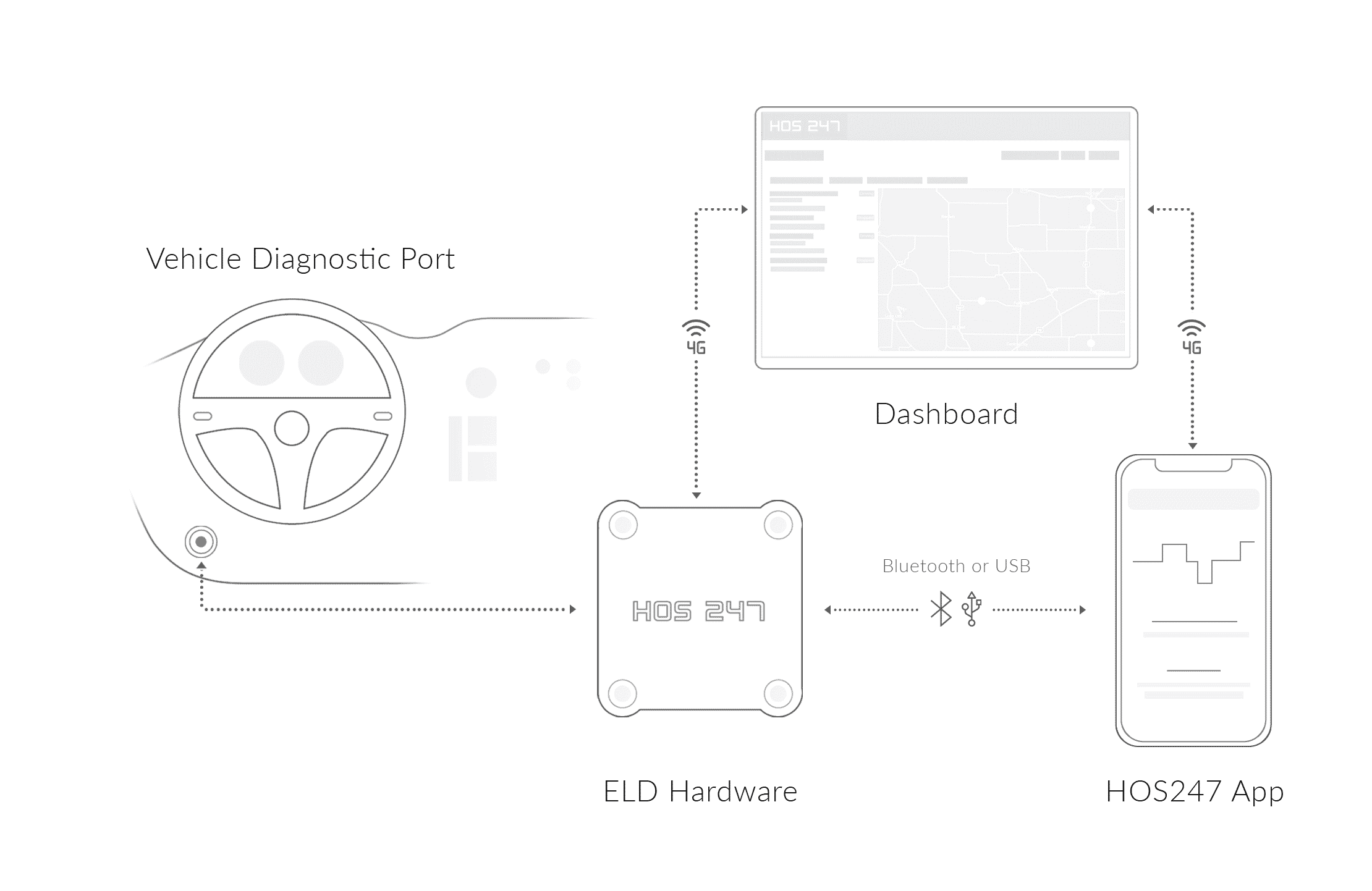 Should You Choose Android or iOS Apps to Run ELD Software? 
Ultimately, whether you choose an Android device or iPhone to maintain your truck driver log book app is a personal choice. Any provider should have both Android and iOS options, so drivers can choose the one that is best suited for their needs.
What is most important is to ensure that the app is user-friendly. One that is difficult to navigate or constantly has bugs that need to be fixed will become a bother for drivers and might not be used efficiently. In the event of a DOT inspection, you want your drivers to be able to manage the app and share HOS data with the safety officer quickly and efficiently. 
USA ELD Regulations
The USA ELD mandate is a federal regulation that requires certain commercial motor vehicle operators to use electronic log books to record data related to the driver's activity. 
As for driver information and behavior, the FMCSA's requirements state that the truck driver log book should be able to gather data about how the driver is operating the vehicle as well as their HOS. Since the truck log book rules restrict drivers to a maximum number of driving hours between rest periods, elogs are meant to provide more accurate records of that information than paper logs.    
The regulations also state what needs to occur if drivers are ever subject to a DOT inspection. Roadside inspectors need easy access to drivers' HOS, so the elog must transmit the data to the inspector seamlessly. The data transfer must occur via wireless web services and email or Bluetooth and USB 2.0.
History of the ELD Mandate for Truck Drivers
On February 16, 2016, the ELD mandate became law, and it contemplated a grace period for truck drivers to comply with it. The final date for every CDL driver to comply with the regulations and use an electronic truck driver log book was December 18, 2017. Vehicles already equipped with an automatic on-board recording device (AOBRD) were given extra time to comply, with a deadline of December 16, 2019.
Reasons for the ELD Mandate
Fatigue due to long-distance driving is one of the main reasons for driver accidents. The government, through the DOT, is responsible for implementing regulations to prevent such events. This is the goal of the ELD mandate, as it seeks to improve compliance with the limit on the number of hours truck drivers are allowed at the wheel without taking breaks. Another reason for the mandate's implementation was that paper log books weren't always accurate since there's the increased potential for miscalculations or tampering. 
"Awesome. Easy to install and use. Top notch customer service! I recommend it to everyone."


"Great company to deal with. The support team is very responsive and competent. They provided a great deal of education for our company."

"Customer service is great. They helped me to set up everything and showed how to edit my logs. Thank you."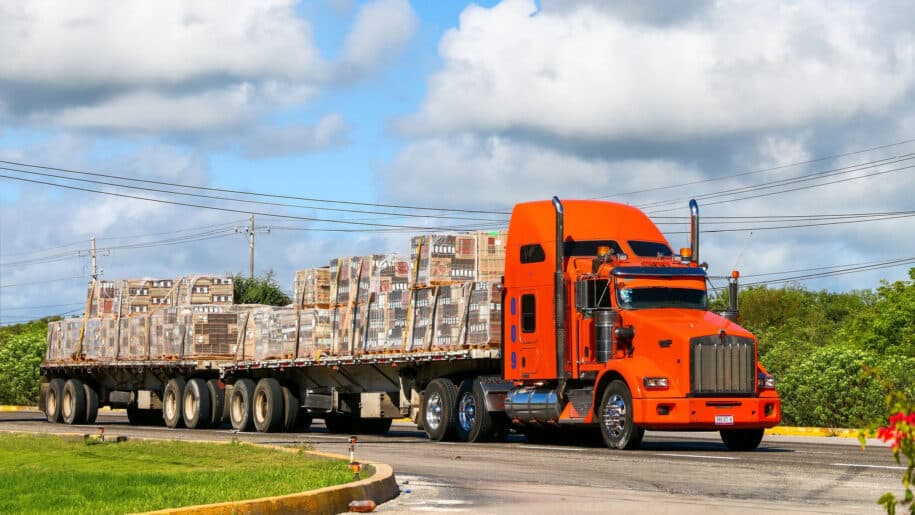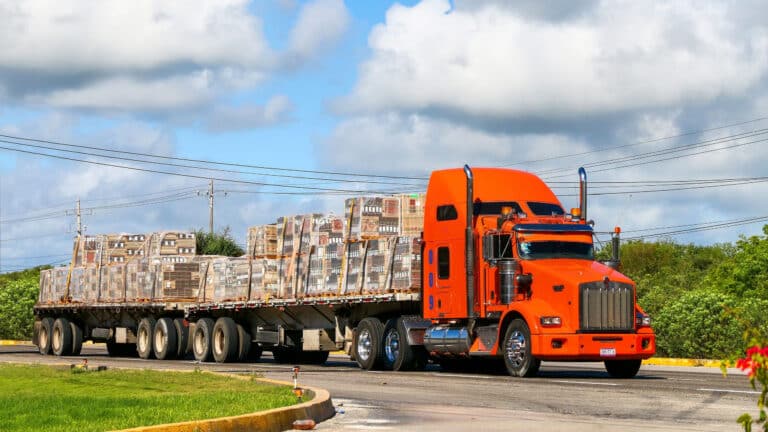 Fleet Management Systems & Features
In today's fast-paced business world, managing a commercial fleet can be challenging, but it doesn't have to be. With the help of fleet management systems, carriers can enjoy various benefits, such as reducing fuel costs, enhancing driver safety, providing better
Read More »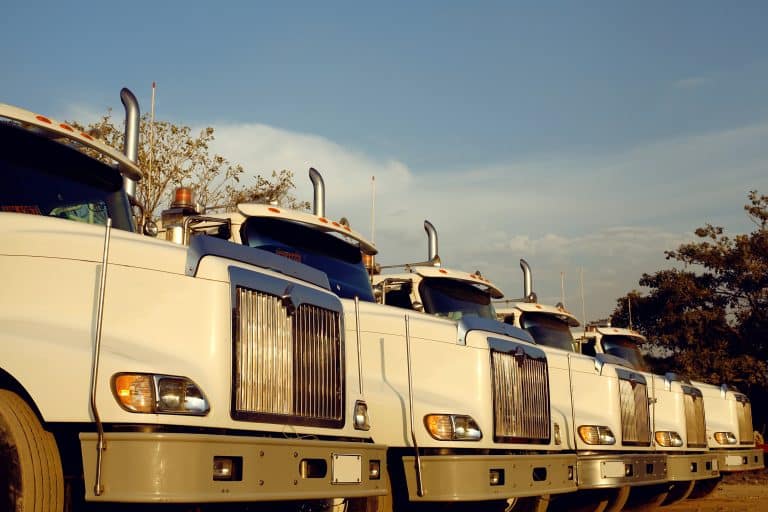 GPS Fleet Tracking Tips
With 3G Shutting Down, It's Time to Switch to a 4G Truck Tracking System Fleets that decide to wait until the last minute to transition from a 3G network to a 4G network, face a host of risks that they
Read More »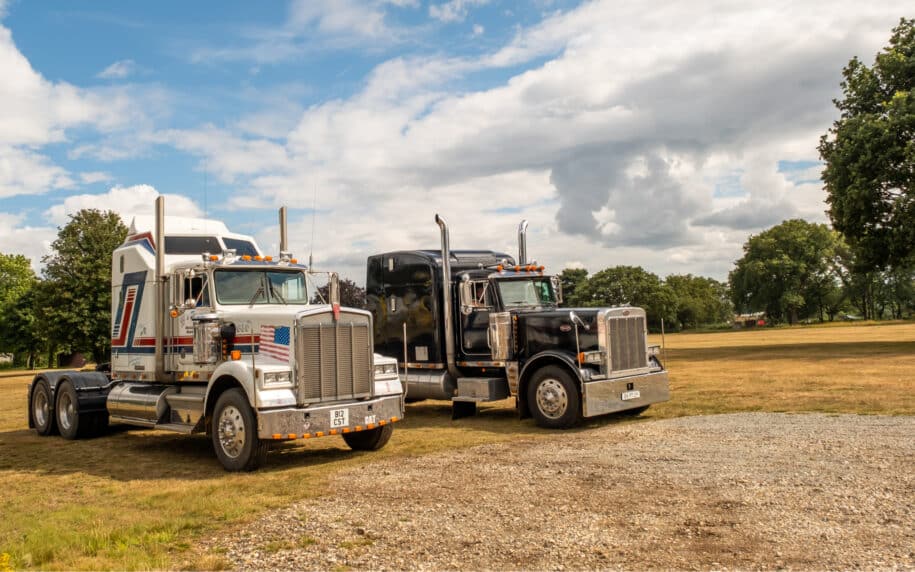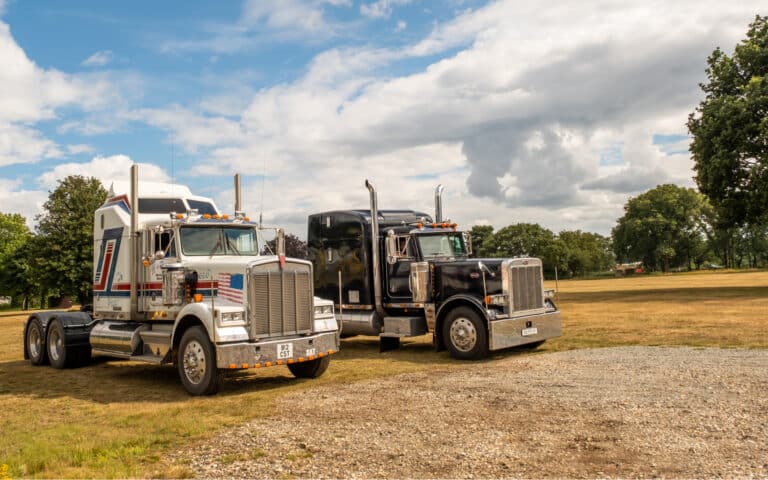 GPS Fleet Tracking Tips
GPS tracking is an indispensable tool for fleet businesses as it provides managers with information about the real-time location of vehicles and other assets, helping motor carriers effectively monitor their fleets and optimize processes. USA truck tracking uses Global Positioning
Read More »