To comply with federal legislation, trucking businesses must equip their vehicles with electronic logbooks to keep hours-of-service records. Carriers should check for their provider's name on the FMCSA ELD approved list to ensure their time and money are well invested. However, inclusion on the list of approved ELD devices does not guarantee compliance with federal standards. Since there is no independent testing procedure, providers check the requirements and register themselves. In this article, you will find useful information about the FMCSA ELD approved list, ratings of major providers, and tips on what to look for when choosing your elog device.
Are Elog Apps FMCSA Compliant? 
According to the FMCSA, a compliant electronic logbook is a tamper-resistant device that connects to an engine and directly records HOS information. Logbook mobile apps cannot do this on their own. They cannot record the engine's data, so they are not enough to achieve compliance. Elog apps are only considered compliant when they are part of a registered ELD system: the hardware (engine piece) and the software (logbook app and online portal).
In summary, simply downloading an app is not enough. You will need a complete solution to meet DOT compliance requirements. However, there's much more to discuss on finding the right elog system and complying with the mandate, starting with inclusion in the FMCSA ELD approved list.
List of Providers in the FMCSA ELD Approved List 
Even if you already have an electronic logbook, we suggest you take a moment to check the approved list on the FMCSA's website. It is advised to do so occasionally because vendors can be removed if they do not measure up to the standard. When this happens, they are not obligated to notify their customers. Below, we provide the complete list of approved ELD providers and their devices.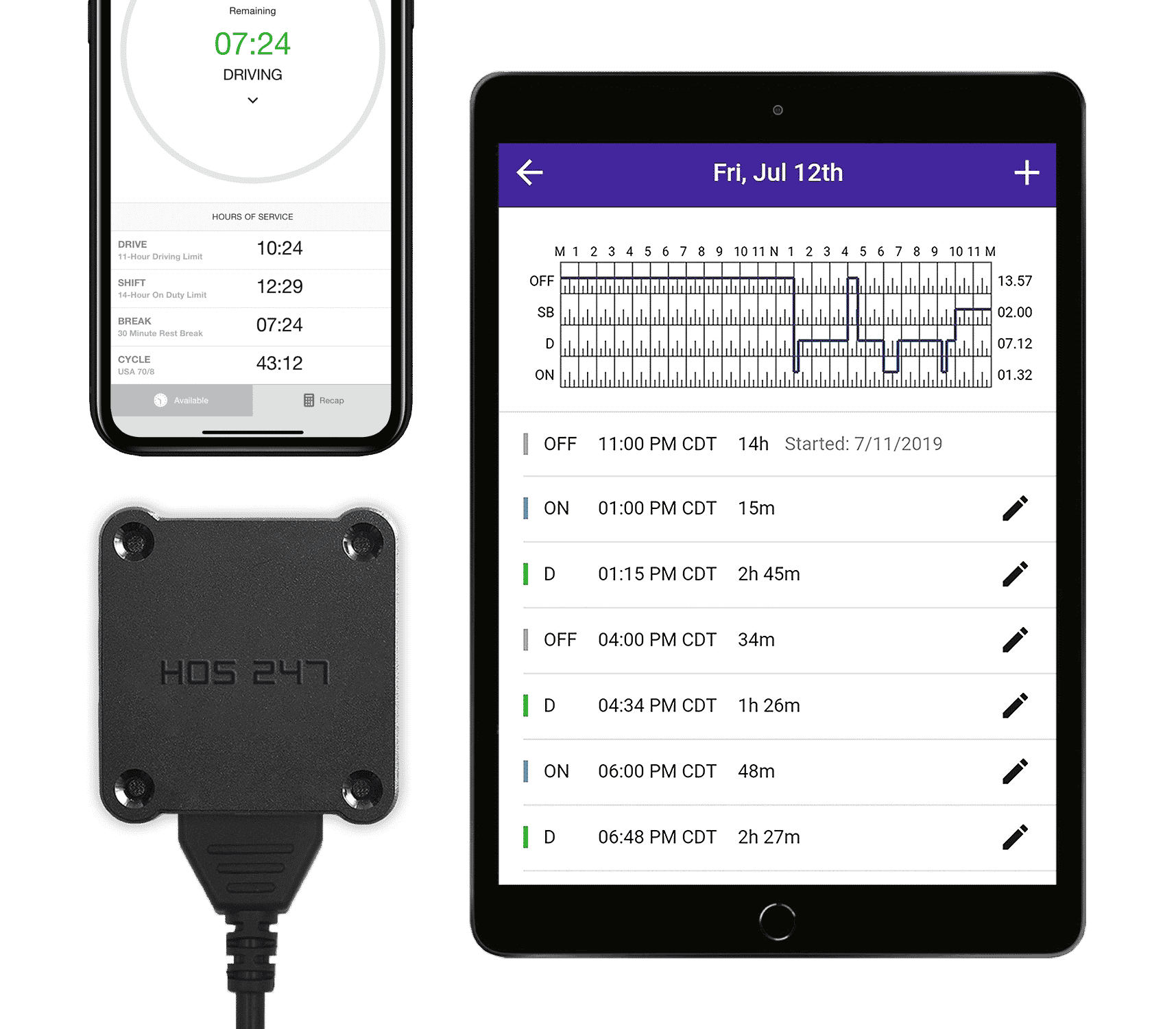 Why Switch to a Better Logbook App?
Electronic logging devices in the market are not all the same. There are many factors to consider, including user experience, post-sale customer support, and reliable technology. If any of the following issues sound familiar, perhaps you could benefit from changing your current provider:
Customer support is deficient. Many customers have difficulty reaching someone who can help them with technical issues during their operations. Often, the assistance they get is not enough to address the issue. If your provider's technical support is difficult to reach or takes too much time, perhaps a change is in order. 
Drivers dislike the ELD. A common problem with electronic logbooks is that many drivers do not like dealing with them if they are too complicated. A few taps on the screen should be enough to produce anything from driver's logs from the day before to available drive time left. If this is not the case, a better solution can make the work easier and more efficient for everyone. Make sure to consider the drivers' thoughts on the device and whether a change in provider could help improve their overall experience.  
Hidden fees. Some providers offer plans that seem very affordable at first glance, only to surprise their customers later with undisclosed charges. Once the deal is closed, the provider bills additional fees for concepts that were not previously discussed, such as data packages, installation, training, or device activation. If you've been misguided by your provider, it might be time to look for one you can trust and consider your compliance partner.
Back office tasks. The ELD is meant to relieve the workload, not add to it. If the fleet manager has trouble locating records for your drivers or accessing DVIR information for a particular day, it is safe to say a better solution is in order.
List of providers' ratings 
Aside from inclusion in the FMCSA ELD approved list, it is a good idea to look at some reviews written by fellow trucking business professionals. This will give you a sense of the performance of a specific device in real-world situations. Here we provide a list of some of the most relevant providers and their app ratings:
| RANK | ELD PROVIDER | iOS APPSTORE | ANDROID PLAYSTORE |
| --- | --- | --- | --- |
| 1 | | | |
| 2 | KeepTruckin | | |
| 3 | JJ Keller | | |
| 4 | BigRoad | | |
| 5 | Rand McNally | | |
| 6 | | | |
| 7 | | | |
| 8 | Geotab | | |
| 9 | PeopleNet | | |
| 10 | Verizon | | |
HOS247 Offers an FMCSA Approved ELD
HOS247 is registered in the FMCSA certified ELD list. The solution has been tested and has proved to be up to DOT standards. On top of that, we offer customers many benefits to optimize trucking operations and increase profitability.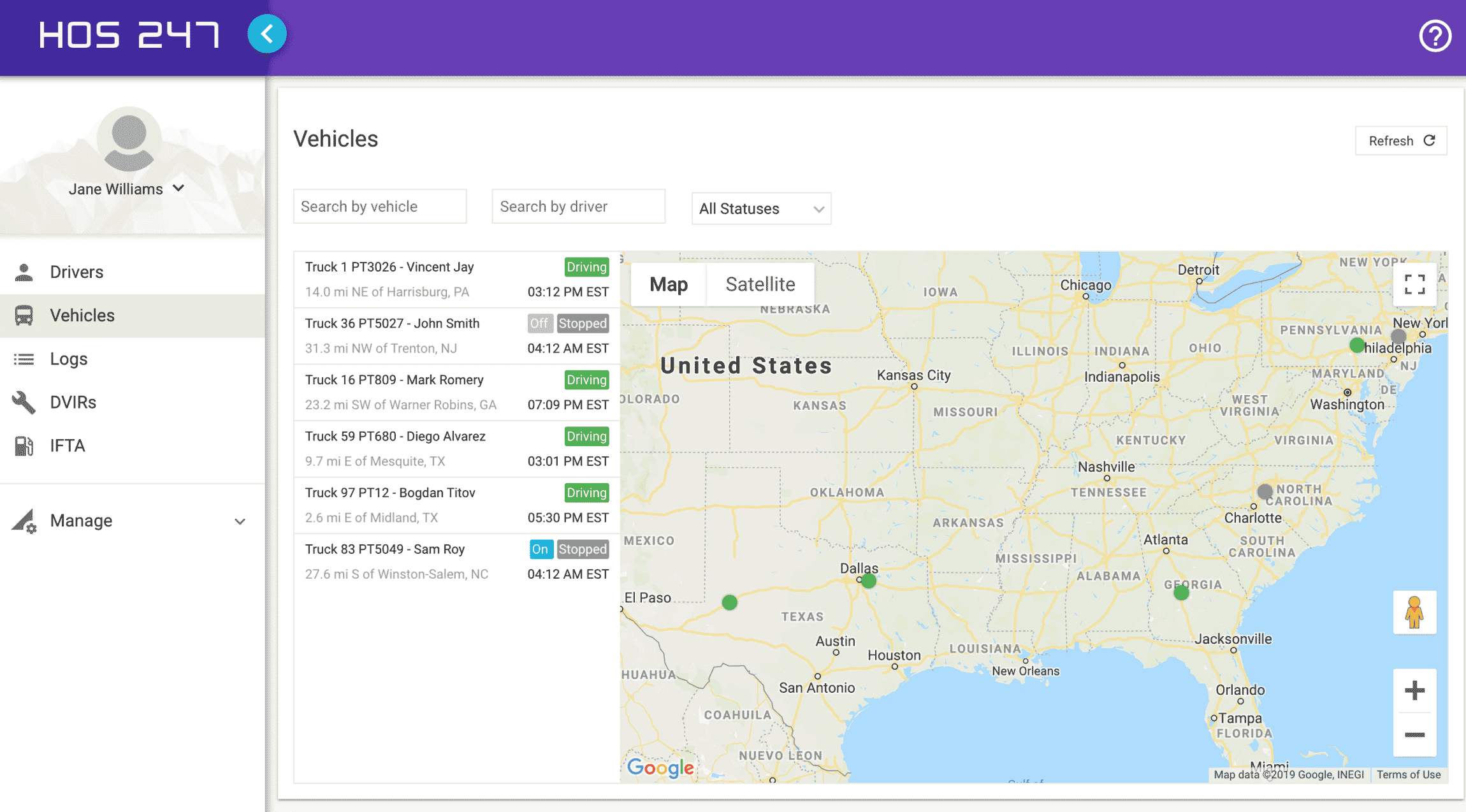 Owner-operators and fleet managers have chosen HOS247 electronic logbooks over the years because of the following advantages:
Dedicated support. Our team of specialists helps get the most out of your logs with assistance on installation, onboarding, compliance questions, troubleshooting, and anything else you need. We provide reliable on-road driver support every day of the week. Our callback policy makes sure any issue is followed up on even if the call drops. The team has you covered in English, Spanish, Russian, and Polish.
Flexible plans. Our monthly plans can be scaled up or down and optimized for customers to get the most value from the logbook. 
Driver-friendly elog. The HOS247 app is top-rated and has been regarded as an easy-to-use electronic logging device by drivers, owner-operators, and fleet managers alike.
Reliable hardware. Our hardware option is high-quality and comes with a one-year replacement warranty, should anything happen. Install the electronic logbook system in minutes, connect the smartphone or tablet device of choice via USB or Bluetooth, and the truck is ready for duty. 
Extra features. Streamline operations with real-time GPS technology, access permission management, and benefit from vehicle diagnostics with fault code detection and IFTA mileage calculations to make activities more efficient. No need for additional hardware. 
HOS247 is committed to improving trucking activities for the user's benefit. It is an FMCSA approved ELD that makes compliance accessible so you can focus on productivity. 
All FMCSA Requirements Are Met with HOS247 
Whether running a large trucking business or operating with a single truck, you can rely on HOS247. We work to develop convenient and effective ways to help fleets of all sizes run their operations smoothly. Our logbook app meets these practical requirements included in the mandate: 
Electronic logbooks must follow a set of specific standards: they must have tested performance and be certified and registered.
The mandate states the specific supporting documents carriers and drivers must keep in case of an inspection.  
The mandate protects drivers from harassment: the elog must provide a platform to serve as a recourse for drivers to protect themselves if they feel troubled.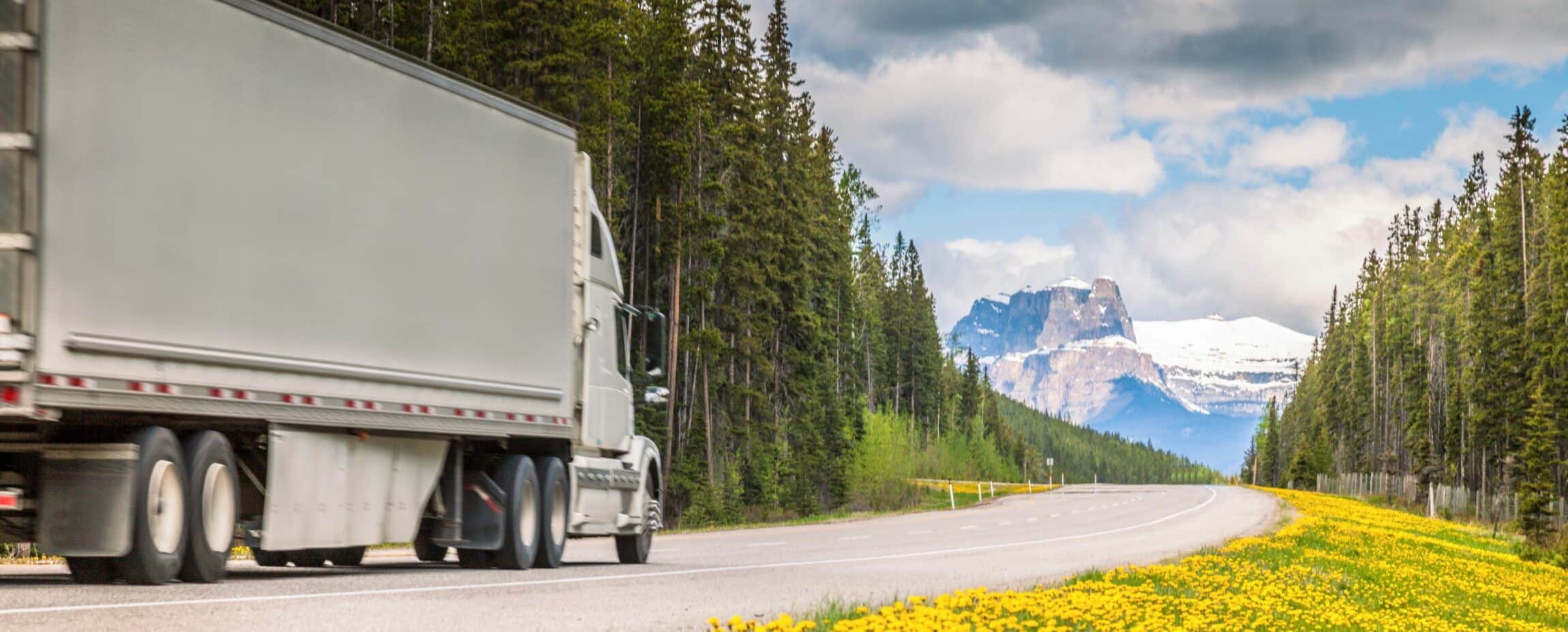 Our FMCSA approved electronic logging devices support multiple HOS rules and trucking exemptions, as required by federal regulations. Keep in mind that the following exemptions allow the driver not to use elogs:
Short-haul exemption. Drivers whose operations remain within a 150 air-mile radius from their starting working station. They may use timestamps.
RODS under 8 days per month. Drivers who keep RODS for less than eight days during a 30-day period.
Vehicle delivery. Drive-away-tow-away operations, meaning the vehicle being driven is the commodity being shipped.
Manufacturing date. Vehicles with engines manufactured before the year 2000 do not need electronic logging devices.
To summarize, your elog solution should have you well covered if it has these qualities: a provider included in the FMCSA ELD approved list, demonstrated compliance with the mandate, an exemplary rating from their customers, and the technical support you need while on the road.
"Awesome. Easy to install and use. Top notch customer service! I recommend it to everyone."


"Great company to deal with. The support team is very responsive and competent. They provided a great deal of education for our company."

"Customer service is great. They helped me to set up everything and showed how to edit my logs. Thank you."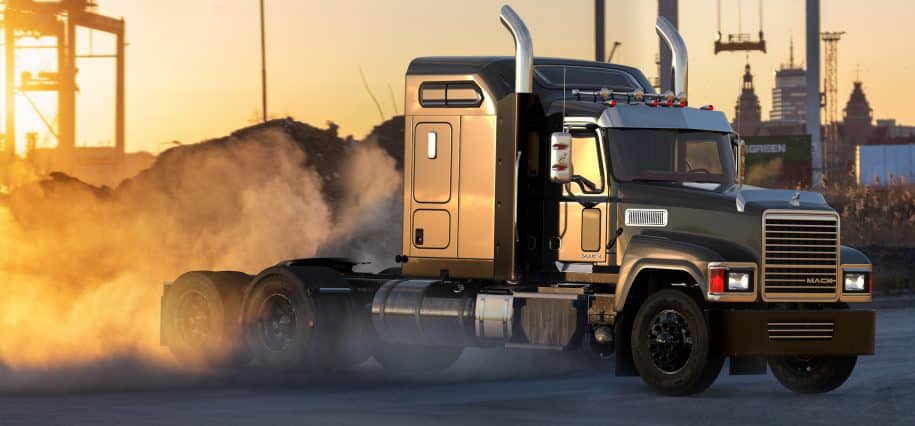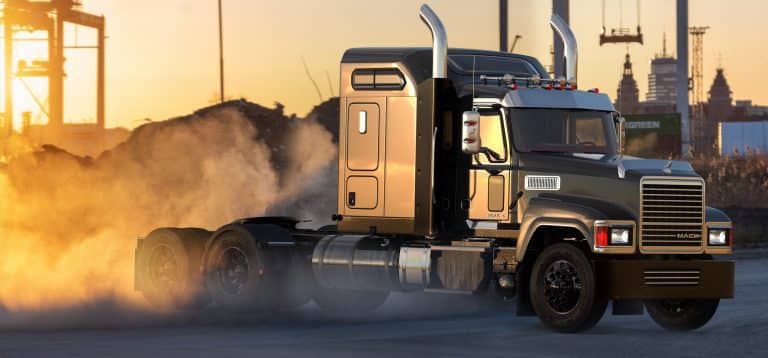 ELD Reviews
An electronic logging device is a tool used by commercial motor vehicle drivers to record driving time and hours of service automatically, as well as data from the engine, tracking movement and mileage. It allows drivers and dispatchers to remain
Read More »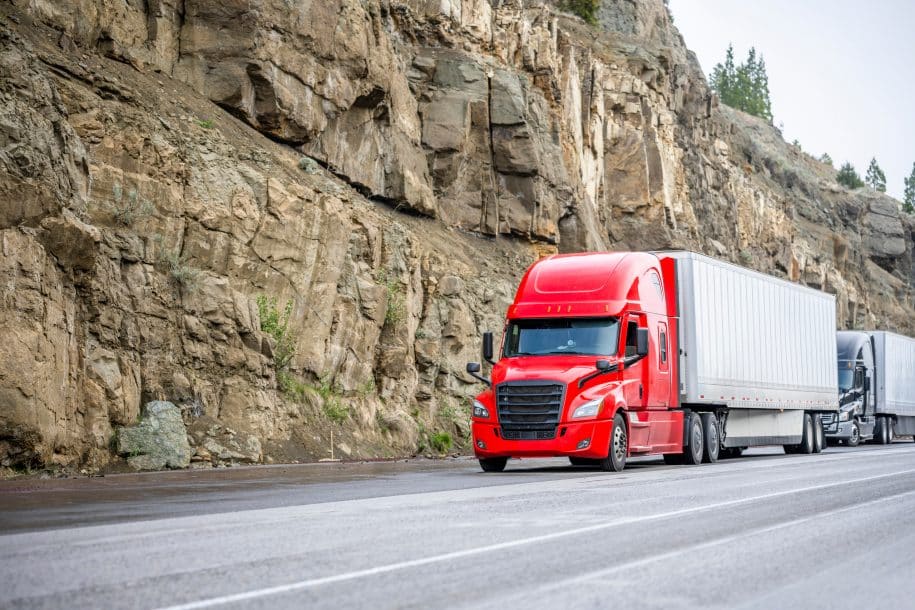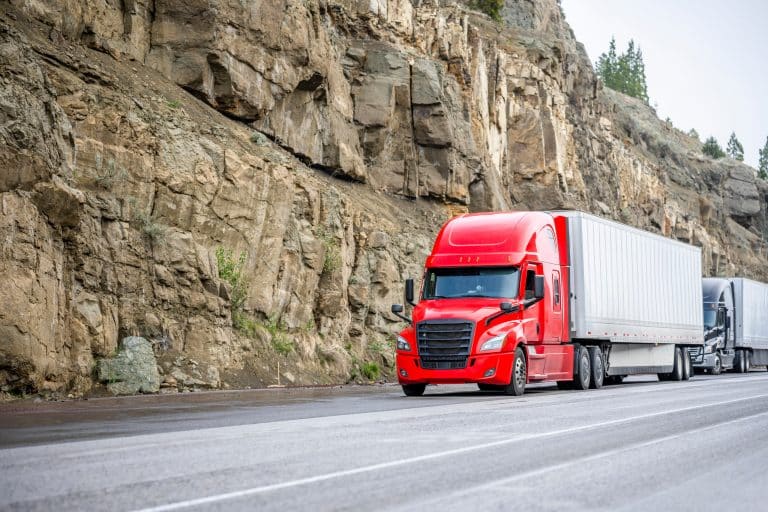 ELD Reviews
Under federal legislation, it is mandatory for commercial motor vehicle drivers and owner-operators to use log devices to stay compliant with the ELD mandate and minimize the possibility of being fined put out of service. However, with so many ELD
Read More »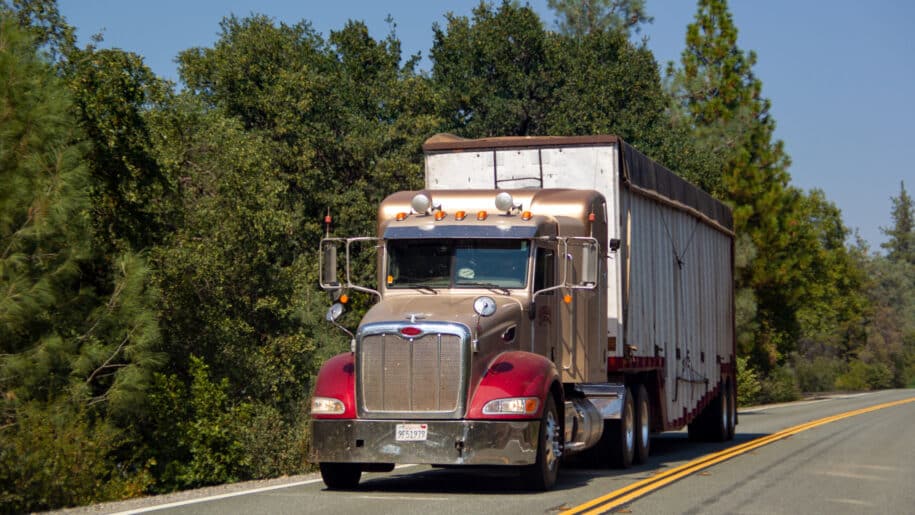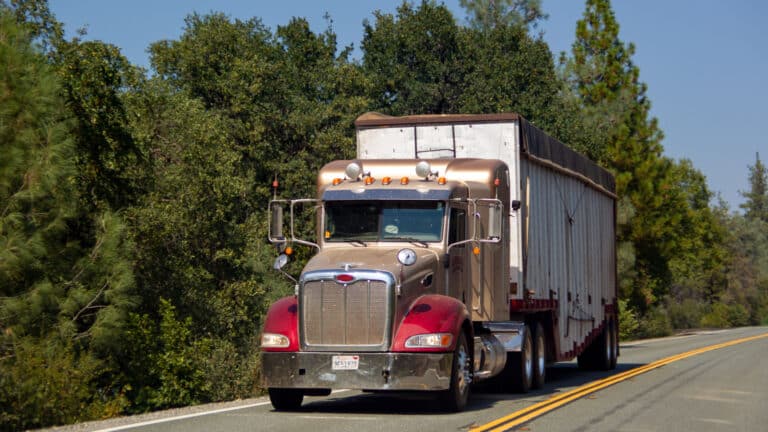 GPS Fleet Tracking Tips
When it comes to the trucking business, visibility of operations can be a valuable tool to increase efficiency. In addition to improving safety, cargo trailer GPS trackers contribute to considerable savings and optimized workflows. Real-time tracking offers transparency, enabling fleet
Read More »