According to the ELD mandate, published by the FMCSA and enforced by the DOT, commercial vehicle drivers must use approved electronic logging devices instead of paper logs to keep records of duty status since December 16, 2019. This includes commercial semi truck drivers as well. But, how do electronic logbooks work? What year semi trucks are ELD exempt? This guide will answer these and more queries about semi truck electronic logbook rules and e logs mandated by the FMCSA.
HOS rules for semi truck drivers
The ELD mandate states that most truck drivers operating commercially must maintain HOS records on registered electronic logging devices. This places semi truckers on the radar if they drive across state lines. HOS rules are meant to limit the on-duty time of commercial drivers to reduce driver fatigue and ensure road safety. These rules state that: 
A driver cannot work for more than 14 hours. Off-duty time before a shift must be at least 10 hours and does not extend the 14-hour period. 

Within a 7 day period, there is a maximum of 60 hours on duty. Within an 8 day period, the maximum is 70 hours. Drivers may restart these periods by taking at least 34 hours off duty in a row. 

D

rivers must take a 30-minute break whenever they reach 8 driving hours without interruptions. Any non-driving period of 30 minutes can count as a break

(on-duty status instead of off-duty).

The sleeper-berth rule allows CMV drivers to split 10 hours off-duty:  8/2 or 7/3 split. Neither counts against the 14-hour shift rule.

Under adverse driving conditions, an additional two hours may be added to the maximum driving time window.

Another requirement of the law is for carriers to maintain all the records on the hours of service for six months. The record, also termed RODS, is subject to inspection by FMCSA officials. If the driver, full-time or contract, or the motor carrier are found disobeying the law, it will lead to a DOT violation and a costly penalty. 
The FMCSA has an approved list of electronic logging devices programmed according to the HOS limits to monitor compliance. The devices on the list support semi truck electronic logs as well. 
Drivers covered by the HOS rule
The law applies to both full-time and contract semi truck drivers of vehicles used for interstate commercial purposes. The law has stated some specific categories in this regard: 
If the vehicle weighs 10,001 pounds or above.

If the vehicle is used to transport 16 or more passengers, including the driver or 9 or more passengers paying for transportation.

If the vehicle is used to transport hazardous materials in a quantity that needs a placard.
How do electronic logbooks work?
The registered electronic logging device synchronizes with the vehicle engine to automatically record the HOS. Aside from this, the elog also collects other data from the vehicle, such as the distance covered, on-duty and off-duty hours, engine start and stop, etc.
Choosing the right semi truck electronic logbook can help fleet managers or owners track the vehicle's movements with real-time visibility and assist the driver regarding vehicle inspections and compliance issues. Electronic logs will also notify the commercial driver if the HOS rules are breached. Most devices allow drivers to manage their e logs via mobile phones or tablets. The information recorded by electronic logs includes:
Hours of service

Miles traveled

Engine power up and shutdown

Fleet location via real-time GPS tracking

IFTA mileage calculations

Driver Vehicle Inspection Report (DVIR)

Vehicle diagnostics 
HOS247 supports semi truck HOS rules
HOS247 provides reliable elog devices. We have been operating successfully for many years and have built a trusted client base. HOS247 electronic logging devices are designed with advanced features that help semi drivers stay compliant and increase overall productivity and operational efficiency.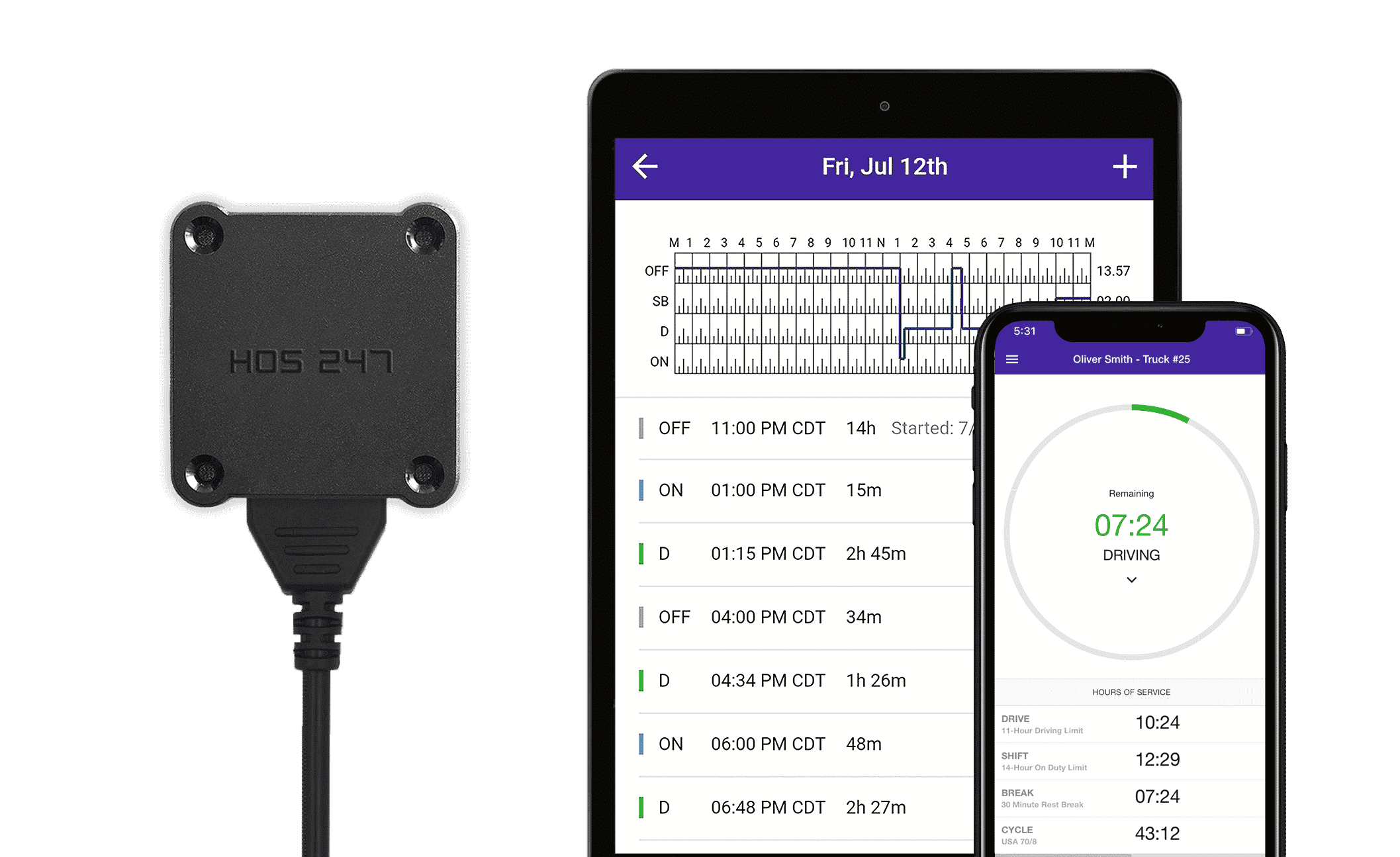 Features of HOS247's ELDs for semi trucks
Easy to manage e logs: HOS247 elog devices allow drivers to manage data easily. The data appears on the screen, which the driver can accept or annotate in just a few clicks. 
Reliable hardware:

The ELD for semi trucks is durable and can be installed in minutes. It starts recording data immediately after the system is turned on. 

App integration:

HOS247's semi truck electronic logbook can be integrated with the HOS247 app and operated by smartphone or tablet. The application enables all the functions of the ELD system, such as managing logs, DVIRs, driver support, and maintenance log. 

All-in-one fleet manager portal:

The intuitive portal offers fleet managers more visibility and control. The platform provides instant access to compliance monitoring, IFTA mileage reports, GPS locations, and vehicle diagnostics. This helps to increase fleet efficiency and also reduces operational costs. 

Active customer support: HOS247 offers client support seven days a week to help ensure optimal use of the devices for efficient fleet management. Our multilingual support team assists clients in English, Russian, Spanish, and Polish. 

Advantages of using a HOS247 semi truck electronic logbook
The HOS247 semi truck electronic logbook increases overall fleet efficiency and vehicle safety. Here are some additional features it supports:
GPS tracking:

HOS247's ELDs are provided with a GPS tracker to help managers and owners with real-time vehicle location tracking. The elog uses geofencing to send signals to the carrier if the vehicle is driven to unregistered locations. It also sends alerts if the vehicle is used during off-duty hours. The GPS tracker is a proven application to prevent vehicle theft. It also reduces fuel costs by preventing personal use of the vehicle after working hours. This contributes to the overall profitability and efficiency of fleet management. 

4G network:

HOS247 is compatible with the 4G network, allowing drivers to communicate with fleet managers and owners regarding any vehicle fault or compliance support. 

IFTA mileage:

IFTA data is a crucial factor in FMCSA reports. With HOS247's ELDs, fleet managers can relax while the device automatically records data from the vehicle's engine. It calculates the mileage by tracking the wheel rotation and vehicle speed.
Role of a semi driver
A truck driver earns his living by transporting goods from one place to another by driving a truck. The range of commercial goods can vary from retail goods to manufacturing materials, and working hours can also vary from day to night, depending on the HOS limit set by the FMCSA. A semi driver needs several skills to fit into any contract-based driving job, from hard skills like efficiency in performing additional job responsibilities to necessary skills like safety checks, adherence to company policies, etc.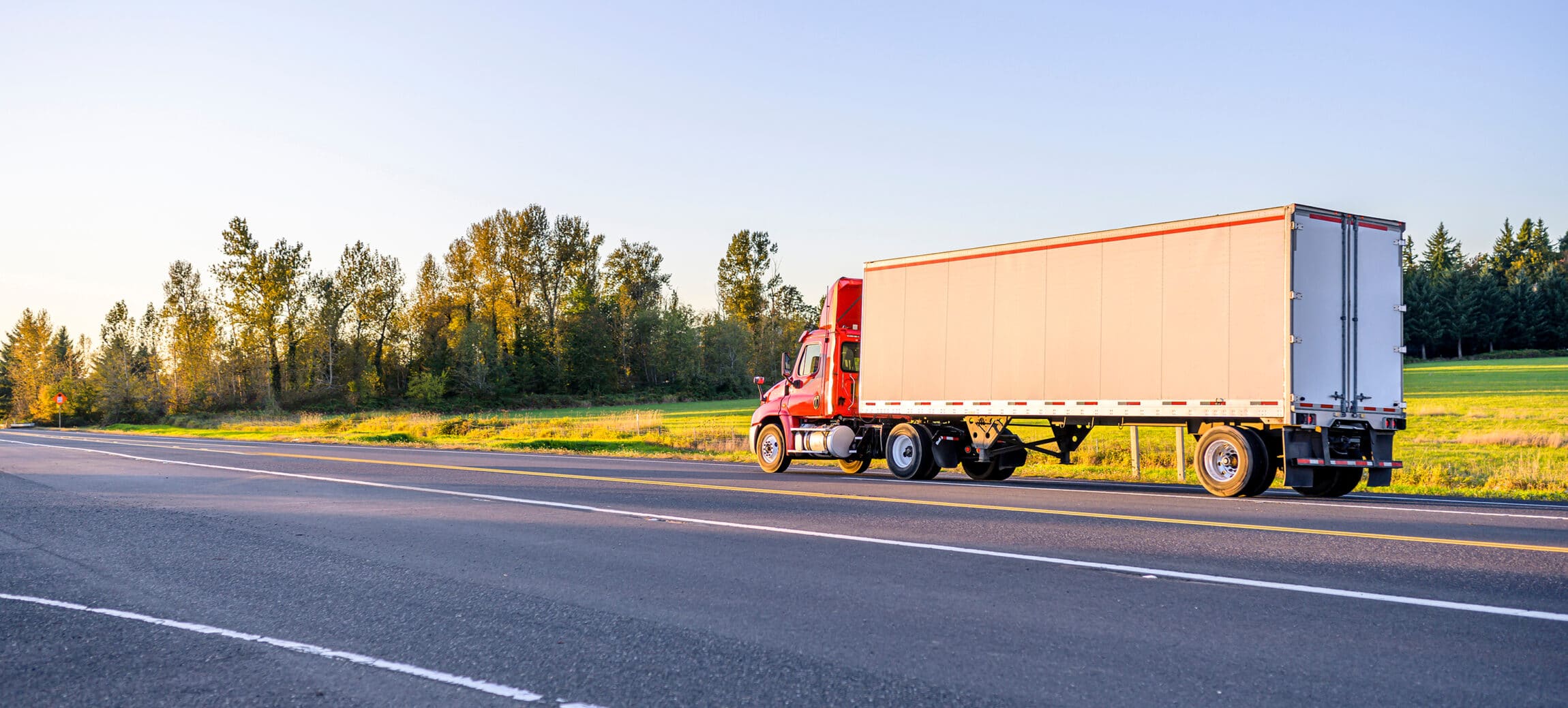 To become a semi-driver, a person does not need a college degree. They can apply with just a high school diploma or GED. Experience is often a requirement for this job; it does not necessarily have to be as a semi-driver but as a delivery driver or a truck driver. Any prior experience helps to build a credibility factor regarding job efficiency and responsibility to the employer. 
A semi truck electronic logbook is a practical requirement for every commercial semi driver earning a living from this job. HOS247 is a trusted provider that has been offering electronic logbooks to full-time drivers and semi drivers for many years. We offer reliable support for every client and have flexible plans to suit the requirements of every carrier and driver.
"Awesome. Easy to install and use. Top notch customer service! I recommend it to everyone."


"Great company to deal with. The support team is very responsive and competent. They provided a great deal of education for our company."

"Customer service is great. They helped me to set up everything and showed how to edit my logs. Thank you."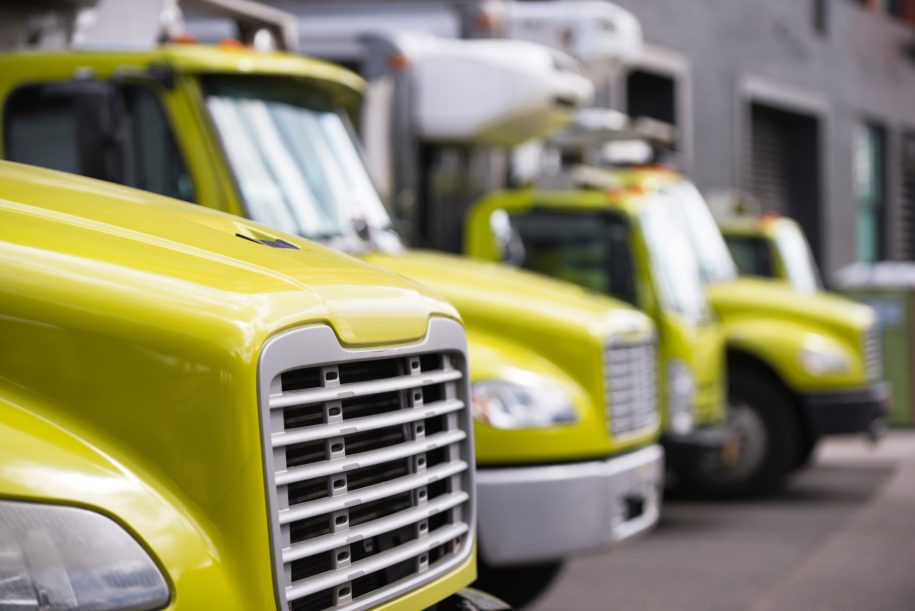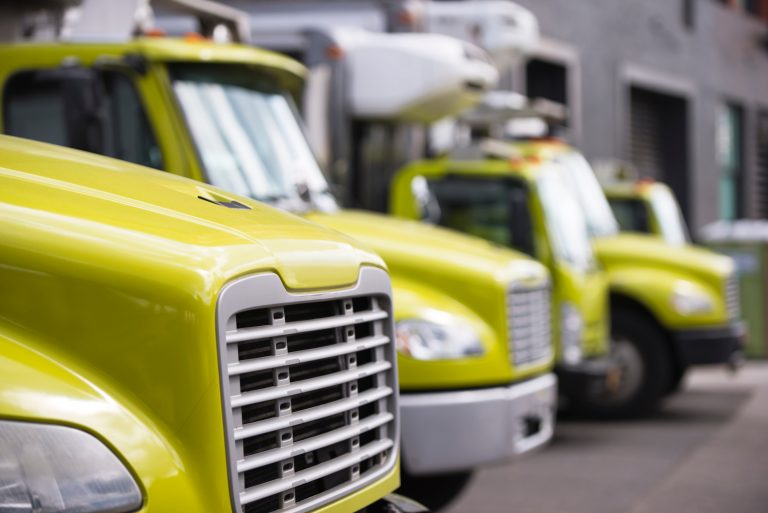 GPS Fleet Tracking Tips
A GPS fleet tracking system is one of the most advanced and informative methods for logistic and transportation companies to keep an "Eye in the Sky" style perspective of their transportation infrastructure and fleets. Combining a collection of on-vehicle inserted
Read More »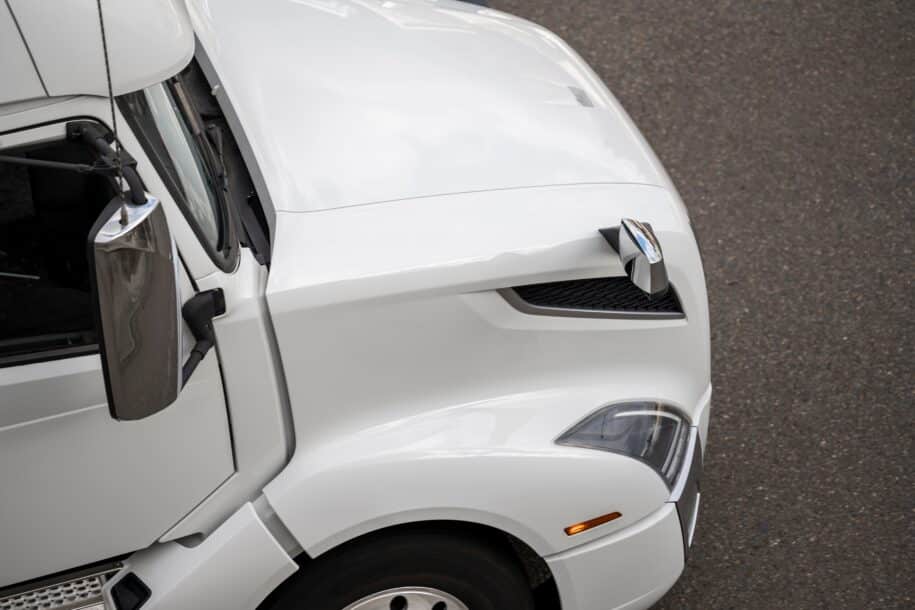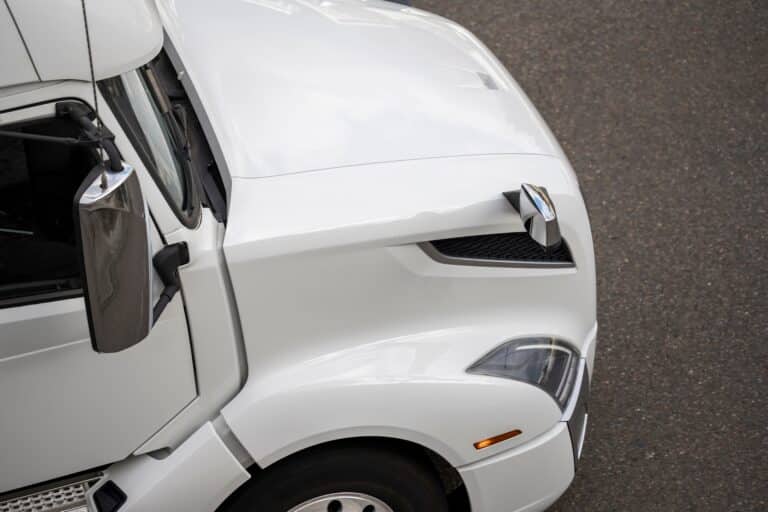 ELD Mandate Updates
The Department of Transportation is responsible for federal transportation policy, which the FMCSA enforces. The ELD federal mandate is especially important, since it has made a big difference in the way authorities monitor hours of service compliance. The purpose of
Read More »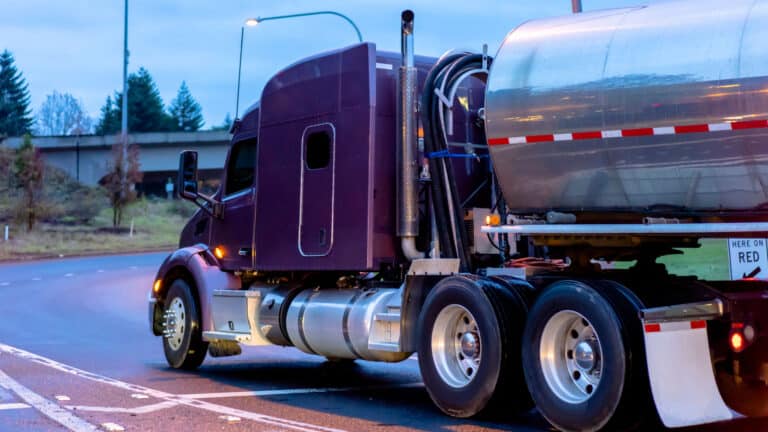 ELD Services & Devices
Since the implementation of the ELD mandate in 2019, finding a reliable electronic logging device has become crucial for truckers operating in the United States. The law requires motor carriers and CMV operators to use electronic logbooks to record their
Read More »