HOS247 Is an Industry Leader Providing Electronic Logs
Besides helping drivers and carriers meet e-log compliance with the rules set by the Federal Motor Carrier Safety Administration (FMCSA), HOS247 is a top-rated DOT electronic logbook provider and is highly trusted by the fleets and owner-operators that use it.
Benefits of HOS247
The benefits of trusting HOS247 to help maintain electronic logs are many and include:
Hardware that is easy to use and easy to install, as it simply connects to drivers' smartphones and tablets using Bluetooth or a USB
An All-in-One plan option that offers tablets for drivers who don't already have them, including data
Simplicity in its usage and setup, as well as optional driver onboarding training over the phone
A reliable, multilingual support team available to help drivers answer compliance issues on the road
The option for fleet managers to change and customize plans whenever they need in order to meet the changing needs of their fleets without the requirement to commit to any contracts
The ability to try the e-log software worry-free thanks to the ability to return the product within the first two weeks, no questions asked
Productivity boosting, efficient dispatch features
Ability to edit and manage electronic driver-vehicle inspection reports (DVIRs) to ensure the safety of every vehicle in the fleet 
Protection from the cost of expensive violations, as HOS247 electronic logs help drivers pass DOT inspections
An intuitive fleet manager portal that increases the efficiency and visibility of fleets
Are Electronic Logs Mandatory?
Electronic logs are mandatory for commercial drivers who are under the requirement to log their hours-of-service (HOS) records-of-duty-status (RODS), including commercial buses and trucks. Drivers who are domiciled in Mexico and Canada also need to use ELDs. According to FMCSA estimates, approximately 3.4 million drivers will fall under the category of those who need to use electronic logs.
Even interstate commerce drivers must log their RODS if their vehicle:
Weighs 10,001 pounds or more;
Is used to transport 16 passengers or more, without compensation;
Is used to transport nine passengers or more, with compensation; or
Is used to transport hazardous materials in a quantity that requires the use of placards.
There are exceptions to the RODS requirement, however, if the driver:
Operates as a driver-salesperson driving for no more than 40 hours within seven consecutive days;
Is an oilfield carrier; or
Is a short-hauler operating within a 100 air-mile radius of their normal work reporting location or non-CDL driver operating within a 150 air-mile radius of their home base.
It is important to note, however, that even if exempt, a driver still needs to log their start and end times. Therefore, utilizing full RODS is a best practice for organized, safety-conscious fleets.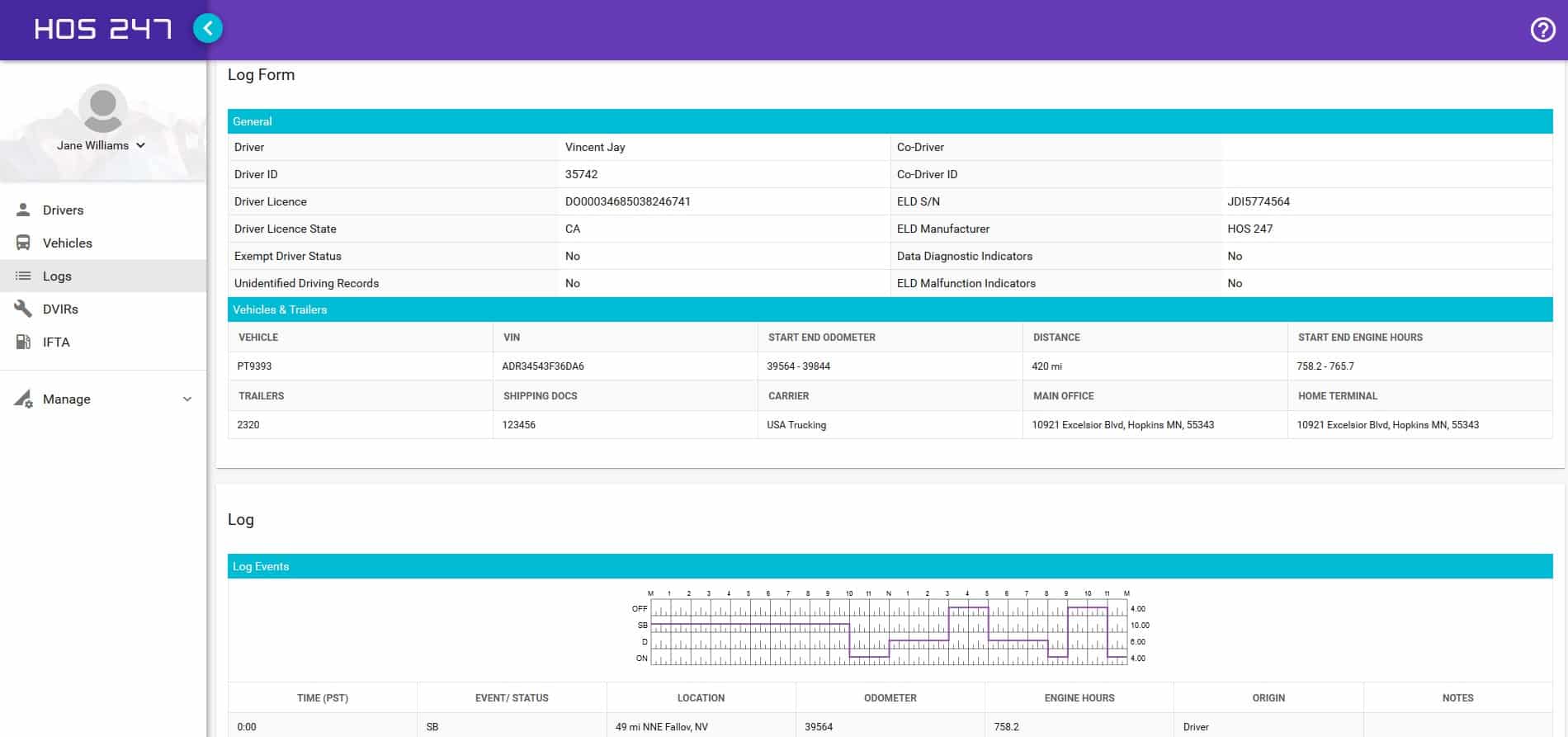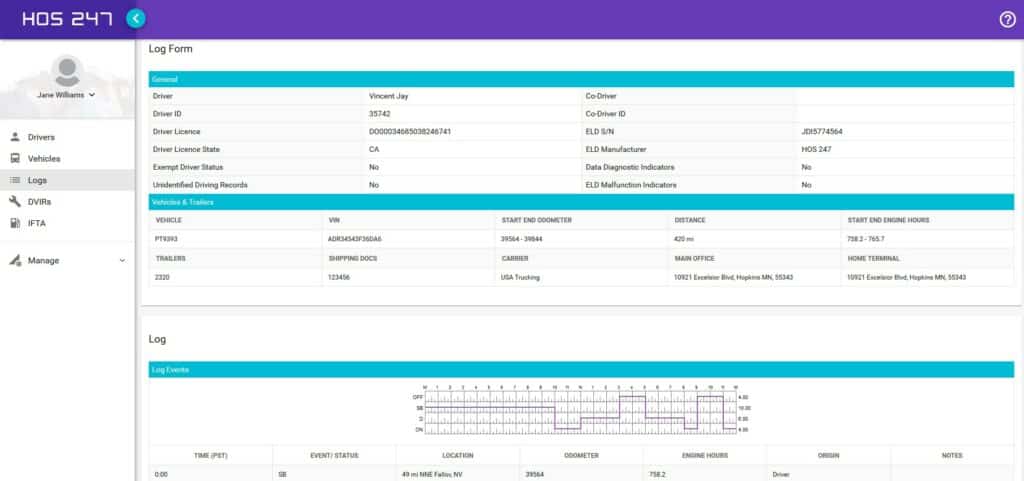 Electronic Logs Compliance Timeline
When the ELD mandate was first written, the FMCSA set a timeline in place by which drivers and fleets needed to ensure compliance. By now, all drivers who don't meet the ELD exemptions need to be compliant. Below is the full timeline:
Feb. 16, 2016 – Enactment and Notice that put in to law the requirement that commercial motor vehicle carriers use electronic logging devices to replace old HOS recording methods
Dec. 18, 2017 – The date that CMV carriers were under the requirement to start using an FMCSA-registered ELD, or an approved AOBRD or EOBRD
Dec. 16, 2019 – The date by which vehicles using AOBRDs and EOBRDs were required to replace them with an FMCSA-registered ELD
What Is the Carrier's Responsibility in Ensuring That They Are Using a DOT-approved Electronic Logbook App and Device?
While CMV drivers need to ensure they are using DOT electronic logs, the carrier also has a responsibility to periodically check the FMCSA's registration and revocation lists. The registration list is periodically updated to show the ELD providers who have recently met the ELD requirements set forth by the FMCSA. In contrast, the revocation list shows the ELD providers that no longer meet the requirements. In an effort to make it easier for carriers to ensure their ELD is still compliant, they are encouraged to register for notifications from the FMCSA that mention when an ELD has been added to the revocation list.
In addition to checking the registration and revocation lists to make sure their choice of ELD provider is still compliant, motor carriers must also keep their ELD RODS and backup-data for six months. This data must be kept on a device that is separate from where the original data is stored and in a way that protects driver privacy.
HOS247 Is Compliant With Current DOT Regulations and Listed as an FMCSA-approved Device
When choosing an ELD provider, carriers and drivers cannot make the mistake of simply choosing one that is the lowest price without first doing their research. Carriers that have made that mistake often come to realize that they've chosen an unreliable ELD solution that fails to offer support for their drivers and eventually ends up on the FMCSA revocation list. In contrast, carriers that have chosen HOS247 have benefited from reliable support and training, and a consistent presence on the FMCSA registration list.
HOS247 Electronic Logbooks Also Support Trucking Exceptions
In addition to helping drivers and fleet managers meet e-log compliance, HOS247 also helps them determine whether they meet any one of the four HOS exceptions: the 30-minute Break Exception, the 16-hour Short-haul Exception, the Adverse Driving Conditions Exception and the Direct Emergency Assistance Exception.
The 30-Minute Break Exception
It is mandatory for drivers to take breaks that last 30 consecutive minutes after driving for eight hours. That does not include time fueling or loading cargo, however. If the driver does not take a 30-minute break after driving eight consecutive hours, they could be charged with an HOS violation  ̶ unless they are short-haul drivers who meet the qualifications for the 100 air-mile radius provision with a CDL vehicle or drivers who meet the qualifications for the 150 air-mile radius provision while operating a non-CDL vehicle.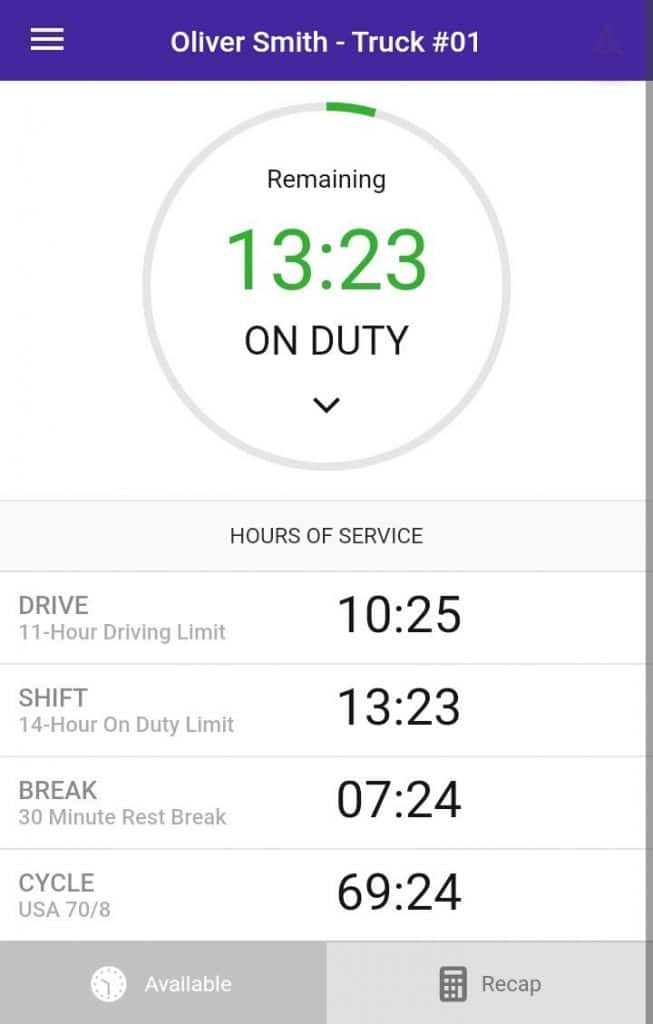 The 16-Hour Short-Haul Exception
This exception states that a property-carrying driver can lengthen their driving window to 16 hours from 14 hours once every seven consecutive days if they:
Return to the same reporting location they were released from for the previous five shifts  
Have spent 10 consecutive hours off-duty and then are released of duty within 16 hours of starting
Have not used the 16-hour short-haul exception during the previous six consecutive days (with an exception existing if they've started their week using the 34-hour break)
The Adverse Driving Conditions Exception
This exception states that a driver can lengthen their driving limit by two hours if they lacked any way of anticipating poor driving conditions or weather before starting their route. Examples include when the weather makes an unpredicted change or an unpublicized road closure occurs. Traffic delays and forecasted weather conditions, however, would not qualify for this exception.
If conditions meet this exception, drivers who are normally allowed to drive a maximum of 11 hours per shift would be allowed to extend it to 13 hours, as long as they complete the 13 hours within a 14-hour time slot.
The Direct Emergency Assistance Exception
HOS regulations sometimes need to be temporarily lifted when an emergency occurs. However, state and federal governments need to declare the emergency in order for drivers to complete their shifts without violating FMCSA regulations, as long as their shift could have reasonably been completed if the emergency never occurred.
While keeping track of these exceptions may be a burden for drivers, using the HOS247 ELD makes it easier to use these exceptions when needed.
HOS247 Helps to Avoid Costly Violations at an Affordable Price
Nearly a third of drivers are put out of service because of HOS violations. HOS247 helps drivers and carriers avoid these and other types of violations. Following are some of the most common violations and how to prevent them.
HOS247 software effortlessly tracks drivers logs, thus avoiding high fines for incorrect logbooks. The average fine is just over $9,000.
Incomplete or lack of RODS – Failing to record RODS has an average fine of close to $3,000 and as much as $13,680. Unless exempt from the ELD mandate, an FMCSA-compliant ELD like HOS247 provides is mandatory for recording RODS.
Driving for longer than 14 hours – The FMCSA's HOS rules state that drivers cannot drive more than 14 consecutive hours without first taking 10 consecutive hours off-duty. Doing so has an average fine of more than $7,000.
Driving too many hours within a week – Drivers are not permitted to drive more than 60 hours within a period of seven consecutive days, or more than 70 hours within a period of eight consecutive days. Doing so can prompt fines of over $20,000.
 How Can Drivers Avoid These Violations?
Drivers can easily avoid these violations by using an FMCSA-registered electronic logging device. Of the many benefits they offer, an HOS247 ELD can alert drivers when there is a risk of an HOS violation before one occurs.
HOS247 has long been a trusted source for FMCSA compliance among both drivers and fleets. While other ELD providers have come and gone, HOS247 remains a top-rated, highly trusted ELD provider for fleets of all sizes. Unparalleled support, intuitive dispatch features, customizable pricing options and easy-to-use hardware are just a small sampling of the benefits to using a HOS247 ELD. However, those benefits hardly compare to the confidence that a fleet will be safe on the road and protected from costly FMCSA and DOT violations.
"Awesome. Easy to install and use. Top notch customer service! I recommend it to everyone."


"Great company to deal with. The support team is very responsive and competent. They provided a great deal of education for our company."

"Customer service is great. They helped me to set up everything and showed how to edit my logs. Thank you."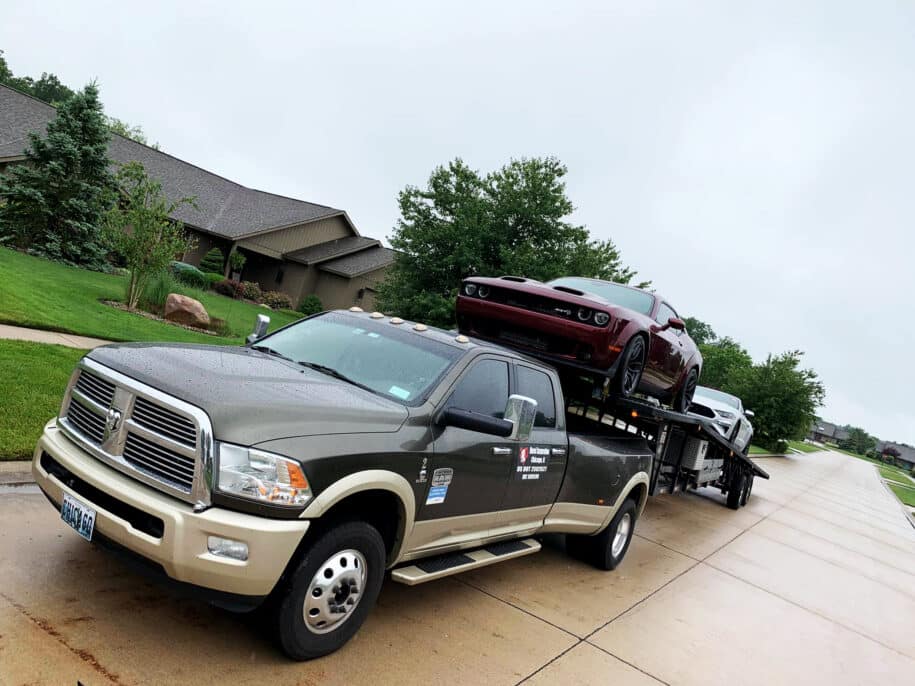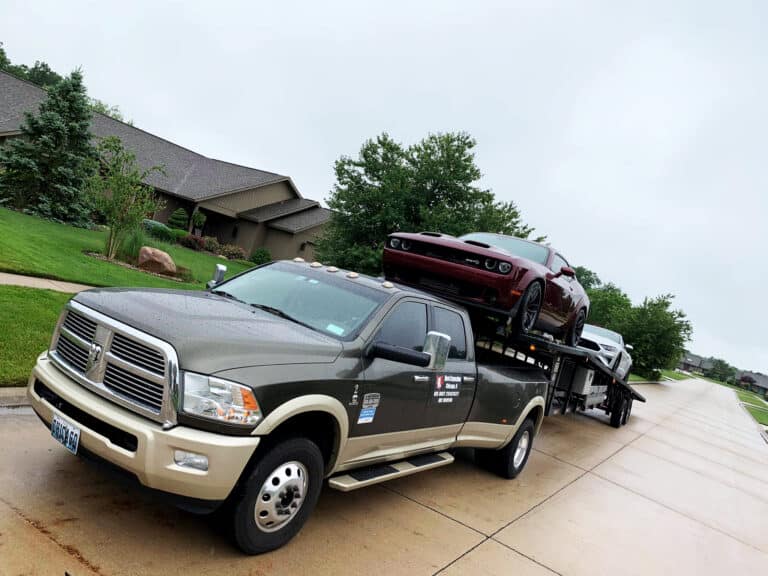 ELD Services & Devices
Аrе drivers of pickups required to install ELDs? View ELDs for all types of vehicles > Many drivers of pickups are required to install and use ELD. Whether an ELD for pickup trucks is related to the gross vehicle weight
Read More »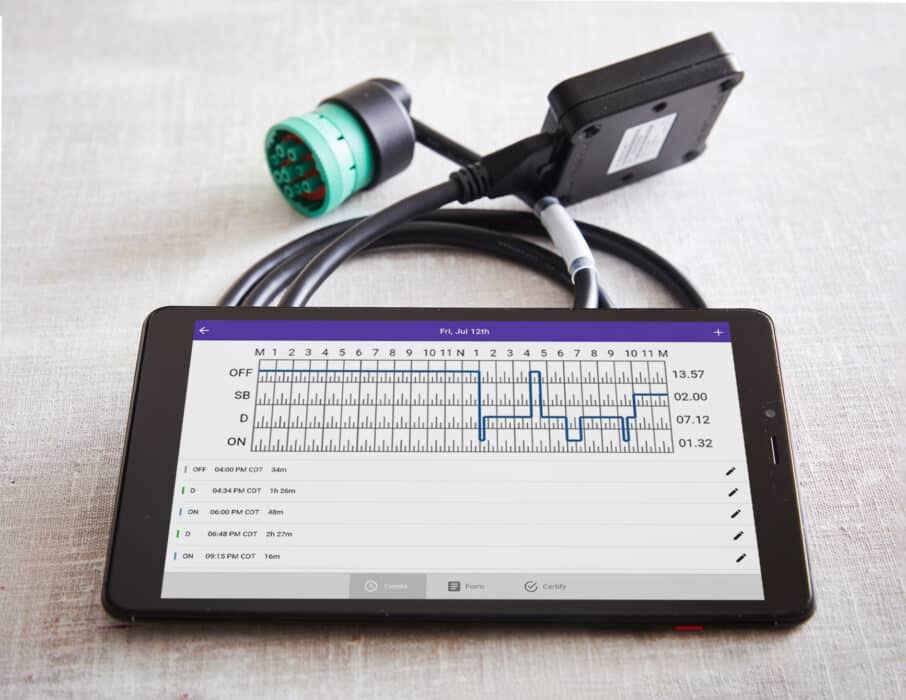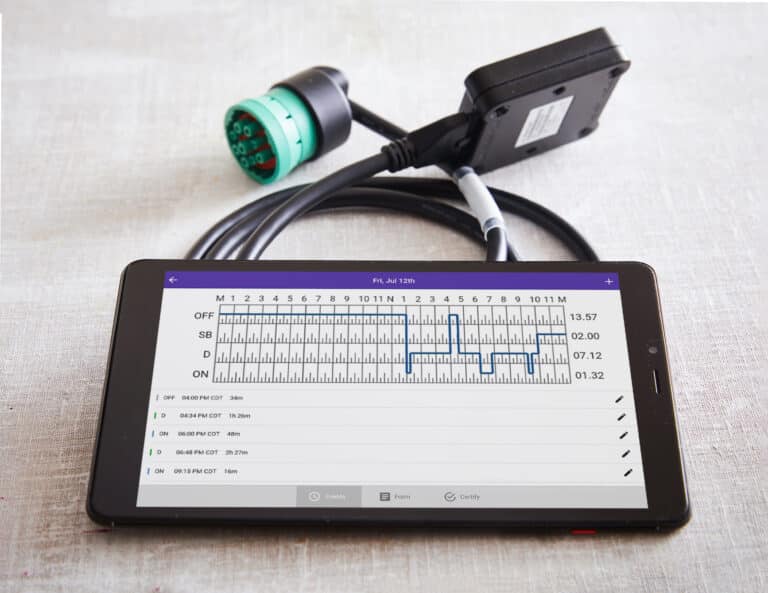 ELD Services & Devices
The Federal Motor Carrier Safety Administration requires electronic logging devices (ELDs) to be connected to an engine directly. This allows the ELD to directly record a driver's hours-of-service (HOS) and records of duty status (RODS) information. Since an ELD app
Read More »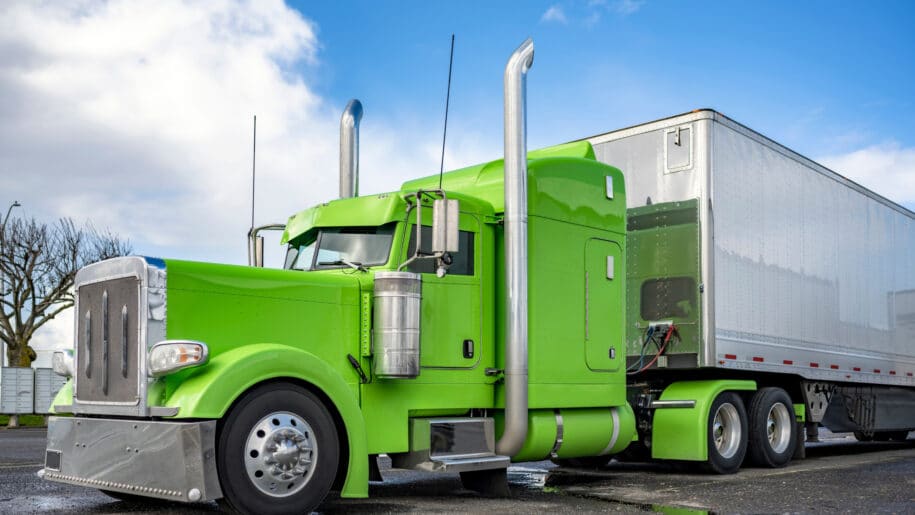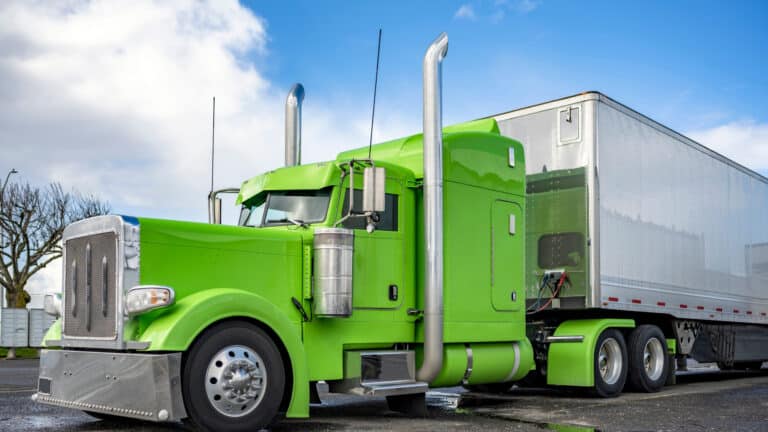 ELD Services & Devices
With the elog mandate in effect, business owners risk facing serious penalties and expensive fines for non-compliance, so the reliability of an electronic logging device has become one of the most crucial aspects to consider. Are you a motor carrier
Read More »