Truck drivers and fleet managers have found a trustworthy digital truck log book provider in HOS247. Our team has assembled a solution that drivers can rely on to keep accurate HOS logs with minimal effort from the driver. Our user reviews show customers are satisfied with the performance and compliance of the log app and the responsiveness of our technical support team. HOS247 has many qualities and features to add value to your business and increase profits, including: 
All-around user-friendly solution. We like to keep things simple and effective:

Tried and tested high-quality hardware for durability. The installation is fast and straightforward.
A stable Bluetooth connection keeps HOS logs accurate and updated at all times.
The app and portal are easy to use and learn, and the digital logbook app runs smoothly on the driver's Android or iOS device of choice.

Premium support. Our technical support channels are open in English, Spanish, Polish, and Russian. We are available every day of the week to help with any problem you may have on the road. If the call drops, we will call you back every time.
Flexible options. The monthly subscription plan allows you to adjust the ELD service to your needs as you go. Also, we do not require you to sign a long-term contract; you can cancel anytime.
Trial period. You deserve a test drive. Give HOS247 a try for two weeks. You can have your money back if you decide to return the device within that time, no questions asked.
How Does the HOS247 ELD Work? 
The electronic logging device must connect to the engine control module using the diagnostic port. The digital truck log book then synchronizes with the vehicle, driver app, and fleet manager portal. The HOS247 ELD is designed for a quick setup, allowing you to have your elog up and running in no time.
The device will automatically record the date, time, location, engine hours, and distance driven, as well as vital information for identifying a specific driver, user, or motor carrier. This information will be displayed on the digital truck log book app.
Note that the digital driver log book does not collect vehicle speed, braking, or steering information. It will only collect information to determine whether a driver is compliant with hours of service (HOS) regulations, such as when the vehicle is in motion and the engine is on and the driver's changes of duty status, for instance, if they use the truck for personal errands or yard moves.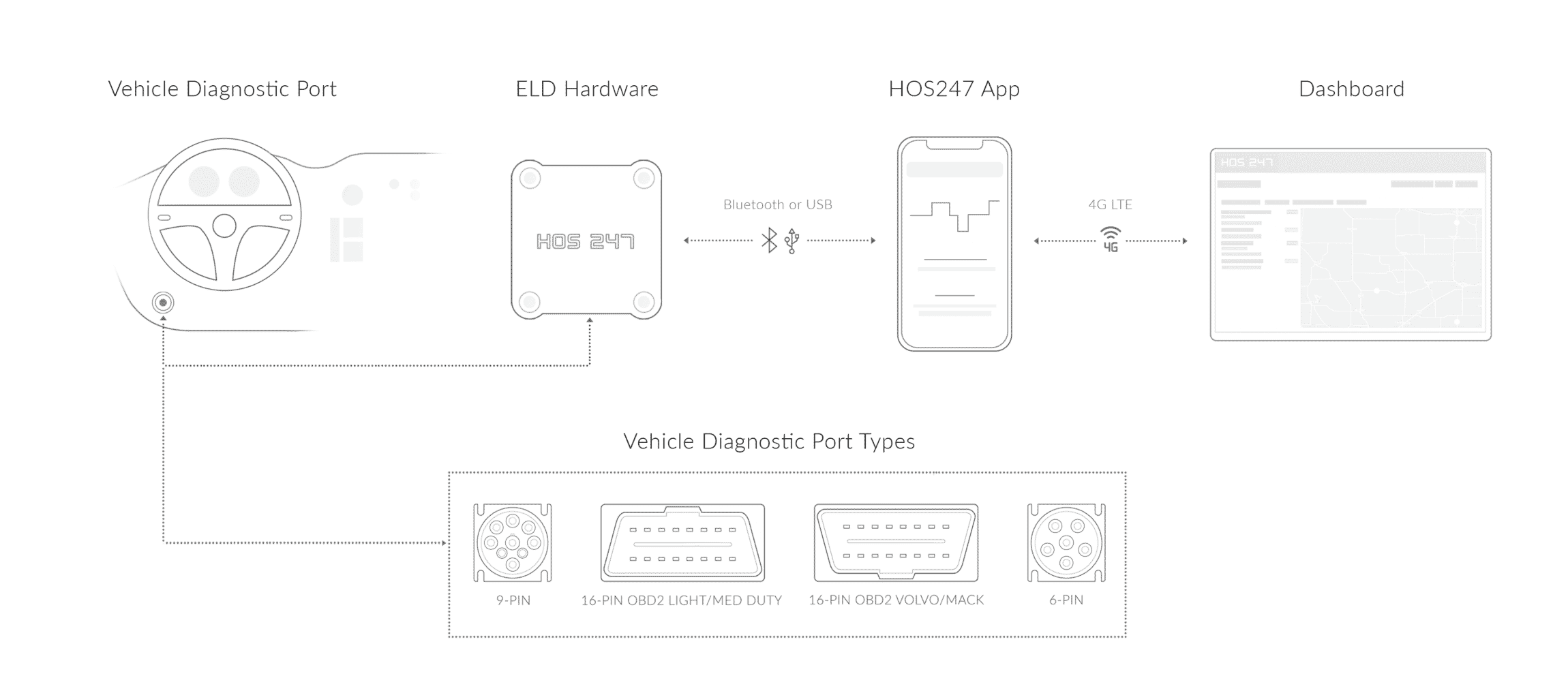 Can I Edit a Digital Truck Log Book Record? 
ELDs automatically record the time a CMV is in motion as driving time: this cannot be changed to non-driving time. Yet, if there is a mistake or missing information in the elog, the driver or the carrier may request a change and must then certify it. The valid changes that can be made on an ELD record are: 
Edit. A change to the original record that does not overwrite the original. 
Annotation. This note relates to a record, update, or edit that a driver or authorized support personnel may input into the digital truck log book. 
All edits should be annotated, stating the reason for the change, whether a driver or the carrier makes it. There are clear guidelines on how and when this is allowed. For example, if a driver forgets to change their status for the lunch break or starts the day with a non-driving task and does not change the status to On Duty, they would need a log edit. Bear in mind the following considerations when making edits and annotations:
An authorized staff member must add a note to a log edit describing its reason. This action counts as an annotation.
Drivers are responsible for reviewing, certifying, and resubmitting the record. The driver has the final sign-off even if another authorized staff member makes an edit.
The original ELD records are kept even if allowed edits and annotations are made. If the driver cannot independently access the records from the ELD, the motor carrier must provide access on request. However, the right to access is limited to six months, consistent with the period during which a motor carrier must retain drivers' RODS.
The ELD username associated with a record cannot be edited and reassigned, except for:

Assigning an unidentified record.
Correcting team driver errors.
Correcting a non-authenticated driving segment accepted by mistake.

Edits or manual entries are not allowed on intermediate logs, drivers' login/logout activities, CMV engine power up, shut down or ELD malfunctions and data diagnostic events. 
How Can a Digital Truck Logbook Help Your Business
The best digital log book app for truckers, as well as the best device, will bring additional value and benefits to carriers and truck drivers. For starters, it improves safety on the road for drivers and others by strengthening compliance with HOS rules and reducing driver fatigue. Logbooks also save time and work by improving the accuracy of records. Some additional advantages of a digital truck log book are:
Minimizing administrative burden. You don't have to worry about recording, saving, and storing RODS.

Automated and straightforward process for keeping RODS.
Improve HOS rule compliance with automated recording.
Optimize office administration tasks.

Reduce fuel waste. You can track exactly how much time the engine is running while the vehicle is not in motion. As a result, you can save thousands of dollars every month by reducing excessive idling.
Vehicle diagnostics. A digital logbook app can monitor fault codes and send real-time alerts and detailed reports to the fleet manager. This feature allows them to plan the necessary vehicle maintenance and manage these issues ahead of time to achieve higher efficiency and productivity.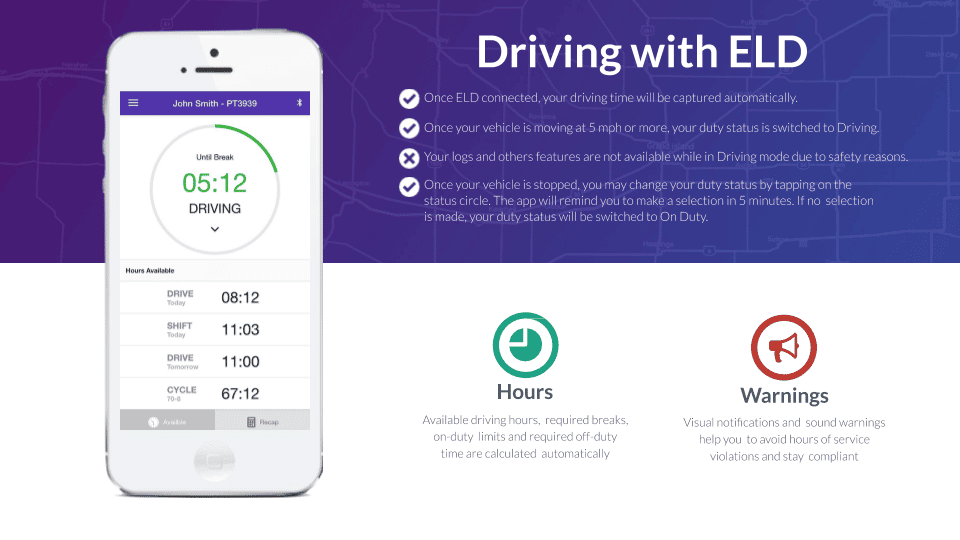 Location tracking. GPS tracking technology helps make dispatch more efficient. The manager has a bird's eye view of the entire fleet and of drivers' remaining driving time to optimize load assignments, route management, and provide the customer with a more accurate ETA.
Reduced liabilities. Lawsuits are something trucking businesses deal with every now and then. Having a digital truck log book can make the difference in these cases, serving as evidence of the driver's innocence. This can prevent thousands of dollars in penalties.
Lower insurance premiums. Insurance companies offer much better rates for fleets using ELDs. Additionally, since elogs are also packed with GPS tracking features, the risk of a stolen or hijacked vehicle is far less. This is another reason why insurance companies feel at ease when it comes to offering lower insurance rates.
Who Does the Mandate Apply to? 
The ELD mandate will apply to all commercial vehicle drivers in Canada as of January 1st, 2023. If you keep RODS, you most likely have to comply with the mandate. Canadian drivers are already required to follow the rules and regulations if they engage in interstate commerce in the United States. Still, there are a few exemptions that will allow drivers to operate without an electronic logbook:
Special permissions and statutory exemptions. Carriers can be granted exemptions by the authorities.
Short-term rentals. Drivers operating vehicles under rental for less than 30 days are not required to keep RODS with an ELD.
Manufacturing date. CMVs that were built prior to the year 2000 are exempt from the mandate.
Short-haul operations. CMVs that operate within a 160 kilometer radius from their home terminal do not need to use electronic logbooks.
"Awesome. Easy to install and use. Top notch customer service! I recommend it to everyone."


"Great company to deal with. The support team is very responsive and competent. They provided a great deal of education for our company."

"Customer service is great. They helped me to set up everything and showed how to edit my logs. Thank you."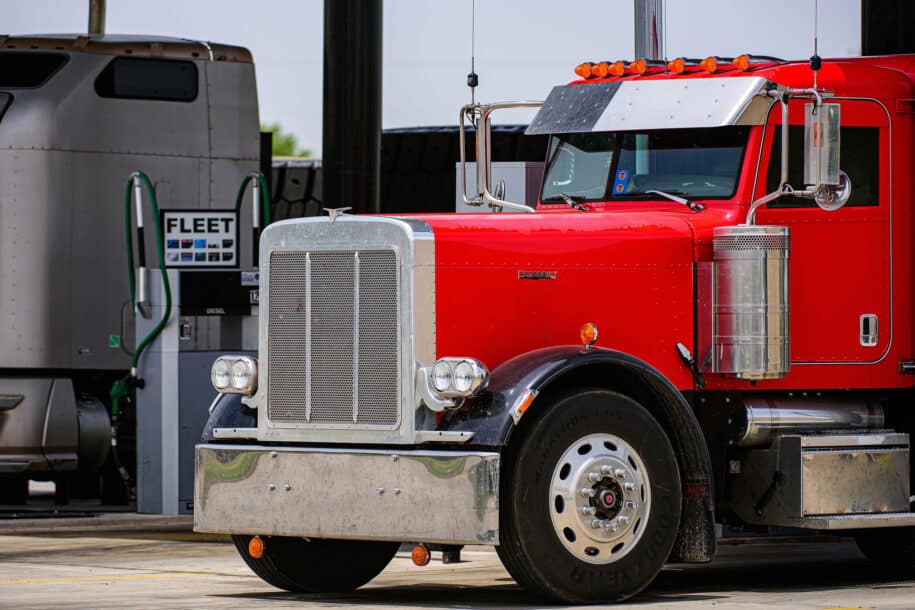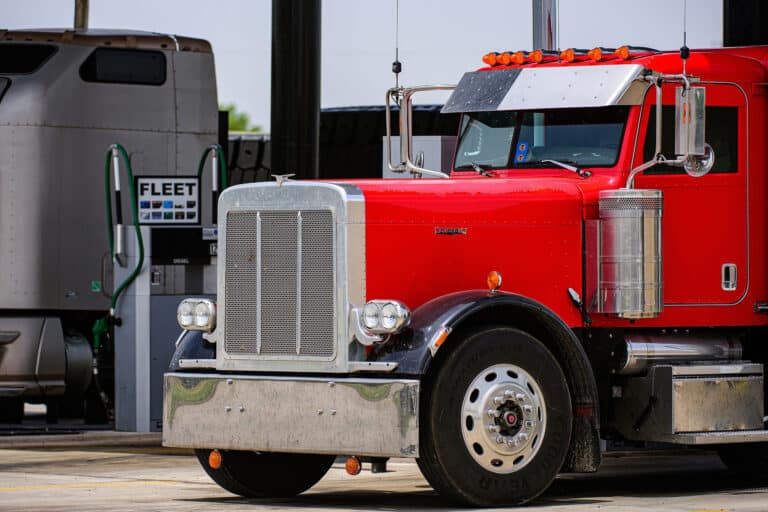 GPS Fleet Tracking Tips in Canada
GPS tracking for trucks helps carriers in Canada cut operational costs and optimize processes by monitoring vehicles' locations in real-time, creating a more efficient workflow and increasing security for drivers and company assets. GPS tracking technology offers way more than
Read More »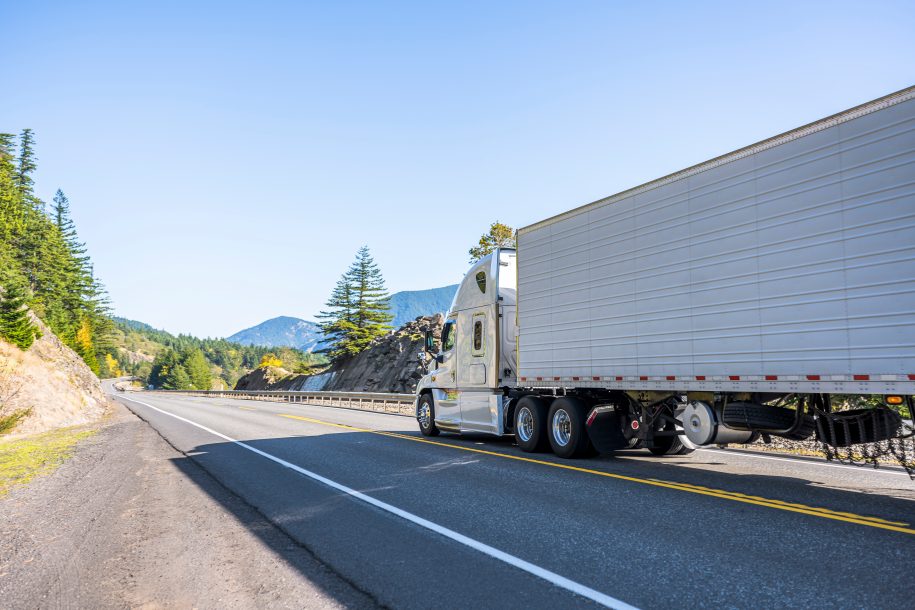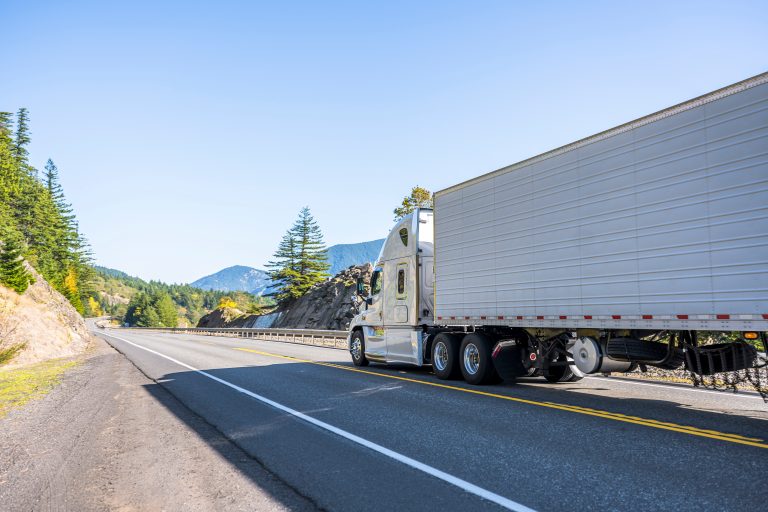 ELD Services & Devices
Trucking businesses will have to rely on ELD providers to stay Transport Canada compliant once the ELD mandate is in full enforcement. That is why choosing a reputable company with an efficient electronic log book for sale is so important.
Read More »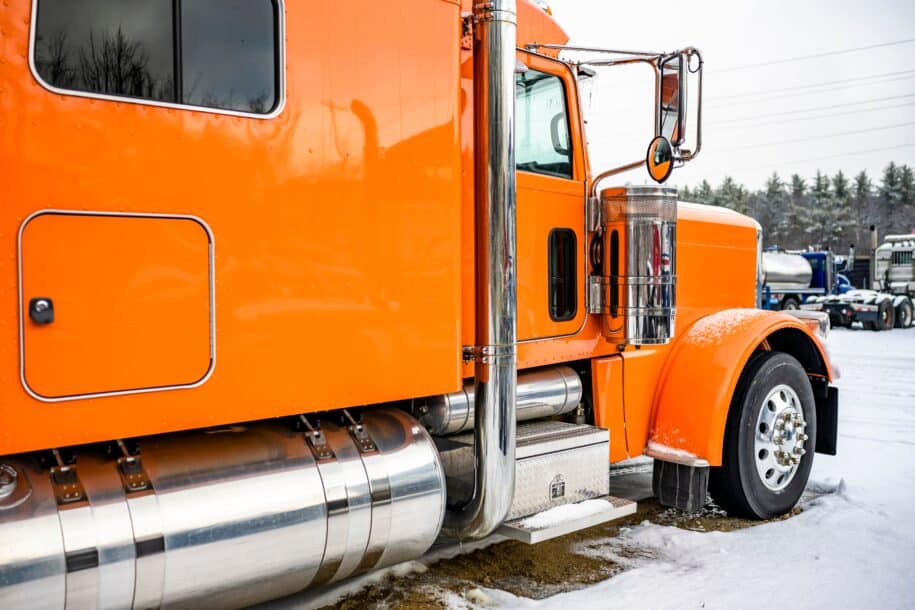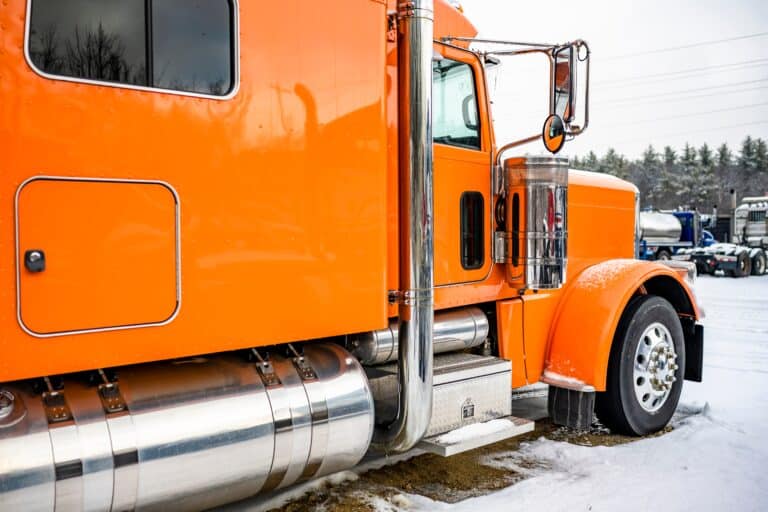 GPS Fleet Tracking Tips in Canada
Trucking companies in Canada have much to gain by using a GPS tracker for commercial vehicles. Logistics and overall business performance can reach a new level of productivity thanks to this technology. By having a bird's eye view of ongoing
Read More »