Electronic logbooks will soon become an essential part of the trucking industry in Canada. Transportation professionals know that quality elogs will help operations run smoothly. However, finding the right one can be challenging. This article will help readers make the best choice for their business by outlining important qualities to look for when choosing an ELD electronic logging device and red flags to avoid.
HOS247 Is a Leading ELD Provider
HOS247 is a reliable partner for trucking professionals. Our team is dedicated to providing quality service with timely support. The HOS247 ELD electronic logging device offers many advantages and benefits; we bring customers added value beyond the basic requirements, including:
Multilingual customer support. Our top-rated support team is ready to assist clients with logbook and compliance issues seven days a week. We speak English, Spanish, Russian, and Polish. 
Driver-friendly solution. HOS247 is known for its intuitive and easy-to-use logbook app. You can read reviews from drivers, owner-operators, and fleet managers to help you get a sense of the system's performance on the road.
Dependable hardware. The hardware piece only takes a few minutes to install. The durable material makes it so it does not break mid-drive. Should anything happen, we have a one-year free replacement warranty.
Stable Bluetooth connection. The pairing of the hardware and the app works seamlessly to achieve accurate data transfer via Bluetooth at any point during the drive.
IFTA calculations. Automate IFTA calculations to prevent human error in tax reporting and reduce audit risk.
Real-time GPS. Fleet visibility helps optimize load management, and operations are more efficient with the real-time GPS tool.
Driver vehicle inspection reports. Ensure safety and increase your vehicles' useful lives with pre- and post-trip inspection reports and timely maintenance reminders.
Fault code notifications. Get real-time alerts when the engine presents issues to increase driver safety. 
No contract policy. HOS247 works on the principle of reliability. Our clients decide how long they keep the service; there is no need to sign a contract and commit to our solution for long periods. We also offer a two-week trial with hassle-free returns.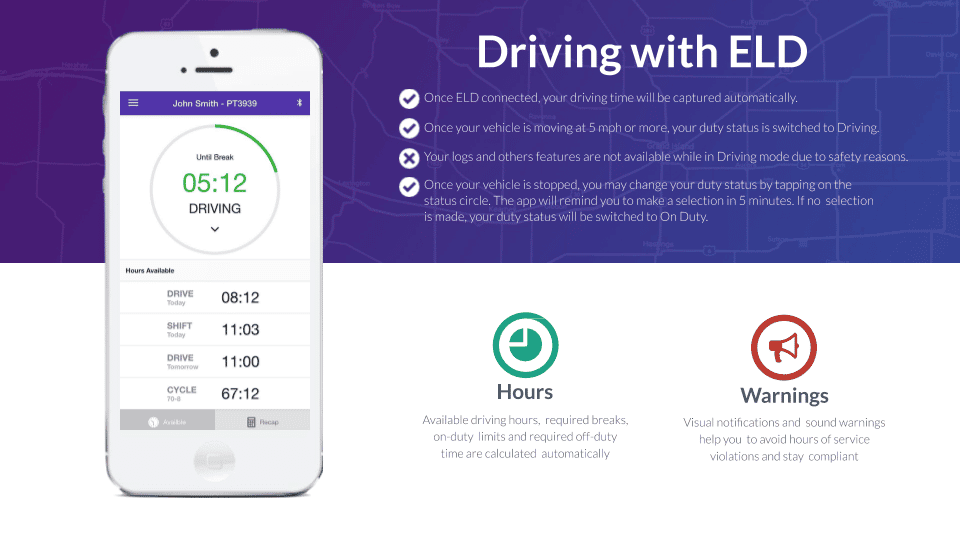 How ELD Electronic Log Devices Can Improve Your Business
ELDs are a tool of mandatory use mainly for safety purposes: automatic HOS recording improves compliance with regulations, preventing driver fatigue and reducing accidents. However, they can also bring several benefits for carriers. For starters, automation reduces the paper load and fleet managers' workload. This saves time and money on office administration. Moreover, a reliable ELD electronic logging device will offer customers the following benefits: 
Reduced costs. From preventing breakdowns through timely maintenance reminders to reducing fuel consumption with idling monitoring and avoiding fines, the right electronic logging system can become an asset for any size fleet to increase profitability. 
Lower insurance premiums. Insurance companies consider the safety offered by elogs (and their GPS feature) and give carriers that use them lower insurance premiums.
Increased customer trust. The right logbook prevents violations, which means less delays and better service.
Clues to Find the Right ELD
There are many electronic logbook options in the market. The Ministry of Transport will fully enforce the ELD mandate (currently on the progressive rollout phase) starting on January 1, 2023.
Elog providers will have to contact authorities approved by the Ministry of Transport to evaluate, approve and certify their ELD electronic logging device and logbook software according to the standard. On top of certification, there are other ways to determine if an ELD electronic logging device is reliable, as well as some things that it is best to avoid.
Green flags
Positive reviews. When you hear positive comments through word-of-mouth you know there's something to it. Try looking at reviews from actual users on unbiased platforms online (such as Google Play or the Apple App Store). Other trucking professionals are excellent sources of information. 
User friendly. Successful technology is always simple to use. Drivers have plenty of work already; the logbook should be easy to manage so they can focus on doing their job. 
Compatibility. A logbook app that works well with several types of mobile devices (and operating systems) will save money on additional tablets and time since each driver can work with the operating system they are more comfortable with. Making sure the provider supports the different types of vehicles that make up the fleet will also save customers unnecessary troubles.
Red flags
Long contracts. Some providers will have clients sign service contracts for up to 5 years. Since businesses, and especially technology, change over time, it is probably best for trucking professionals to have some freedom to switch providers. 
Unclear pricing. Occasionally, providers will not show the full cost for contracting their services. Clients may end up paying more than they thought they agreed to. Ask the elog system provider about additional fees for installation, training, activation of their service, or any other concepts. 
Unreliable technical support. When there's a problem on the road, truckers need support from real people, not an answering machine. Try calling the vendor's support line; that should give you a fair picture of how ready to assist they are when needed.
What Other Features Are Needed for Trucking Operations? 
The extra features that accompany the electronic logging device are also important in making the right decision. These features can be used to optimize the performance of the fleet, and carriers should know them and ask the provider about including them in their plan:
IFTA reporting

. ELD systems integrate a feature to streamline IFTA calculations. The elog device can compute accurate kilometers per jurisdiction and ease tax reporting.

GPS tracking.

GPS trackers make drivers, vehicles, and loads safer. They also allow carriers to improve their customer service with more efficient load assignment and accurate ETA.

Idle time reporting.

Since the device is synchronized with the engine, it can keep track of idling time. This enhances fleet efficiency by helping to manage this behaviour and reduce fuel costs. 

Vehicle diagnostics.

Fault code detection and inspection reporting make it easier to keep fleet maintenance on schedule. This way, the vehicles are always in top shape, breakdowns are prevented, and reparation costs are substantially reduced. 

Who Needs to Comply with the ELD Mandate?
The ELD mandate applies to millions of drivers. Trucking professionals who are required to keep HOS will most likely be required to use an ELD electronic logging device for this purpose. However, there are some exemptions to this rule.
First, drivers using timecards are not required to log their HOS, so they are not required to use electronic logbooks either. In other cases, truckers may operate without an ELD, so long as they use paper logs as stated by the RODS requirements in Transport Canada's mandate. Canadian regulations consider these four ELDs HOS 1/2:
Special permits. A commercial vehicle may not require a registered ELD when operating under a permit.
Official exemption. If a carrier has been issued an ELD exemption by the Motor Vehicle Transport Act, then vehicles operating under it do not come under the rules of the ELD electronic logging device mandate.
Short-term rental agreements. If a vehicle is driven under a rental agreement for a period of 30 days or less, then the ELD mandate does not apply. Exemptions will not be granted on renewed or extended rental agreements.
Vehicles manufactured before 2000. If the vehicle model is older than the year 2000, then the ELD mandate does not apply.
"Awesome. Easy to install and use. Top notch customer service! I recommend it to everyone."


"Great company to deal with. The support team is very responsive and competent. They provided a great deal of education for our company."

"Customer service is great. They helped me to set up everything and showed how to edit my logs. Thank you."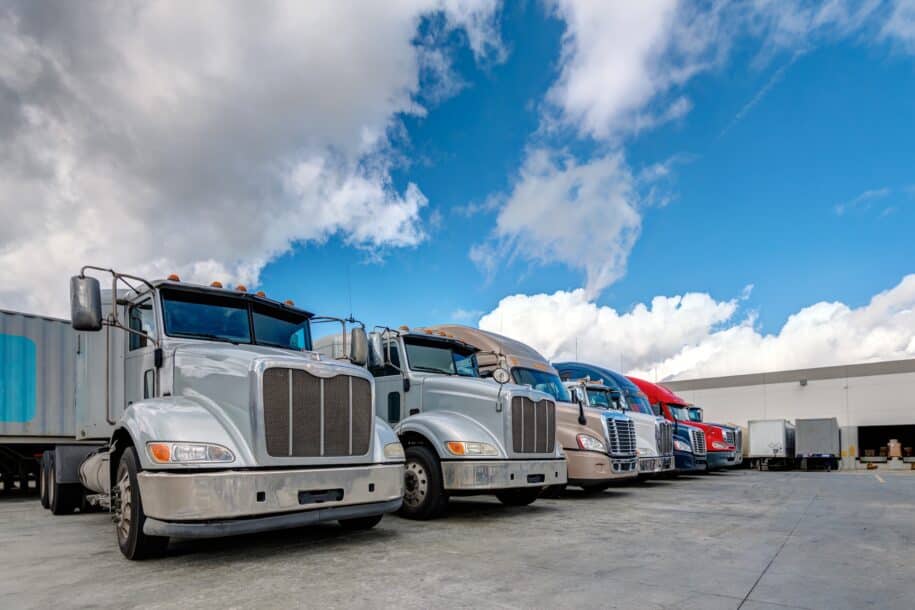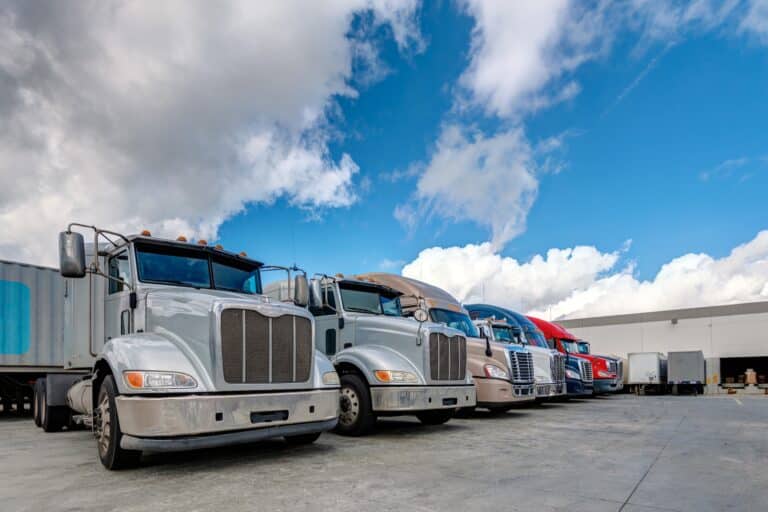 Fleet Management Systems & Features
Fleet management systems in Canada provide real-time visibility into trucking operations, enabling managers to streamline their tasks and find areas of opportunity to increase profitability. From handling drivers' schedules to maintaining vehicles, managing a transportation enterprise is challenging. However, technological
Read More »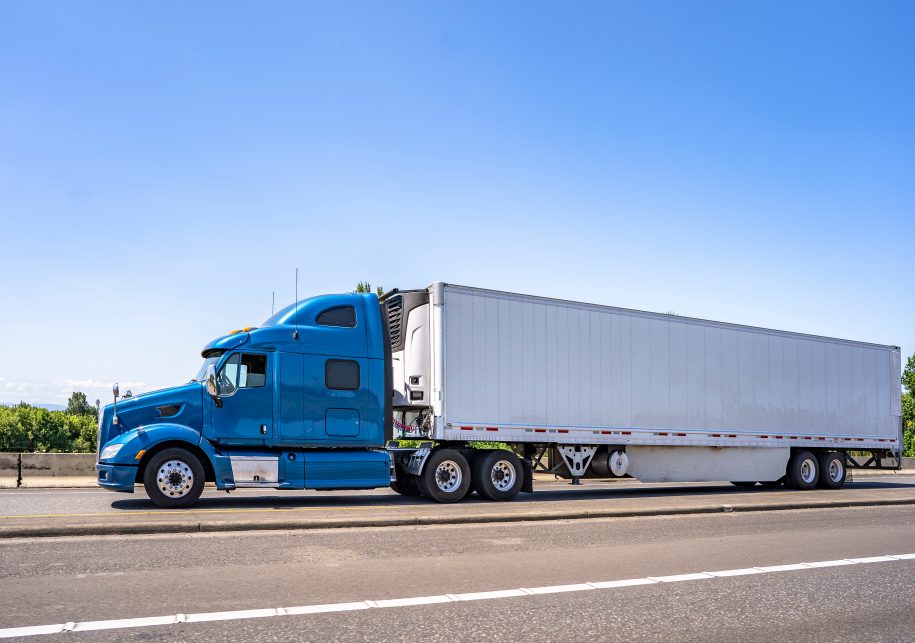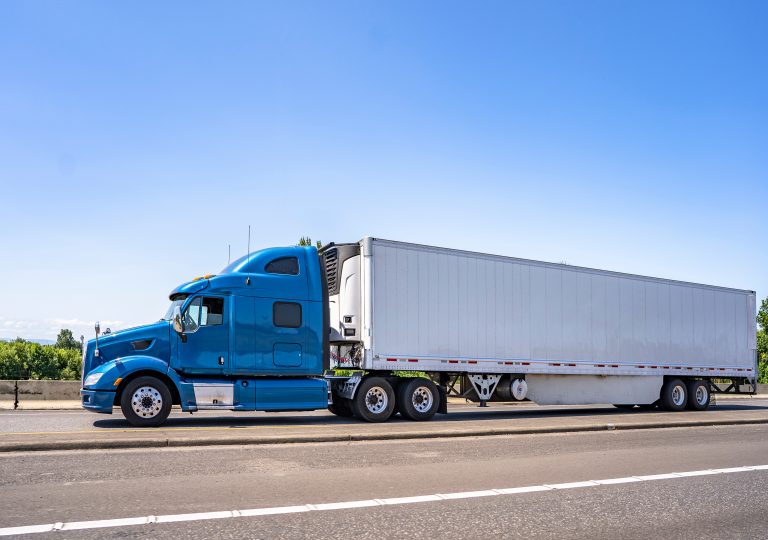 ELD Services & Devices
Records of duty status may be recorded on paper logs or using an electronic logging device on a document called a driver log book. According to the regulations established by Transport Canada, commercial motor vehicle drivers will now have to
Read More »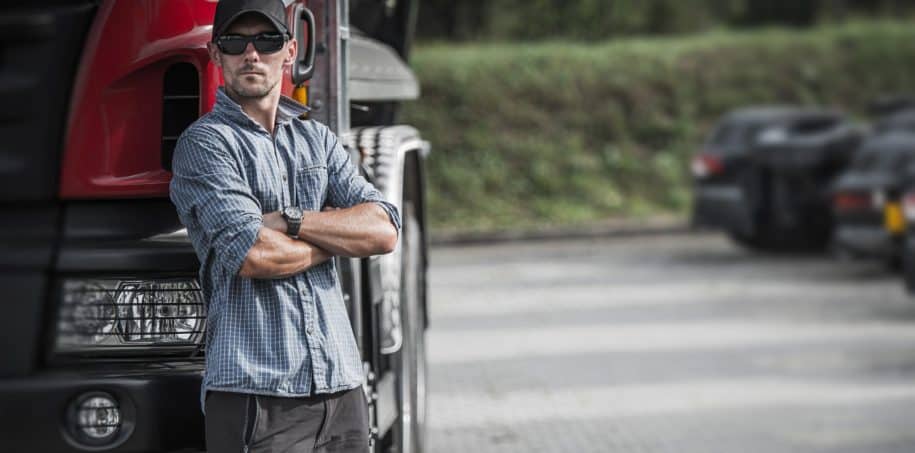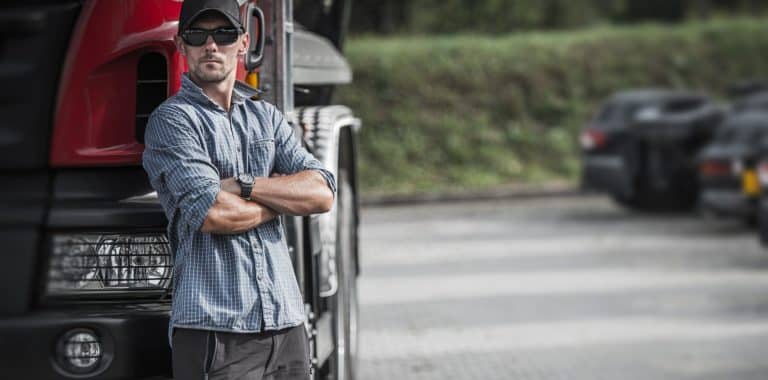 ELD Services & Devices
With the ELD mandate coming into full effect on January 1, 2023, truck drivers must comply with the new rules and use electronic logging devices. making the switch from paper logs might feel like a monumental feat at times. Companies
Read More »