Most commercial motor carriers and drivers in Canada need to comply with the Electronic Logging Device mandate, but there are some exceptions. This article discusses who must abide by this rule and why how to make sure your choice driver log book is the right one for your business.
What Is the Canadian ELD Mandate?
The ELD Mandate is a technical standard that adopts many provisions set out in the US, aiming to improve road safety by automating commercial vehicle drivers' hours of service records. Lack of road safety costs billions of dollars annually, with crashes due to driver fatigue and paperwork expenses. According to the Canada Gazette, the estimated benefits of the ELD Mandate amount to around $380 million by preventing errors, logbook tampering, and improving road safety. As part of the mandate, drivers can work in safer environments and efficiently track and manage records of duty status (RODS).
The mandate's central focus is to ensure electronic driver log apps in Canada are compliant with defined technical standards and are always certified by a third party. As this article is being written, Transport Canada has accredited three certification bodies to test and certify electronic logging devices. These are: FPI Innovations, CSA Group and COMDriver Tech.
There is no grandfather clause to the mandate, which came into effect on June 12, 2021. However, a one-year period of progressive enforcement was be announced and then extended. The final date for commercial vehicle drivers to capture hours of service using a certified ELD instead of using a traditional paper logging system by January 1, 2023. No penalties will be applied before that date. 
What Are Electronic Driver Logs?
A drivers daily log book is a certified device or technology with the capability to automatically log how long a driver spends driving to create records of duty status (RODS). Electronic driver log books bring several significant benefits to the transportation sector. As well as minimizing driver fatigue, an ELD device reduces the volume of paperwork, allows for quicker enforcement checks, provides economic value by harmonizing with the US regulation, and greatly enhances safety on the roads.
Devices like the HOS247 ELD have many features that facilitate the benefits mentioned above. Hour logging and violation alerts are automatic, saving time and money while improving safety. An inspection mode means logs can be shown on either a tablet or smartphone for better accessibility. Fleets can be tracked in real-time, while IFTA state mileage calculations are fully automated. Vehicle inspection reports are created in a matter of seconds. The devices fully comply with Canadian HOS rules.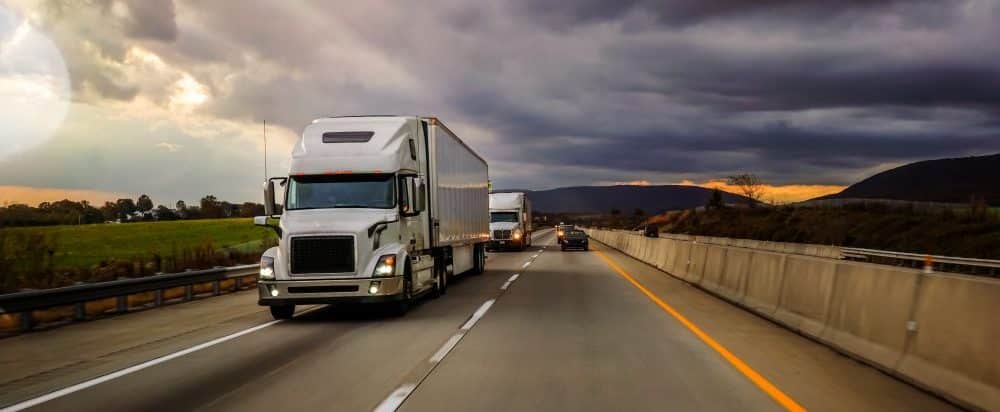 Who Must Comply With the ELD Mandate?
The Canadian ELD Mandate applies to all federally regulated carriers. About 157,000 commercial vehicle drivers in Canada must comply with the new rules. If a company operates within a Canadian province, it will fall under the provincial jurisdiction, while those that provide extra-provincial transportation such as local activities come under federal jurisdiction. At the time of the most recent announcement, provincially regulated carriers do not need to comply with the changes laid out in the ELD Mandate, unless their province decides to implement the mandatory use of ELDs, like Ontario has announced they will be doing. 
The ELD Mandate does specify three core exemptions to the rules. If a commercial vehicle was built before the year 2000, it does not fall under the new regulations. Also, short-term rentals that are less than thirty days or vehicles operating within a 160km radius of a home terminal do not need to keep am electronic logbook.
Paper logs can be kept for a maximum of 14 days in Canada if an ELD does happen to malfunction but the device must be repaired if the vehicle returns to a home terminal before that point. The ruling is a variance of the 8 day rule in the US mandate.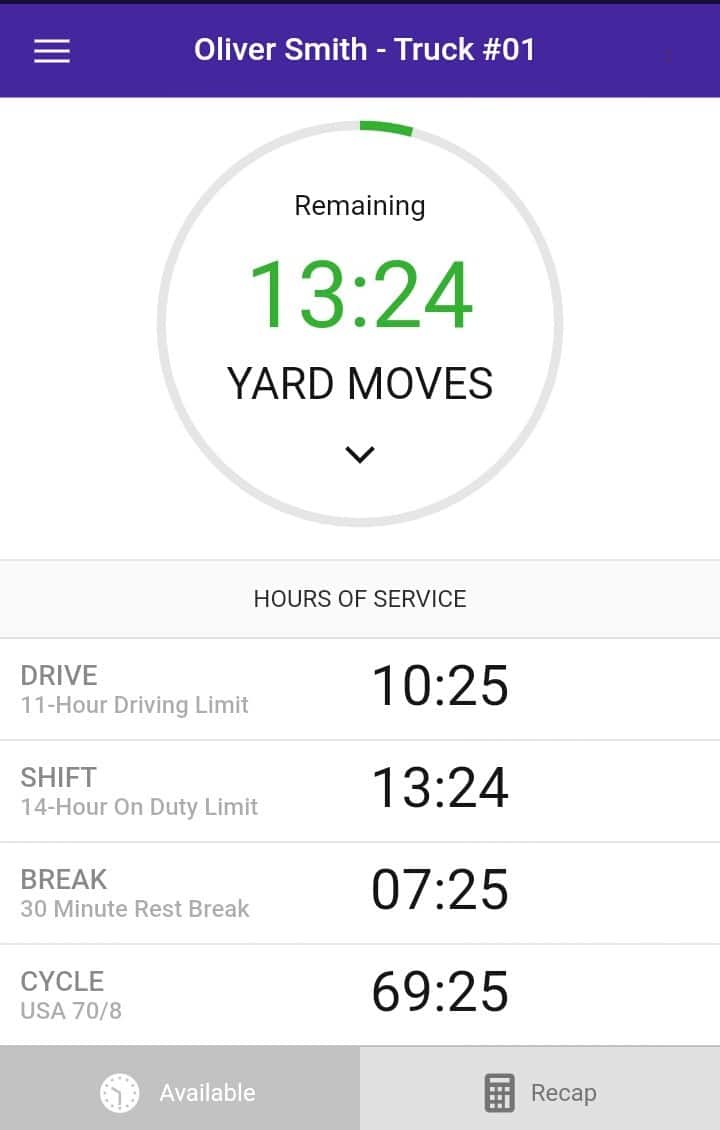 Why Switch to Better Electronic Driver Logs?
If the threat of being put out-of-service by Transport Canada enforcement officials isn't enough, there are plenty more reasons to switch to better electronic logs. Without the right paperless logbook solution, drivers are at risk of rushing to comply with the law and, as a result, purchasing an electronic driver log system that is unreliable, difficult to use or even non-compliant. Therefore, it is important to realize that one ELD may be completely different from another. Drivers should consider not only the features of the electronic logbook, but also the ease of use, reviews from other drivers and support after the sale.
Even drivers currently using elogs may want to consider switching to a better option. Here are four examples of when it might be time to change providers:
Lack of support. With some providers of elogs solutions, it can be difficult to reach someone when technical support is needed. Having a driver on the road with questions about their daily log app, for example, who isn't able to reach support when needed can be an expensive waste of time. The provider should be accessible and should be familiar with driver logbook rules.
Complicated system. An electronic logbook should make it easier —not more difficult— for fleet managers to locate truck driver e-logs from past days as well as pull a list of violations that may have occurred during a specific period of time. The provider may also furnish fleets with an ELD log sticker to show that the fleet is compliant with the mandate.
Not driver-friendly. If drivers are spending too much time maintaining logbooks, it is time to find a better elog provider. Keep in mind that drivers who have been on the road a while may not be happy about switching to electronic logbooks if they've been using their paper logbooks for years. The right ELD should make it easier for these types of drivers to make the transition.
Complicating pricing. If a provider's price is too good to be true, chances are they might have hidden fees within their pricing structure. Question all fees and make sure the provider is trustworthy before signing anything. A provider who promises low fees and then surprises you with hidden add-on costs should not be trusted with something as important as ensuring your fleet is compliant with Transport regulations.
What Other Features Are Needed for Trucking Operations?
The best elog providers offer complete trucking solutions to go with the driver's daily log app. There is no reason to have separate devices and apps for different fleet management functions when they can all be packaged in one convenient tool. In addition, the provider should not only be familiar with driver logbook rules, but also offer features to make driving and managing a fleet easier and safer to help carriers increase productivity.
Some examples of additional features include:
GPS tracking to help optimize planning, maintain vehicles and review routes.
Automated IFTA mileage calculations to make tax reports easier and reduce audit risk and human error.
Vehicle diagnostics to stay ahead of maintenance issues and prevent breakdowns.
HOS247 ELD can help fleet managers assign loads to the right drivers and plan their entire routes for them. It can also help with monitoring drivers' progress.

What Is HOS247?
HOS247 provides drivers daily log apps as part of a system that meets the ELD mandate requirements set by Transport Canada. In addition to ELD compliance, HOS247 also offers fleet management services. While there are various elog providers out there, HOS247 offers benefits that other vendors don't have. Here are just a few:
Zero contracts
Driver-friendly apps
Hassle-free return process within two-weeks
Dedicated support managers to help truck drivers manage their logs
A top-rated multilingual support team
How to Install HOS247 ELD
Installing a HOS247 ELD is a simple three-step process.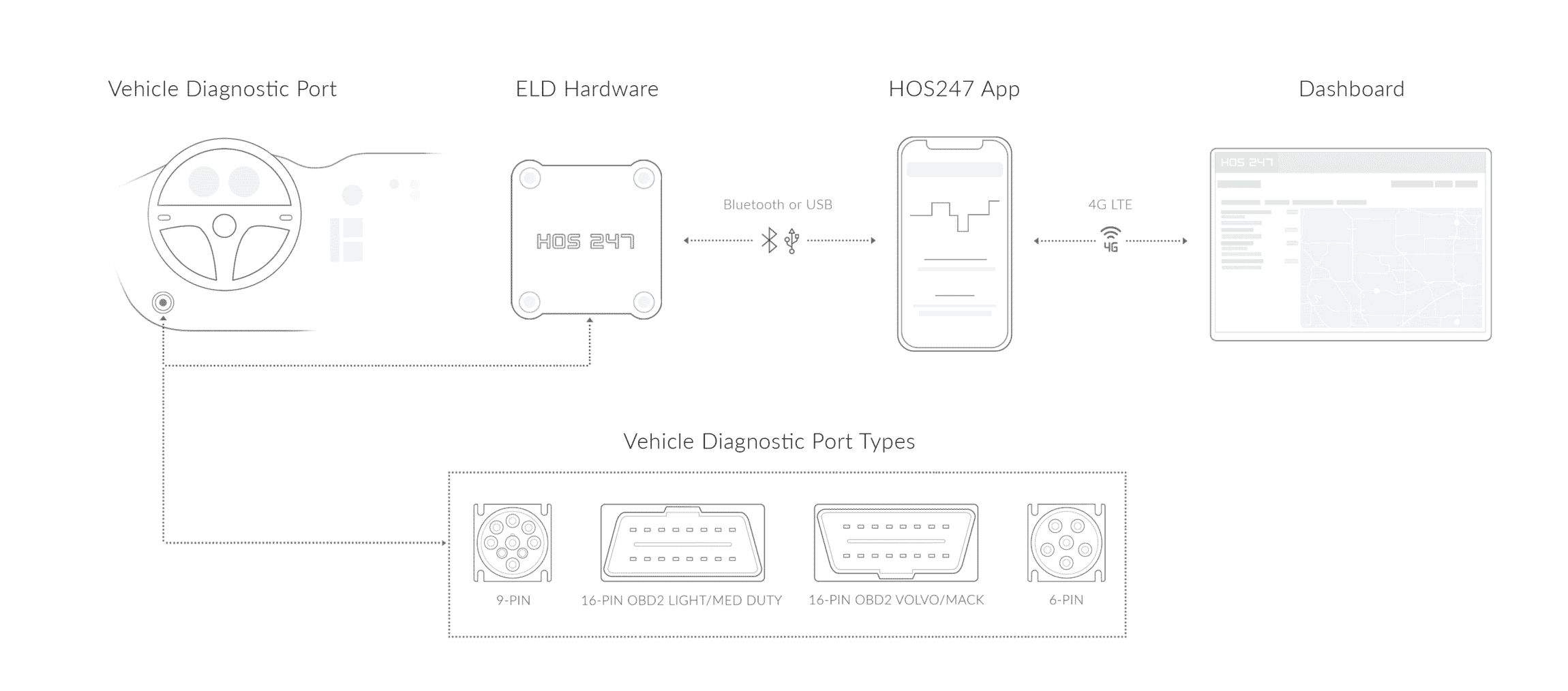 1. Set up via the web portal by:
Going to HOS247 portal and logging in with the credentials provided.
Clicking on "Manage" and updating your company's information to include vehicles, portal users and drivers.
       *Drivers and portal users must have different login credentials.
2. Install the hardware by:  
Plugging the device into the vehicle's port with a nine-pin (6pin or 16pin) cable before running the app and before starting the vehicle.
Watching for a flashing green LED that indicates the device is powered, as well as a flashing red LED that indicates the internal GPS is in acquisition mode.
Turning on the engine and watching for a flashing green LED.
Running the HOS247 app as soon as the flashing green LED becomes solid.
3. Set up the app by:
Downloading the "HOS 247" app from Google Play or Apple Store.
Making sure Bluetooth is enabled on the smartphone or tablet being installed.
Logging in with the credentials created in the web portal.
Selecting a vehicle from the list of vehicles added via the web portal.
Entering the MAC address listed on the ELD.
Watching for the Bluetooth indicator at the top right-hand corner of the app.
"Awesome. Easy to install and use. Top notch customer service! I recommend it to everyone."


"Great company to deal with. The support team is very responsive and competent. They provided a great deal of education for our company."

"Customer service is great. They helped me to set up everything and showed how to edit my logs. Thank you."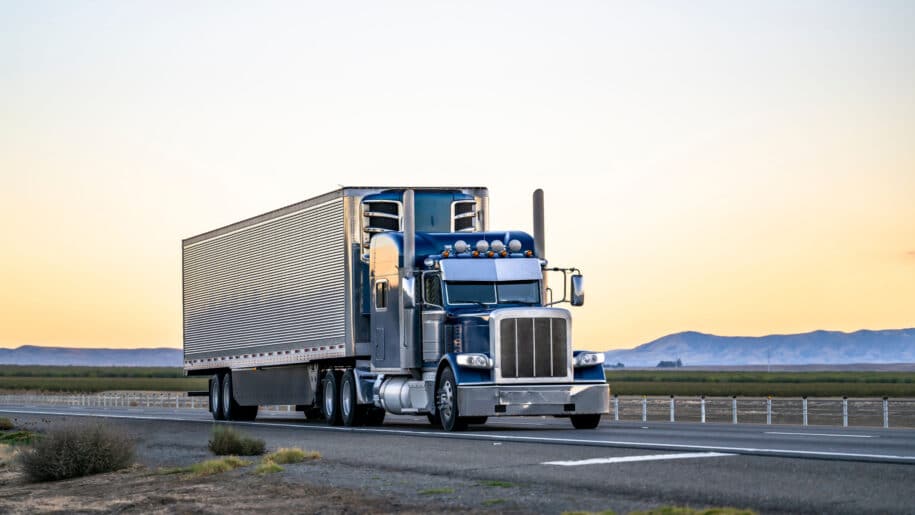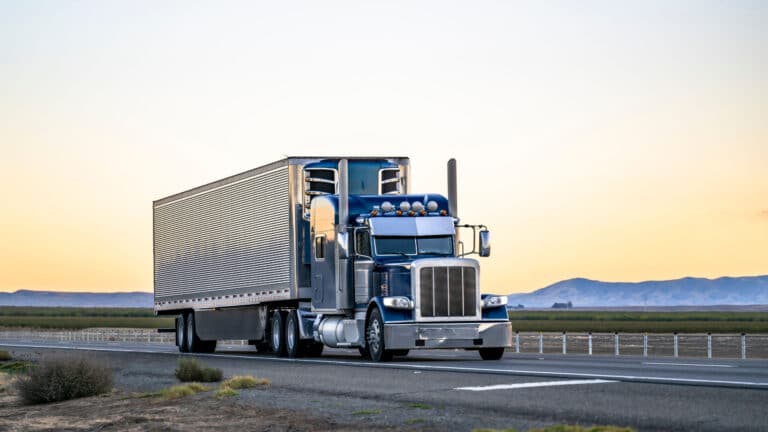 ELD Services & Devices
In the world of trucking, reliability and efficiency are essential for success. As drivers navigate complex regulations and manage their hours of service (HOS) logs, they require efficient electronic logging devices (ELDs) to achieve compliance with federal requirements. At HOS247,
Read More »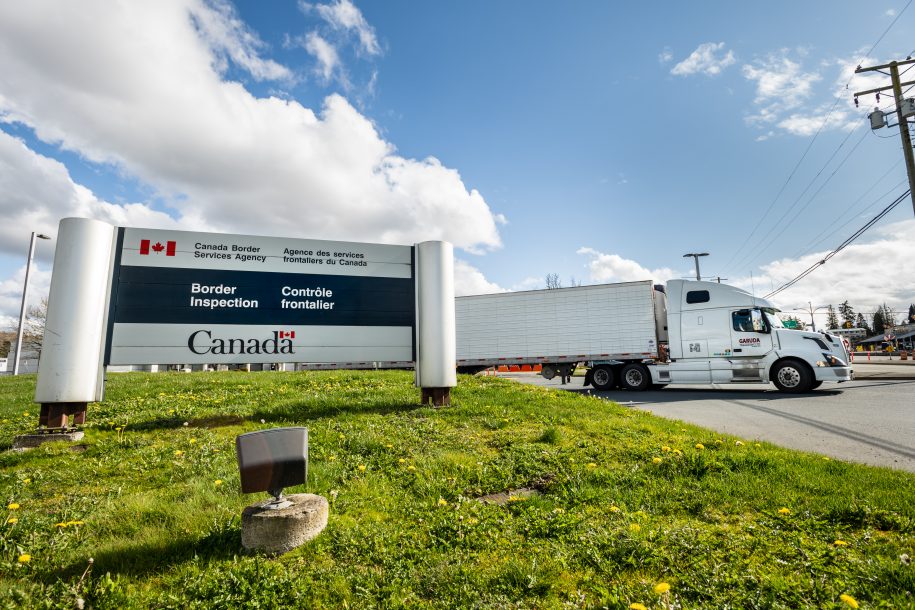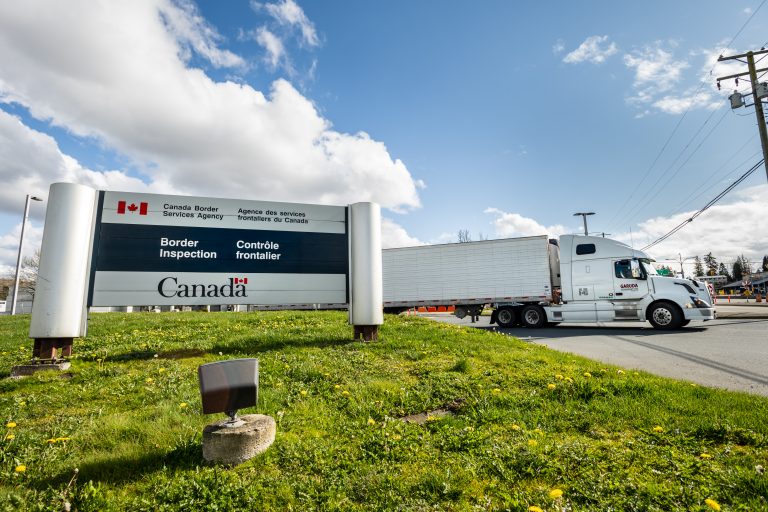 ELD Mandate Updates
For truckers and trucking companies operating in Canada, the rules on how hours of service are to be collected and logged are changing. Beginning January 1, 2023, all commercial drivers in Canada must comply with the rules mandating the use
Read More »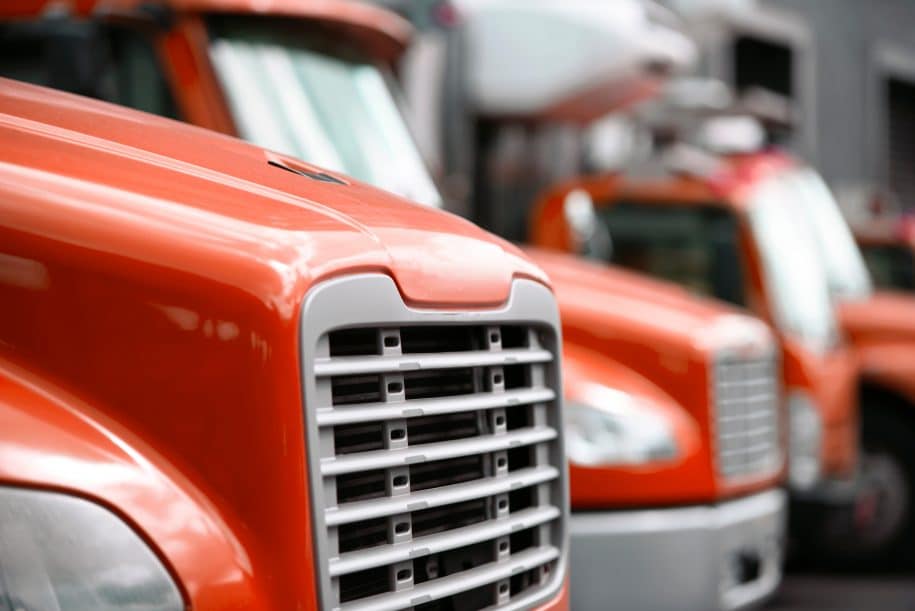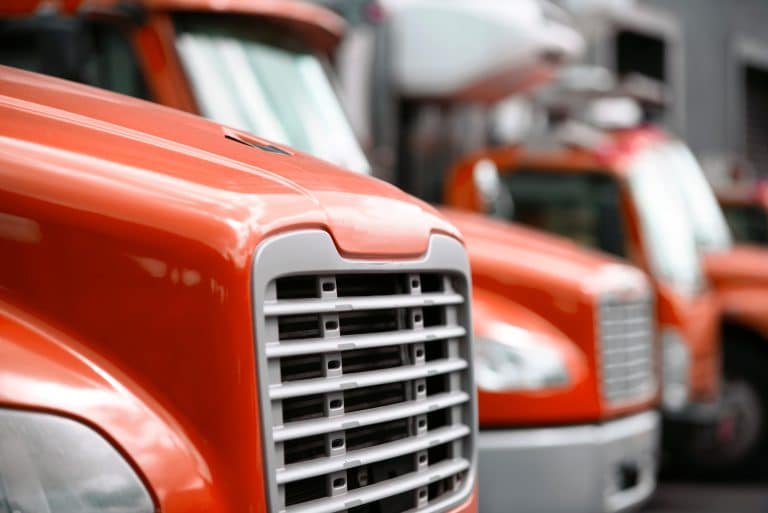 ELD Services & Devices
HOS247 is a top-rated, highly trusted company that creates solutions to help drivers meet Federal Motor Carrier Safety Administration (FMCSA) compliance. In addition to offering the best ELD solutions for small fleets, HOS247 offers dedicated support to help keep fleets
Read More »